MURDER Entries: 3,4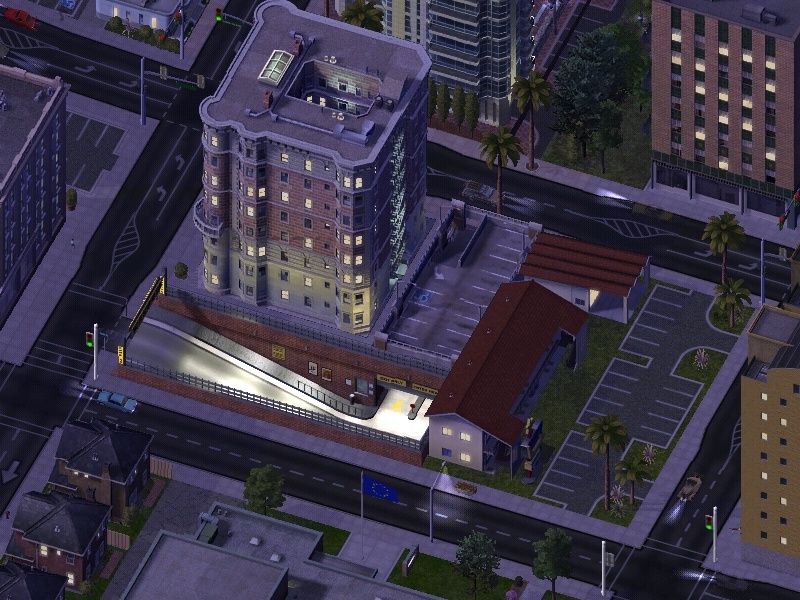 I drove back to the Admon Brownstown in Kaelville, where I live. Still dark, I parked my Italian coupe in the underground garage and headed up to my 6th floor penthouse. I started up the shower, and, overcome with drowsyness, flopped on the bed and slept. Around 10:30, I got a wake up call from Alterman, my partner, telling me to either get to the precinct in 10 minutes or file for unemployment.

I quickly jumped into the shower, got dressed, then sped over to the precinct in Hekli. I was greeted not by a furious captain, but a gathering of the staff, ceremonially lining the hallway to the commons area. There, I shook hands with Captain Stein, and met was congradulated for my recent work by the Comissioner. 

"You've served your precinct well, Kasczinski. The Lower 2nd is proud to have a dedicated officer such as yourself on investigations. I now present to you the Urban Inspection Award, and with great pleasure, offer you the promotion to Chief Inspector. Congratulations, Heinrich." The Comissioner's short speech hit me like a prizefighter hits a dazed opponent. A rolling applause followed.

Chief Inspector! I felt a sudden rush of adrenaline, and after a flurry of handshakes, hugs, pictures, and salutations, I found myself back at my desk. In front of me sat a report from the medical examiner and crime scene analyzer from last night's activities. 

"M.E. Dorian Fabronelli
Inspector Kasczinski-Lead detective

Report: 07:00, 8-4-10 

Primary Victim: Thadius Blakely, English national. Stab marks on upper abdomen. Cuts about 18 cm deep. Found unknown fibers in fingernails, running additional tests. Possibly contains Polyester. Found on ground shirtless; several bruises and cuts from ground contact. Cranial damage received. Blood Alcohol Content: 3.5% INTOXICATED

Cause of Death: Blood Loss 
------------------------------------------
C.S.A. Angelina Thuring
Inspector Kasczinski-Lead detective

Report: 07:21, 8-4-10

Analysis: Urban alleyway. Midnight, low lighting. Body found shirtless on back, lying on trash and recepticles. Blood dripped on cement ground, cuts and head trauma. Chance of witnesses: 2%. Proported weapon report: None."

---------
All that for the shirtless guy in the alley. But the main concern was the politician who was killed down the alleyway, who was probably killed by the same person. 
--------

"M.E. Dorian Fabronell
Inspector Kasczinski-Lead detective

Report: 07:30, 8-4-10

Primary Victim: Leonaard Hume. Local (Hekli) politician. (Hekli Council, KLG) Gunshot wounds on abdomen, left leg. Estimated blood loss: 3 L. Found face-up on ground; fractures on impact. Ground contact pre-mortum. Projectiles removed: 5 abdomen, 2 leg. Bullet caliber: 9mm Parabellum. 

Cause of Death: Blood loss (gunshot, upper left abdomen)

Secondary Victim 1: Johan Gorbach. German-Tirnlander. Security detail for L. Hume. Gunshot wounds on abdomen, head, right foot. Estimated blood loss: Undefined. Found chest-up on ground. Killed on receiving gunshot wound on face. Ground contact post-mortum. Projectiles removed: 4 abdomen, 1 head, 1 right foot. Bullet caliber: 9mm Parabellum.

Cause of Death: Fatal impact (gunshot, face)

Secondary Victim 2: Francisco Gunoz. Portuguese-American. Security detail for L. Hume. Gunshot wounds on abdomen. Estimated blood loss: 2 L. Found face down on ground. Received extreme cranial damage on contact of ground. Ground contact in-mortum. Projectiles removed: 2 abdomen. (center gut, left breast) Bullet caliber: .45. 

Cause of Death: Cranial hemorraging (ground contact)
------------------------------------------
C.S.A. Angelina Thuring
Inspector Kasczinski-Lead detective

Report: 07:40, 8-4-10

Analysis: Urban streetside parking. Midnight, low lighting. Bodies found fully clothed, in varying positions, lying on white concrete. Blood puddle on concrete ground, attache and weapons in physical custody of respected bodies. Bullet shell casings found: 15. Matches: None Chance of witnesses: 19%. Proported weapon report: Unsilenced firearms."


Interesting. We are looking for two different weapons. Possibly multiple shooters. But seeing as though all documents and money from Hume's briefcase were undisturbed, this may have been a revenge killing, random slaughter, or retaliatory attack. If the politician witnessed the stabbing of Blakely, the perpetrators would have killed him for being a witness.
~~~~~~~~~~~~~~~~~~~~~~~~~~~~~~~~~~~Entry 4~~~~~~~~~~~~~~~~~~~~~~~~~~~~~~~~~~~~~~~~~~~~~~~~~~


Later that day, Altman and I got a call to the local Market Hall to investigate a possible robbery. Sirens blaring, about 15 minutes from the scene, he started getting chatty, on a usually routinely silent ride.

"Hey, on the Hume case. You think it was just a slash and dash? Y'know, to start it all off?"

"Oh. I'm not sure to be honest. I mean the guy was drunker than a pub owner on his day off. Probably provoked the cutter, who shot Hume."

"Think so? What if Blakely was the first witness, then Hume was a witness to that murder?"

"I guess it could happen. Why all the sudden interest?"

"Well, it could possibly have been a drug deal. Like for those 'designer bars' that are popping up here and there. Captain sent out a memo."

Suddenly, the reality of a drug war so underground that the police weren't fully aware, yet so devastating that it would claim the lives of everyone ranging from common clubgoers to politicians, scared the living hell out of me.

"Hm. It could be. Let me sit on the idea for a bit. We should focus on getting to the hall."

The robbery turned out to be a graveyard shift janitor leaving the windows up after his shift, so I got to turn in to the station earlier than expected. Altman had to run an errand for his wife, who was currently in the hospital pregnant. 

After finalizing the hours with paper pushing and report-filing, I was happy to get some shut eye at my not-so-luxurious condo. I set the radio to soft rock, broiled up some wurst, and headed off to sleep.

Until next time:

8-6-10

It's been two days, and thing have taken quite a turn for the worse. Recently, we've had to cut down on press releases due to possible leaks of important information. So far, the death of Hume has been kept quiet. Threats of deportation, imprisonment, and fines have kept the staff of his office quiet, but the commies have their own agenda; they may leak info in order to gain trust and popularity.
*****************************************
For now on, I will be posting 2 updates a week! See what happens next update, Sunday!