Watersauga, Improved. | Results of Improvements You've Suggested.
Today is August 24, G.Y. 2
----FIRST, before we begin, let's reply and address to those who commented in our last meeting (Thank you those who did!)----
To Counsellors Samerton and 13orthr:
The problem is, much of the residents (over 100,000) are commuting to the countryside (the Towns of Rexdale and Commercium Bay) industrial parks for job sources, bringing much traffic into the countryside and extensive delay (recall Entry #14). Therefore, Counsellors Raceman95 and _marsh_ have suggested to relocate jobs. As such, some jobs are now relocated back into Old Watersauga proper. How that'll improve traffic, only time will tell and will be certainly covered in a future entry.
The QEW line, built several game years back, is already up and running along the corridor. The line stretches from Downtown Angus Glen, following the QEW, and into Downtown Old Watersauga.
Thanks for your suggestion, a greenbelt has also been invested to minimize environmental damage.
High speed rails have also put into consideration, and is now awaiting approval from the city council.
To Counsellors iowndiscti, CIUU96, and BloodySoap:
As per consensus, in the last meeting, and also in Meeting #5, land reclamation projects have been put aside, and will only be put into place in absolute needs.
Once again, thank you for your input!
Beginning our meeting now:
Remember Meeting 5 (Say NO to Urban Sprawl)? Exactly 6 months (half a year ago), we've asked YOU to suggest changes to the City of Old Watersauga, so we can improve the city, increasing in population and population density, while not doing any harm to the environment and avoid sprawling into the countryside. You've spoken, and we've heard you!
In case you've forgotten (or too lazy to check Meeting 6), we've made the following decisions for the City of Old Watersauga, and it's time to look at the result of your input.
Before improvements:
Figure 1. The City of Watersauga, dated November 2009.
Suggestions you've made 6 months ago:
Elevated Rail: Will be demolished. A subway line will be first built under the current alignment before the demolishment begins to avoid inconvenience for transit users.
Train Capacity Problem: Like we suggested in the last entry, we will add more train stations nearby to divert commuters.
Highway Interchange: Futher debate is needed. Stay tune for future updates, but we are leaning towards keeping the traditional interchange.
Movie Studio: The problem will be set aside until we absolutely need the land.
Heritage communities: Will be kept as per consensus.
Land Reclamation: Some land will eventually be reclaimed. The current project suggests the ocean space just outside Pacific Place and the bay outside of the Humber Community. However, this will be further investigated in the next entries.
Urban Sprawl: Per consensus, yes. We will divide the farmlands into priorities, with the ones closer to the Hurontario and the Rexdale Tertiary Corridor first, then work inwards. The development would last for the next 100 years. Work has been started in parts of the farmlands. More on this later.
Figure 2. The City of Old Watersauga, dated July 2010.
1 Elevated Rail Problem
The major East-West elevated corridor (just north of the QEW By-Pass) has now been demolished. Recently, our regional chair has visited the City of Ottawa in Canada, and therefore, experienced the Transitway. The regional chair has given high ratings to the Transitway, and therefore implemented in the City of Old Watersauga, over the past elevated rail land.
Figure 3. Transitway built on the previous elevated rail track, with designated bus stations and interchanges to subway stations. (Sorry for the graphical glitch of the turn-left lane)
Figure 4.
Another part of the transitway, built on the previous elevated rail track. Also with designated bus station and interchange to subway.
Figure 5. Not all parts of the elevated rail has been demolished. The section for connection near the suburb municipality, Angus Glen, is kept, due to lower traffic.
And not all land has been redeveloped over the elevated rail track.
BEFORE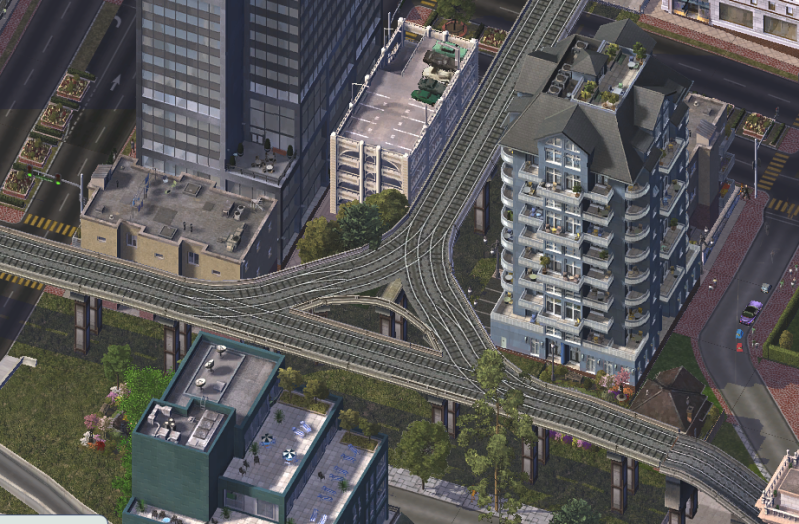 AFTER
Figure 6a & b. The former elevated rail interchange has been demolished, but until now, nothing has grown or built over it.
2 Train Capacity Problem
We have immense problem in rail capacity, and station service quality, 6 months ago, and today. Now, it is still a major problem waiting to be solved. Anyone has any ideas to solve this?
We've built more rail stations, but we've got this:
Figure 7. 532% of the station's capacity!
Even worse than before: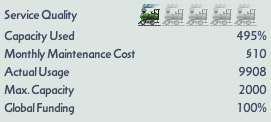 Figure 8. Station capacity before more train stations were built, at 495% capacity.
As a result, not only stations were clogged, rail lines are also jammed with congestion.
Figure 9. And therefore, we doubled our tracks. But this does not do the job very well. Still, portions of the rail are congested.
Once again, I would ask: Any solutions?
3 Highway Interchanges
Figure 10. Traditional, big interchanges, are still kept in Midtown Old Watersauga, as per consenus in the last meeting.
4 & 5. Movie Studio and Heritage Communities
These facilities / communities are still kept. Unfortunately, our Imagery Department has no pictures of that currently. But you can be ensured that they are kept.
6. Land Reclamation
This is a MAJOR topic of this CJ, rather controversial. But with the opinions we've got in the last meeting, it is best for us to set these project aside. However, during this 6 months, several land reclamation projects have been completed, and became new districts of our city, as follows:
Figure 11. A newly reclaimed piece of land just outside of the historical community of St. Dennis. The new land has been used for high density residential as shown...
Figure 12. ... And also used for medium density residential.
Note that much of these reclaimed lands have relatively flat landscape and a very flat (rather than ragged, natural) shorelines.
Figure 13. A newly reclaimed piece of land just outside of Midtown. The land has been used for a European style of architecture of medium density to high density residential.
Figure 14. Another reclaimed piece of land south of the QEW alignment. Note that it's used for commercial purposes for more job sources.
Figure 15. A sandbar has been constructed, about 1 - 2 km south of the current shoreline. This is the proposed new shoreline of the upcoming, MAJOR reclamation project, proposed to house 100,000 extra residents and more jobs.
However, due to the comments we had recently about land reclamation, this has been put off indefinitely. Is this a good idea?
Figure 16. The new topographical map of the city shows the sandbar. Any land in pale peach colour are pieces of land that are reclaimed. Naturally, the topographical map of the City of Old Watersauga, in terms of land colour, should be GREEN.
7. Urban Sprawl
Not the perfect option out there, but with continuous urban growth, this is inevitable. And as suggested by some of you previously, this is no doubt, the only good option remaining for us.
Figure 17. The two new Simon Towers are built as a part of a new community in the recent sprawl into the farmland. Notice the contrast with the farmland behind.
Figure 18. New urban sprawl communities into the farmland, featuring more high-rise residential developments, to minimize urban sprawling effect. This is all in part of the SMART GROWTH technology that we use.
8 Demographic Data
Finally, we will leave you with the demographic data crunched out by the Census Repository Department (CRD). This will help you to make decisions on behalf of our residents.
Figure 19. Demographic Information for the region (City of Greater Watersauga) and the city proper (City of Old Watersauga). Notice about 90,000 commute out-of-town for work, and 50,000 commute in-town from outside the city. We're trying to change that and balance the two numbers. Already, the number commuting out of town has been reduced by 10,000.
----------
And that's all for the meeting!
Please be on time for our next meeting. You can do that by SUBSCRIBING the journal.
I know I am jumping around between topics, but for your general idea of where are we going next:
NEXT UP: Third-Priority Corridor (Dawson River) >>
-----------------
The regional chair
----------------
We are now online! (Along with other regions of mine). Check out http://gravenhurst.wikia.com
Currently, Watersauga only has 3 articles out of the 146 articles. The other articles are about another region.
----------------
Constructional comments AND answers to the PINK QUESTIONS are appreciated!