Invasion
Invasion
September 23rd, 0165AL (2021)

Capt. Andurn: Return fire!
Michael: Some of them are cloaking again!

Capt. Andurn: Well, shoot at the ones you can see! Lt. Kalmul, ahead as fast as you can safely go!
The Masura shuddered as several more beam weapons hit it, and as it entered the spatial distortions in the shield bubble surrounding B54-7YG.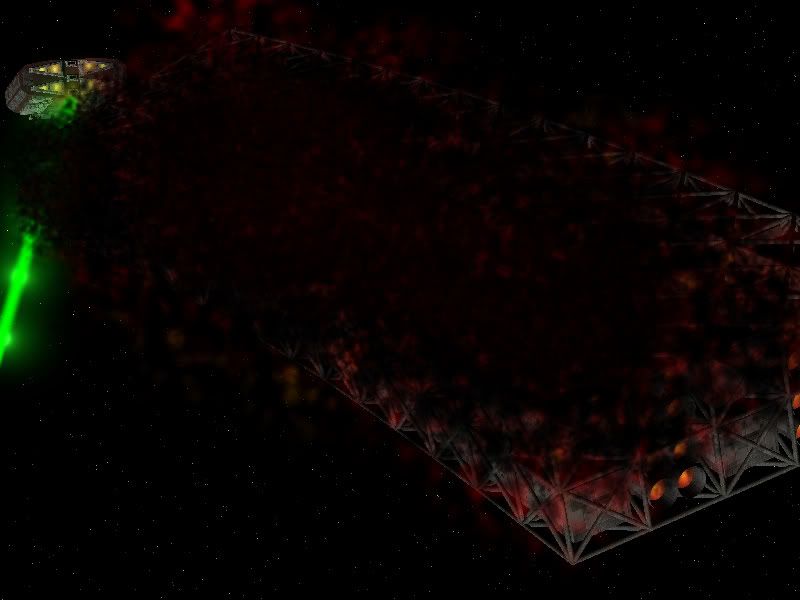 After about five minutes, one of the scourge ships had finally been destroyed.
1st Officer Takari: Yes!

Capt. Andurn: There still three more out there... though I haven't seen that large one since it first decloaked... where is it?
Michael: Not sure, I've only been able to detect the 3 smaller ones, and only when they are not cloaked.
The ship rocked more violently as another beam weapon blasted the shield.
Lt. Kalmul: Shields are at 56%.

Capt. Andurn: Can we go any faster?
Michael: No, not unless you want to risk the ship being shook apart.
As if to reinforce this idea, the ship rocked violently as it hit a particularly strong spatial distortion, which moved the ship enough that an incoming Scourge beam missed, and caused 1st Officer Takari to fall over..
1st Officer Takari: Oof.
5 minutes later...
Lt. Kalmul: Shields are at 32%!
Michael: We're clear of the shield bubble.

Capt. Andurn: Can we go to hyperspace?
Michael: Yes, as long as we don't fly back into the edge of the bubble... or the black hole, for that matter.

Capt. Andurn: Go for it!
The ship shuddered as a hyperspace window opened, and the ship shot into it.
Not long after, it dropped out of hyperspace relatively close to the black hole. By relatively close I mean that they were close enough to easily examine it if they for some reason felt like doing so, but not so close that they would be ripped apart or sucked in.
Lt. Kalmul: Is there any way of hiding from the Scourge with the black hole?
Michael: Not that I know of, other than falling in, but I don't think you want to do that.
Michael: Scourge ship decloaking... It's the big one.
To be continued...
Yintar-Yanar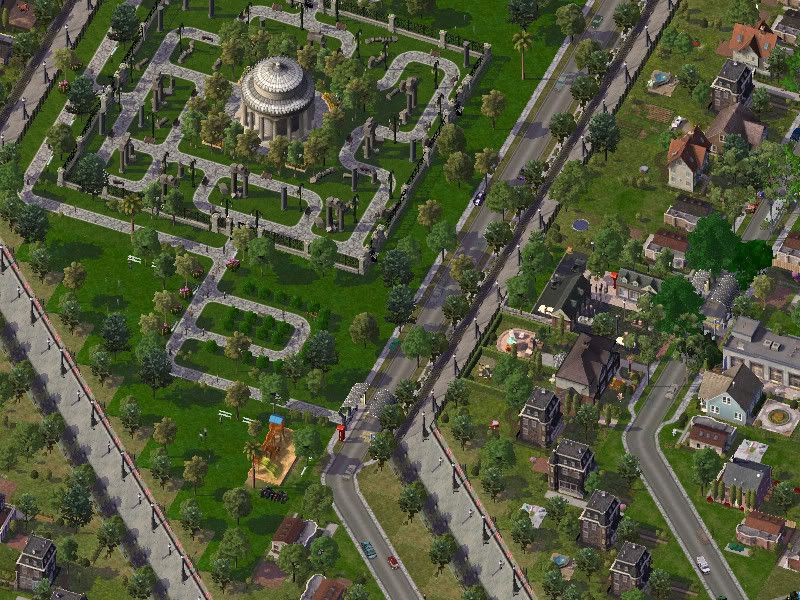 Nikki: Of course, Parath has parks too, its not just trees and buildings.

Nick: The avenue leads between central Parath and the more central part of Yintar. 

Nick: Same avenue, farther down the hill.
Nikki: And the top of the hill, in downtown.
*Nick slaps Nikki*
Nikki: What was that for?

Nick: In case my silly sister confused you--
Nikki: Hey!

Nick: --that is not downtown Yintar... or Yanar for that matter. If you want to know, no part of Yanar has even been shown yet. It is actually just a particularly dense part of Parath.
Nikki: Ow...

Nick: Not sure why they built such big buildings here... and its also interesting that twin farm towers are the second and third tallest buildings in this area.
Nikki: Ow...

Nick: Oh, shut up, I didn't hit you that hard. 
Nikki: The rest of the dense Parath nugget, and the M-3 loop... what?

Nick: Huh?
Nikki: The M-3 loop looks different now.

Nick: Weird...
Leech: That's the new RHW.

Nick: The what?
Leech: Rural Highway.
Nikki: It's not rural.
Leech: That's just what the mod is called.
Nikki: Okay, you confused me.

Nick: While Nikki gets over her confusion, this is another, basic residential and commercial area of Parath, low density variety.
Comments
Schulmanator: Indeed.
Simfan34: Thanks for the comment!
Archean: Scourge ships are much tougher than they look... The Masura is one of the most advanced ship classes in the galaxy.
NMUSpidey: And here's more. There's still more to come, though.
jacqulina: Glad you like it!
Zelgadis:  Tricky little buggers... they're easier to see on some monitors than others...