A Tast of Life and a New Republic ...

Hello, After not updating for awhile I'm back with a new chapter...In this chapter I will introduce
a new country ! The Federation of Volskna ...I will not go into great detail the economics of Volskna
but there is a few things you should know before you continue to review this chapter ...
 The Federation of Volskna and The Republic of Alsdorf use to be the same country.
Until The Republic of Alsdorf became a Democracy ...After that Volskna and Alsdorf
fought for years...This set is taking place in the most calm period ever of it's kind ...
 - Federation of Volskna Weather report -
High Temp /  4 C
Low Temp / 1 C
Humidity / 93 %
    I would like to introduce you to Yuri Lev ...All His life Yuri has been working in the Yadrin
Steel Mill. You will soon learn his life as it was your own and be
nothing more than an audience to his life. It was a cold Morning , He woke
up to his dank apartment shivering...He looked over to find His wife not in
bed. He thought to hiself ...She must be in the Kitchen. So he step's out from the covers
and his feet touch the cold concrete floor. He stretches starting to walk towards
the kitchen...He see's his wife ...Shes talking to herself and He could tell
She was upset..He touched her on the shoulder and asked..Whats a matter honey?
She instantley jerks her shoulder away ! She yells at him " The baby is sick again ! "
He slumps forward and sighs...He says " Oh God under His breath " The baby starts to
cry ...His wife yells " I can't handle this ! I have things to do ! " Yuris posture
changes...He starts to turn red in the face...Then he yells " What the hell do you
want me to do ! I work all day toiling for you and our son. I'm sick and tired of
you laying around all day not doing crap while I work over 10 hours a day. I can't
even drive to work ! He yells...I had to sell my truck just to keep the apartment because you just had to have every little thing your hart desired ! " She looks
at him in disgust and says..." You are not a provider of this home ! What about your drinking habits ! I'm here alone all day while your out with the guys drinking and god knows what ! ...He starts to get more emotional as he steps closer to her...He say what difference does it make if I have a beer or two at the end of the day. Do you even know how hard it is to be the only person who actually has to walk to work at the Mill? " She starts to walk out of the room...She slams the door to the bathroom...He walks into the bedroom...The baby is left to itself sick..She yells loudly in the bathroom...I'm going to my mothers ! He says ..Fine leave but your not taking our son with you ! " She says the heck I'm not in a loud and pompous manner ! He starts to walk across the concrete floor..He leans against the door and says..." What did you dare say..." She yells once more.." I'm taking him with me ! " He steps back a few feet ...The rushes towards the door and kicks the bathroom door down you can here the wood crush as the door crashes on top of the sink ...At that time the baby was crying even louder almost to the point of screaming. He raises his hand as if he was going to Hit her...Yet he stops..As he could hear his hart beating inside himself he pauses ...Lowers His hand and takes a deep breath..He stops and looks at her in the eyes and says your not worth it ! I'm leaving for work...It seems it's the only thing I have these days ! As he walks down the rusty steps He could feel the cold metal threw his thin shoes....After he makes it to the bottom of the steps He passes a graffiti wall and makes it to the sidewalk...He starts to walk down the sidewalk ....Noticing the cracks he see's some shoes thrown over the power lines and starts to think about the horrible people His son will be exposed to living with his mother...Yuri has walked almost half way and is so thirsty he can't swallow ...He spots a drink machine near a gas station...As he walks up to the machine He starts to dig around his pocket for change , but the only thing he could find was some rolled up lint wedged between his denim pants....So he sighs and keeps walking to work...As he grows closer he starts to see the smoke pouring out of the steel mill....He starts to feel a lot of depression for he hates his job and just the sight of it bothers him....Yuri finally makes his way to the employee entrance...He could see several employee cussing and talking a few steps over....He thought to himself " What could that be about " But he didn't bother to ask ....He rushes of to his task and works along....All of a sudden he could see His boss out of the corner of his eye...His palms start to sweat ...He turns around and all of a sudden his boss yells. " Your Fired ! " Yuri starts to shudder....Um....Why ? What happened? he ask in a most humble manner....His boss has no reply....Yuri walks out of the factory with what little he has and starts the walk home...As he's walking home he starts to notice cold rain drops landing on his cotton coat...He starts to hit an all time low ....Next thing you know the rain picks up...Now it's to a down poor...Yuri starts to cuss as His shoes have holes in them and he could feel the cold dirty water seep in and wet his socks....He keeps walking ....And finally makes it to that dark ally...The one that leads to the horrible life as he knows it and the wife that hates him...He stops in shock ! Yuri see's a bright light ahead....Fear runs through His body for the things he is about to witness...He runs faster....faster until one of His shoes flops off and he falls to the hard pavement...He immediately jumps to his feet and keeps running ....As he approaches the apartment He stops....His knees fall to the cold wet pavement ...He looks up to the apartment to find it on fire....His harts racing ....All of a sudden he starts to hear sirens....His head is pulsating as the sirens grow closer...Instantly the fire truck screeches to a stop...The fire fighters jump out of the truck...You can here there boots hit the wet pavement as they spring into action...Yuri Cries out " Save my Son ! At all cost ! " Then he dashed for the apartment ....The firemen have to restrain him and take him to the hospital....Yuri wakes up to a bright light....He staggers out of the door and escapes the hospital...He runs out the door and keeps running faster until he see's a moped.. Yuri jumps on it and takes off....At this point he could care less if he stole it or not...He makes his way to the Volskna Canal...He slams on the brakes and walks towards the edge of the concrete bridge...He starts to hear sirens....Soon after the police show up and jump out of there cars....He inches forward....Yuri could feel the slight breeze pushing him forward to fall....The police Yell " Stop ! " .....You Still have a life to live ! ....Yuri yells back...What Life ! and .....
- To be continued -
 These are a few pictures of The Federation of Volskna ...As well as pictured of Yuris apartment and Workplace.
A rainy day in the Federation...You can see His apartment and a few Industries...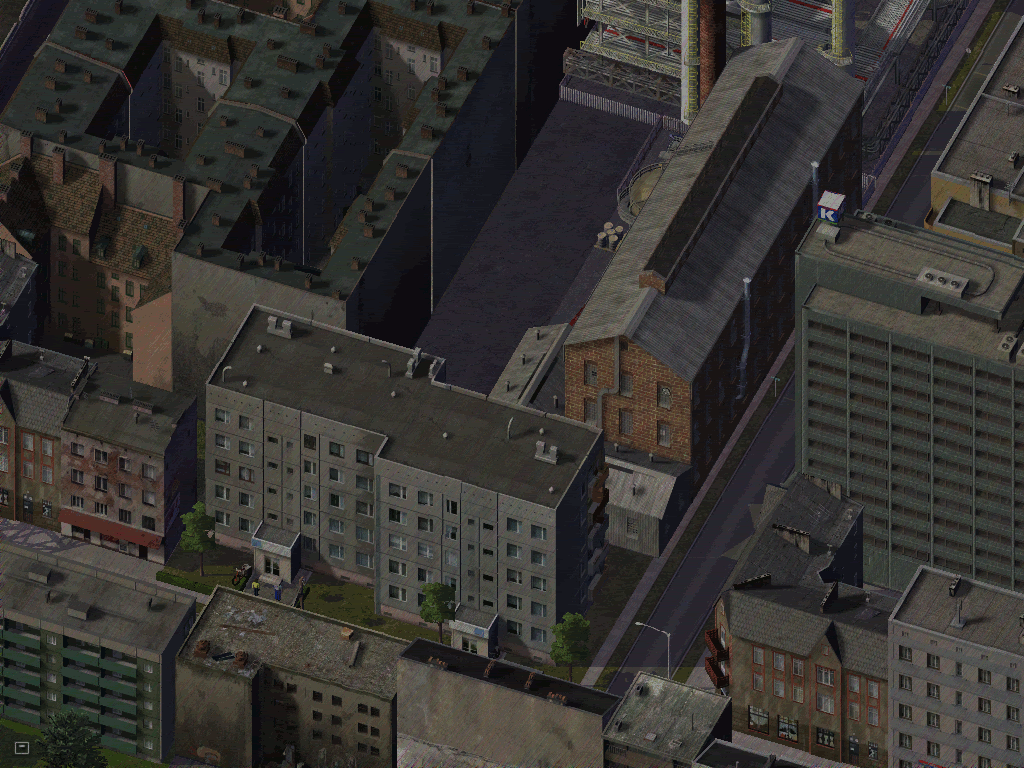 A video to go along with the emotions at the moment ....
More apartments ...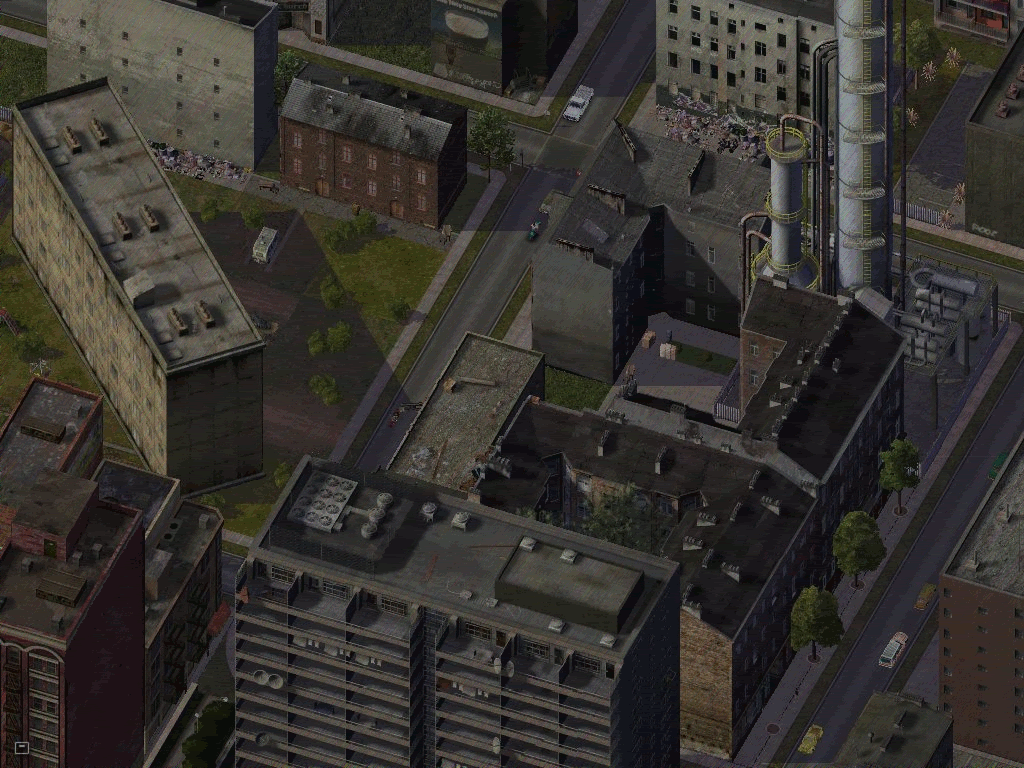 You can see part of the Volskna Sea Port ...And the Volskna Sewage Plant ...
Well I hope you enjoyed the update and I look forward to your commentary ! ...
More updates are on the way ! 
Sincerely,
Duke of York