... and the town grew and it GREW and it GREW
... and the town grew and it GREW and it GREW
The poor old grinch didn't know what to do.
But just for now - let us review. 
We took a look.
We saw a Nook.
On his head, 
He had a hook.
On his hook,
he had a book,
On his book,
Was "How to Cook."
Cook... he thought,  and he thought and he thought..
the idea in his head, it ripened and caught,
as another fat teenage pimple,  went mega SPLAT,
the more he thought and schemed about that,
he FIGGERED and FIGGERED and FIGGERED
just what could he could do
to get the poor Sims all into a stew...
"I have GOT IT!"  He yelled!  
He snarled, as his idea gelled,
I will cut off their roads to their shiney Fire Station!
My my my!  This WILL be quite an ocassion!
So thats what he did, I hope I don't sound too glib.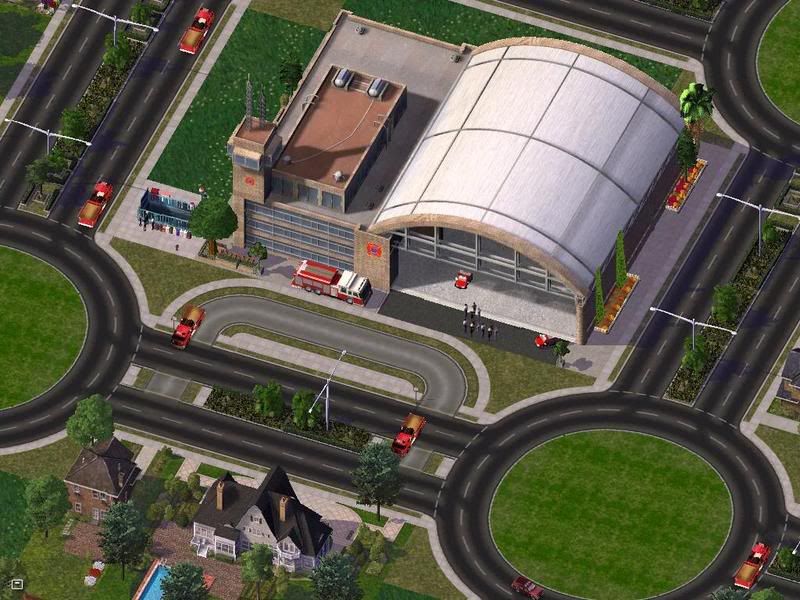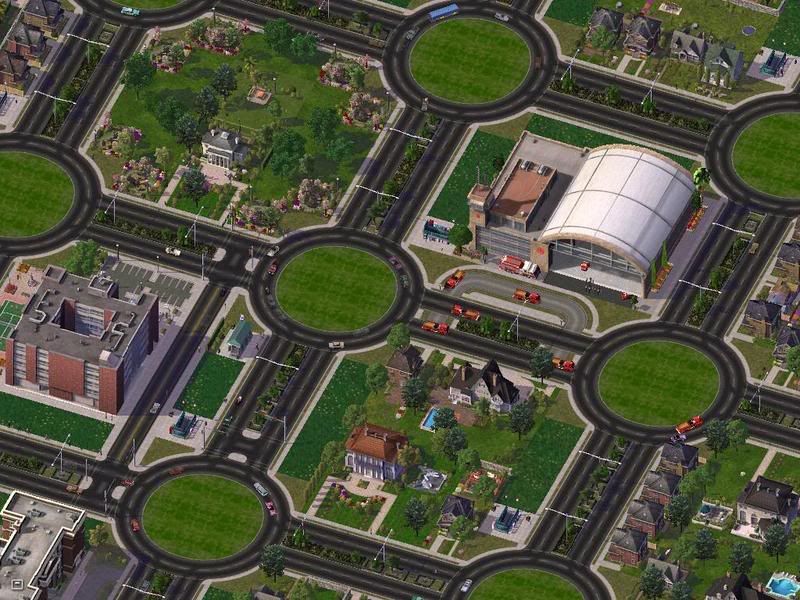 The inevitable happened, a fire broke out
At the college not far away no doubt.
So how did it start...?  
(One of the professors let off a forceful fart.)
The alarms went ding!  The clappers went ring!  
The Grinchy deep in his lair, even started to sing!
It made quite a noise!  
('Cos He had quite a voice!)
And it startled the student Sims, deep from their slumber,
(They had all fallen asleep in class, so you see,  
but when the professor forcefully farted, that was when... it all started.)
Someone shouted "Call 911!"  
Another one said, 
"That's the number!"
And then!  Oh, the noise! Oh, the Noise!  Noise!  Noise!  Noise!
The fire it spread, and filled them with dread...  
Would they survive this terrible ordeal?
(Probably they will but, thats what I feel.)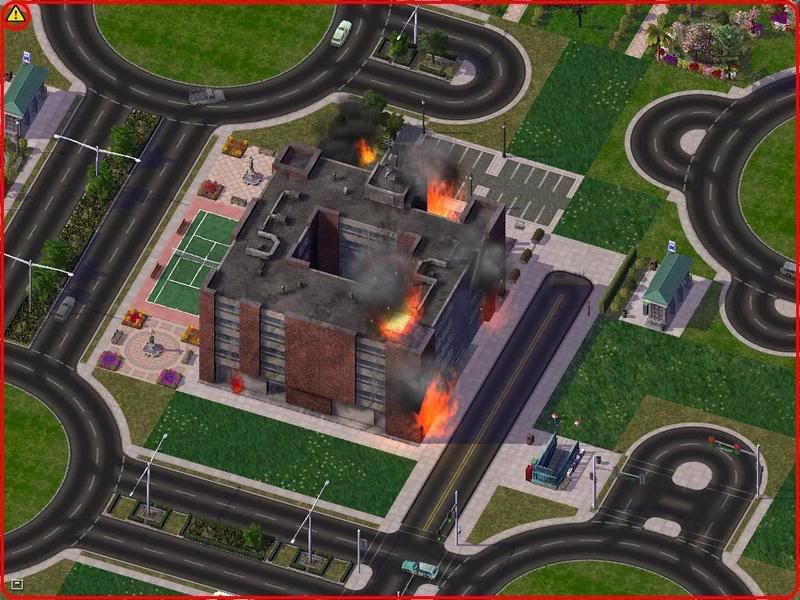 But the problem was clear, the firefighters could not get near.
"Around and around the poor fire trucks go..
Will they get there?  NO! NO! NO!" 
(That was the grinchy singing his worst, and that was just the flaming verse first!)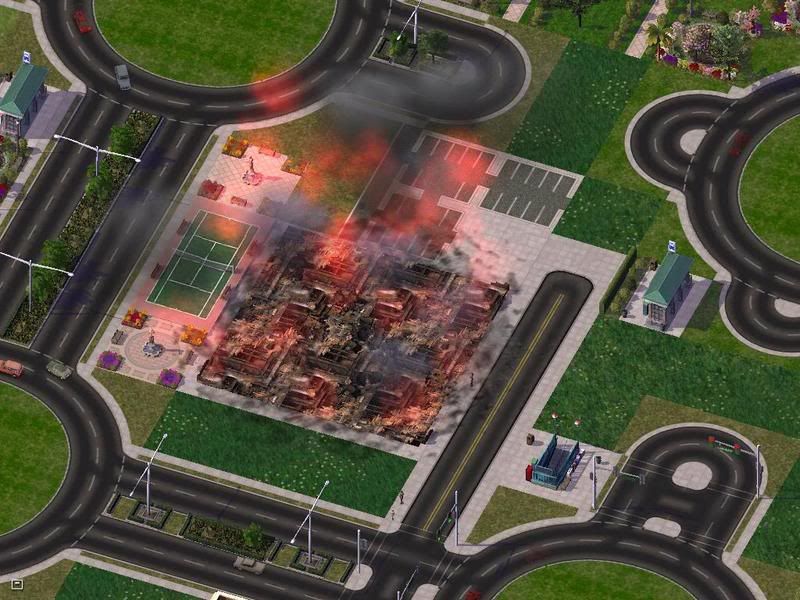 The college collapsed and burned,  the firefighers were spurned.
But still they circled... around and around, trying to find their way through the roundabout town.
Now you may think that this is the end of the story!  
But, NO! NO! NO! 
It is about to get more gory.
The Grinchy was not done, he wanted more fun.
So what did he do?  
He made a few more clicks...  
lickety split!
Heh, heh he snickered,
Now they really are in the poo.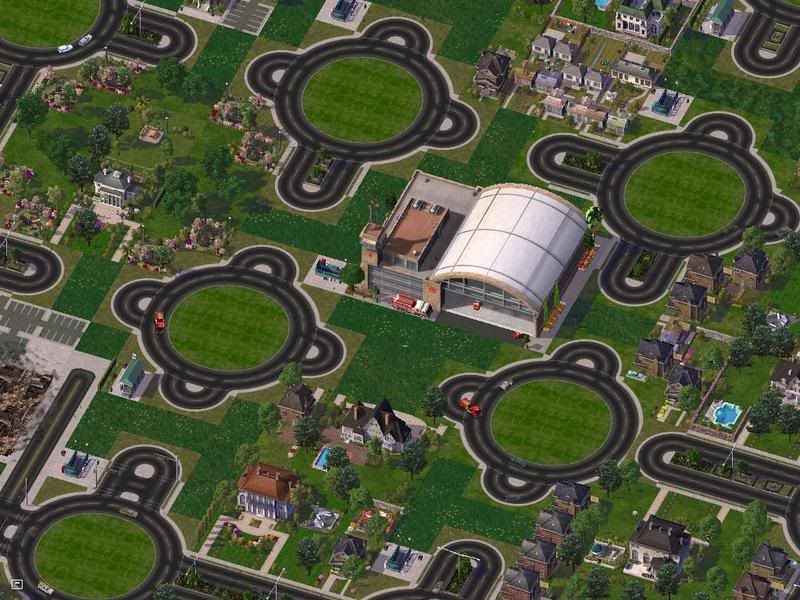 Around and around go the poor fire fighters...
Their tummies are rumbling the unfortunate blighters... 
Now they can't get home for any of their dinners...
It looks like they're all about to get thinner...