#8 - Mas Hysteria!
Replies:
111222333444-
Thanks! I try and keep it fresh
Mastof-
Glad you liked the mix! Thanks for the comment!
SimCoug-
Oh, don't think I'm not embarrassed by them. Heck, there are some things I built in Condor Bay that I'm not proud of!
But it's good to look back and see where I started, and to be able to share them with folks.
dubaidude303-
Thanks, man! Happy that people enjoy having both SC4 and CXL here
panthersimcity4-
Oh, thanks man! Condor Bay's never been called "inspiring" before
...certainly happy you remember it, too. And it went through a few names before I settled on Condor Bay. It was supposed to be called Condor Valley, and the city itself is called Fordville. I can't remember why I settled on Condor Bay specifically, but I guess it doesn't matter much anymore. Thank you for commenting!
------------
Quite a few people appreciated the mix of CXL and SimCity 4 in the last update. Dunno how long I can keep on mixing them, to be honest--I haven't played either game in ages, so the number of pictures from each game is limited. Still, I'll try and do it whenever I can
.
Anyways, three or four more pictures:
1.)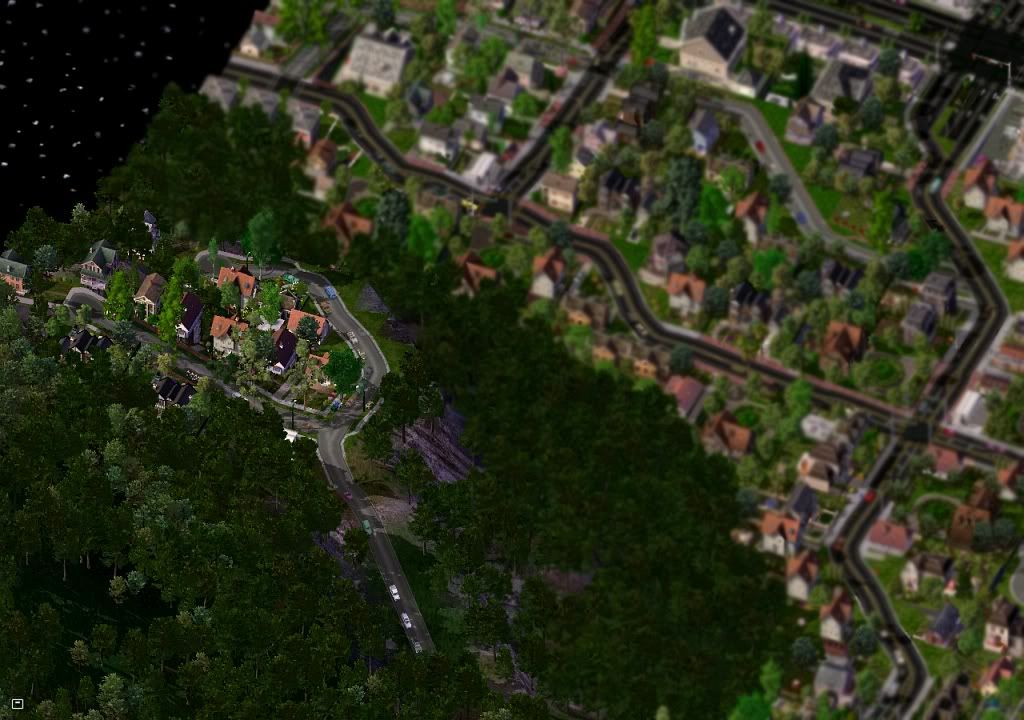 This picture, from the early days of Condor Bay, was quite a bit of fun to make! This was actually an exercise in how to build houses on hills and have it both look nice and function properly (with electricity, water, etc.). I took the picture after I was satisfied with what I had built, and on a whim I blurred everything but the hill, just to see how it would turn out. As it is, it's not bad. Not the best, really, but not bad. My favorite part of the entire picture is actually the way the road leading down the hill disappears behind the trees. I didn't plan that, I promise
2.) (Looking north)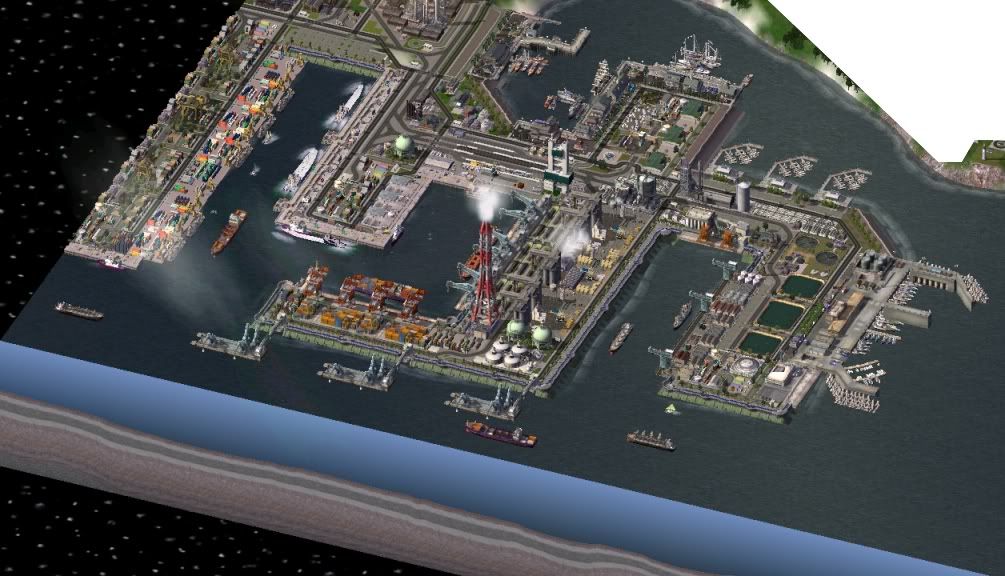 This is Fordville International Seaport, which was featured in the very first update of Condor Bay. I won't lie: this took a bit of work to get right. The [layout of the arms of land started out way different] than how they ended up, since they more closely matched [the SC3KU version]. I looked up a lot of source material to build it: Google Earth pictures of real-world seaports, seaports in other people's CJ's, all the different "Show Us Your Seaport" threads, etc. The thing that probably helped me the most, though, was emilin's [building A Port...The Hard Way] thread on SC4 Devotion, truly one of the most in-depth, informative building tutorials I've ever read. Without that, I don't know if I could've built this port
.
The layout is pretty haphazard, to tell the truth, because I've never been to a real seaport before (only skirted by them on freeways and such). From what I saw looking at real-world ports, though, it's not uncommon at all to have a recreational port adjacent to or very near a commercial one, hence my having recreational harbor on the opposite side of the main port (on the inner harbor, with Peg's boardwalk and all those instances of marrast/Criquette's boat docks). It's just really supposed to look very busy, which in my country, it is (see [entry #1] for a map of "my country"). Oh...and the top-right corner is cut off because in my CJ, the opposite shore was built up, but I didn't want to show it yet. The only thing I wanted visible was the lighthouse there in the niche of the corner.
So yeah...that's the seaport. It's the only modular seaport I've ever built in SC4, and it's one of the best things I did in Condor Bay, in my opinion.
3.)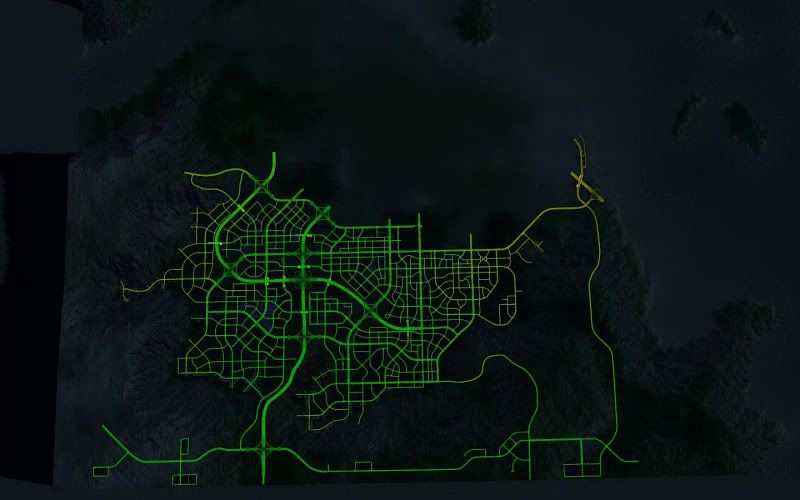 This is, very simply, a street map of Buonocitta from CXL (actually, it's a traffic data map, but enough about that). This map actually got me my first (and so far only) city-related Trixie
. I really would like to get back into playing this game, as a city map like this would be VERY hard to replicate in SC4, but I feel so out of the loop with this game (kind of sad, considering I'm a moderator for its board here on ST
).
--------
So yeah...that's that, I think. Is three pictures enough for each update? Should I do more or less? And do you guys actually read what I write, or just look at the pictures (answering truthfully won't stop me from explaining each photo...I'm just curious)? Let me know! Also...I'm running out of punny "Mas" phrases to use as titles. I may have to change the convention here in a bit...
Thanks for checking this out! Comment, if you please!