#7 - Mas Reaction!
Replies:
TowerDude-
Thanks! Glad you enjoy it!
111222333444-
LOL, thank you! I enjoyed typing your name out
Alejandro-
Perhaps they are, I just think they look weird. Even now
. Thanks for the comment!
NMUSpidey-
Thank you very much!
DCMetro34-
Six years now.
Can't believe I've been around so long. And we finally get a NEW SimCity, too! I don't think I've really taken time to understand what that means to our community--a true, EA/Maxis-developed SimCity sequel. Who'd've thought we'd ever see the day!? Also, thanks for the compliment!
Samerton-
Oh, thanks! I can't believe the reception it's gotten; the first time I showed that picture, it wasn't nearly as positive!
------------
"Perhaps the next update won't be so long coming," I think is what I said 9 months ago. Guess I was wrong on that...
Don't think an apology would suffice for the long wait, but I suppose I'll make one anyways: I do apologize for not updating in so long. I haven't been here in a good while, at least not until the new SimCity game was announced. But coming back, and seeing how ST has changed, and seeing all the excitement, I looked upon this old place and felt the urge to update. So, because most of the folks have been waiting waaaaaaaaaay too long for it, here are five random pictures from SC4/CXL:
1.) (Looking north; click the pic to see it filled in)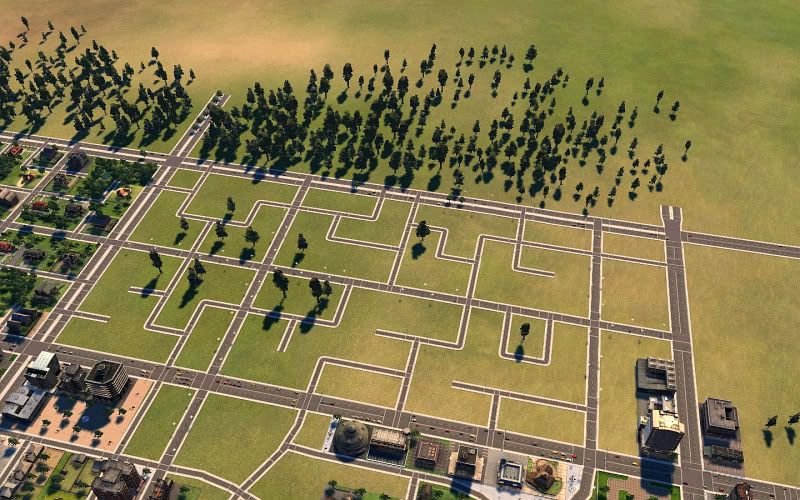 This is my attempt to create a
suburban layout in Cities XL 2011. If you know anything about fused grids, you know that I really didn't get the overall concept right here, as a fused grid is supposed to make getting back to the arterial roads easy (cul-de-sacs usually only branch off from those) but with limited space and huge lots to work with, I think I was lucky enough to get even this
.
Still, I'm rather happy with how it looks in game all filled in. As one of the major advantages of using the fused grid suburb is naturally-integrated green spaces, I made sure to create some small lakes and parks in between the blocks. To take a look at the completed block, simply click through the picture above.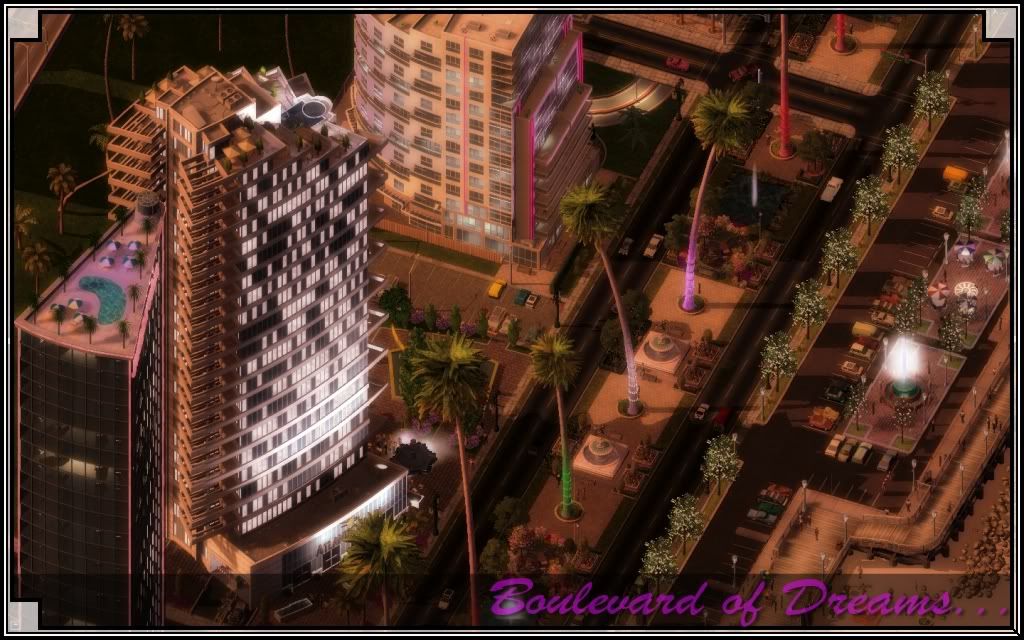 This picture, from Condor Beach, is in my opinion one of the best I've ever produced from SimCity 4. I LOVE the intense colors of the palm trees and sky (though I think I artificially made it sunset). It also doesn't hurt that
is in the picture, which can single-handedly make any scene better
.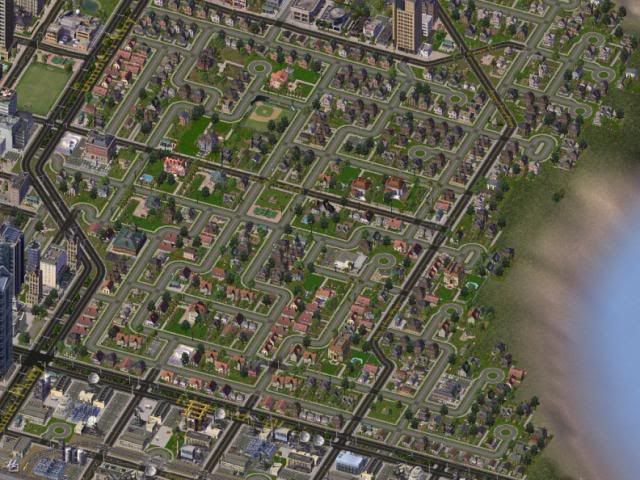 This area is INTENSELY nostalgic for me, as this suburban neighborhood in Power City is the very first area I ever built in SimCity 4 Deluxe. Most of my early suburbs in SC4 looked exactly like this: tight blocks, plenty of cul-de-sacs, and no diagonal streets (because, at the risk of showing my age, this was built before those became available
) I later went back and slightly updated this block by adding in
NAM
street roundabouts and
Jeronij
's Street-Side mod trees, but other than that, this neighborhood had remained pretty much untouched--I want to preserve the nostalgia for as long as possible
.
And this time, because it's been so long, you'll get two bonus pictures:
BONUS 1.) (Looking north; click the pic for unedited version)
This is a neighborhood that, as the caption hints at, sits along a riverside (very close to the neighborhood in picture #3, actually). This is also a very old neighborhood, one of the first I built when I got the deluxe edition of SC4.
BONUS 2.) (Looking east; click the pic for full resolution)
Another CXL 2011 picture from Buonocitta. I love the view of the city partially hidden by the ridge here, and the very exclusive neighborhood that the mountains hug (those are mostly elite houses). I figured the super rich would live somewhere like this in my city
. As I said in a previous update, I haven't been able to successfully move Buonocitta over to
CXL
2012, so I haven't yet played that game extensively. At some point, however, I imagine I will (considering I bought the game). Until then, I simply have these pictures that come from building this great, great little mid-sized town.
...and there it is! I won't be so naive as to put a projected update time frame; I will, however, say that I hope you enjoyed the update, and that I encourage you kind, happy people to express your opinions in a comment. Thanks!