1833 : 20th Anniversary of Settlement at Flinders Landing + reply to comments.
1833 : Flinders Landing celebrates its 20th anniversary of settlement.
On a cool but clear night in March 1833, the sky above Flinders Landing exploded in a riot of colour as Flinders Landing celebrated its 20th anniversary of settlement. People from all around the harbour converged on the shores of Flinders Landing and the nearby Watch Tower to admire the amazing spectacle and celebrate the thriving settlement they had built. As the population of the district was now over 24,000 many saw this event as a turning point for Flinders landing, which was leaving its rural small-town feeling behind and embracing the trappings of a modern city.
Reply to Comments :
Jetty Jockey : Nice to know you're liking this CJ! I'm attempting to keep something a bit "country" about my CJ for a while by leaving plenty of open/undeveloped land and not creating too many built up areas which isn't always easy. I'm sure you are itching to spread "Levittown" developments outside the boundaries of what already exists in the "real world" of Cape May that you are creating... hahaha.
NMUSpidey : Still not quite sure how quickly I will build the population on this CJ but it won't be a mega New York by 1900 that's for sure. In 1900, the two largest cities were Melbourne & Sydney and they had only 500,000 at that stage so consider that the upper limit for what I plan. You'll notice that the farmland is growing considerably quicker than the population for now. Those farms (Simpeg?) provide a surplus of jobs so there is no problem with unemployment for the foreseeable future. Enjoy its smalltown-ness while it lasts
I'm still debating opening up a few important decisions (do those poll things work?) to CJ readers that would decide how the region develops but more on that at a later date J.
SimCoug : Thanks SimCoug! Always good to know people are liking the story so far. Your SorGun CJ gives me plenty of ideas for my own journal... nice work btw -looking forward to your updates!
Benedict : Thanks for your comments Benedict... I think the hardest thing about historical CJs is trying to keep it looking historical and not create modern suburbia in the 1800s – I even had to go back and de-zone parts of one area in my latest update of Flinders Landing as it was a bit too suburban for my liking (I'm trying to introduce inventions based on when they first appeared in Aussie cities so for now, you won't see organised waste collection, urban railroads, water pumps or coal fired power plants).
Ps: your top 10+10 journal is a great source for finding interesting reading material...
And now for a brief update on random happenings around Flinders Harbour (the last for a few weeks while I finish off assignments
).
How the people of Flinders Landing enjoy a warm summers evening.
One of the favourite ways to spend time with family and friends in Flinders Landing is to take a buggy ride to one of the hilltop clearings on a warm summers evening and have a picnic. People gather around the gazebo where a band plays while children frollick and the adults dance and drink (usually way too much). One of the most popular lookouts is located just north of Hillsborough township.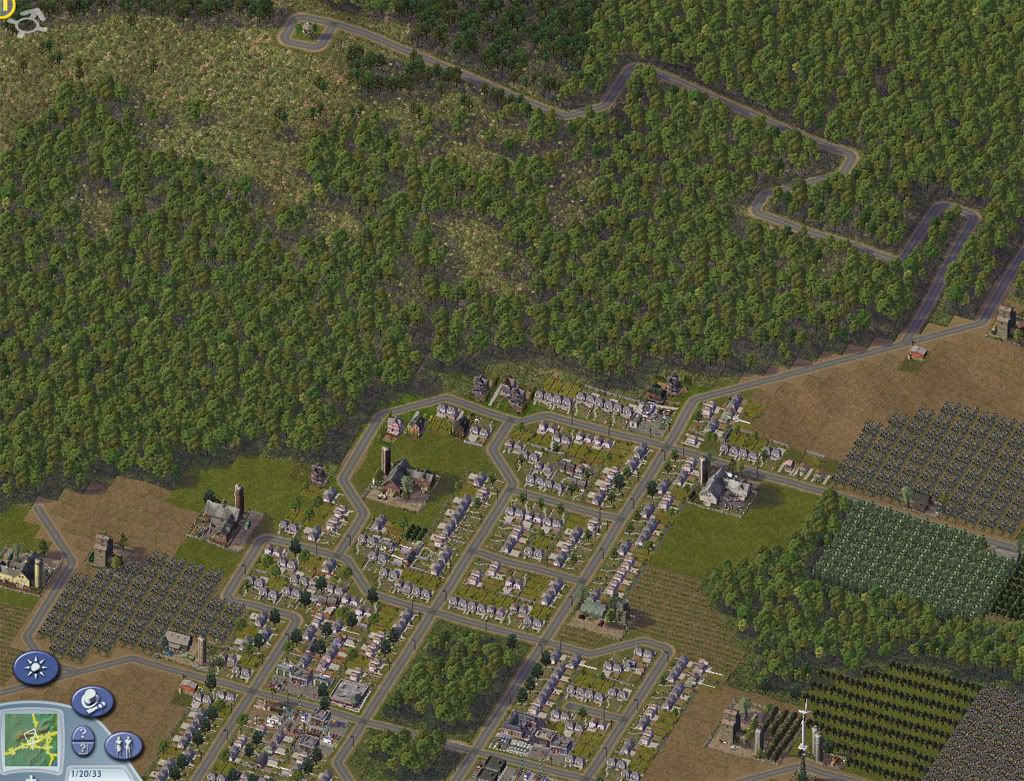 The growing waste problems of Flinders Landing
With no waste collection services, the townsfolk pile rubbish in the streets and their backyards. The growing piles of waste are becoming a big concern for townsfolk as snakes and spiders tend to nest and breed in these no-go zones. With the largest population, Flinders Landing has the most serious waste problem and during rainstorms, the waste tends to end up in the Grenville River, affecting water quality downstream and around the docks.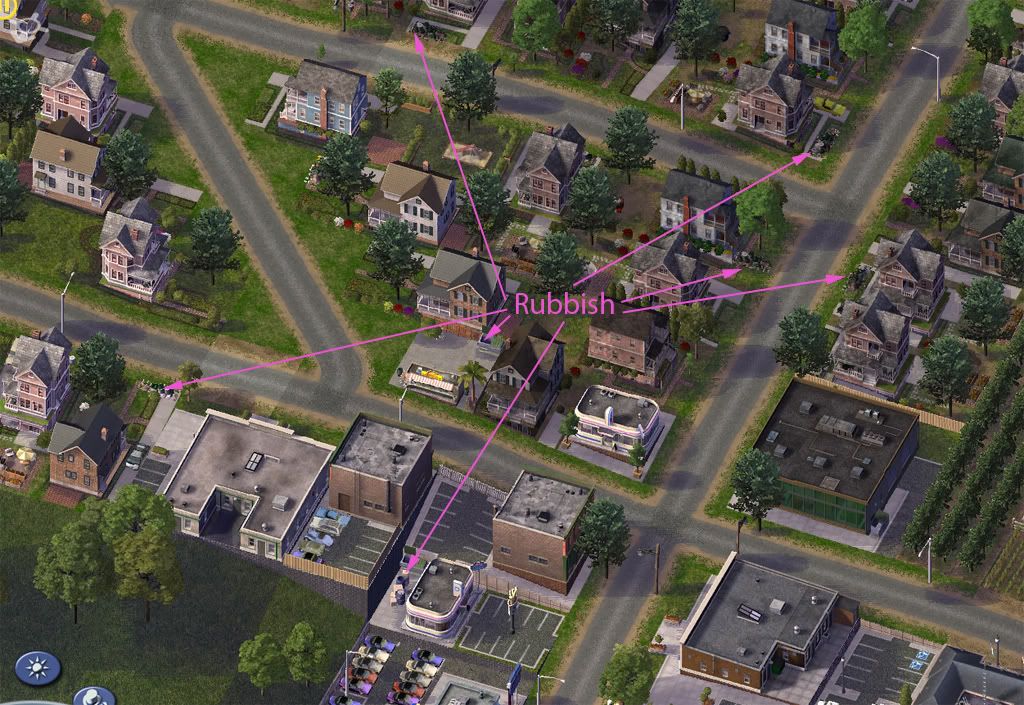 Getting a bit hot under the collar.
With no fire stations, the townsfolk rely on the kindness of strangers and friends when a fire breaks out. This fire, one of the more serious events recorded so far, killed 3 people, 1 garden gnome, and destroyed a row of 5 houses at Bligh Bay on a hot summers evening in 1832. Thankfully the townsfolk stopped the fire from spreading to nearby farms.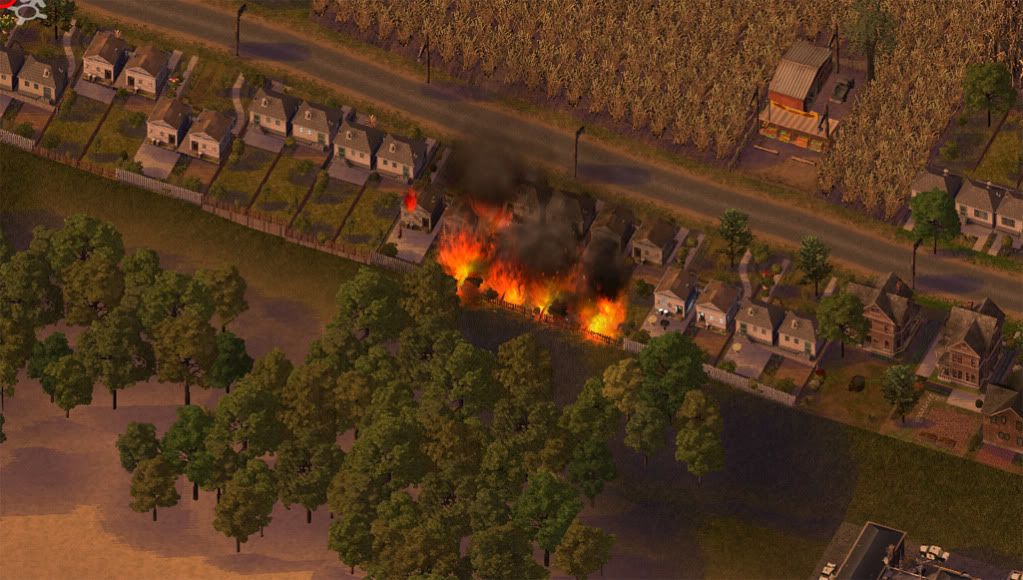 On your boat, boy!
Inter-village transport is dominated by ferry services. Due to the spreading out of settlements around the shores of Flinders Harbour, the main form of transport for many villages is a ferry into Flinders Landing. 2 Steam ferries, purchased second hand from New York, provide the bulk of the ferry services around the harbour. With no bridges to cross the waters of the Grenville River and Flinders Harbour, these ferries are the lifeline for many of the settlements not connected by road to Flinders Landing.