2-2 Dennisville - outskirts

Today we continue our look at Dennisville, featuring the villages of North Dennis and South Dennis. Development is now complete from NJ 47 northward to the Woodbine city line. As I've said before, this journal is a learning process, and I've today I've learned an important lesson. Photobucket automatically resizes my pics to 800 x 600 , so I've been able to leave my screenshots as-is instead of resizing them to a smaller version before posting them . Now if you click on the pics, a larger, more detailed pic willl appear in a window. I only wish I've learned this some 10 or 12 entries ago.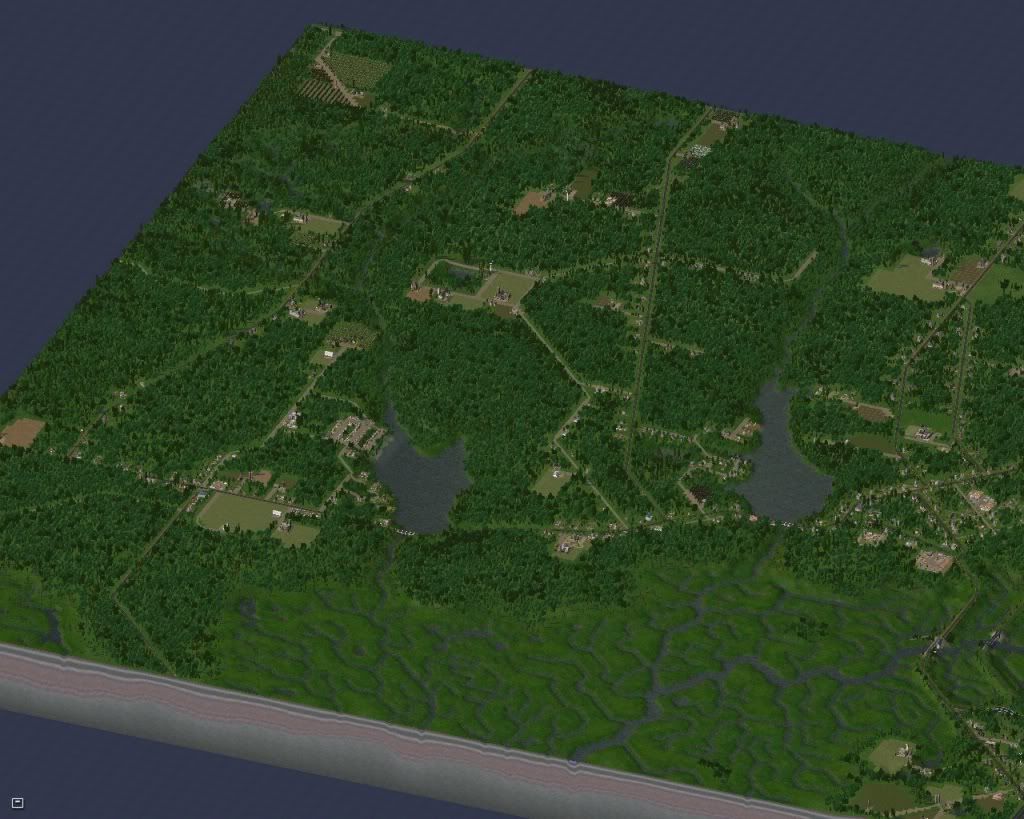 Development is now complete from NJ Route 47 along Washington Street (leftmost north-south road) and Tyler Road ( center road, paralelling Washington) northward to the Woodbine city line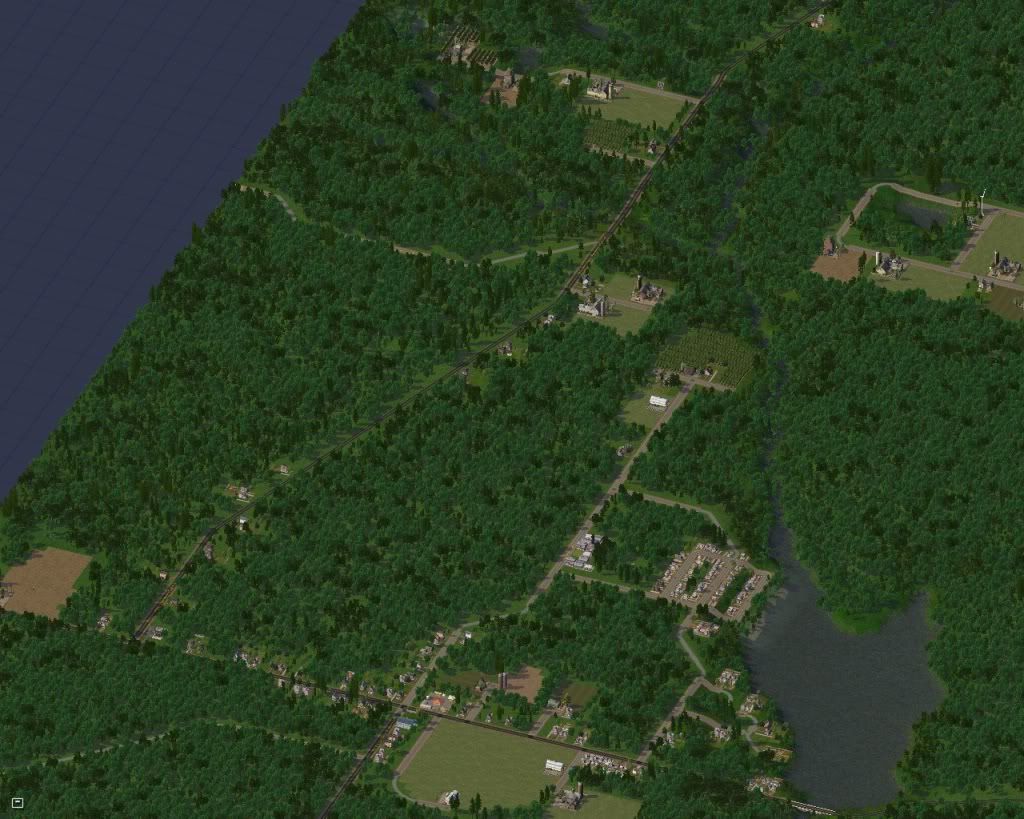 The view northward along Washington Street (County Road 557) . North Dennis lies west of Ludlam Pond. Delsea Drive ( NJ Route 47) leaves the region westward towards Port Elizabeth , and is one of the primary routes to the metropolitan areas around Philadelphia. Pine Swamp Road ( street, heading west from Washington) leads off into Bellplain State Forest.
Looking north along Tyler Road ( County Road 611). Tyler Road connects to Woodbine, traversing the land between Johnson Pond and Ludlam Pond.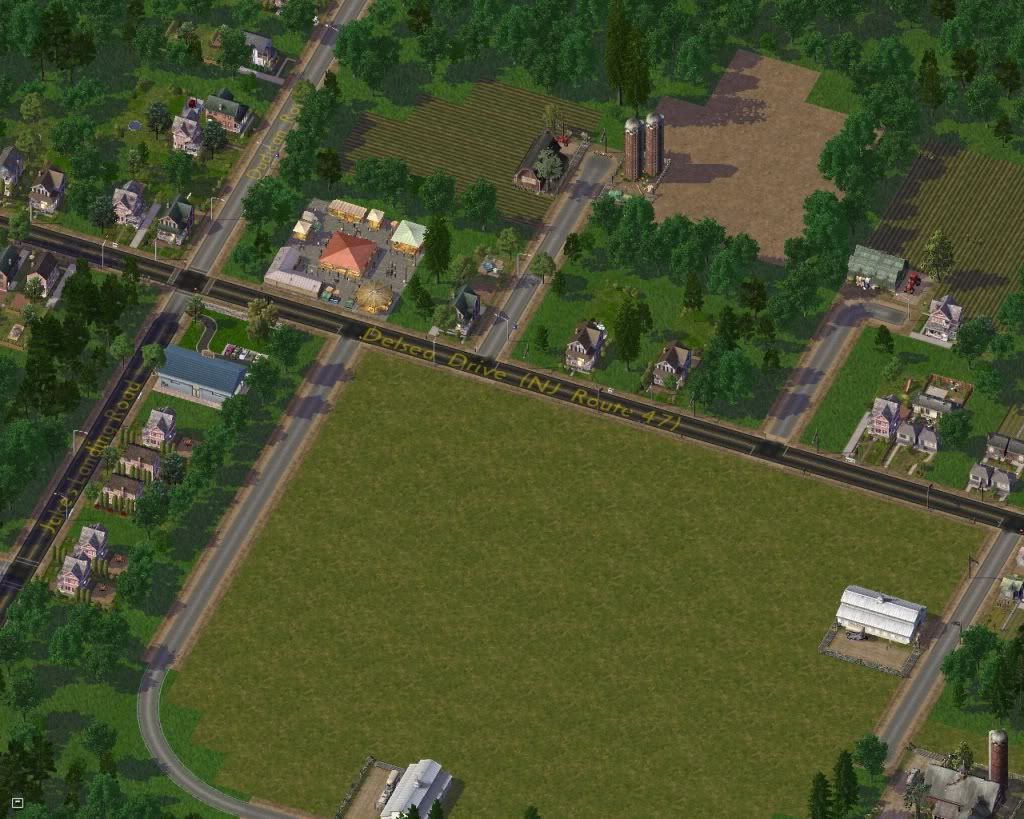 Local farm markets, like this one on Route 47 provide local residents and tourists alike with fresh from the fields produce and locally caught seafood.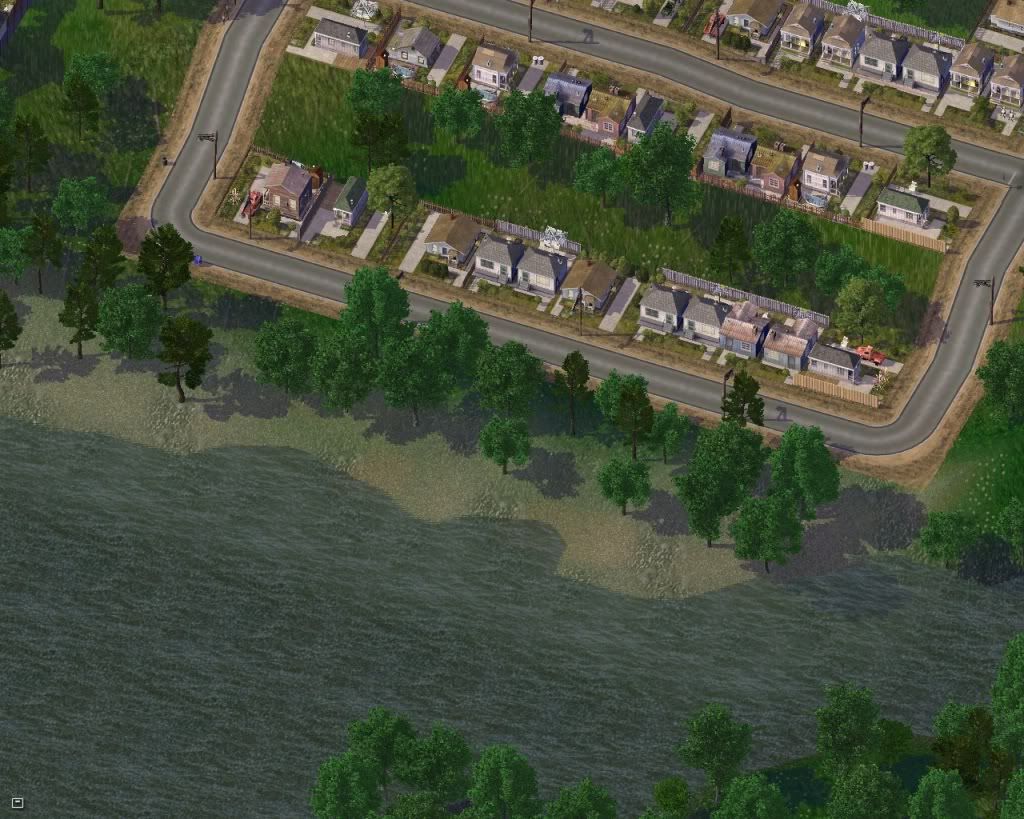 On the shore of the northwestern corner of Ludlam Pond is a resort of small cottages. They are unoccupied from November till March.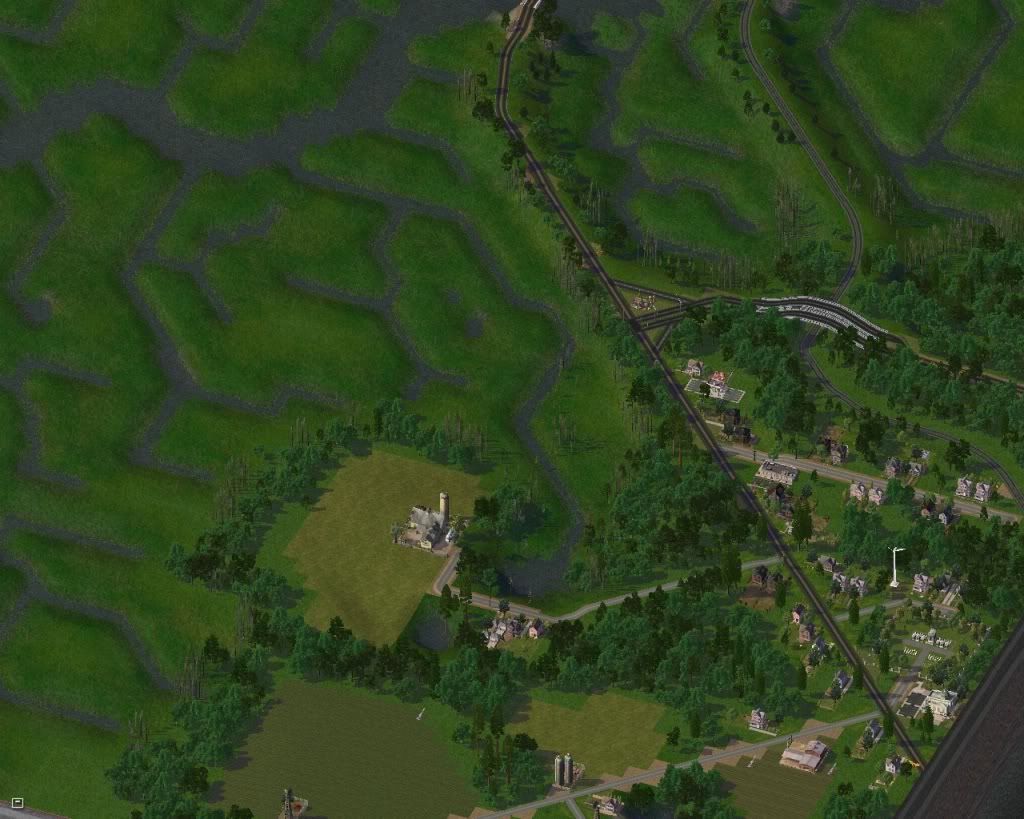 Along the southern bank of Dennis Creek is the northwestern edge of the village of South Dennis. Delsea Drive crosses Dennis Creek and meets NJ Route 83. The western end of Route 83 has been widened to better accomodate the flow of tourist traffic to and from the resort towns of Sea Isle City and Avalon. At least that was the plan. On summer weekends, traffic snarls can back up local roadways for miles.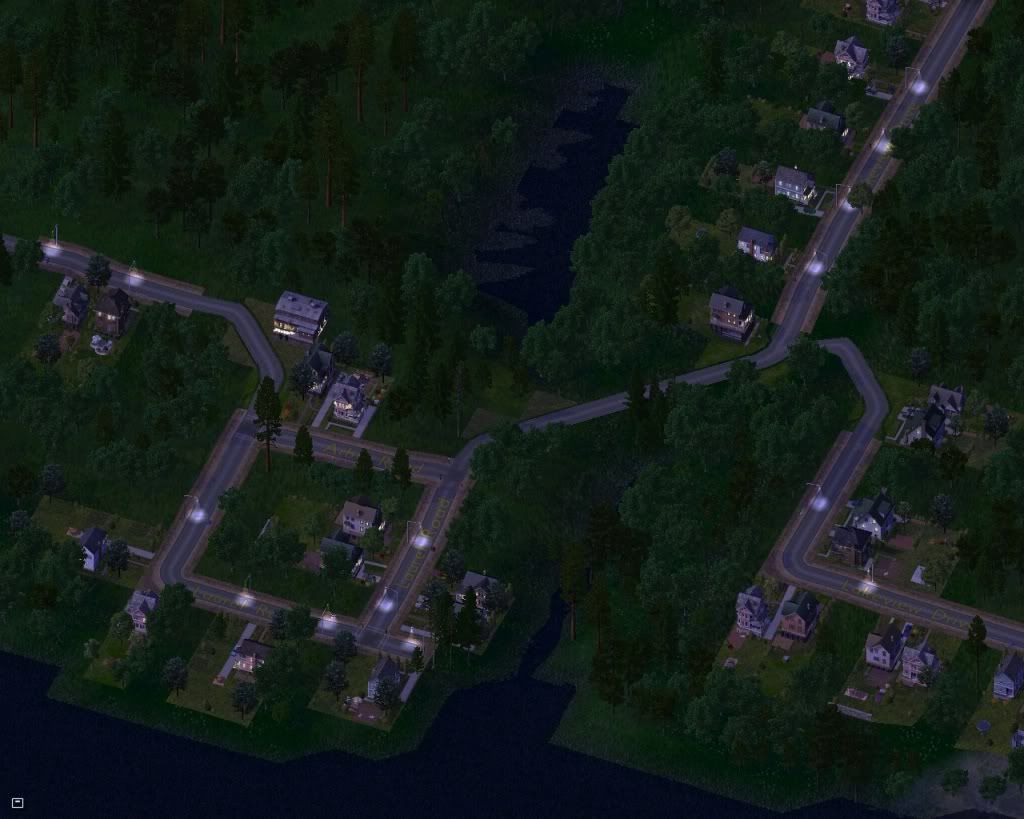 We'll say goodnight to Dennisville for now. Thank you for stopping by and please feel free to leave any comments, questions, suggestions, or criticisms. I value your input !
MAYOR'S STATE OF THE CITY REPORT :
Dennisville has grown to a population of 5,410 Sims. Despite providing 114 Commercial jobs and 4,195 Industrial jobs ( mostly farm related) there is intermittent unemployment , mostly among the residents living east of the town on Petersburg Road and in South Dennis. We're hoping that eventually these folks will find employment in neighboring cities as they develop.. Residential demand is extremely high ( hey, let's be honest, who wouldn't want to live here?) commercial demand is low, and industrial demand is fair, but improving over the past few years. 67% of the population approve of the job the mayor is doing. The mayor's 9-9-9 tax plan provides a surplus of 1337 simoleons monthly, and treasury funds have increased from around 15,000 to 231,872 over the past 30 years despite funding such social programs as free clinics, pro reading, junior sports, tourism promotion and more. An older population ( over 60% of the population is over 31 years old) is largely undereducated, but we're hopeful that a new planned museum will help broaden a few minds. The Elementary school is currently underutilized, but Dennisville is poised to offer the finest K-8 education to the children and grandchildren of the current residents. Power plants are operating at about 80 % of capacity, and all zones have access to city water. Dennisville has garbage deals set up to import garbage from its southern neighbors and pass it along to the county landfill in Woodbine. We actually make a small ( $14/ month) profit on this arrangement.
All in all, I'd say the future looks bright for Dennisville. With ample cash reserves ,we seem prepared to face our problems and meet any new challenges ahead .
Replies :
10000000000000 : The DEMS maps that I tried at first had muddled data, mostly because in the marshes the difference in elevation between land and water here is measured in inches, and dependant on the tide. So it had to be done by hand, using the mayor's terraforming tools. When done, I obliterated the city to reset the money and give me a clean slate, so to speak , to work with. Thanks !
Macko123456 : Glad you enjoyed your visit. Thanks for stopping by and leaving a comment. Hope to see you soon !
Benedict : Thanks ! I'm a big fan of the FARR too. Although it presents a number of challenges for zoning, I too think the realism added makes it well worth the headaches involved.
vivapanda : Thank you for being able to find the similarities between my map and the real world one. I used Bing ™ in combination with a small scale county road map (which I finally had to retire- it's in tatters from all the folding , unfolding and refolding over the past 18 months) I don't know about being a "master terraformer" ; obsessive compulsive might be a bit closer to the truth
It took a lot of trial and error and a lot of my lenghty delays between terraforming updates were filled with me screaming a string of expletives at my computer when I realize that some of the terrain features were misplaced by as much as a quarter mile and a few days worth of work was completely worthless. The encouragement I found here helped me keep plodding on, creek after creek, pond after pond until it was all finished, and for that I thank all involved. Now that it's finished I can finally PLAY , and as a result my blood pressure has dropped considerably.