1818 : The visitors, the response and a whole lot of blubber!
Replies to Comments
Paulobergonci : Thanks for the comments Paulo! Just checked out your CJ and I don't think I've ever seen someone "carving" out open fields and then placing farms in them quite like you.... it's almost sculptural. As a big fan of all things South American and having been to Sao Paulo/Rio before, I think I'll be following your CJ too!
hahei : Hi Hahei, I hope this CJ brings back a good memory or two of your stay in Australia and although it will be inspired mostly by my home city/state of Melbourne and Victoria, I'll try and incorporate ideas or storylines from other Australian cities too where possible.
vivapanda : I really like historical CJs too. My favourite "Historical" CJ from many years ago was "Digby : East Coast Region" (does it even exist on Simtrop now?) and I think that has inspired all my creations ever since. My favourite CJs are those that tell a story and I guess that is what I'm going to try and create here... perhaps not with bike lanes though for at least a 100 odd years.
. Your bike tour method of highlighting parts of your city is something I'll keep in mind... nice work on that one!
Schulmanator : You have time to comment in between your CJ updates?... Impressive! *laughs*. I hope you enjoy this CJ, my passion is urban planning/design/history so my CJ will take a different course to many on here but it won't quite be the eye-candy/OMG that is Schulmania unfortunately lol. Regardless of that, here's hoping the story makes up for the lack of eye-candy... hahaha
skyscraper241 : Thanks for your comments "Benny"
, I guess my CJ will start very small scale and build up much further down the track. As I get more involved in CJ-ing, I'll built up more of an inventory of custom content but for now, I kind of like the maxis content for its simplicity which I find befitting of a small "nowheresville". The other benefit is that maxis content is generally "building style" specific so you don't get too many modern glass buildings popping up in the early 1800s if you only select Chicago building style. I've had a bit of an aversion to large amounts of custom content for the stability issues it causes SC4 so I'll look to introducing it gradually. That said, you'll start to see a bit more variety in Flinders Harbour as it develops and gathers steam – I'll take your comment as a challenge
Flinders Harbour 1818
Demographics
Population : 1,444
Flinders Landing 1,226
Sealers Cove 218
1818 : Map of the District of Flinders Harbour with main settlements

May 1816 : The Visitors
On a cool and foggy autumn morning, 3 ships from France sailed up the Grenville River and anchored just offshore at Flinders Landing. Fearing an invasion, the local regiment of 20 redcoats and many settlers hastily gathered near the docks in expectation of trouble. Luckily for the settlers, the ships were on their way to Port Jackson to stock up on supplies but decided to stop short when they saw a fishing vessel heading back into the harbour as supplies of water and food were running critically low.
Although much animosity was directed towards the French due to the recent Napoleonic wars, the retail district around the docks made a handsome profit in trade of food, rum and assorted other novelty items like stuffed Koala and Kangaroo skins. After anchoring in Flinders Cove for 5 days, the French departed to a wave off from over half of the townsfolk and many a happy shop keeper.
The French ships anchored in Flinders Cove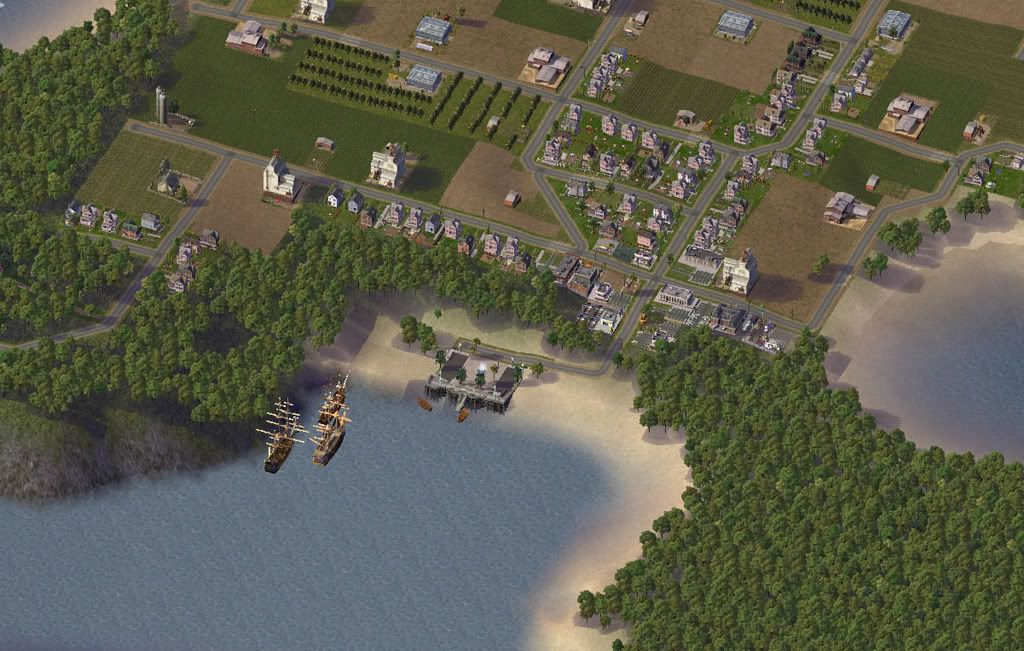 June 1816 : The Response
Although the visit of French ships was perhaps the biggest event to happen at Flinders Landing since it was settled, the redcoats and colonial administration in Port Jackson took alarm at the French presence in the area and the inability to defend these new outposts against any potential aggression. Message was sent to London about the incident and asked for any assistance that could be afforded in bolstering the settlements in New South Wales and Van Diemens Land.
October 1817 : A Message and Gift from London
On October 20, a fleet of 10 ships entered the harbour bearing great news for Flinders Landing - King George declared it an official town of the Empire and administrative capital of Flinders Harbour District by letter patent. Of even bigger news to Flinders Landing was that several of the ships in the harbour contained materials for the construction of a Town Hall and a watch tower to look out over the Grenville River entrance to Bass Strait as a protection messure for the town. Construction of the Town Hall was completed by February 1818 and the watch tower completed by May of that year. The small peninsula on which they were constructed became known as Tower Hill.
Tower Hill showing the newly constructed watch tower and Town Hall.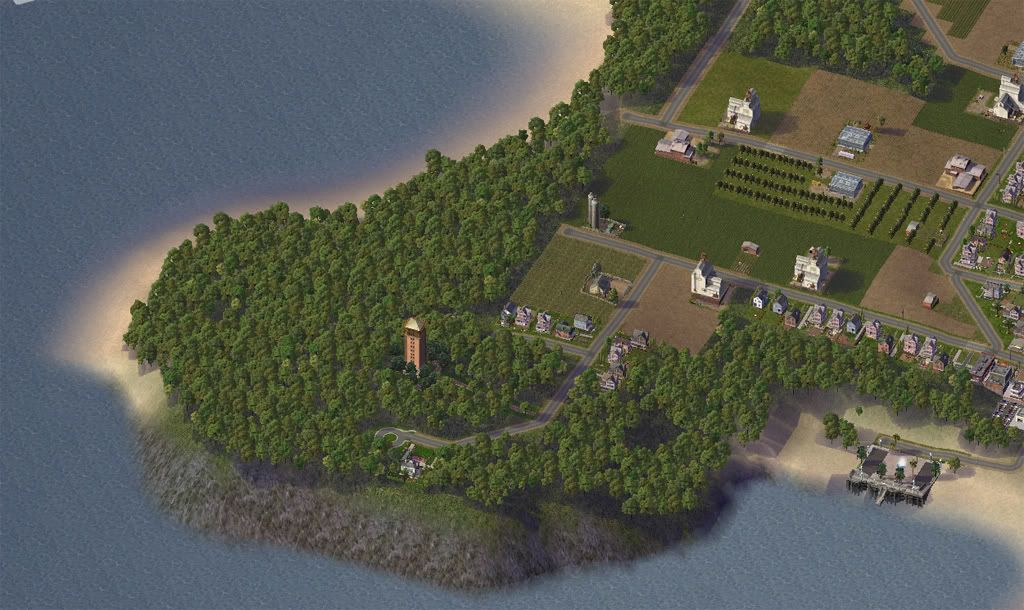 Further expansion of settlement at Flinders Landing
By late 1818, Flinders Landing had grown to over 1200 citizens. Many of the localities took on names in honour of the British aristocracy, Governors of New South Wales and one for the family who originally settled that part of Flinders Landing (The Mors). Of particular note were the two newer settlements at Grenville Town and Georgewater as they had a small commerical area to serve the local inhabitants.
A map of Flinders Landing showing settlements and important features
Georgewater is on the right of the picture, and the locality of Pitt Junction on the left.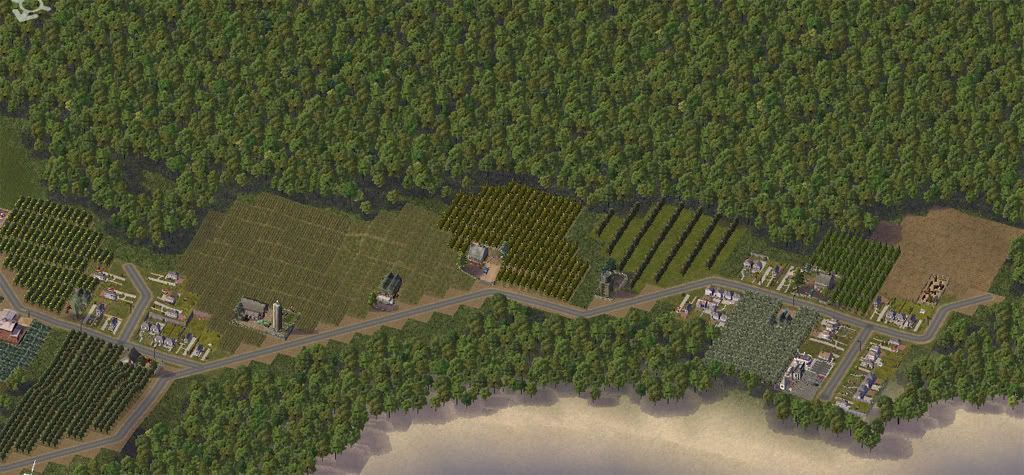 Grenville Town
December 1817 : The Development of Sealers Cove and the Seal Trade.
Since the first explorations of Bass & Flinders along the coast of Bass Strait near Flinders Harbour, the abundance of seals in the area was well known to bands of whalers, pelt and fur traders operating the southern oceans. In early 1817, a small settlement grew up in a cove near 2 islands just off the coast that were heavily populated with seals and herons. The establishment of the fur trade and a small soap manufactory at Sealers Cove proved a big boost to the local economy and the trade of food, fibre, furs and soap between the two settlements proved beneficial for both.
The Seal Islands in Bass Strait, just south of the entrance to Sealers Cove.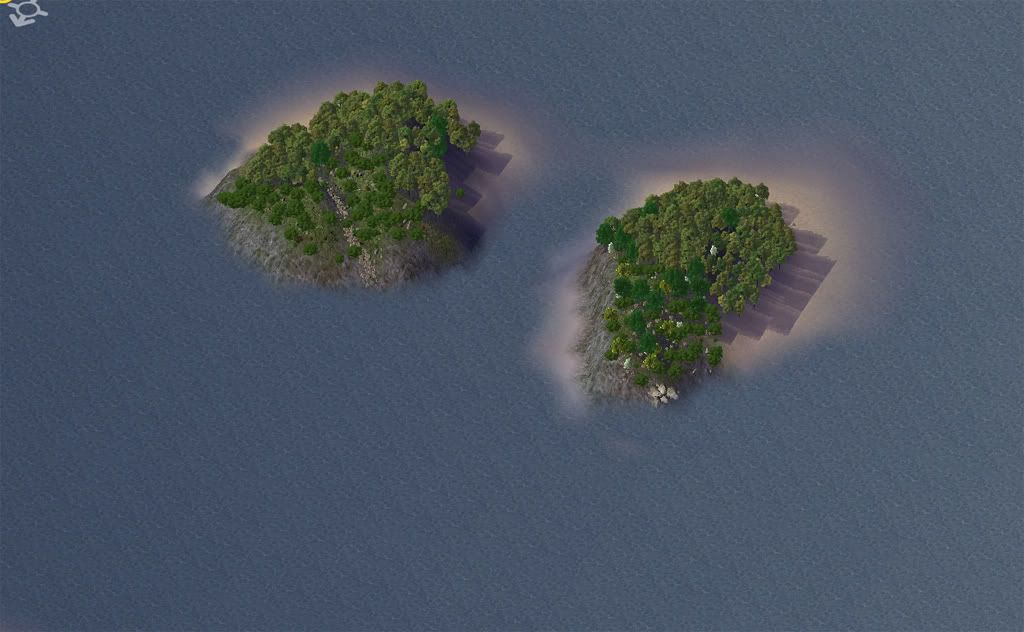 The small settlement of Sealers Cove, showing the docks, soap manufactory and fur traders sheds.