Duncan, named township of the year.
Entry posted by bigro ·
107 Views
Hoo-freaking-ray, one of our small towns got the prestigious award for being the most promising township in all of Daggerson. And that ain't easy to do. It had to compete with the rapidly expanding south and the old but cultured north, both of which were tipped to flog us. But we prevailed. The reward money should cover some service upgrades. To celebrate this victory we're gonna give you a run down on how Duncan has progressed the last few years. (7 to be exact)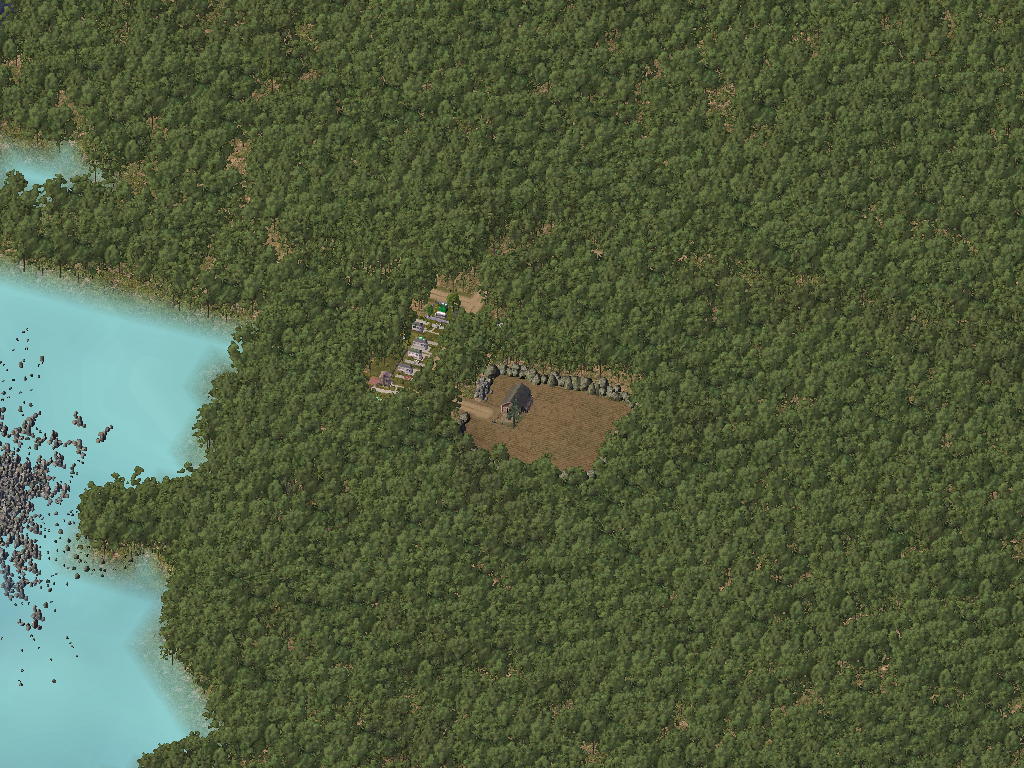 Now you may be thinking "hey, that looks familiar" it's because it is, we showed you this picture in the second update, back when the lake was a striking blue colour. It's only here for a comparison to this....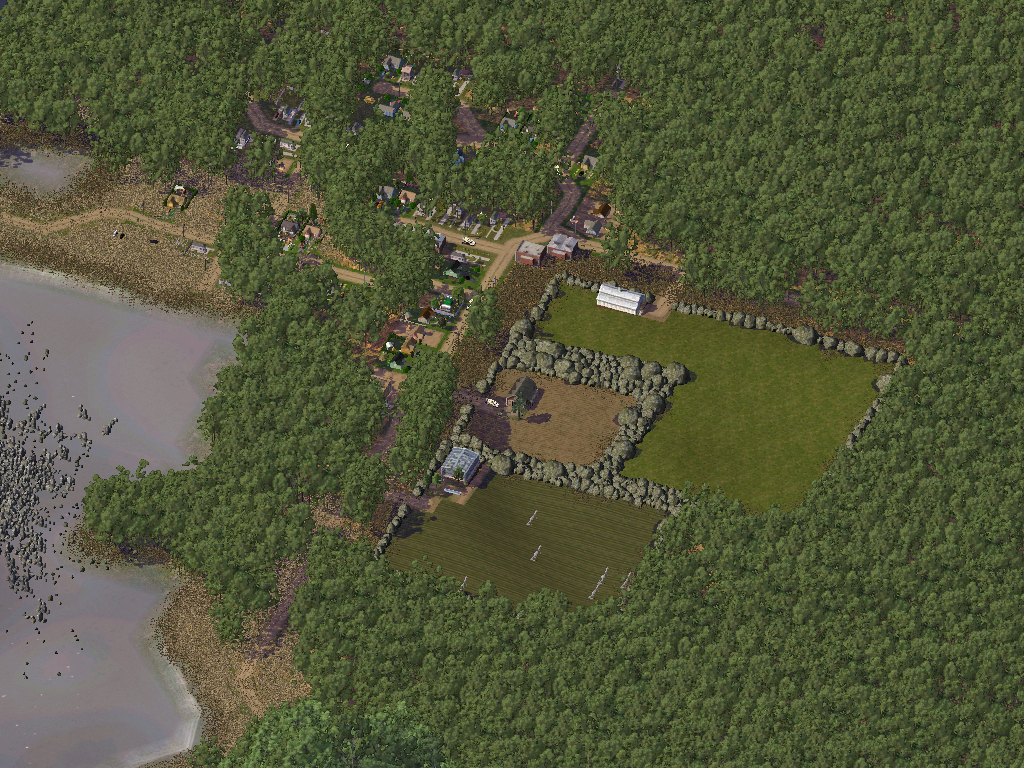 With the population more than quintupling (you'll see where the rest is stashed later) and the recreational facilities (the beaches....possibly a field too) rising from nigh on nothing to the second best in Ulatown (again, later, you'll see the first besterest and precisely why it didn't get the award.) Also, the unemployment rate, even if the town only has 593 people, is the lowest in the area, and the second lowest in all of Daggerson with only 29 of those 593 people being without some kind of work. Even if only a quarter of them are full-time workers. That's still pretty decent.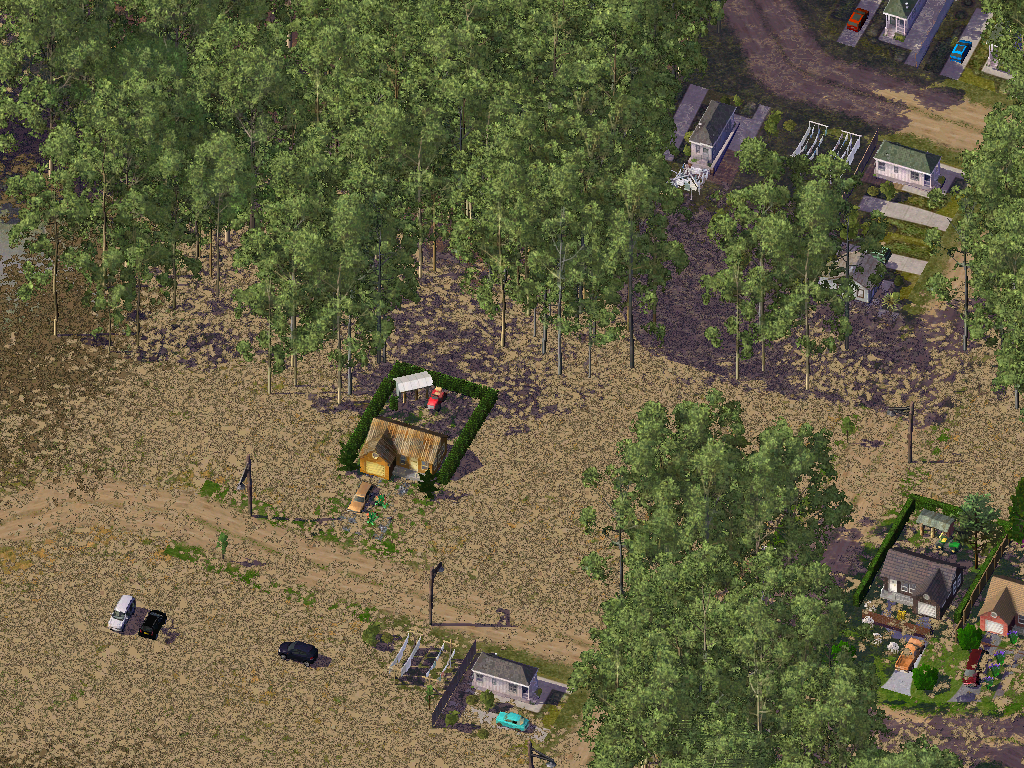 The west beach, pictured here, is the smaller of the two dedicated beaches we have cleared. Even though it's smaller it gets just as many people to it with an increasing tourism and the proposal that the DPASS (Daggerson professional aquatic sporting summit) to be held there, a smaller event in terms of the events that Daggerson holds, but it would be huge for Duncan.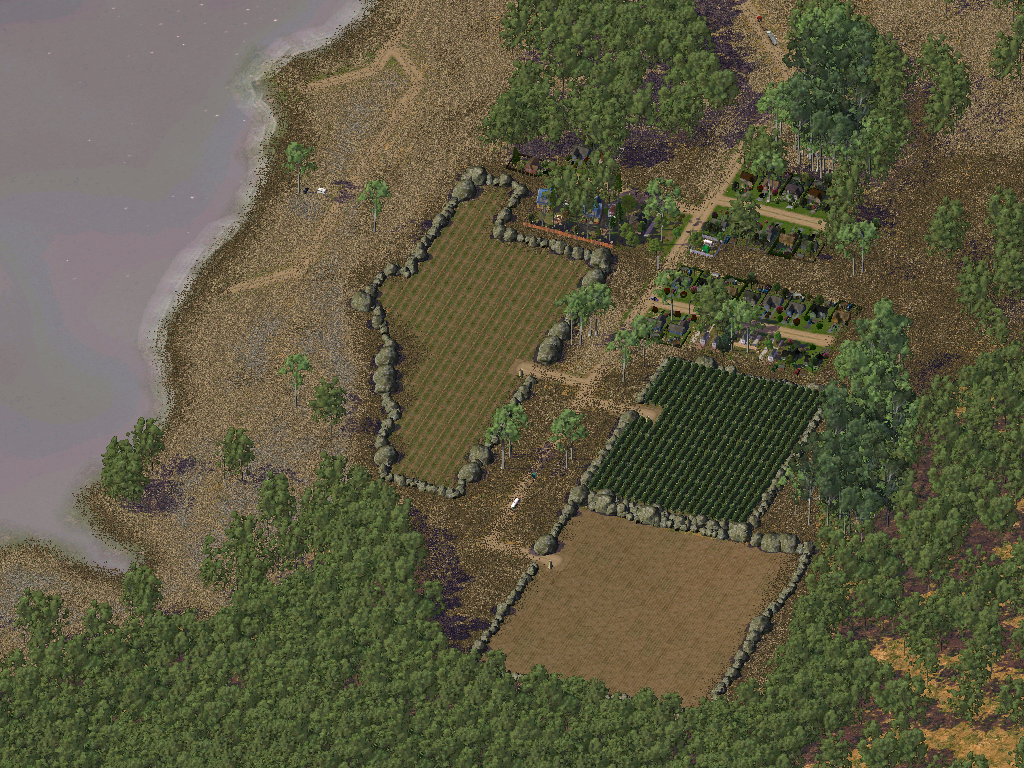 This, is the south beach. The larger one that we made extra large so that future developments have the advantage of the beach. This area is a very recent development of only 3 years old, but it has equal population to that of the main Duncan township just 750m to the north. Curiously enough, the agricultural industry here is larger than that of the first settlement. Mr.Omar with all this Agricultural growth has been raking in the dough attributed to the need for fencing off of the feilds and crops...nasty wildlife. Also referred to as brown beach by the locals because of it's several brown patches. Also, Mr.Brown Lives in his caravan on the beach here.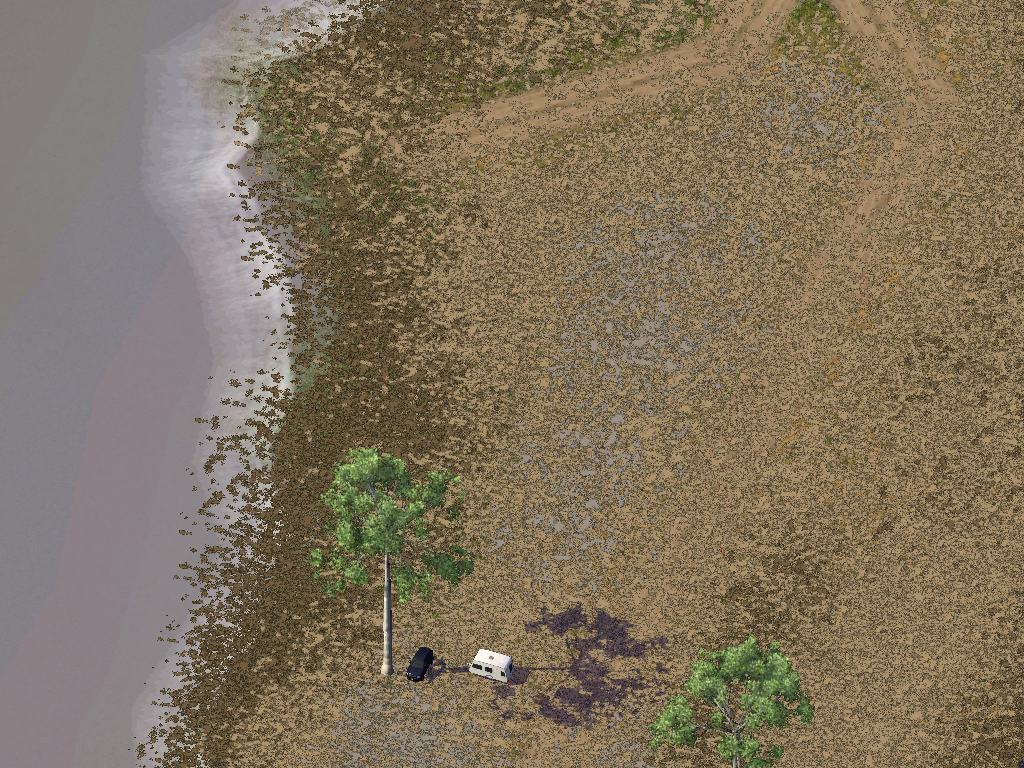 Note, he is illegally here. He wont leave though, no matter how much we try to get him to. Largely because he's ANCHORED the caravan to the ground there making it impossible to move without damaging it...which conflicts with our laws. Fun stuff.
So, we with all this extra money have considered offering Mr.Brown funding to set up some sort of 'beach side' caravan park so that he and all his caravan buddies can camp out in peace, whilst increasing tourism tenfold.
Speaking of tourism. (warning, out of place art-deco ahead)
Not that long ago, about four years ago in fact, a large...ish hotel company selected a small town named darwin (12km form Duncan, 20km from Alistair) which had a slight oddity, white sand. The pre-existing beaches in this 1km stretch of lakefront are composed of white sand and are well...awesome. They had built their standard and largely pre-fab hotels within a year. (also the tallest in Ulatown) The small town (if you want to call it that) of 50 rose to 1200 within two years. Another two years passed and it is what you see there, with not much increase in population due to....events involving rocks warding people away. The town is also solar powered, a uniqueness among the larger towns which are mostly fueled by diesel. Then...this happened....last week.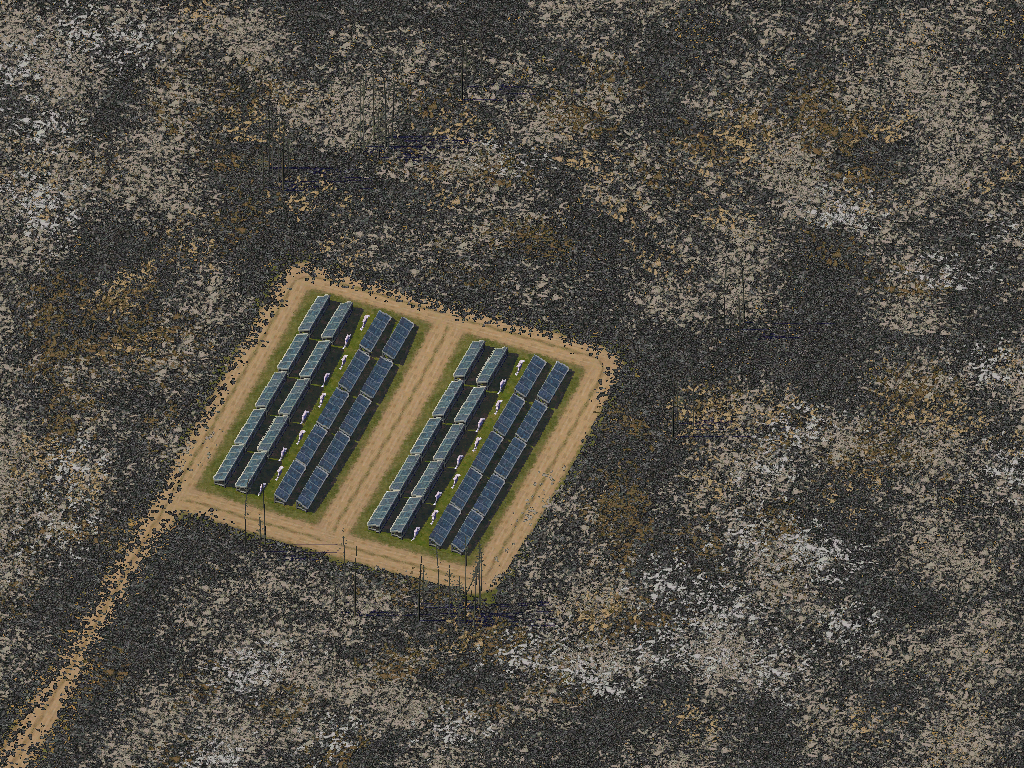 About 2km northeast of Darwin the Huxley Solar plant is located, it was a dry and windy day, away from the town luckily. A stray spark from a faulty solar generator sparked a small fire in the dried out at the time grass underneath the solar panels, grass had been growing across the dirt roads that saw little usage and it jumped the road easily. Two hours later and it has turned into a 5x5m patch of eucalyptus trees burning rigorously, Within moments after that, Mr.Huxleys house was alight (not shown in picture) and not too long after that gutted. All in all no one died or was seriously injured but several hectares of forest got wiped out. A back burning program has been suggested to prevent any disasters in the future. Hopefully it will work. Oh, and if your wondering why the solar panels are ok it's because we replaced them as soon as it was safe. Because we can't have tourists without power now can we?
Now, onto a more....weird note, that static footage from the rock incident involving those cows and that paddock has been sent off too Georgeia to be analyzed by a specially trained team of nerds. It has came back with only this image. The only thing they could get out the static.
creepy right? spooked me when I saw it. But nonetheless, this rock bull has been happening more and more of late. One very notable example that resulted in the death of some poor travelers was this one just five years ago.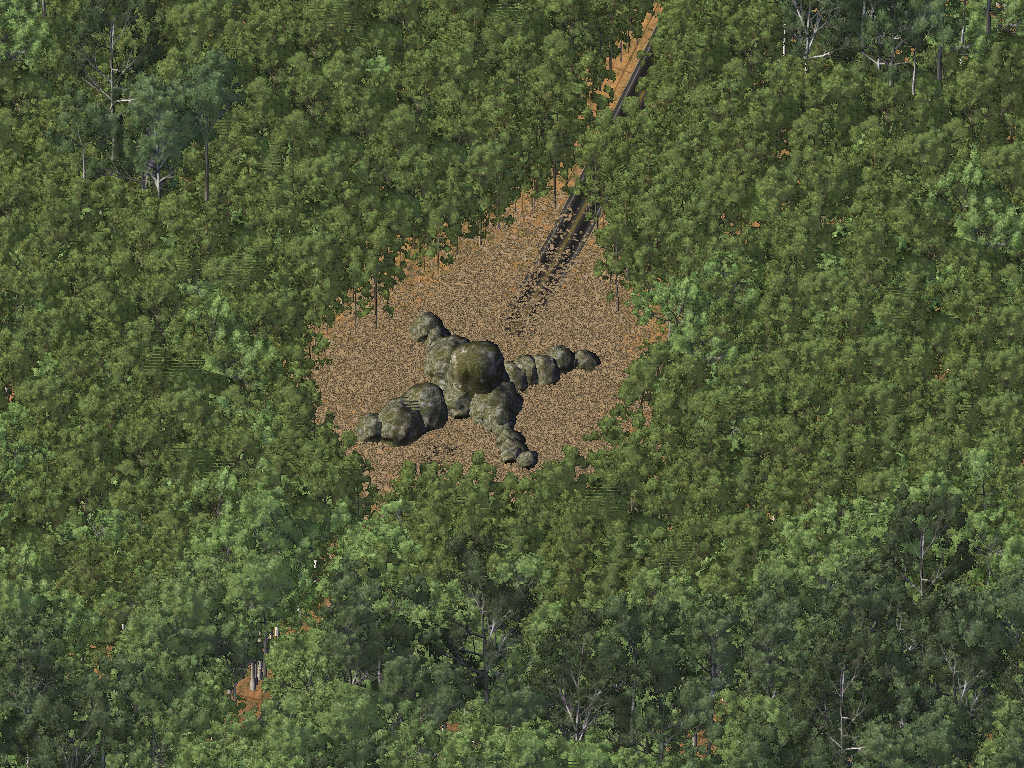 Dear lord that was a mess, the rocks had appeared over the highway and they just drove into it not noticing it appearing. The black box recorder (it's law to have one installed in any vehicle in Daggerson) was not recovered.
It was after this very incident that the government got off thier butts and funded us a team of rangers, biologists, geologists and a range of other ists to find out just what is going on here. Here's their remote station.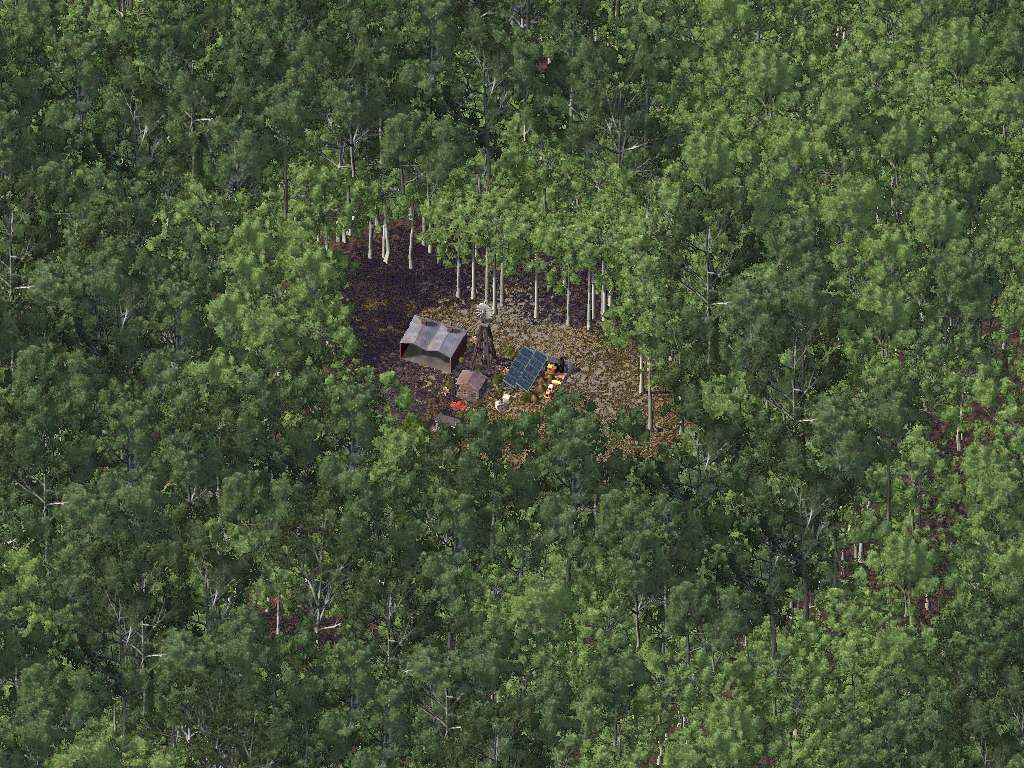 state of the art shed, crappy cabins and a water wheel. Couldn't get any better than that right? I mean who needs a spa when you have SCIENCE!
That's all for today, swing round some other time.