Stuff happened while you were gone.
Entry posted by bigro ·
184 Views
stuff...has happened. Towns have shot up out of nowhere, people have moved away, tree's got dense, rocks got weird.
Please explain? OK.
Let's start with a few of the newly founded towns.
Here, we have the town of hage, majorly an agricultural job center. With a population of just 38 Hage provides almost eight times that in jobs. No shops, no rubbish collection either, this town is...a little different. Also, the town is run on solar power, just a few solar panels provide enough power for the farms and the residences. A recent development in this town has had a major mining company propose it for a possible location their new Ulatown Office. This offer has been met with much controversy as the people of Hage want no part of it yet the people further south (about 4km) in Alistair are fighting for it because they don't want it. Fun stuff. Aren't you glad you came back? Oh, and the farming sector here is majorly just pastures at the moment. Still surrounded by the rocky walls however, being that it is cheap and efficient. The boulders we keep finding are lighter than they should be, and the local wildlife don't like them....neither do the cows. The farmers have have dealt with this by creating a sort of 'safe haven' for the cows to calm them in that they have planted loads of the tree's nearer to their properties. This also makes them easier to round up because they're generally near these and not spread out.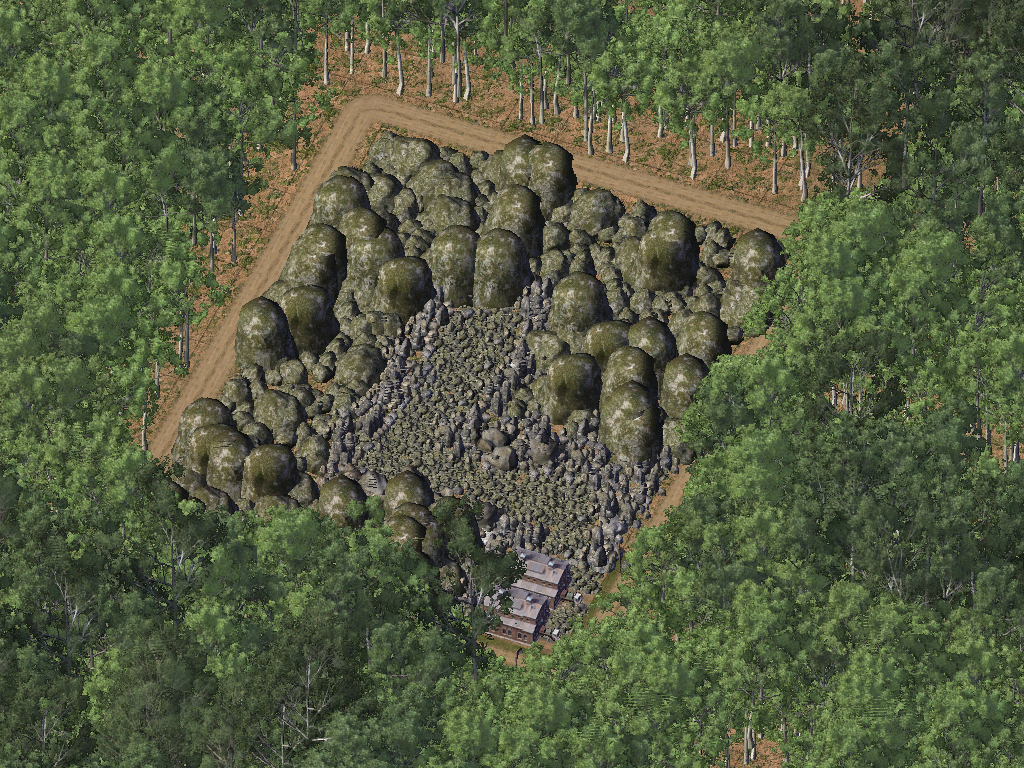 This, located in the new development of South Alistair, is the McOmar Boulder Shifters main yard. These are the guys that thought making a business based off these very light rocks was a splendid opportunity and we weren't in the position to argue. It's convenient because now we don't have to go and find them for ourselves. Also, in this general area the local wildlife seems to have....vanished, gone, not to be seen. We speculate that the rocks in a large clump have something to do with it but we just can't be sure. We're getting a geologist from the capitol to come down and investigate.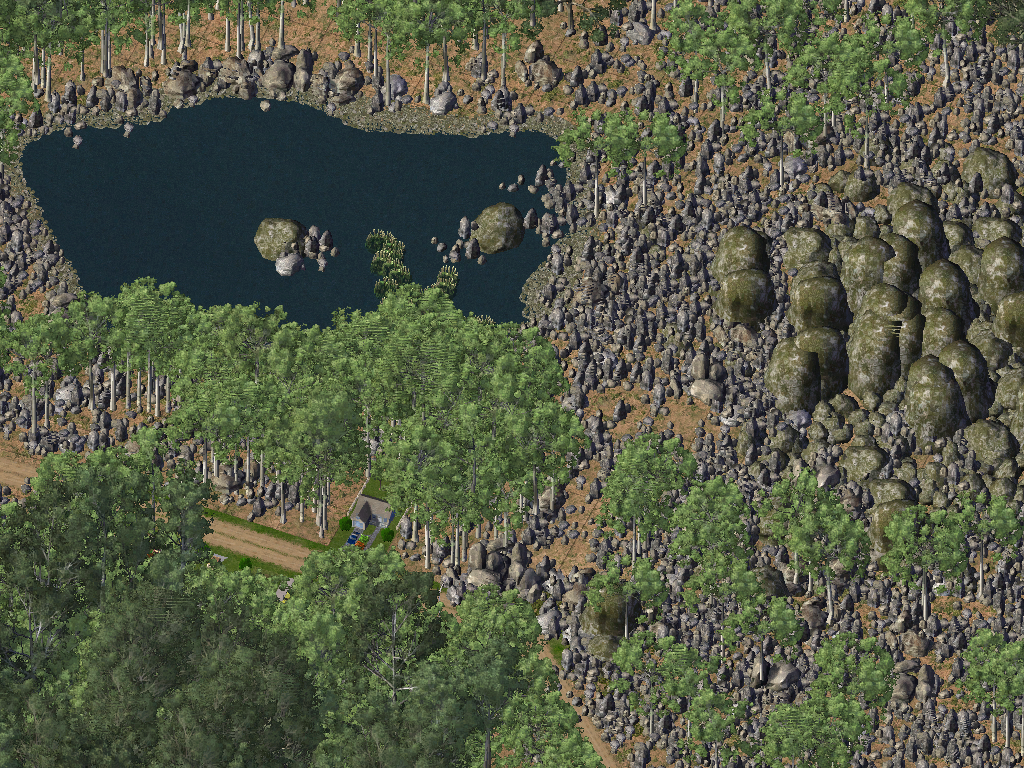 Just north east of Alistair is this, some guys got together and found a large patch of boulders. They owned this land but McOmar wanted in on the large amount of boulders here. They sold a portion of the boulders but kept most, resulting in a small depression in the land. The guys seeing this as an opportunity made a dam out of it and use it for water storage for their properties and a lot of Alistair 1km to the south west. They are making a killing. Recently, they have proposed to sell more of the boulders so that they may expand the dam to cope with the growing population of Alistair. McOmar is mightily pleased.
Alistair itself has grown significantly to a population of around 540.(note, it isn't all pictured here) It now sports several small stores and (still) only one servo. The tourism here is almost 100% of the income for the small town and people are buying land around the town in droves. Alistair is set to expand. Also worth noting is the proposal for a large research station not too far from here and the resulting data from such a facility would be immense. This proposal is looked upon with much expectation. Alistair has also recently gotten itself a rubbish pickup that covers South Alistair as well. (only 1km to the south east by east) The residents have really approved of this but just trucking the rubbish to facilities in the capitol will not do it for much longer, Ulatwon will need to get some sort of trash collecting facility soon enough.
Now here's where it gets weird.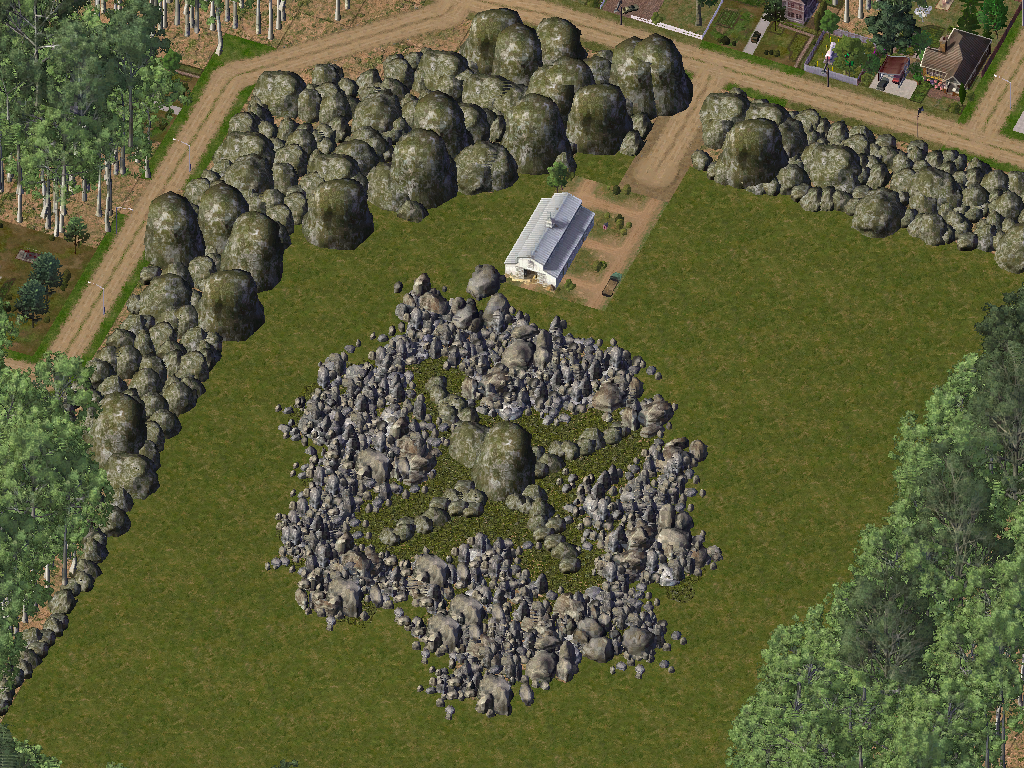 Recently, in South Alistair, a small pasture was victim to the weirdest thing any has seen in Ulatown ever. This pasture was perfectly normal one day, and overnight these boulders appeared out of nowhere. We think it might be a prank but aren't sure as these boulders are arranged in a pattern. Also, all his cows are missing.
We are reviewing the CCTV from the paranoid (funny how the weird stuff happens to the paranoid) Farmer who lived here. If we find anything we will tell you about it next time for sure....come to think of it those rocks under the underpass (think last update) weren't there last time either....
Holy cow, while I write this I have discovered this. At around 2:35 am that night the camera goes to static and when it comes back to normal the boulders are there.
Wow, I don't know what to say.
Come back soon, because once people see this...well let's just say that some people wont stick about. we should apply for the annual conspiracy meet...