News Entry: Interviews
Ok, this will be the last newspaper for a little bit, as I'm doing an actual SC4 update now
Princess May's son is born!
by Frederick Thanson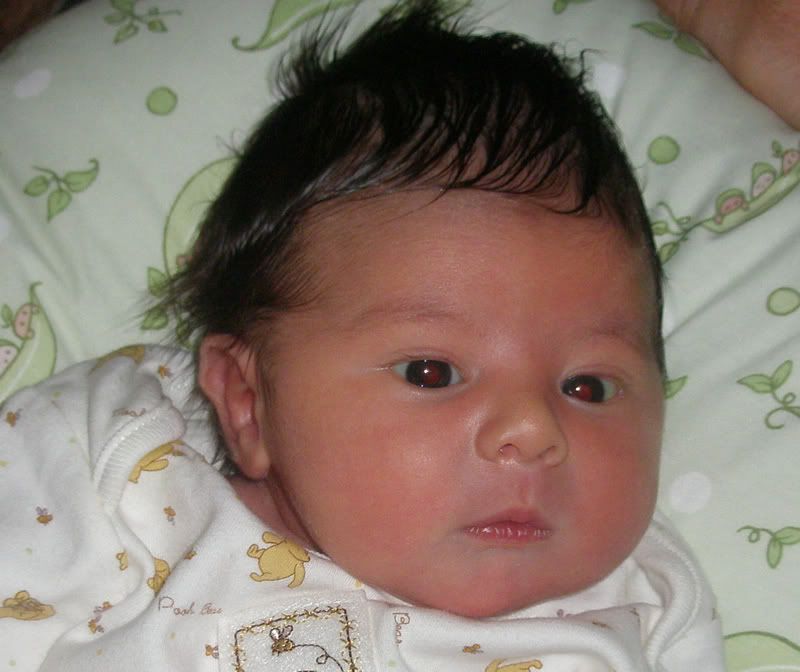 Princess May's newborn son
WESTERN PALACE, GRAND- Yesterday, at 09:52 PM, Princess May's son was born in the Imperial Hospital in the Great Western Palace. He is the first grandchild of Amanthis II and the late Daniel IV & I, and the first great-grandchild of Queen Christine, the oldest living member of the Imperial Family. The Princess Royal is considering several names for him, one of which will be announced in a few days.
---
An interview with the residents of Frikseltown
by Richard Narrows
FRIKSELTOWN, BELLUTERRA- Over the past two days, we were able to interview a few residents of Frikseltown, a small datewine-producing village on the shores of Lake Friksel, where there have been reports recently of Giant Mutant Monster Frogs swimming or roaming along the lakeshore, and even wandering into people's homes. We will first interview Phil Andrews, a local bartender, who was the first to report seeing a GMMF.
Francistown Times: When did you first see a Giant Mutant Monster Frog?
Phil Andrews: Well, it was about nine days ago, and I was returning home for the evening after my shift at the bar, and I saw a kitty cat!
Francistown Times: Wait, I thought you were talking about a GMMF, not a cat?
Phil Andrews: Yeah, but as I stared at the cat, suddenly a giant frog jumped out of nowhere and scared the cat away! Then, when I tried to approach the frog, it growled at me and hopped away
Francistown Times: .....
(Editors' Note: Following his last statement, Mr. Andrews started ranting about the horrors of the fierce Monster Frog until he was finally quieted)
We now turn to the Mayor of Frikseltown, Mr. Johnson, who reported seeing a whole bunch of GMMFs ten days ago.
Francistown Times: Mayor, could you describe the circumstances of your first sighting of a Monster Frog?
Mayor Johnson: Certainly, it was not long after I returned home from Andy's Bar, where we were celebrating the bar owner's birthday; as I was sitting on my couch, I heard a clanging sound, and, being quite tired, I went to the front door and saw these furry four-legged creatures hopping around and disturbing my garbage cans. I tried screaming at them, but I croaked at them instead, and they barked at me and hopped off and jumped into the lake.
Francistown Times: .....interesting. Ever seen them since then?
Mayor Johnson: Only once more, just outside Andy's storeroom, where I arrested one who was rifling through the racks of winebottles, but the cunning creature somehow escaped and replaced himself with Andy, the bar owner.
Francistown Times: I see. Well anyways, thank you for your time, Mr. Mayor.
For our last interview of the day, we will go to Cray Z. Mann, a guy who lives by himself on the lakeshore some distance away from the village, and only infrequently goes into town for a drink at Andy's Bar.
Francistown Times: Mr. Mann, coul...
Cray Z. Mann: IT'S THE END OF THE WORLD!!! PANIC, EVERYONE, PANIC!!! OUR DOOM IS COM...
Francistown Times: uhhh...
Cray Z. Mann: THE KILLER FROGS ARE COMING!!! BRACE YOURSELVES!!!
(Editors' Note: At this point, our reporter fled the area to avoid further injury to his ears from Cray Z.'s screaming.)
---
Exclusive interview with HMR Monica I
by Samantha Oaraf
Queen Monica I
SCOTLIA ROYAL PALACE, SCOTLIA- Today, Samantha Oaraf, one of our reporters for Western Althena, got an exclusive interview with Her Majesty from Ruteria Monica the First, Queen of Ruteria and Queen of the Ruterian Dependencies, covering her views on the ongoing Ruterian Civil War. The interview took place in the Ruterian dependency of Scotlia Island in the Alcadean Sea, approximately three-quarters of which are covered by the Scotlia Royal Palace and its grounds, which are the largest palace grounds still serving as such, covering an area of about 450 square kilometers.
Oaraf: Well, thank you very much for granting this interview. Shall I begin?
Queen Monica: Certainly.
Oaraf: What are your current plans concerning Ruterian international relations?
Queen Monica: The most honest answer I can give you is that I honestly dont know; maybe we will have to resign from the USNW, but as I said, I simply dont know.
Oaraf: Do you plan to return to Merida anytime soon?
Queen Monica: No, I am staying in my current locations for the next 3 months at least.
Oaraf: Do you fear that perhaps you may be forced to take refuge in another country?
Queen Monica: I am currently considering that, and I know my nation doesn't seem safe to me, but it is not as bad as the world deems, although I had to escape for my own security, after several shootings in the Royal Palace, and after the loss of my mother in my own residence, it is not safe to me. I am currently considering moving to Grand, Utrova or staying in my current location.
Oaraf: How long do you suppose it would be until it would be safe for you to return to Ruteria?
Queen Monica: Probably a year at least, but a minimum of six months.
Oaraf: Are the remaining members of the Royal Family in Ruteria going to be joining you soon?
Queen Monica: One of my sisters, Princess Lucia, as she is the smallest of the Family, is currently in Linestecia, and my other sisters are going to Utrova or Grand, and the body of my Dad, and one of my brothers are going to stay in Merida, but my older brother is currently with me.
Oaraf: What do you think should be done about the rebels amassing in the north of Ruteria?
Queen Monica: What I think we could do, is try to look for them, stop them, and send them to jail, but we will kill them if they shoot at us.
Oaraf: Well, our time is drawing to a close, so do you have any last words before we go?
Queen Monica: I would like to thank all people in the world and all nations helping my beloved Ruteria.
Oaraf: Well, thank you again for granting this interview. Khot hap ee ko!
Queen Monica: Ant-Khot hap ee ko tu.
---
In other news...
- Skieli Airline Alliance formed, open to any applicant airlines
- Grand on the verge of beating its record for most medals won by Grand in the Simlympics - only two more to go
- 10-kilometer perimeter around Merida being cleared by Coalition forces
- Click here to bet on what name you think will be chosen for the newborn Prince