Fall in Selma
Entry posted by Wraner ·
149 Views
Selma
a city of suburbs.
After a long struggle in the government the country of Daynemark has
lost a monarchy and is trying to be a free republic. Fall has rolled
in and tensions have been soothed for the time being. "Leafers", as
the locals call them are visiting to see the famous leaves of Daynemark
while many Daynes live among them.
These are aerial photos of a few areas around
the city of Selma in southern Daynemark where Fall has been prevalent.
Many of the homes are small, one family homes built in the
20's through 50's. Unlike in many countries Daynemark has
made sure the middle class hasn't been strangled. Only 1.7%
of the population lives under the poverty line. Not to say
that many people aren't still poor, but it is a much better
percentage than much of the world.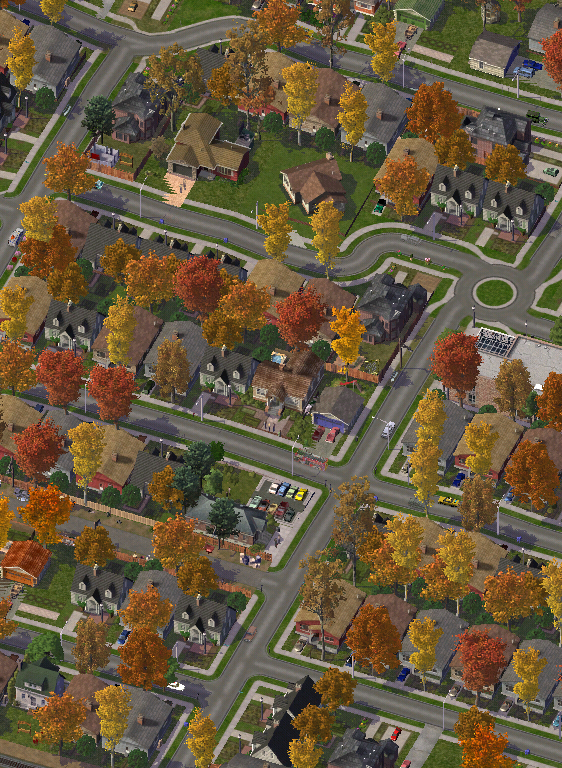 Fall is a time when for future years will be host
to the Independence day. Halloween it quickly approaching
and billions of dollars have been spent on candy and scary
decorations for this festive holiday loved by all Daynes.
You better bundle up this year though, it gets very cold very quick!
I really hope you enjoyed this very delayed update.
This has been an ©Ontario Systems production
ON A SIDE NOTE
I apologize for re-posting this. I guess I have two of
the same CJ's and the other one was completely empty.
I do hope you can enjoy it a second time at least with some more to read added!