Basic Lotting Tutorial
Basic Lotting
For those who want a good CJ, you might as well take up on custom content creation. For example, you're building a Middle Eastern city and want a filler for the empty spaces such that it fits the environment. Before we start making growable lots, lets start something smaller.
First, I used the grass green lot provided by maxis.
Let's change up the base texture, I don't want a grass lot in my Middle Eastern cities especially if its somewhat far from a water source. I'm going to make this a concrete texture by going to the Base Texture tab and click Add Item. From there, pick a concrete texture. Remember this, use a base texture so that it fits with the surrounding environment such as other building's / lot's base textures.
I want a dirt path, but you might be wondering how if I just selected a texture. The answer to that is going to the Overlay Texture tab. Then, you need to look through the menu for a dirt texture. Don't worry, this won't delete the base texture as this type overlaps the base texture.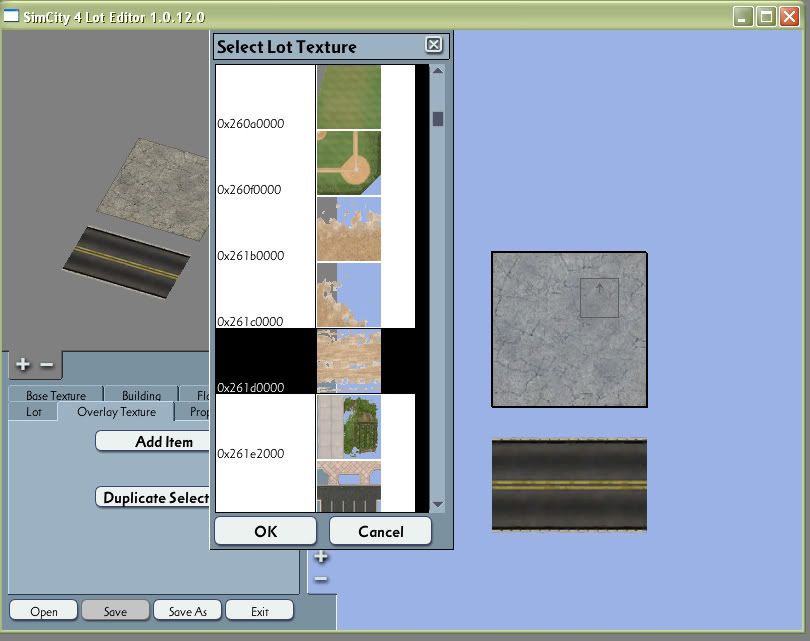 See? No harm done to the base texture. But I want to add more than just that, maybe a prop (object) or two?
A prop is basically your objects where things like cars, streetlights, and other things that can be placed on the lot. In order to place a prop, you go to the Prop tab and click Add Item. Although the pop-up menu has no object viewer like the textures. You can go through each prop and select them to see what they look like. Besides that, there's a type-in box above the menu. From there, you can type an object you want such as a car. Remember, the results will be highlighted and you can press the Enter key to see more results. Pick a prop, any one. Don't worry, if you don't like it, you can always delete it by pressing the Delete key while selecting that prop. Alright, I picked my car (junker) and now able to place it on the lot.
Like so, after I selected my desired prop such as this junker.
I don't want to end there, I want this to be gritty as possible. If you downloaded a couple of prop packs, your prop menu will be much larger than the original Maxis' one. If you play around with the props, you are able to make something like this.
Complex? Nope, I just added a few props such as Shanties (by onlyplace4), Maxis garbage and a few street lights and that's it! Don't worry, you can overlap props and even make them out of bounds if a prop allows it.
I'm done my lot and ready to save this, (and edit for the future). Click Save As and name it whatever you want. I'm going to call it Slum_1.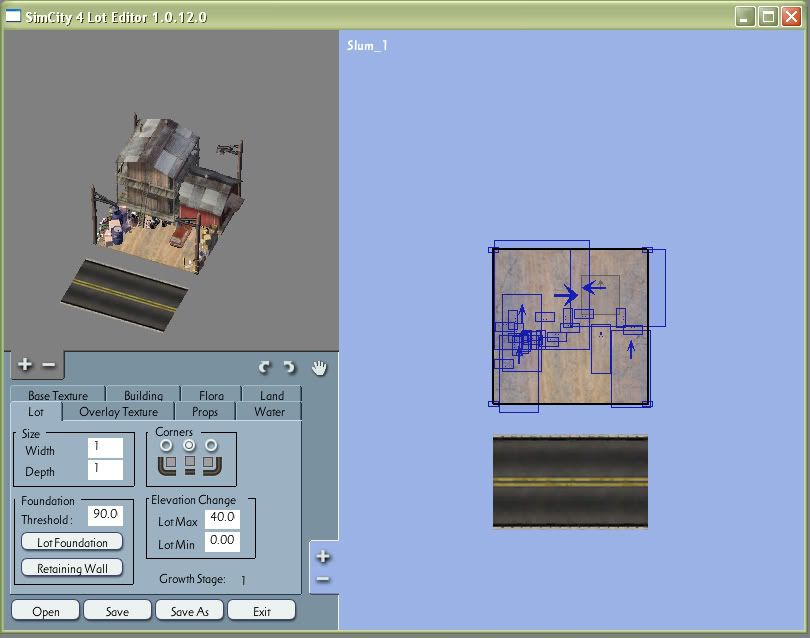 Congratulations! You completed your good looking lot and ready to plop wisely in your cities. Look how much gritter it looks with some lotting.
Hope this helped you out!
Notes:
If you want to get more serious with your lotting, I recommend using the SC4 Plugin Manager and make buildings suited to your liking. You can use this tool to even create growable custom lots by using a building. I haven't covered this because I just want to get the basics down before I can move onto more advanced things.