Terraforming: Hereford Inlet
Hello ! In today's update we will be looking at southeastern sections of Middle Township, namely the area around Whitesboro and Burleigh, the marshland on either side of the North Wildwood causeway , and Hereford Inlet.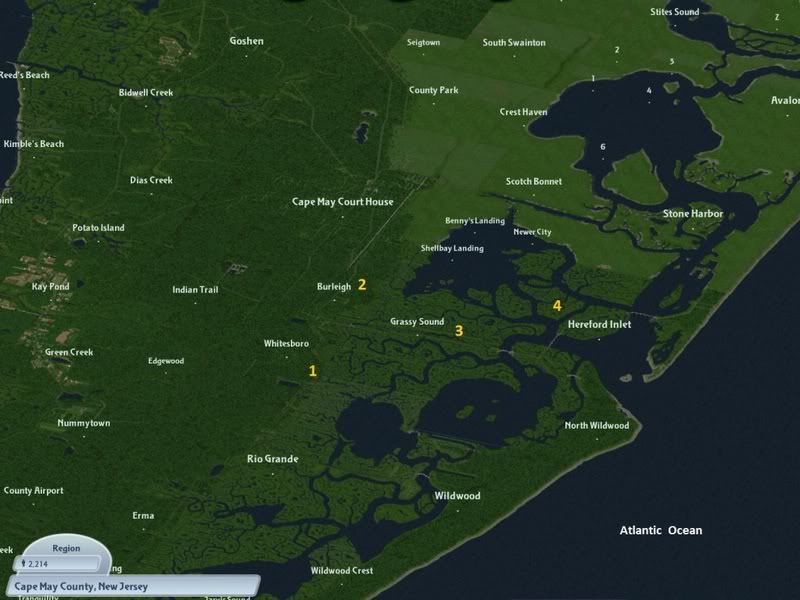 We'll begin on the Whitesboro tile, which includes southern parts of Burleigh. Garden Lake is a former sand and gravel excavation since filled with groundwater. I suspect the fill was used to construct the Garden State Parkway overpass at Exit 6 . Aaron Denny Creek runs south of the North Wildwood causeway into the tide marsh.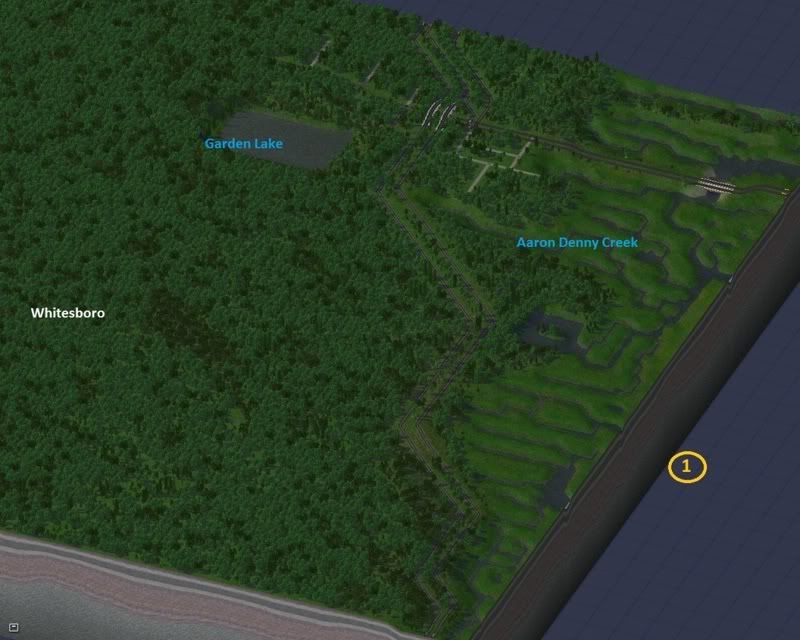 Shifting north, we come to the Burleigh tile, which also includes the Mayville section of Middle Township.
East of exit 6 is the Grassy Sound tile. Gravelly Run winds its way through marshes north of the NJ 147 causeway. Tempe Creek flows through the marshes south of the causeway , joining Grassy Sound Channel in the lower right corner. The hamlet of Grassy Sound, a collection of squatter's shacks once lined the roadway to North Wildwood, but were bulldozed in the 1980's when the road was upgraded to a four lane highway. The remains of the West Jersey and Seashore Railroad's North Wildwood line ( abandoned for over 80 years) is to the north of the road causeway.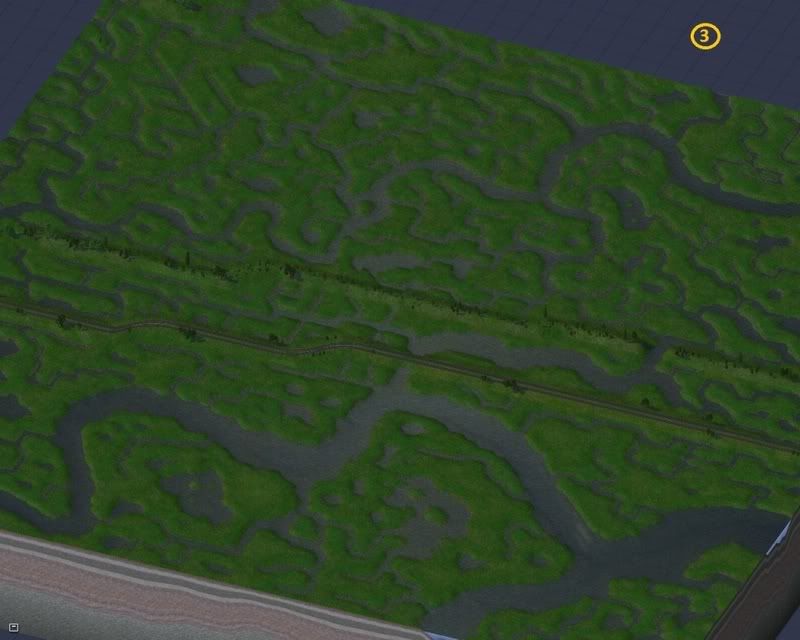 The rickety wooden drawbridge over Grassy Sound Channel was replaced by a modern bridge when the North Wildwood Causeway was upgraded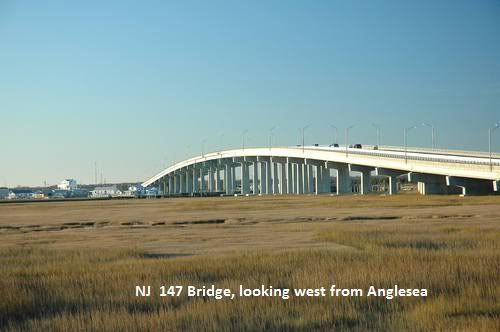 Lastly, we come to the Hereford Inlet tile, which includes Anglesea and the southern end of Stone Harbor. Hereford Inlet seperates Five Mile Beach Island ( the Wildwoods) from Seven Mile Beach Island ( Stone Harbor and Avalon). Great Channel seperates Seven Mile Beach Island from the mainland, and feeds Great Sound ( off map, northwest, behind Avalon). Nichols Channel and Jenkins Channel feed Jenkins Sound.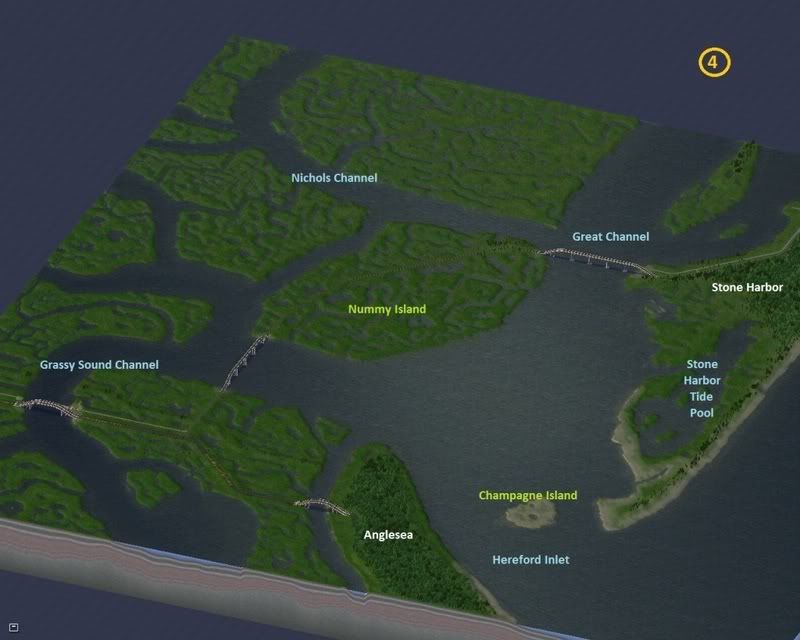 A closer look Anglesea Island. The North Wildwood causeway continues east into Anglesea. The Ocean Drive Bridge crosses Hereford Inlet to Nummy Island ( named for the last chieftain of the Kechemeche tribe which inhabited this area) , and then on to Stone Harbor.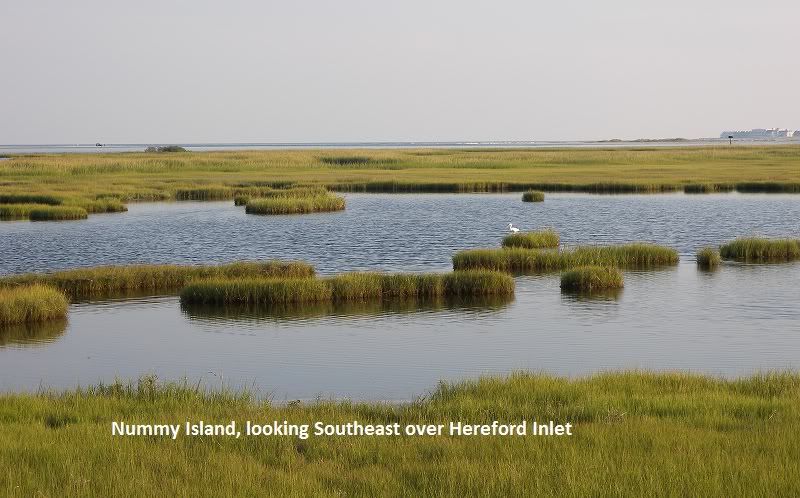 In the middle of Hereford Inlet is Champagne Island, a popular picnic spot for boaters and windsurfers. Its location is approximate, as the island changes location, shape and size after each nor'easter or hurricane. Navigational charts for this area list the shorelines and shoals in dotted lines, as they are constantly changing.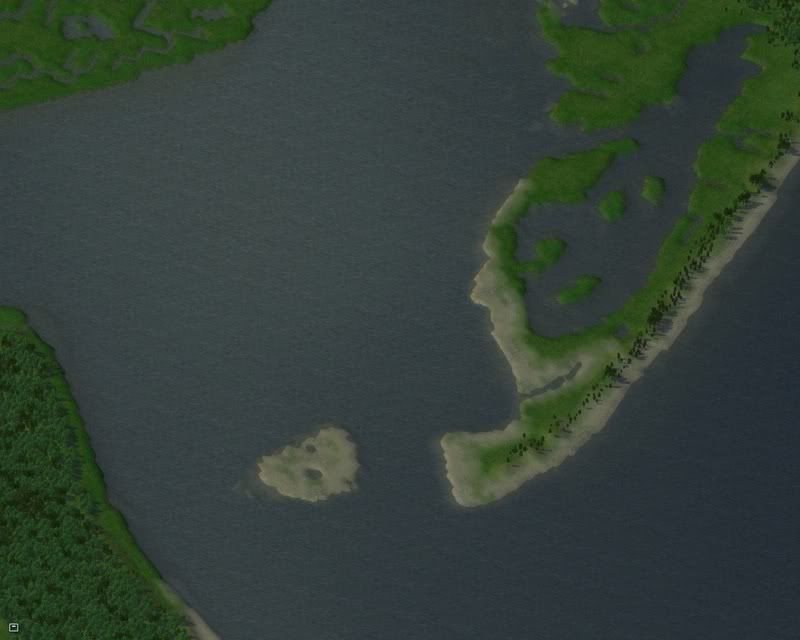 Aerial view of Hereford Inlet, looking north . North Wildwood is below the inlet. Beyond is Seven Mile Beach Island. Champagne Island is elongated in this pic.
Well, that's all I have for now. Stay tuned as I work my way up the coast. I'm over half way done, and am looking forward to populating my creation.
Thanks for stopping by , and feel free to comment !
-JJ-