Saturday 21st April 2012
Day Six
8.20am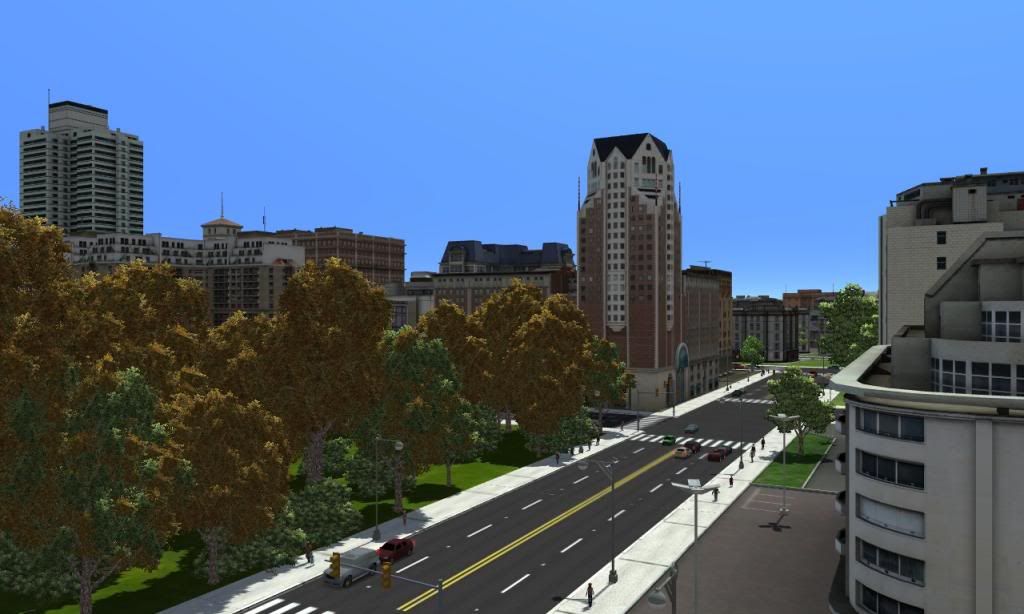 Good morning Brandon!
Leith pulled himself out of bed reluctantly, shrugging the blanket off his bare shoulders. He wore a white vest and blue boxer shorts and his black hair, which was already messy enough, had been left even more chaotic by a night's sleep. He'd been looking forward to a lie-in after such a long day but his phone had rung three times so far and he was sick of waking up to it only to go back to sleep again. Wiping his stubbly chin and groaning, he staggered over to the table by the door and picked up the phone.
"Hello?" he said, his voice gravelly.
"Theo," Leonard Harmon replied, on the other end. "What the hell do you think you're doing?" Leith frowned.
"Sir?"
"Don't call me sir, rookie. You don't work for me anymore."
"I'm sorry. Is something wrong?"
"I rang you three times."
"Not to sound rude, but I was trying to have a lie-in. I can do that now, you know."
"Very funny. Do you know a man named Thomas Myers?" Leith's half-awake brain took a few seconds to register what Harmon had said. He wondered if Stanton had accidentally revealed to Harmon that she was working with him, but she had been very helpful and he decided to take the risk of lying. He shook his head.
"No, I don't. Why?"
"He's disappeared." Leith felt his blood run cold as he suddenly figured out the reason for Myers' strange behaviour the night before. The answers to all his questions suddenly slotted into place: where Anselmo had got the information he gave to Sampson, why Myers had been reluctant to talk to them, why they'd been asked to leave after revealing what Stroud had done with what they'd been told. He took a deep breath, hoping against hope that Harmon didn't know about his continuing investigation. Before he could speak, however, Harmon's voice was blaring in his ear again. "I was contacted by a Senator yesterday. Georgina Stanton. She wanted Myers' address. Do you know if she visited him? Was it connected to the kidnapping?" Leith considered his options. Earlier, he'd denied even knowing who Myers was, and Harmon hadn't accused him of lying. He assumed Harmon was unaware of what he was up to and chose to lie again.
"Leonard, I didn't even know she visited him at all. Who did you say? Stanton?"
"Never mind," Harmon snapped, to Leith's relief. "I suppose you can't be of any help."
"Why did you call me about this?"
"I won't lie to you, Theo. Some part of me wondered if you might have something to do with it." Leith smiled.
"I'm off the case, remember?"
"Believe me, rookie, I remember. Thanks anyway." The line went dead. Leith put the phone down and sat on the end of the bed, then dropped his head into his hands. His mind was swirling and he didn't know what to think. He felt responsible for Myers' disappearance. If he and Stanton hadn't gone to the apartment, Myers would be safe. Some part of him wondered if there was a way to rescue him, but none sprang to mind; he had no idea where he was being held. All at once, an idea came to him. Harmon had handed the case over to the Senate, leaving Leith as the policeman – or ex-policeman – who knew most about it. The cops investigating the kidnapping might well miss evidence that he would pick up on. If he could get his hands on the files, he could rescue Myers himself. He briefly imagined calling Tabitha Goodwin and asking her for it, but she'd hardly been trustworthy and she might tell Harmon. Leith looked up, his face set. He'd have to break in.
9.00pm
Behind the building, hidden in the shade of a narrow alleyway, was a fire escape. Leith had used it a few dozen times before, during fire drills and for sneaking out in the middle of boring lunchtime meetings. At the top was a window with a loose catch, far from the watching eyes of the CCTV cameras that covered the rest of the block. Leith had picked his time carefully; the day shift workers had left and the night shift workers had not yet come back in from patrol, so the Station would be mostly empty.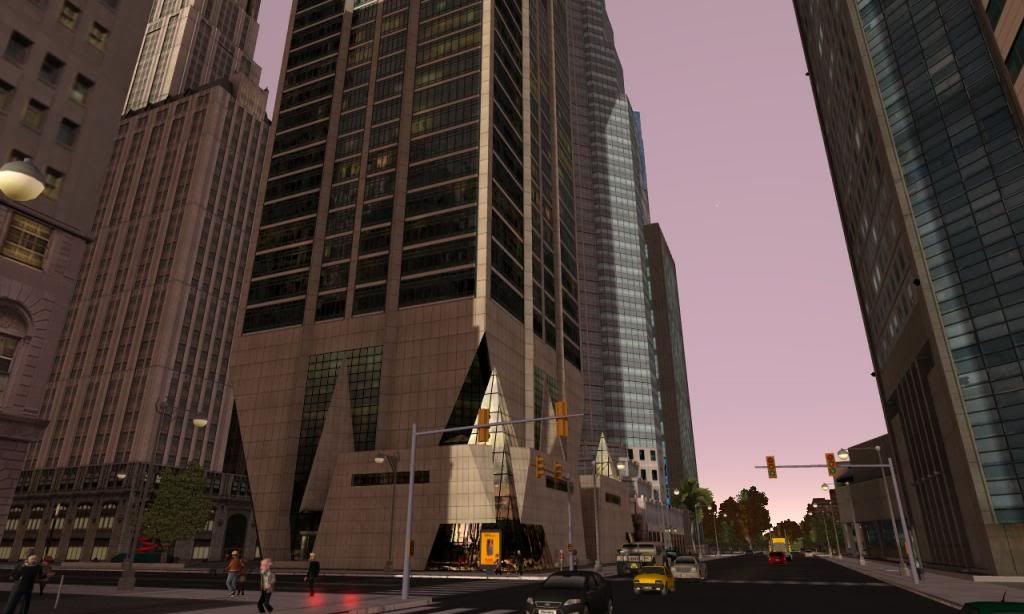 Downtown as the sun sets.
Harmon, he knew, would have gone home. He reached the top of the fire escape, treading carefully so his leather-soled shoes wouldn't make too much noise. It was strange to be back in his uniform but he needed a way of slipping by undetected. Although it wouldn't stop his old co-workers from recognising him, it would stop him from standing out while inside. He didn't know where the files would be kept but all fresh cases were flagged up on the Station's IT system, which was accessible from any of the computers. His own password would have been changed, so he'd have to use Goodwin's terminal, for which he knew the logon credentials. Her private office was one level below the top floor. To his surprise, he went unchallenged as he padded down the stairs and turned right into the main corridor. Hers was the third door on the right. He turned the handle and pushed, half-expecting it to be locked, but it swung aside smoothly at his touch. Satisfied that he was alone, he closed it behind him and crossed to the desk. The screen of her computer lit up when he moved the mouse and he entered her username. When it came to the password field, he smiled as he typed in the word Rochester. It only took him a few minutes to navigate to the Station's internal noticeboard. Just as he was about to select the link to the most recently added cases, there was a noise behind him. He turned, guiltily, preparing an excuse, but stopped when he saw Goodwin standing in the doorway.
"Theo?" she asked, in confusion. "What are you doing here?"
"Nothing," he said, quickly.
"You're off the force."
"Well . . . yes, but . . ."
"Were you using my computer?"
"Tabs," he soothed, reaching down to close the window, "I'm not sure . . ."
"Don't touch that," she snapped. He ignored her as he grabbed the mouse. Before he could move it, there was a click. He looked up to see the barrel of a pistol pointing straight at him.
"Tabs, what the hell are you doing?"
"Step away from the computer," she ordered. He raised his hands and moved to the back of the room. "For all I know," she explained, "You could be wiping information. Interfering with police business is a crime, Theo. You could go to jail for a long time."
"I'm not wiping information. I'm taking it."
"What do you mean?" He sighed.
"How about you put the gun down so we can talk civilly?"
"Explain yourself and I might consider it," she offered.
"I'm looking for information on Thomas Myers' disappearance."
"Why?"
"Listen, put the gun . . ."
"Why?"
"Because it's my fault," Leith admitted. "It's my fault he was kidnapped. I want to make up for it." Goodwin hesitated for a long moment, then holstered the pistol. Leith lowered his hands once more. "Thank you," he said.
"You'd better not be lying," she warned.
"I'm not, I swear. Have a look." She strode over to him and examined the computer screen. The cursor hovered over the recently added cases link. "You see?"
"Fine. You're lucky it was me who found you, Theo. Someone else might have turned you in to Harmon." He nodded.
"I sure was. So you'll let me go?" She flashed him a wry smile.
"Maybe. I want to know more about Myers. What did you have to do with it?"
"Tabs, I know how Anselmo got the information he gave to Cassarah Sampson." He had been expecting her to sound intrigued, but she simply rolled her eyes.
"You're still on this?"
"But I thought you were interested too."
"I was, but then I began to think Harmon was right. He told me he had a meeting with Senator Stanton – you know, the chair of Scoso-cup-sai – and she said she was making progress. Apparently she'd discovered some kind of virus. That's the word in the office anyway."
"He was right," Leith agreed. "I helped her find it." Goodwin frowned.
"You?"
"I've been working with Stanton. She and I met up at the Stroud expo." He grinned. "We've got a way in, Tabs. This guy Myers, he can testify. We just need to rescue him and . . ."
"We?" she interrupted, shaking her head. "There is no we, Theo."
"Oh, right. Of course there isn't. I forget about you walking out on me."
"I don't want to talk about that."
"Why, because you just want to deny it ever happened?"
"No," she said, firmly. "I'm not ashamed of it. It was just a mistake, that's all. People make them all the time." There was a pause. "So, you said you were responsible for the kidnapping and you want to find Myers."
"Yes. I came here in case there was a link one of the other investigators had missed."
"And I suppose you want me to get the files for you?"
"Now you come to mention it . . ." He trailed off when he saw the look on her face.
"You are unbelievable, Theo!" she groaned, slapping him on the arm out of anger. "First you remodel yourself as some kind of vigilante, then you break into a police station, and now you have the audacity to ask me to break the rules for you? Screw you."
"Please, Tabs," he begged, with a furtive glance at the door. He was well aware that every second they spent talking increased their risk of being discovered. "I need to make things right. Myers is the innocent party and I may be the only one who can save him. Please." She stared at the floor for a few long seconds, then gave an almost-imperceptible nod.
"Alright."
"Pardon?"
"I said alright," she repeated, raising her voice slightly. "I'll get you the files. But once you have them, you'll leave and I'll never hear from you again. I don't want this getting in the way of my job. If Harmon found out I was helping you, I'd be in serious trouble – not to mention thrown into jail. That's my best offer."
"Nice one, Tabs," he said, as she clicked on the link. He read the description over her shoulder. "Okay, so it looks like they're being kept in the safe on the first floor. You'll need to go down there and retrieve them." She ignored him, pressing a few keys on the computer. "Tabs?"
"I've got them," she told him.
"What do you mean?"
"There's an electronic copy of every case file accessible to the senior officers. I guessed their login details a long time ago. Once you've done that, it's just a matter of getting through the password check and you have all you need."
"And how do you get past the check?" he asked, as she attached the files to an email.
"It's not hard once you know the basic facts of their personal lives, and most of them have government dossiers that are available to the public." She straightened up. "There."
"Uh . . . Tabs, you know you've written a draft, right? You need to send it."
"That would be a bad idea," she said. "The Station monitors all sent mail. If you login to my web account from your computer, you can pull them off the draft and then delete it." He smiled.
"I like you thinking."
"Now, you should get going before we're caught. I imagine you got in through the loose window by the fire escape on the top floor."
"You know me too well."
"I'll stay here." She sat down behind the desk and pointed to the door. "Go!" He crossed to it and swung it open. Just as he was about to step out, with no intention of turning back, she called out to him once more. "And Theo!" Leith glanced over his shoulder.
"Yes?"
"You're doing the right thing," she said, her voice soft. "A noble thing. Your morals impress me." He chuckled.
"I just turned out the charm." Without waiting for a reply, he clicked the door shut and strode away. Goodwin stared at the door for a moment, clearly deep in thought, then went back to her work. The beginnings of an idea were forming in her mind.
11.30pm
"I quit," Goodwin said, flatly. She was standing in the doorway to Theo's flat, a bag slung over her shoulder and her raincoat sopping wet. Stormclouds had come in from Maryland during the evening and brought with them a rainstorm heavier than Brandon had seen in several Aprils. Theo looked her up and down.
"You quit?"
"Yes."
"Quit what?"
"My job. I handed my resignation in to Harmon and gathered up my stuff."
"Are you serious?" She gave him a scornful look.
"No Theo, I just walked all the way here from Central Precinct Police Station in the pouring rain because my squad car broke down." He laughed and laid a hand on the door.
"Well, I'm happy for you. It was a bold move. Have a nice evening."
"Theo!" she snapped, holding it open. "You're just going to leave me out here?"
"That was the plan," he admitted. "You don't want anything to do with the case, do you? You said you never wanted to hear from me again. Those are the exact words you used."
"I don't want anything to do with the case," she insisted. "I just . . . I don't want to go back to an empty flat tonight. I need somewhere to stay." His expression softened.
"Okay," he said. "I'll go look for a hotel brochure."
"Theo!" she repeated, angrily.
"What's wrong, Tabs? Why should I let you in, huh? Are you going to let me down like you did last time? Do you just enjoy playing with me?"
"I'm not going to let you down," she assured him.
"So you're going to sleep with me and stay? That's bold."
"Who says I'm going to sleep with you?" Her shoulders sank. "Look, I'm sorry to have bothered you. I'll find somewhere else, or I'll go home. I don't know. Goodnight, Theo." She walked off down the corridor.
"Tabs," he said. She turned to him. "Will you kip on the sofa?"
"Yes. I just want someone to have breakfast with."
"I'll hold you to that. Come in." She slipped past him and went into the living room. He closed the door and joined her a moment later, to find her sitting on the sofa with her backpack on her lap. She was looking over the discarded papers that covered the coffee table. He had moved a desk lamp in from the bedroom and set it up so it illuminated them brightly. The rest of the room was lit by the glare from the television, which was on mute. He'd set it to a rolling news channel.
"Are these the files I sent you?" she asked.
"As many as I could print before I ran out of ink," he said, sitting down beside her. "I've been looking through them since I got in, but I haven't found anything of note yet. I'm worried I'm not going to be able to before time runs out. Myers might be dead by now. Anyway, I was just finishing up for the night." There was a pause. "Tabs, why did you quit?"
"What do you mean?" she said, still surveying the papers.
"You said you handed Harmon your resignation."
"That's right."
"So . . . why?" She turned to him. Her long black hair was wet with rain and the light gleamed off her dark skin, like it had the night they'd worked together in the Station. She smiled.
"There's no way I'm going to be able to work this case along with the ones he gives me. My job was just getting in the way. I want to get to the bottom of this. The whole mess with Anselmo, Enjoni and Myers . . . someone has to sort it out. You can't do it alone. I won't let you." He reached out and brushed her wet hair off her face, then leaned in to kiss her. It was as good as he remembered, if not better. After a few seconds, he pulled away.
"Sorry," he said. "I shouldn't have done that."
"Theo . . ."
"No, you're right. I was . . ." Before he could finish the sentence, she had put a hand on the back of his neck and pulled him in for another long kiss.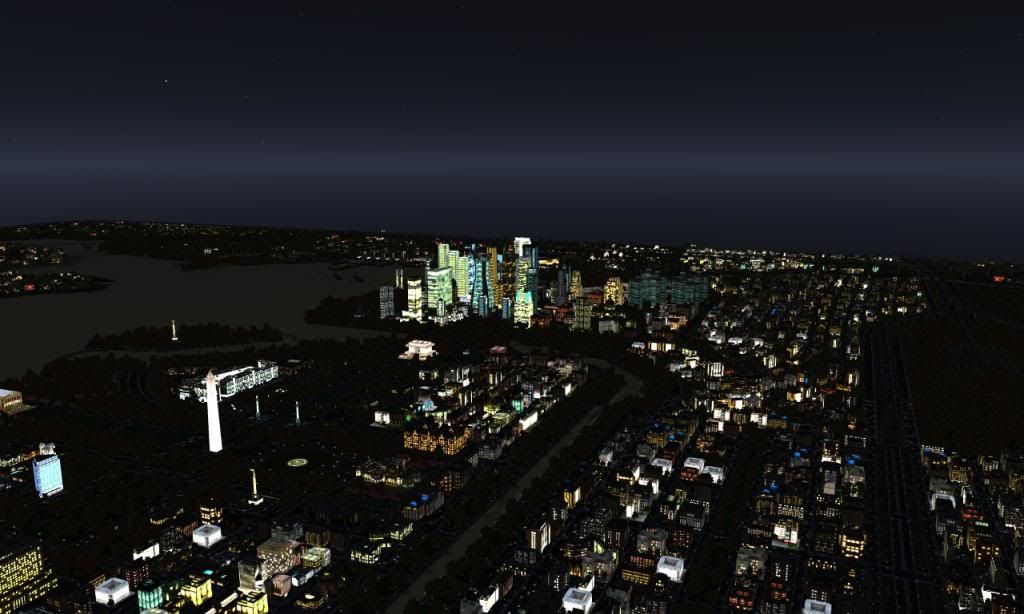 The end of another day . . .