Thx for all the coments! and sorry for the delay, past week was kinda a vacation so had no internet acces... wanted to post before but couldnt. well here we go. (sneak peak of new hampsterdam!! 
)

"From the window in my room i can see the lake, its a small lake but full with people in it, it seems its a nice enough recreational spot.  you can also have a good look at the farms surrounding the town, they extend as far as the eye can see. there are lots of sunflower farms as far as i can tell. im guessing thats were the name of the town comes from. Far to the north i can see a peak mountain with some snow in it, and the clear air this morning lets me see it in all its glory. if some time is left i might try to reach its top!... im not too much of a sport's fan or doo much my self, but mountain climbing is one off the few things in sports i do."
Mary calls room service to get her breakfast taken to her room, and with a copy of the local newspaper. 
She looks one last time out the window whyle she waits for the service.
The news paper turned out to be from New Hampsterdam actually, it seems this small town dosn't have one of its own.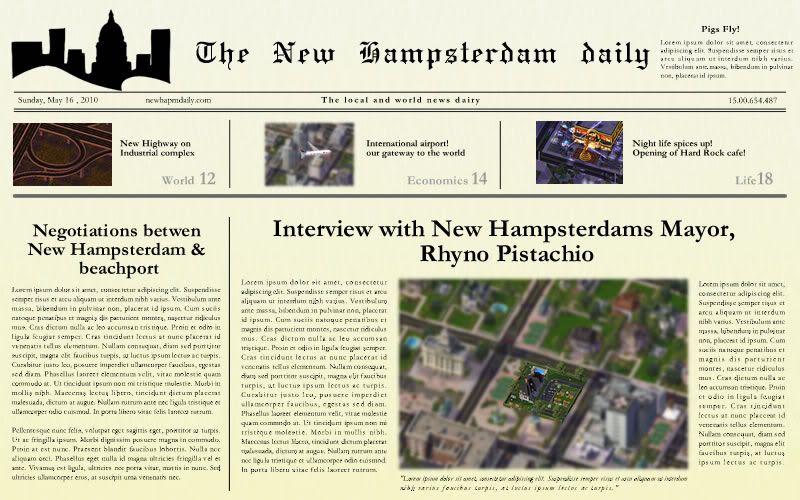 (im just going to type some of the things that cought mary's atention, the text in the news is dummy text, dont try to read.. only the titles are real text.... and yes! pigs do fly!
)
The news had nothing especial, there was an interview with mayor pistachio, but it centered in cultural development, and how it impacts on comerce, tho in one part it did stand out the fact that altho many people travel in and out of the region, international commerce was scarce, and that they were looking to open trades with other countryes, and regions. That really interested her, it ment she can find lots of buisness to make! Also a brand new international airport opened a few years back (celebrating its 2nd year of service) and ofcourse some highlights on nightlife in new hampsterdam that point it out to be a cultural and recreational spot!
After reading a bit  Mary decides to go out and have a look in the town, its a small town so she can walk anywere and also its a sunny day so she puts on her hat and goes touring.
First stop, the fair near the hotel, it was a typical one, not too much to see in it....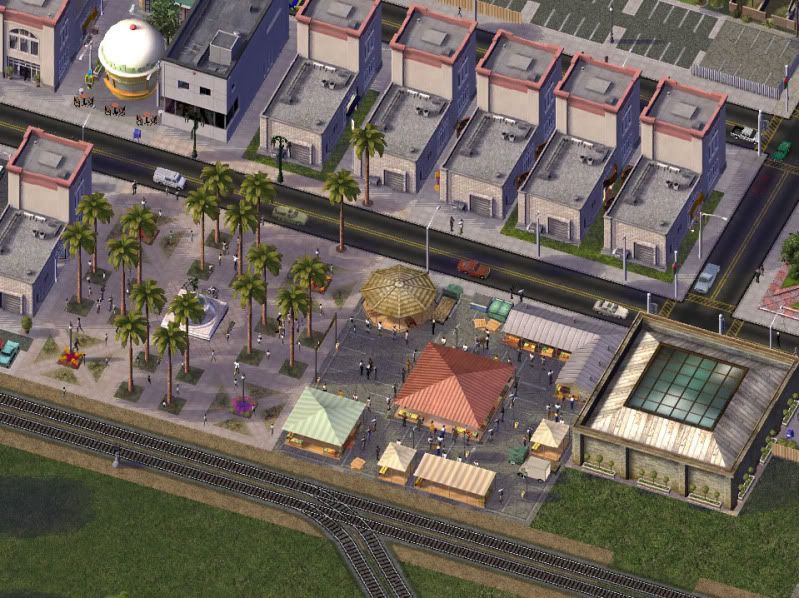 She walked thru a comercial part of town, most of it was dedicated to things related to sunflowers, some seads, some sead neclases and lots of oil and food..  the buildings all loked the same, not much of a sight...
she turne to the sky as people looked that way, there was a ballon show going on, apart from that not much had interested her... it was starting to get late, so mary turned and started walking to the hotel, in the way she stumbled upon a nice bar/restaurant, so she stoped to taste the local food. "not bad" was the veredict.
There was no real comerce going on here... it was more of an agricultural town so she decided to go ahead of schedule and change a bit her plans... she whent to the nearest turism agency she could find and asked for options of trabel.
OK! first time to vote...  she can either:
A.) Take the ferry to a comerce district south of new Hampsterdam, where she is ought to find some trade buisness.
B.) Take a jet in the airport to pueblorueda a mid city mixture of comerce and industry.
C.) take the train to colinas de acerrin, a bibrant small city.
Thx to all for reading, please coment and rate if you can!