Ylmeria Simlympics Torch Relay: Petrova
 I know, I know, I said that my next update will be the International Village. Since it was Thanksgiving, I was really trying to fit in the Americas. Although its mostly finished, I still am trying to experiment with the North American part. So I apologize for making you guys wait a tad longer. I'll try to post it by the end of this week or early next week. But in replacement to this, I am going to show you the Simlympic Torch Relay in Petrova which occured on the 17th.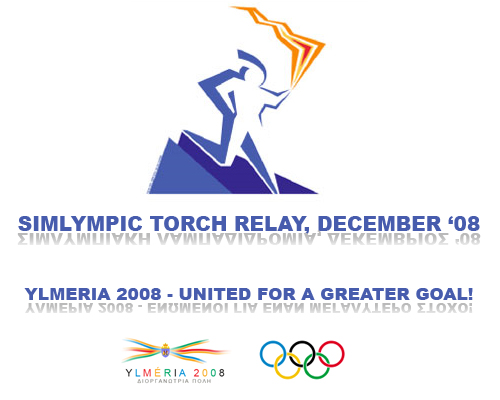 Welcome to the second day of the torch relay! We are now in Eastern Europe to watch the action in Petrova. 
Good morning, I am Vanessa Uronski, and I will be your comentator for today as we watch the torch relay. The torch still hasn't arrived in Petrova. A little reminder that this event will take place in the old city, not the new rebuilt city. The torch is still in the Mediterranean Sea from Dimland. It should arrive any second now... 
Anyways, let's check out the route the torch will take: 
The torch will arrive in southern Petrova in Azovo, then make its way to the capital via train. 
The torch will arrive in Chihiro at the Garos fi San Prado (San Prado Train Hub). Then head north towards the Downtown and Business Centre. From there, the torch will go to Grevershki to the Petrova Simylmpic Park. Then south to the Grapotsch Palace, Royal Palace. It will then go to the Grande Amphitheater then pass through the Olympic Complex then through the Civic Centre and then end at the Athletistadium. 
Let's now watch the action in Azovo. 
At the Athletistadium, the thousands of tourists and citizens were treated to a concert from all the famous stars in the world. This is to last until midnight, however, the torch is to leave at eight to go to the Chihiro International Airport to go to Port Matthew. Here are some highlights of the concert: 
Rascal Flatts & Kelly Clarkson from the US. 
And the torch relay concluded with Josh Groban & Celine Dion singing "The Prayer" to wish the competitors good luck. 
From the heart of Chihiro, this is Vanessa Uronski saying good night and see you in Ylmeria! 
---
Suggestions, questions, critiques are welcome!!! And don't forget to sign up for the december simlympics 
here!