Change on the Horizon
Change on the Horizon
September 19th, 0165AL (2021)
The Narya RDPM
 RA Laura: In case you are wondering why you are here, it is not only because General Yelslew has a message for you, it is also to show the new communications system that has been set up here.
They walked into the control room, where a metal frame covered in wires and small box-like objects had been set up in one corner of the room.
 RA Laura: It will look better better soon. Okay, open a channel to Myon on subspace.
There was a slight hum, and then a holographic blob began materializing in the area around the metal frame. Soon it had materialized into an exact replica of the Myon RDPM control room, including General Yelslew, making it look as if the two rooms had been connected together.
 Lil: Wow, it looks like you could simply walk to Myon from here.
Gen. Yelslew: That would be nice, but we don't know how to set up a transporter across that distance yet. It might be possible if the connection was to something closer, like a ship in orbit, though.
Brad: How many places have this set up?
Gen. Yelslew: Currently only the Narya, Myon, and Earth RDPM facilities.
 RA Laura: Installation on starships is to begin by next week.
 Laur: Will this replace the regular screens, or will it be an addition to it?
Gen. Yelslew: It will only be an addition, because not everyone has a system like this. Anyway, we need to get to your message.
Brian: Which is?
Gen. Yelslew: As you know, the summit to finalize the plans for the creation of the Myon Union will occur on October 4th. Because DPM-1 will be unable to go due to their currently ongoing mission on P8Q-F72, you will be going instead to observe.
Major Zargolf: Yes, sir.
There was a noise from the Myon control room, and Sergeant Varmon looked up from a console.
Sergeant Varmon: Sir?
Gen. Yelslew: Yes?
Sergeant Varmon: The unidentified ship we've been tracking for the past two days has just changed direction and is now headed straight for Myon.
Another screen was turned on so that it could be seen in the Narya control room.
 RA Laura: What is it?
Sergeant Varmon: Its signature does not match any known starship design. All that I can tell is that it uses warp drive for FTL transportation.
Lt. Black: Great, just what we need. More unknown ships.
To be continued...
Yintar-Yanar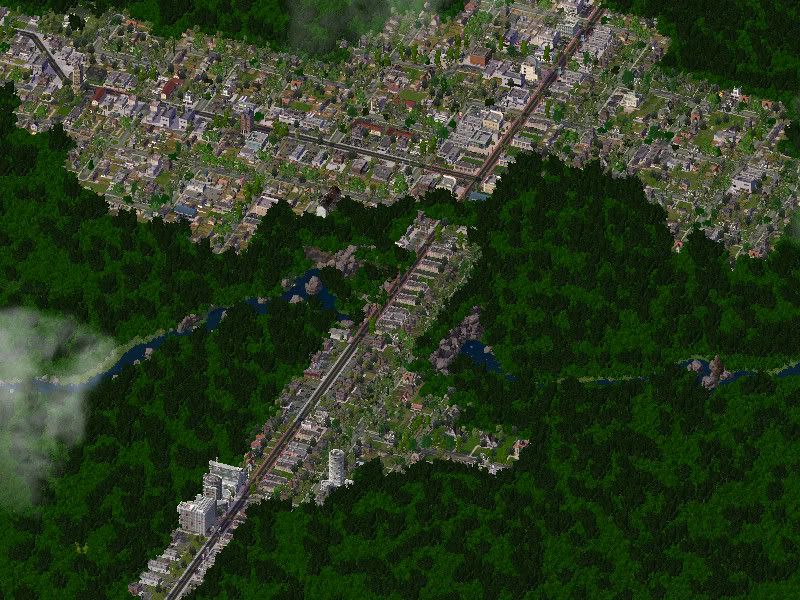 Nikki: Tamara!

Nick: Yes, its another suburb of Yintar. This one is to the north, and it has a slightly interesting layout.
Nikki: It also continues off of this tile, so it is likely it will come up again soon.

Nick: Central Tamara.
Nikki: Includes a stream that runs under the buildings.

Nick: Speaking of the stream, here it is.
Nikki: I do not suggest you try going down it though, too many rocks.

Nick: It then ends up at this--
Nikki: --very rocky--

Nick: --lake.
Nikki: Development on the western bulge.

Nick: The central and eastern part of town.
Nikki: And finally, the southeastern blob, complete with a power plant and a water tower.
Comments:
The Myon Union is a planned union of the Republic of Myon, the Kingdom of Glump, Narola, Zcheilau, al'Sahra, and Imnatazhüthken into a planetary confederation. Each nation will remain much the same way as it is, it will just be that these nations will all work together. It is currently unknown if the Empire of Granar will join or not.
Schulmanator: Yes, and make sure you watch out for traffic.
Zelgadis: Typo fixed. The bug? It's a bug. A dead bug, now. A: it is the Jeronij Concrete Wall AddOn: http://www.simtropolis.com/stex/index.cfm?id=13865 B: They're in the power menu. Note: Bubbybud has made several add ons to that pack as well, such as the bridges over the sunken highway. And yes, the fences slope.
pipishere: Glad you like it!
6underground: Thanks for the comment!
Archean:
Brad: Giant office?
Brian: Sounds nice.
Brad: Ama!
Hello/Welcome
NMUspidey: Well, you did get some money...
Zelgadis2: Congrats on the 300th post! The pyramid I BATted, same with the columns next to it. As for patience... I make sure every part of the city is just the way I want it before moving on, usually by making nearly everything historical while destroying what I don't like.
Archean2:
Brian: Well, you were close.
Brad: And you'll have to wait just a bit longer to see the new character.
Petrovar Ambassador: I'm glad you like it!
Leech10: Money!
Archean3:
Brian: Well, Myon might be able to get you there... if we knew where in the galaxy you are.