Galactic Briefing
Galactic Briefing
August 11th, 0165AL (2021)
Narya RDPM
General Yelslew watched as a runabout flew up away from the city, taking Derasan back to his ship after a tour of the facility and the surrounding area, as well as talking about what was going on. The Ancaron Empire was going to send several ships like Derasan's though the supergate to explore the surrounding area. He had given Derasan some of the information that Myon had already learned, such as the location of Mloret's planets so the Ancaron could avoid the Dlorwani.
As he continued to watch, a bright light flashed behind him, which was quickly followed by darkness as someone put their hands over his eyes.
 Lauren: Guess who.
Gen. Yelslew: Lauren?
 Lauren: Yes?
She uncovered his eyes as he turned around to face her.
Gen. Yelslew: You didn't land in downtown this time.
 Lauren: There already was a ship in the area. And what was that odd looking ship in orbit over the shield?
Gen. Yelslew: It's Ancaron.
 Lauren: So Mardon and Cormani found a new toy?
Gen. Yelslew: No, it's a new Ancaron ship, straight from the supergate.
 Lauren: Oh. Is it time for the meeting yet?
Gen. Yelslew: It's in a half an hour.
 Lauren: i think we can find something to do until then.
RDPM meeting room, half an hour later.
Gen. Yelslew: I have called this meeting to discuss the recent activity in the galaxy that has been brought to my attention. First thing up for discussion is the threat from the Extragalactic Scourge.

Capt. Andurn: During the mission to take out Mloret's stargate weapon, we saw a Blikora destroy two other Blikorani using the superweapon. However, this superweapon blast behaved much like the Scourge beam weapons, so I believe it was taken over by the Scourge from the second, damaged Scourge ship that we soon located in orbit over Plurgi. This ship then rammed Plurgi with enough force to not only take out Mloret's stargate weapon, but also the entire island Mloret's base was located on.
Michael: From what i could tell, the blast was big enough to cause enough damage to the planet to exterminate nearly all forms of life on the entire planet, with the exceptions of bacteria or highly sheltered life forms.
Capt. Vashuri: I believe the Scourge ship that was found there was the same ship that attacked the Valmal earlier this year, and was disabled in the Sarim Nebula.
 Lauren: From what i have been able to learn, the Scourge have never done anything like this before. They may have taken the occasional ship from civilizations near the edge of the galaxy, but there is no records at all of the Scourge attacking a planet.
 RA Laura: What do we know about the Scourge?
 Mardon: From the information gathered from the al'Huna Karoteq, the Scourge rely on the element of surprise whenever encountering new groups, but they are very cautious when dealing with several different civilizations, which seem to include the al'Hasiq.
 RA Laura: How would we stop them if they were to attack us?
Cormani: The Masura should be able to easily take out one or two Scourge ships at a time, but it could be a problem if there are more. Myon should be safe due to its proximity to the al'Hasiq Empire, and because its farther into the galaxy.
 Lauren: Muphridish ships likely will be able to take Scourge ships as well.
 Mardon: The database also mentioned something about the Tekchal. It wasn't specific on who they were, other than that they are a very old intergalactic civilization that likely far surpasses the Predecessors, and that they have to power to fully defeat the Scourge.
Gen. Yelslew: Are you sure that it doesn't say anything more on them?
Cormani: Yes. That is all it mentions of them, it doesn't say how they could defeat the Scourge.
Capt. Vashuri: And if they could defeat the Scourge, why haven't they done so already?
Cormani: Again, I don't know.
The meeting went on for another two hours during which Lauren mentioned increasing amounts of unidentified ships flying around, which likely were Scourge ships. After they were done discussing the Scourge, they talked about the recent meeting with the Ancaron, before moving on to the matter of the possible Predecessor power cell.
 Lauren: The information talks of "a planet, dead for ages, shielded for eternity."
Gen. Yelslew: What?
 Lauren: I'm not sure what exactly they mean, but it could be a clue as to its location. Aside from this, it talked about various things that don't seem to help other then roughly identifying the item, if you want to read the full text, I have a record of it. In addition to this text, I have found out rough coordinates of the planet, but the area still is nearly a million cubic light years in volume, so it would take a while to search from system to system.

Capt. Andurn: Now that's a big area.
Capt. Vashuri: Is there any way of finding the planet in a decent amount of time?
 Lauren: Possibly sending a ton of probes to the various systems we could at least narrow it down to a few likely candidates. I do have several probes that could be mass produced to explore the area.
Michael: That sounds like a good idea.
Gen. Yelslew: Indeed it does.
Yintar-Yanar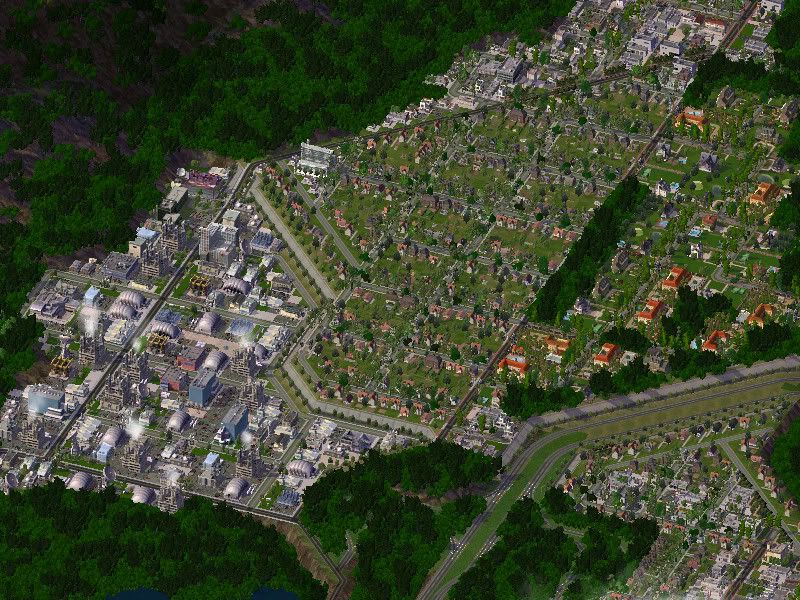 Nikki: Lamranu again?
Nick: Relax, this is the last of Lamranu.
Nikki: Good.
Nick: Overview of the central Lamranu area, with the crazy onramp visible at the bottom.
Nikki: The industrial area, which was very slightly visible in the last update.
Nick: The central areas is also the high wealth area of town.
Nikki: Lots of swimming pools, some bigger than others.
Nick: Though not all of the area is high wealth.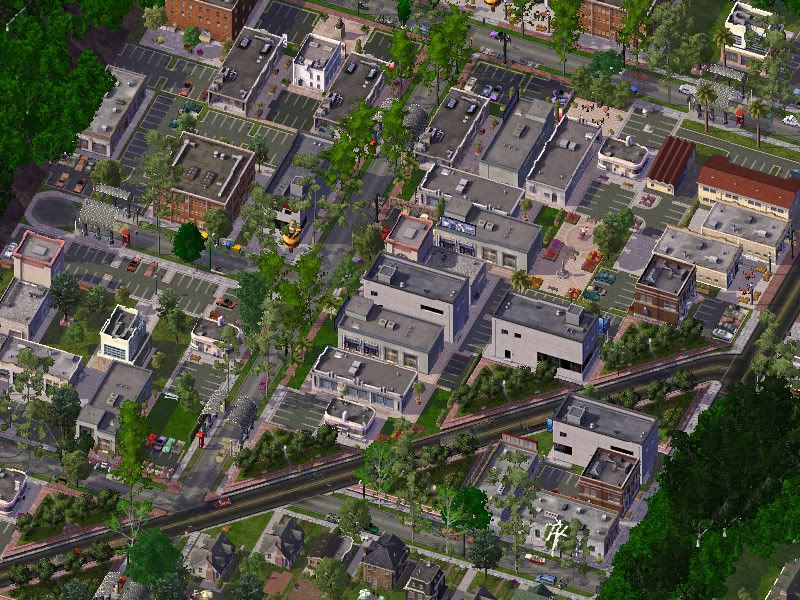 Nikki: Shops!
Nick: Not again...
Nikki: DpSB rating is still a tad high. Nowhere near as bad as that one area last update, though.
Comments:
pipishere: Ad about the only way I could think of to make it work.
Leech10: Where'd you get that communicator?
Schulmanator: It would likely get quite a lot on eBay...