The Growth of Watersauga | Last Updated: August 2010
Here is the comparison of growth of our region between April 2009 and August 2010.
April 2009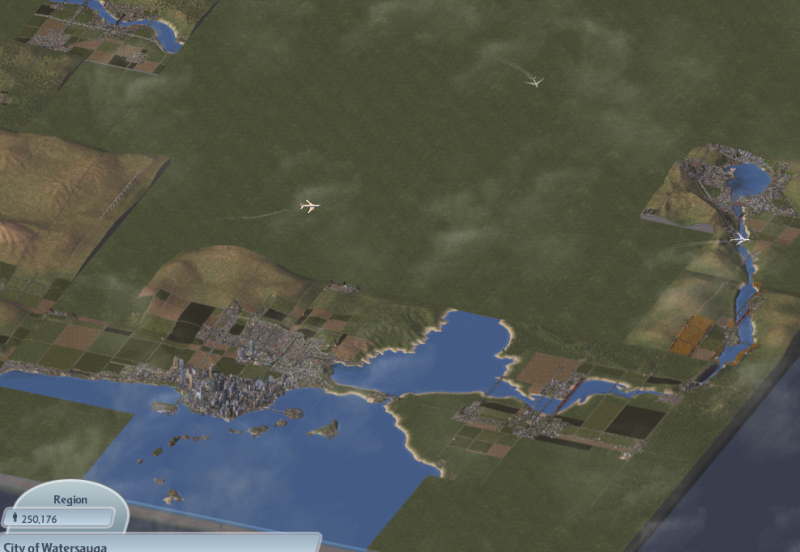 Note that our population back then was 250,176. Lots more territories are not explored, as you can see that they are uncharted, and appear as green blotches on the map. The biggest city you see here is Old Watersauga, back then with a population of 130,000. You can note Ottawa-Gatineau in the upper left corner, with a population of only a few thousand. The uncharted areas indicate territories that are unclaimed by Watersauga now.
November 2009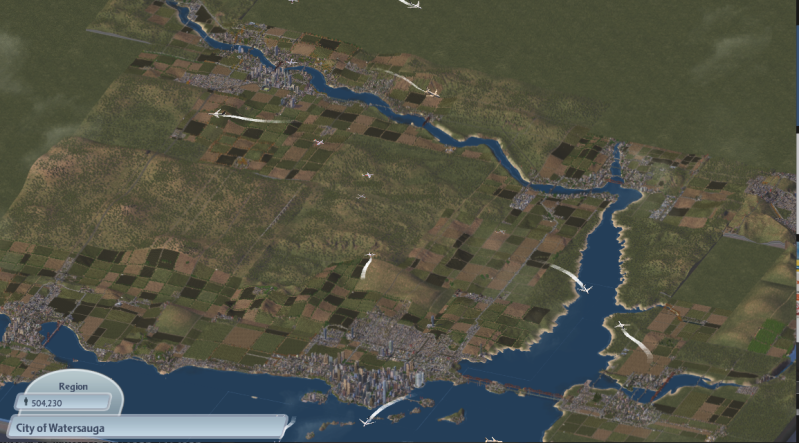 Our population dating back to Game Year 0 was at 504,230, which was a double was Game Year 25 B.C. It has since been increased by another 20,000. Note that a lot more territories have been explored (and even more has been explored after this date), and the spread of urban areas and farmlands. Note that Old Watersauga has since increased about 100,000 in terms of population, and so has Ottawa - Gatineau. Other municipalities have been growing and/or created. The flat territories are uncharted and does not belong to us.
December 2009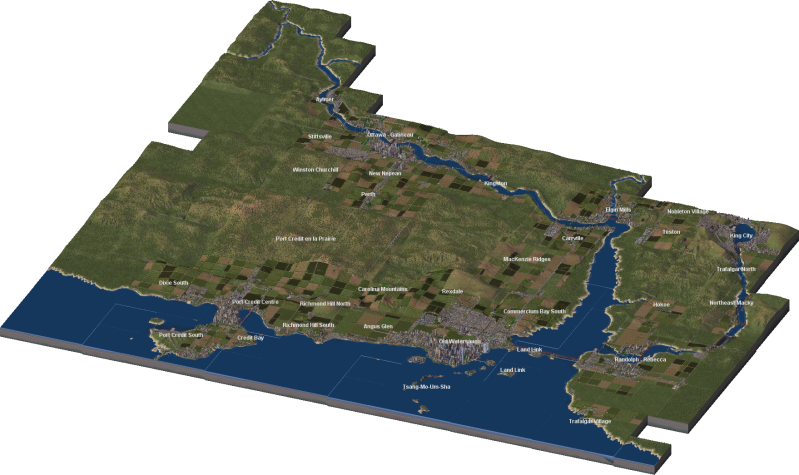 In December, our population hovered at around 550,000. This was the regional view back in December 2009, with a rugged boundary.
March 2010
In March 2010, our population jumped to 625,000. Our territories also extended just north of Ottawa - Gatineau, and east of Trafalgar North. These territories was ceded to us by our next door Japanese colony, Region of Cosmo, through negotiations in late 2009 to earlier 2010. We also ceded a 16 km squared size of land to our next door Portugese colony, just west of the Ottawa - Gatineau area.
June 2010
In June 2010, the population reached 724,143. This image is not the full regional view, but gives a general idea of the entire region. The growth in population mainly originates from Ottawa - Gatineau (with population jumping from 120,000 to near 170,000). Our territories also extended north of Ottawa - Gatineau, and also to the east of King City.
August 2010
By early August 2010, the population of Watersauga has reached 807,023. This is, again, not the entire view of the region, but encompasses most of the major cities of the region. Most of the growth has been concentrated around Old Watersauga with the new land available due to land reclamation, and in Ottawa - Gatineau.
This just gives you a sense how the region is growing. 
Remember, stay tuned to this page for your job agenda! We look forward to your input into our region. Good luck in your position of being a councillor!