Your Training - Overview
TODAY IS December 1, 1 G.Y. (Game Year)
Hello Counsellors,
Eager to start your job as a city councillor? Well, you've been hired by the City of Watersauga committee to help us to accommodate rapid future growth! But before you can start, maybe you should know more about the City. We've hired volunteers to take you around and have a look.
VOLUNTEER: Here's our region, the City of Watersauga. Don't be fooled by its name! Despite it is named as the City of Watersauga, it is actually an independent country located in the North Pacific Ocean. It is a collection of region.
This piece of territory is actually a newly found continent in the Pacific Ocean. Being claimed by United Nations in 2000, the continent became its own independent nation beginning 2009. As a result, 2009 marked the first game year (1 G.Y.). There are still, much of the territory left unexplored. This continent, in addition, is also wealthy in terms of resources. It is now attracting numerous residents from far and wide to settle in Watersauga.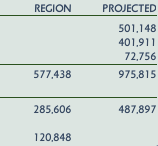 Currently, according to the census department, our housing capacity is at 577,438 residents (actual population around 520,000). We are expected to have an extra 400,000 residents (this makes our population to 975,815) residents in the next few decades, provided that we have over 120,000 vacant jobs. As a result, we need your help!
As I said before, we are a collection of cities. The biggest of which, or the commercial centre of the nation, is located at Old Watersauga, with a population of 210,000, as seen below.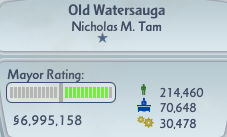 For those visually minded, here's the satellite imagery...
Notice how we are using natural growth technique, without any extensive future planning. Also, we are also trying to cope with the serious problem of urban sprawl. A problem that is already invading into much of our farmlands.
Our last stop of the day would take you to the satellite image of the entire region. Notice how our region is very different with others here on Simtropolis. We have rugged, irregular boundaries. This is because much of our territories is uncharted, unmapped, and we know absolutely nothing about it. Here's a tour of our region.
As you can see, our region is made up of several major cities.
List of major cities:
YOUR TRAINER: With these major cities in mind, we have urban planning corridors, to show that where future urban expansions will be. This will be mention in details in our next meeting. However, just to keep you a heads up.
* 1ST PRIORITY CORRIDOR - The Hurontario Delta Corridor (The North-South Corridor Between Old Watersauga and Elgin Mills)
* 2ND PRIORITY CORRIDOR - Dawson River Valley Corridor (The East-West Corridor Between Aylmer and King City)
* 3RD PRIORITY CORRIDOR - The Prairies Corridor (The North-South Corridor Between Port Credit South and Ottawa-Gatineau), also known as the Ottawa - Perth Corridor. 
* 4TH PRIORITY CORRIDOR - The Queen Elizabeth Corridor (The East-West Corridor Between Randolph-Rebecca to Port Credit)
* 5TH PRIORITY CORRIDOR - The Trafalgar Corridor (The North-South Corridor Between Randolph-Rebecca to King City)
These corridors are put into place, and suggest future places in the region to become fully urbanized. Already, there have been outposts and agricultural farmlands put into place in these corridors.
We will discuss more in our next meeting. So please attend attentively to your meetings.
P.S. I currently do not have Photoshop with me on my new computer, so I would have to use Paint to do all the graphics... Please excuse all the bad graphics made...