ABCVS-MTP Education Pack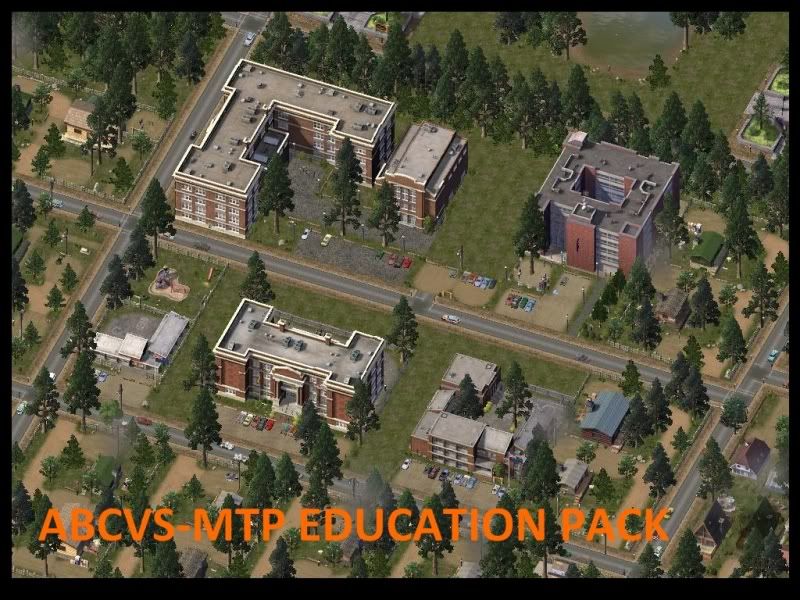 After many years of languishing at the bottom of the PEGPROD production queue, the long awaited, highly anticipated and highly vaunted ABCVS-MTP Education Pack is here!  Well by one guy at least anyway…
In a rare and blinding display of international trans-pacific US/NZ cooperation and collective brilliance, that has taken the best part of a year, Pegasus and abcvs..  (who?!), have joined together to bring you these pixilated productions of esteemed educational perfection!
There comes a time in every MTP community when the 'Old School House' is simply not big enough to cater for all the little Sims that need to be edumacated to make them all intelegin enteligen  intellyligent  brainy and smart, so they can then go work in Big John's Mine, the PEG-MTP Saw Mill, the NBVC Lumber Yard or for the ever so slightly prissy and those who object to the smell of engine oil, infused with saw dust, the PEG-MTP Corner Starbucks.
This pack contains five re-styled Maxis education lots… 
·         The MTP Grade School
·         The MTP Large Grade School
·         The MTP High School
·         The MTP Large High School
·         The MTP Community College
Features of the lots include:
*   More rural looking Mountain Theme Pack styled Education Facilities, to suit virtually any sized mountain or rural themed tile.
*   Custom MTP themed query windows.  
*   Extended coverage for the Grade School, High School, Large Grade School and Large High School.
*   Car parks have been moved to the front of the lots for more realistic road access.   Apparently this has annoyed the crap out of Pegasus for years.
*   If the PEG One Flag Many Nations mod is installed the flag of your choice will be present on the Grade Schools.  Without the OFMN mod installed, no flag will be displayed.
*   All costs remain the same as their Maxis default versions. 
*   These re-styled education lots were designed to compliment the Mountain Theme Pack but have been engineered to have a minimal dependence on it. These lots can be used in any non-urban setting / city without the need to move the required files in and out of the plugins folder when switching between different city types or styles. 
** These lots require installation of the 
MTP SuperPack
**Optional - One Flag Many Nations Mod
 Additional Screenies: