History Part 2, Modern Growth (1975-2001)
Entry posted by mayorbk ·
204 Views
History Part 2, Modern Growth (1975-2001)
Oketockee continued to grow as more businesses moved to the town and by 1976 it was officially named a city with just over 23,000 year-round residents. Like many cities, the map changes in the late 1970s and into the 1980s when developer pushed neighborhoods outside of the immediate city footprint. The developers also changed the landscape using dredging and fill to raise new land from the swampy coastal marshes. The developers also dug boating channels for recreational uses. Several new planned communities were built during the decade, including Horseshoe Bay Yacht Club (1980), Butler Creek Marine Club (1982), Warm Cove Estates (1986), Plantation Harbor (1988), and Oketockee Sailing Club (1989).
Picture: Downtown Oketockee circa 1976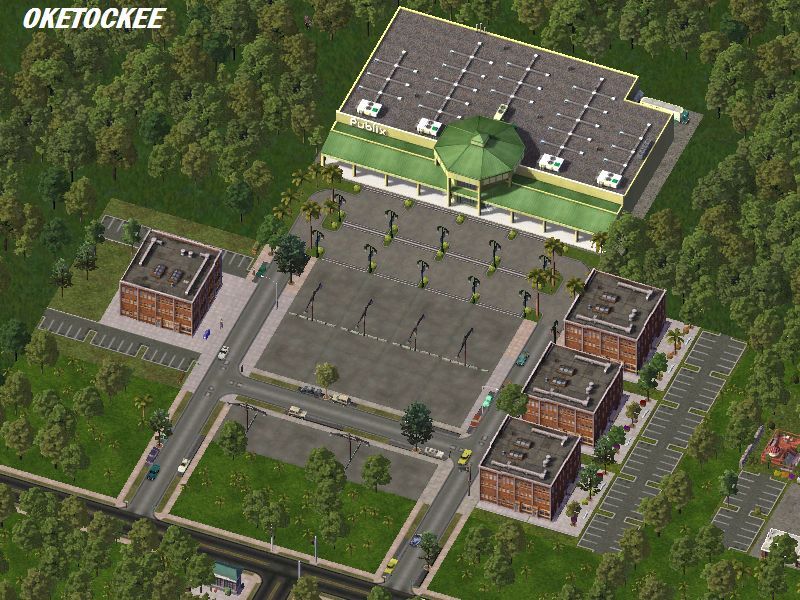 Picture: Development such as the Butler Creek Business Park, anchored by Publix grocery, grew iwith the 1980s suburban sprawl.
As the city sprawled outward, Cove County and the state of Florida began several large-scale transportation projects. First a Northwestern belt highway was constructed across the northern side of the city. The state then extended it east of Cove County and designated it FL Route 500. The county and state then constructed FL Route 351 along the eastern edge of Oketockee city limits.
Picture: FL Route 500 (upper right and bottom left) connects with FL Route 351 (left and right) on the northeast side of the city.
The addition of the highways provided more connectivity to the region and created another rapid growth period. Despite a recession in the early 1990s, by the middle of the decade, the city rebounded and construction of housing and commercial picked up again. By the close of the 20th century, the population of Oketockee ballooned to 45,000 year-round residents.
Teaser
On the next update, we'll go on a tour of 21st century Oketockee and detail the rapidly growing tropical city.
Picture: Condos line Butler Creek near the Plantation Parkway Bridge.