A few pictures from Polorna and Kelowana
There's a thing about this imaginary town. Its built on hills, and so part of the town is terraced. The lower downtown is built next to the river, thus a major transpiration route, tall buildings, successful businesses and skyscrapers have developed by time, the neighboring cities also have their set of skyscrapers next to the river, creating a lovely scene of a true city. The police and fire coverage is state of the art, thus leaving no buildings vulnerable. The cities in this region are more commercial and residential, than industrial. The demand for industry is quite low here in this region.The hills remain uninhabited, as they are quite steep for many buildings to develop, however it makes an amazing scene.
But behind the hills lie flat plains. Perfect for building. Little suburbs have developed in the area, including farms. The houses have a little European touch to them, adding to the scenery.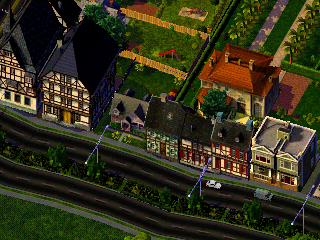 Meanwhile, the town of Kelowana is one of the suburbs of the main cities along the river. This town is found on the left side of the region, just behind those steep hills. To get to the town, you'll have to use the highway build on the hills. Otherwise, there's no other way besides an airport into the neighboring town. The buildings here also have a European touch. Sometimes, during the winter, a thick fog covers parts of the town, adding to the scene.
The Cathedral of Kelowana is over 200 years old. It was built on pure land in the middle of nowhere until the recent construction of the commercial area took over the scene. Fog still hangs in this low lying area almost every morning. To keep the old tradition, the Cathedral only uses light from candles. Every evening, for 7 o'clock mass, there is a choir and also an organ playing.
The suburbs here are very split up, with massive gaps for farmland. Even within the residential and commercial areas, one can still fine traces of farmland and agriculture, as you can see in the upper right.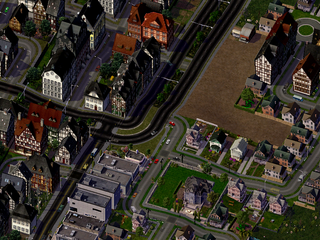 Some more images of these two towns and even of new ones to come later..I hope you like them
Thanks!