The Suburb of Fgurano
This is my second entry into the first journal I've ever made. I present to you the imaginary town of Fgurano, is a little treasure, built just under an active volcano it is famous for its old European style, its sports complexes and also its oriental touch found south of the city. It is another suburb of the few main cities along the river.
North of the city, one could find a wall, built a long time ago. This also separates the new part of town, from the old.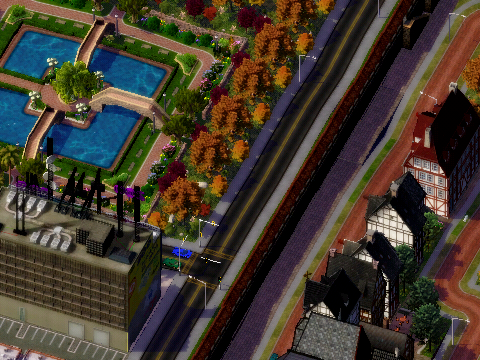 Within the old area, lies the two watch towers. These where used to see attacks coming in during the medieval times, before the urbanization of the farmlands.
Spaces of farmland can also be found between some streets.
In the southern part of the suburb, lies the Oriental Area. On entering the Oriental area, one can perfectly see the Oriental Palace.
One can find Japanese, Korean and also Chinese style buildings. The 3 temples of the Earth, Fire and Water Gods can be found in the far corner, close to the boarder of the neighboring city.
A few weeks ago, Mt.Fgurano, the active volcano in the northern part of the suburb erupted. Lava flows brought loads of tourists on holiday and lit up the night sky to a bright orange colour. Fog covered the buildings close to the volcano. No damage was reported as the eruption was not big, however disruption to flights was caused due to the ash cloud.
Towards the east of the Volcano, lies the sports complex. Inside the complex lies a profession Olympic stadium, rugby and american football field and also a soccer/football stadium.
Along with the sports complex comes a baseball stadium. One of the main attractions is the Ferris Wheel, in which you have a perfect view of the hole east and south of the town, due to the high position of it on one of the slopes of the volcano.
Some more pictures of other towns and cities will come later. Thanks for taking the time to read it
I'll keep you posted often.