My Little Pony: Socialism is Magic (Independent Republic of Cosarara visited by Equestrian adventurers)
From January 27, 2012 to February 1, 2012, Their Excellencies Princesses Celestia and Luna, Twilight Sparkle, Rarity, Rainbow Dash, Fluttershy, Applejack, and Pinkie Pie had the pleasure of visiting the workers' paradise known only as the Independent Republic of Cosarara. From their experiences alone, it becomes clear that hard work and a steadfast belief in the People's Victory formed this nation into what it is today. This entry compiles their experiences, their favorite thing about this great country, as well as their own personal ideas that, they think, would make Cosarara a better place (for them of course...). I hope you enjoy this group of best friends as they experience the one and only Independent Republic of Cosarara...
~ the workers' paradise. ~
***Please disregard the zots, U-Drive it mission icons, and all the other odds and ends in the pictures.
~~~
***For anybody who asks, the pictures with the ponies are made in Microsoft Paint - a sub-par program, though - but I don't know how to use GIMP and Photoshop is expensive... but it still gets the job done.
We begin at the Hotel de Risa (the yellow building), the hotel where our special guests will be staying.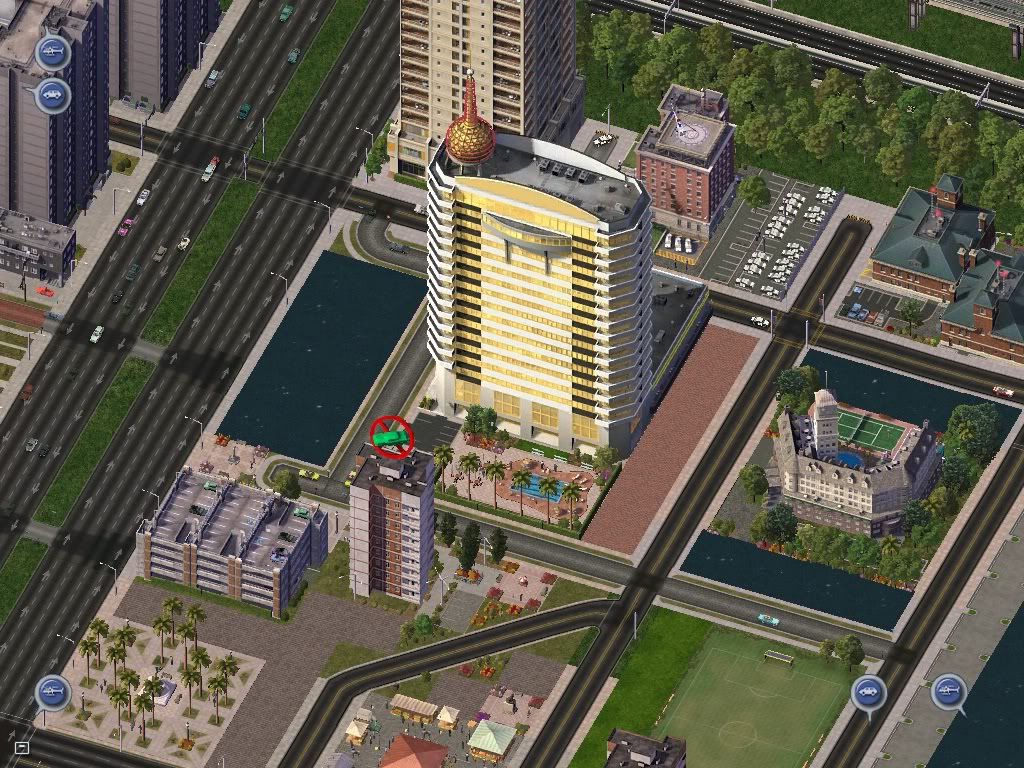 Once there, everypony (and person) indulged in an extravagant feast to celebrate their arrival. They all thought that it was simply delicious. They had the pleasure of meeting the Great Leader and other Socialist Party officials, as well.
During this feast, they were all asked, "How do you like our Motherland so far?" with replies of astonishment and wonder.
Princess Celestia spoke the most, at least when it came to compliments.
"The food is amazing, your people have the best hospitality I've seen in a long time, and I think we can all agree that we'll have a most marvelous time here."
~~~~~~~~~~
The next morning, they all explored Cosarara on their own.
Fluttershy decides to go to the Jackson City Zoo to make some new animal friends.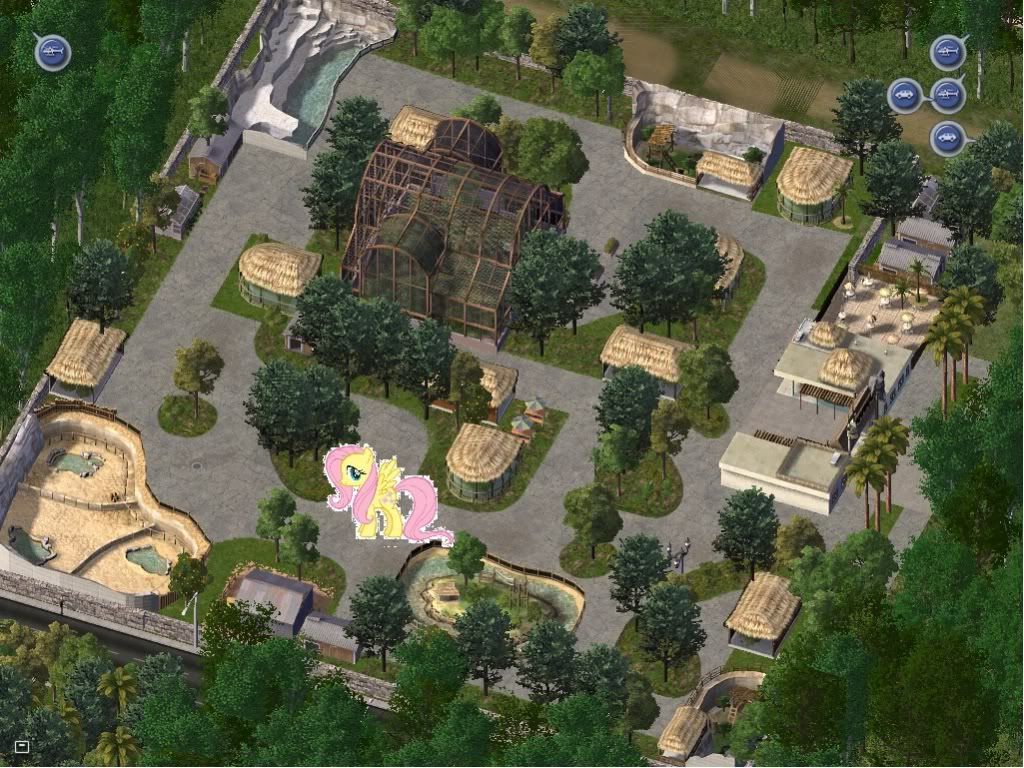 Rainbow Dash flies through the Central Business District, through the Financial District (shattering a few windows in the process), and around Escape Point, where a close encounter with a wind turbine almost slicing her wing off causes her to want to yell at the Great Leader to tear them down. (Watch out for the wind turbines, comrade.
)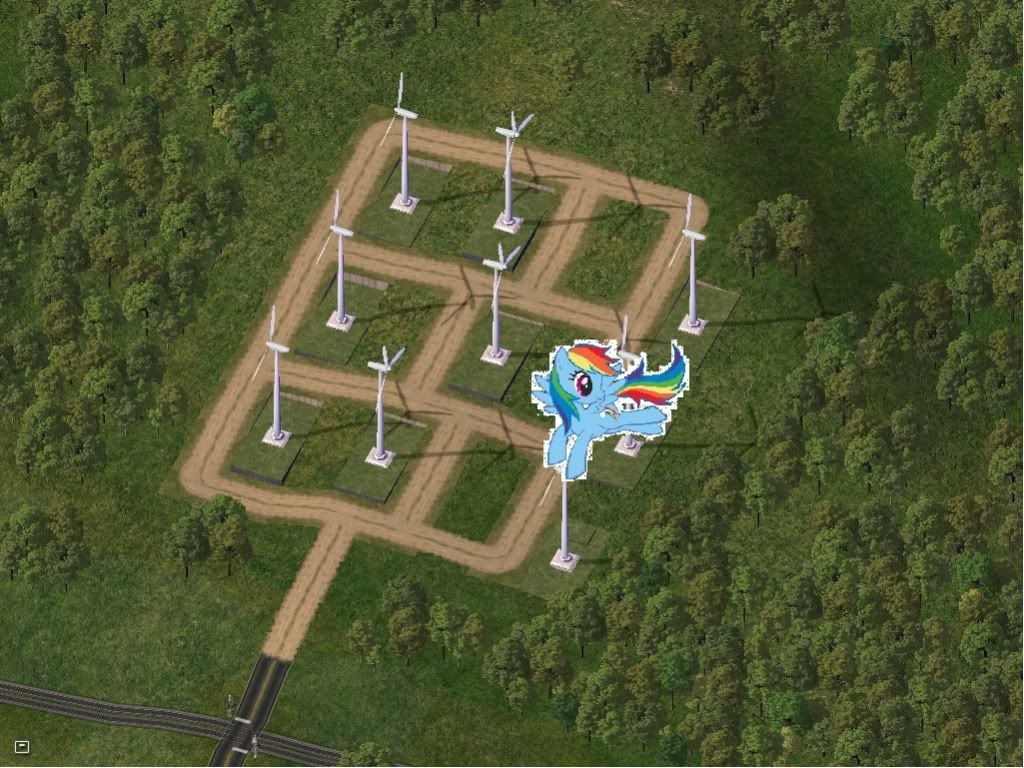 Rarity, one of the more gorgeous ponies, watches some workers walk down the street, taking note of their fashion styles. Rarity wants to open a branch of the Carousel Boutique in Cosarara, wanting her comrades to know true style. (haute couture, possibly, comrade?)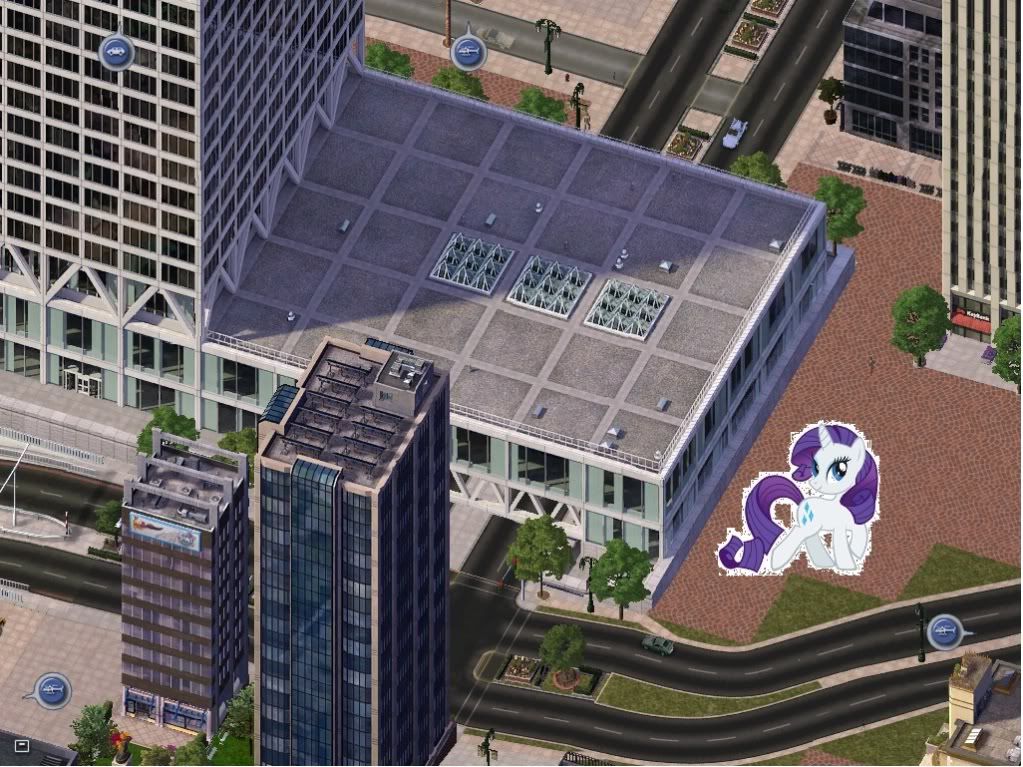 Pinkie Pie simply peruses around the towns, looking for candy and other sweets to stuff her muzzle in. This is her in Mango Beach, where she happened to be talking to a chocolate street vendor.
"I want a chocolate!"
"Well, comrade, if you want chocolate, you have to buy it... but you do not seem to understand."
"I'll take some of these Busscastle chocolates... boy these HAVE to be good!
It was then that Pinkie Pie took off, with aforementioned chocolates in her saddlebag. (You must have stolen them, Pinkie! It's not okay to steal from another comrade...)
"Come back here!!!"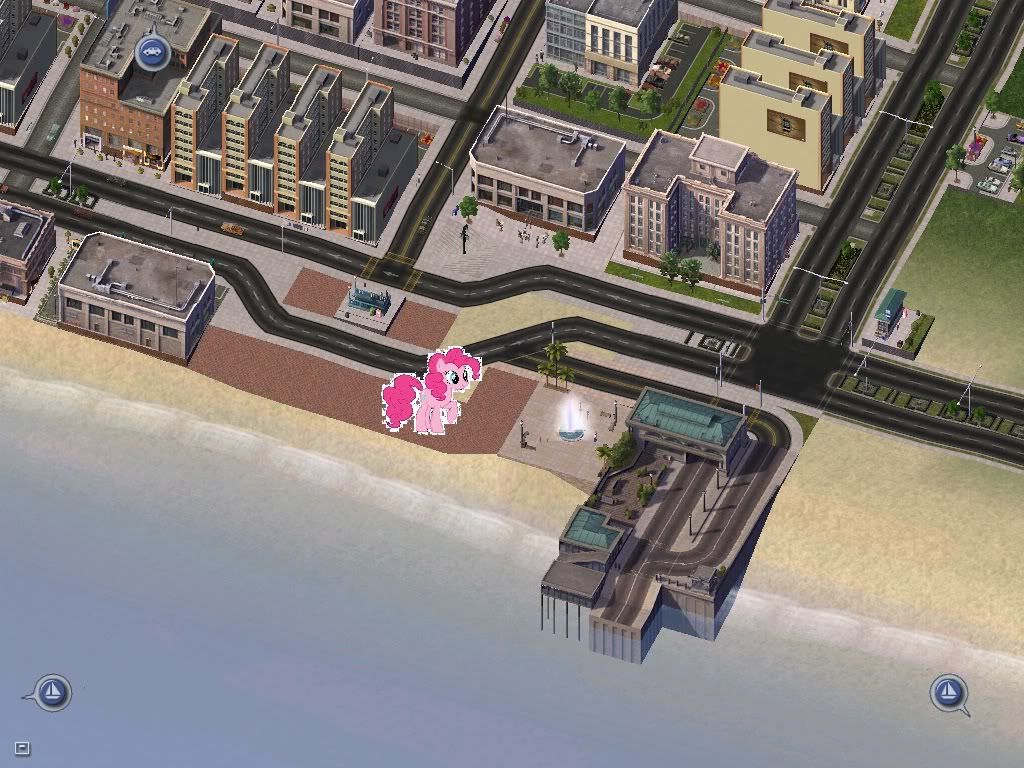 Applejack, in the Great Leader's eyes as a hard-working, honest and sweet maiden (a southern belle, is she not?
), a perfect match for the party's ideals when it comes to working, is simply astounded at the utter lack of farms in Cosarara.
"Somepony please let Mr. Great Leader know 'dat he's lookin' at some apple-pickin' good land 'ere..."
***I don't know how exactly you're supposed to write Applejack-style dialogue, since she talks in a southern (southern-mountain?) drawl.***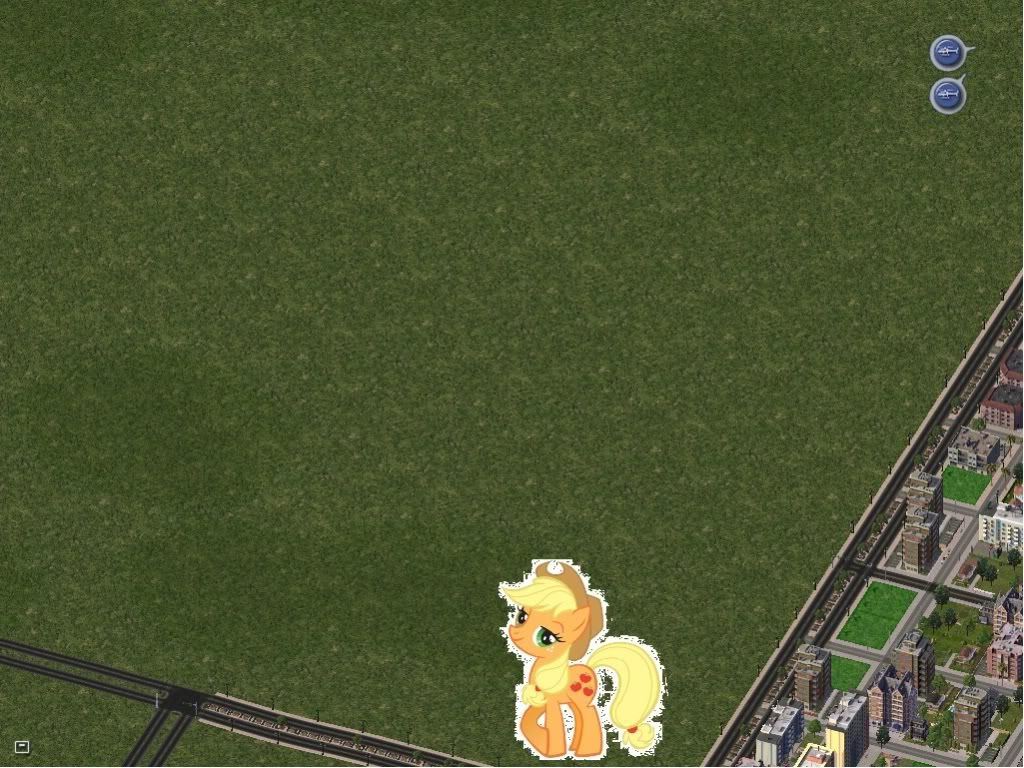 Later in the afternoon, Princess Celestia, Twilight, and Fluttershy meet at the plaza next to the Goff Community College campus, and they're discussing something... let us listen in.
"I read in a book about old Equestrian myths, and it says that Midnight Castle was located on a mountain facing the sea, which I believe Escape Point fits that description."
"How can you prove this, my faithful student?"
"Take him to the top of Escape Point - maybe there's ruins!"
"Well, in that case, Fluttershy, locate the Great Leader and fly him to the top of that mountain. He shouldn't be that hard at all to find, since he told me that he would be in Arlington inspecting factories or something."
"Yes, your Highness."
And off she went.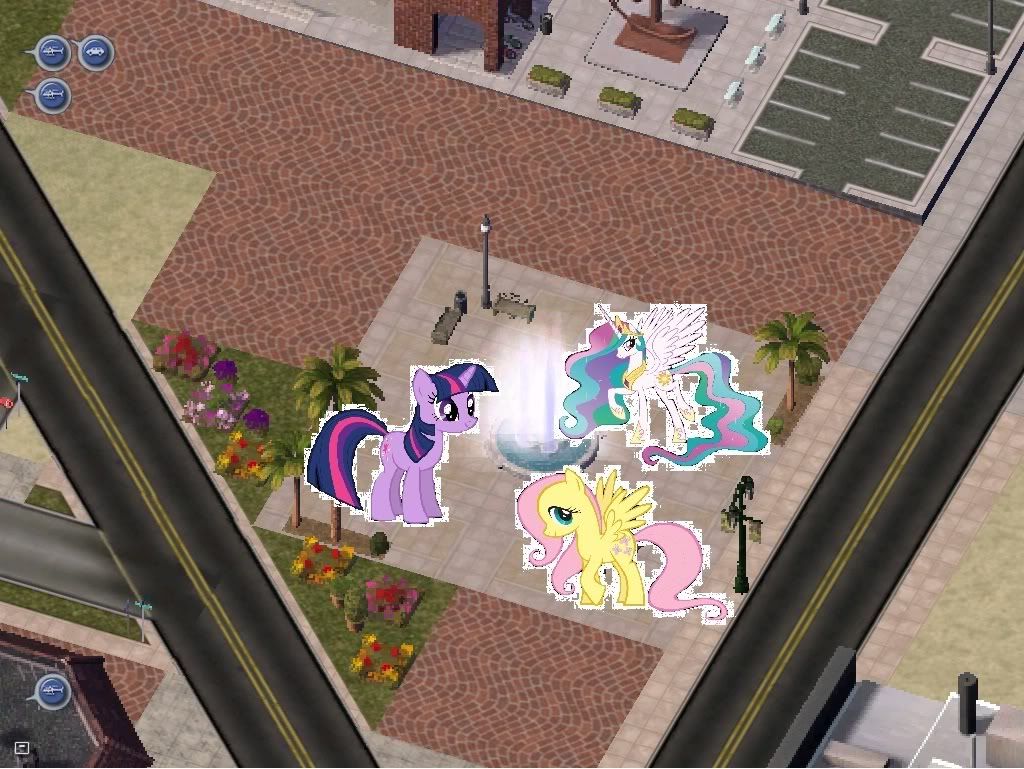 Just as the sun princess expected, the Great Leader was in Arlington's industrial district touring an airplane parts factory.
As soon as the pair reached the summit, the pale yellow pegasus circled around a few times, asking
"Do you see anything, Mr. Leader?"
And so he looked... but the bulk of what he could see was simply rocks, shards of iron, small pieces of shattered glass, and what have you.
She reported her findings to the white alicorn.
~~~~~~~~~~
"Me and the Great Leader circled the top of Escape Point a few times, and he couldn't see much. Maybe his vision's not what it used to be..."
"I see..."
She paused for a moment.
"What did he see, then?"
"He saw little more than rocks, iron, and glass. That's about it."
"Hmm...
After that, Celestia flew off to confirm Fluttershy's story.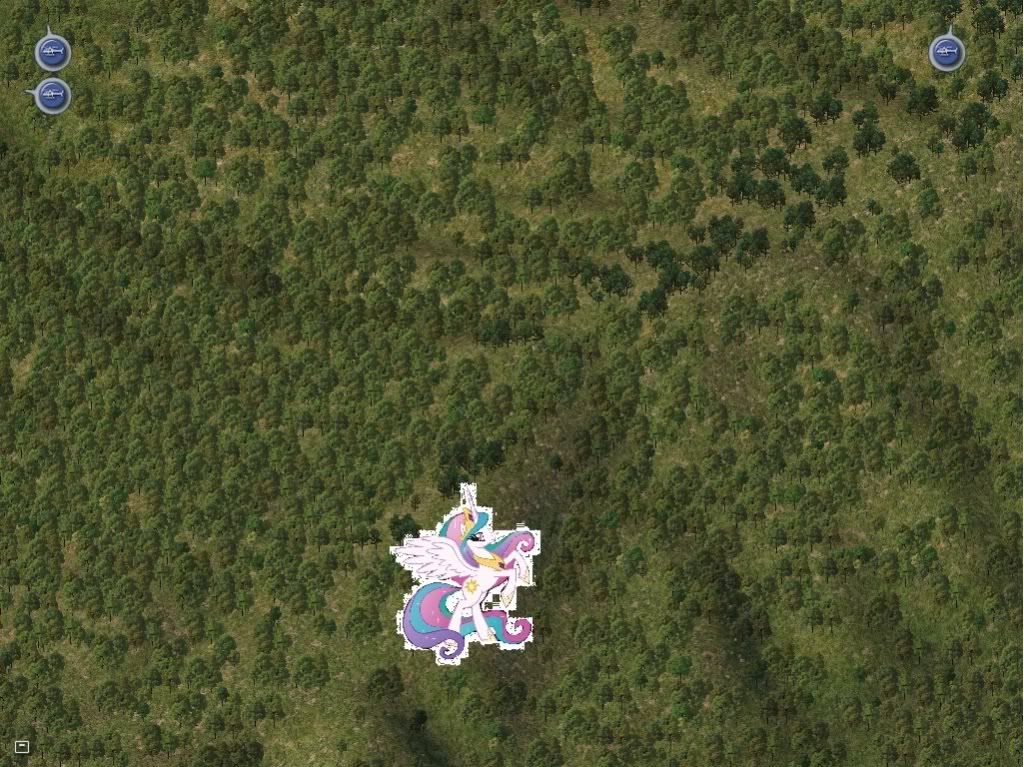 Immediately, she recognized the remains of Midnight Castle, everything from the main hall to the guard towers to the old military barracks and the blockhouse where weapons would be stored.
"I wish the Great Leader would see this..."
FOR MLP:FiM FANFICTION LOVERS: I've written a romantic-type story in which Princess Celestia confesses her love for the Great Leader after she develops a strong love interest for him. I'm putting the finishing touches on it as well as starting a fanfic revolving around Celestia and the Great Leader's first date. Uploading to Fimfiction soon...
Remember to rate, favorite, comment and +1 if you liked it!