News Entry: Cessation of Relations
Forgia ceases relations with Malo
by Amy Higgins
Flag of the Kingdom of Forgia
APELKOS, MAL- Following a six-month diplomatic stand-off, the Kingdom of Forgia has withdrawn all diplomats from Grand and Malo and closed its embassies there. Relations between Malo and its eastern neighbor Zebtesia have always been bad since 1951, when, as the Great Adonian War was coming to a close, Forgia and Zebtesia, another country on Malo's northern border, invaded what was a much larger Malo back then and took over around 70% of Malonese land, including the very fertile Zebtase Delta, which alone covers as much area as Malo does today. After the union in 2005 of Grand & Belluterra and Malo, Grand inherited many of the diplomatic situations Malo was in, including During the summer of 2011, Malonese-Forgian relations sunk to a level not seen in decades as Grand commenced a series of nuclear tests in the Malonese desert only around 100 km from the border, which included testing a 9.4 megaton device, the largest Grandian nuke ever detonated. Since then the relations between the two countries have been continuously spiralling downwards, culmanating with the withdrawal of Forgain diplomatic staff from Grand, Belluterra, and Malo.
---
Major riot in Merida
by Rupert Atapax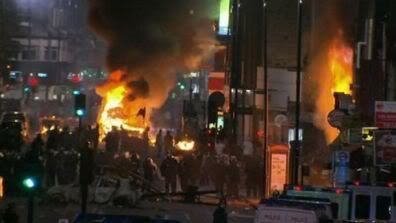 A crowd of rioters burning vehicles in the Zocalo
MERIDA, RUT- There was a major riot in Merida, the capital of Ruteria, yesterday after 4 men were shot dead outside the Royal Palace. According to Ruterian law, if anyone comes near to the palace with a gun, barring the police and secret service, they will be shot without warning. The four men who were killed, according to witnesses, were passing by the gates of the palace with handguns prominently displayed around their waists, in flagrant disregard for the Ruterian law. Thus, according to the law they were dangerous criminals, to be shot on sight. This was done, and they were all killed. Within minutes, a crowd had gathered to protest this turn of events. The crowd quickly grew, and when confronted by police, it quickly changed into an angry mob, which grew into a riot, centered in the historic Zocalo district, smashing windows, overturning and burning vehicles, looting stores, and the like. The riot has apparently been quelled now. Casualty counts are preliminary, but currently stand at 13 injured, in addition to the 4 men who were killed. King-Emperor Charles' cousin, HMR Queen Monica I, was not available for comment at the time this went to press.
---
In other news...
- New Chandler wins bid for XV Simlympiad
- Princess Amanthis' 10th birthday is in three days! Her brother Charles I has a surprise waiting...
- Utrova wins bid for 2012 Adonian World Cup
- Super Katz are coming to a theater near you! Be there, September 14!