The Swinging Teens and Twenties
Entry posted by Wraner ·
406 Views
Welcome to Muncie, Indiana
Middletown America
A Pictorial guide to the center of American Culture
Garfield School as it stood on Madison St. The area is now Heekin park.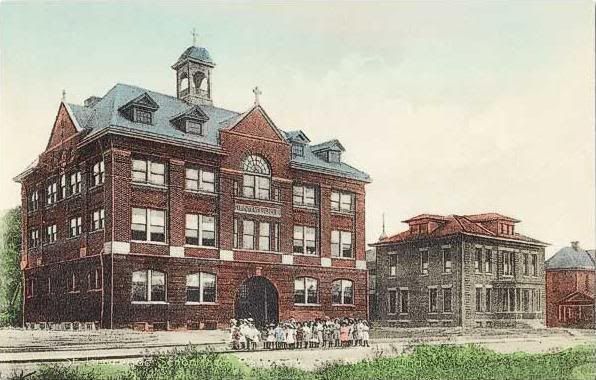 St. Lawrence Catholic school as it originally stood at the corner of East Charles and High Street.
The Delaware County Courthouse was a great landmark in the city of Muncie. Thomas & Brentwood Tolan (T. J. Tolan & Son) designed three similar courthouses in Indiana between 1879-1885. The Delaware County Courthouse at Muncie was nearly identical to the Kosciusko County Courthouse in Warsaw (1881-1884) and the similar to the Park County Courthouse in Rockville (1879-1882). The latter two buildings have been preserved and stand as community landmarks.
The Delaware County Courthouse was demolished in 1967. The newspapers praised the demolition and it was even encouraged by the faculty of Ball State University's College of Architecture.
Today everyone regrets this decision, as it has severely handicapped the growth of Downtown Muncie. The present courthouse is a rather serious statement in New Brutalism, with its heavy concrete walls and bleak "plaza." All the trees around the courthouse had their branches lopped off to deter pigeons in 2002. This has given the square an even more unwelcoming appearance.