Brand New Test Card + Schulmania News
Entry posted by Tonraq ·
386 Views
10 members have voted
1. Queensferry should...

Attack Schulmania

Attack Troix

Attack Greater South Pacific Empire

Attack other countries

Do Nothing

Give Up

Be Attacked by Schulmania

Be Attacked by Troix

Be Attacked by Greater South Pacific Empire

Be Attacked by other countries

Do something different
---
So I just created a new thread at the old section... Along with it comes a New Test Card to fit the new magazine.
Click the image to launch the video! (Embedding is hard these days)
Enjoy Chopin + A weird test sound!
SCHULMANIA ATTACKED WITH MISSILES
A Horrific Scene on one of Schulmania's Cities. (Click to See Video)
Gran Maru - Schulmania is attacked by Queensferry Missiles Thursday, Killing an unprecedented number of citizens and injuring countless Schulminions. There has been no report yet on the condition of high ranking officials. In a recent find before the attack, Schulmania Military Intelligence Officials has uncovered a map of target cities in Schulmania.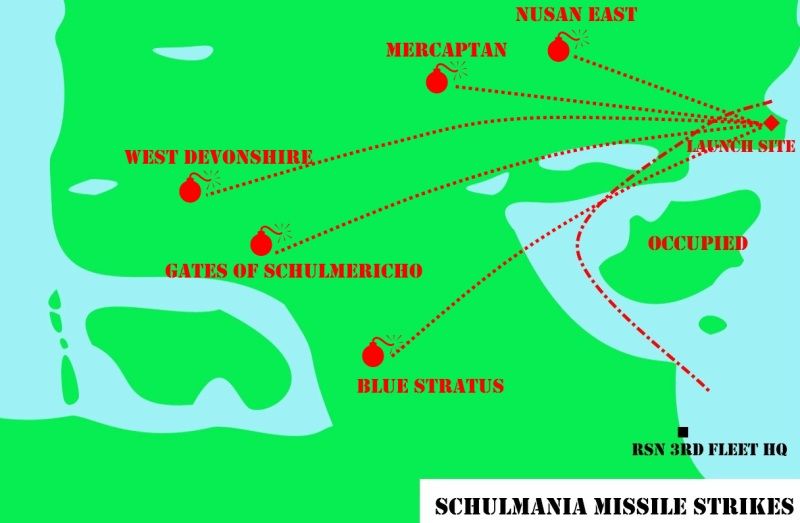 The attacks caused a heightened alert on Schulmania and its allies like the Great South Pacific Empire and Troix, which forced it to broadcast the new EAS for the first time in Sanese History. The EAS caused panic and confusion, which led to the bunkers being full and cities becoming ghost towns. However, as Prime Minister Tadagutsu Jobei said, "Preparedness for the worst is top priority. We couldn't just sit here and wait for the missiles to come to us." The Alert is still in effect and a complete blackout is in effect until it is safe to do so.
In Fort Wirt Before the attack, The Times has acquired a conversation between Col. Catshaw and Col. Clawson before the attack.
COL. CATSHAW

: Our forces are well dug in on the eastern front. We have reinforced trenches and plenty of cannon along the lines.

COL. CLAWSON: I understand that plans for a new air support base south of Liver Springs have been approved. This should be a plus for our defenses.

COL. CATSHAW: Agreed.

COL. CLAWSON: With that, we should finally be able to take back what is ours...
In Queensferry, Queen BuggUla celebrated another victory with the attack on Schulminion lands and is expected to invade the Eastern Part of Schulmania. Hundreds of Queensferry's shock troops are being airlifted to central Schulmania, ready to open a new front in their wicked war of aggression.
111222333444, VIA WIRE SERVICE FROM FRIENDSVILLE, SCHULMANIA