This article is also available at SC4 Devotion HERE.
We've all had this problem. You want to make a RHW curve 90 degrees with those amazing curve pieces.. But what? Why is there a RHW-2 in the middle of my curve? Why Can't I override it? What can I do?
What can you do? Follow this guide!
I will show you how to make smooth 90 degree curves without getting the RHW-2 in the middle. In this guide, I will show two examples of how to do this. Use the method that suits you or your surroundings best!
Example 1. Placing the smooth curves in an existing sharp curve.
Making a curve this way is pretty straightforward. Just plop the smooth curve puzzle piece on top of your sharper curves.
Let's try it for a RHW with a two tile median. Here is what the turn looks like beforehand:
1. Delete the inner curve.
2. Drag a new RHW to join the two segments.
3. Plop the "RHW-4 inner curve" puzzle piece on the two spots.
and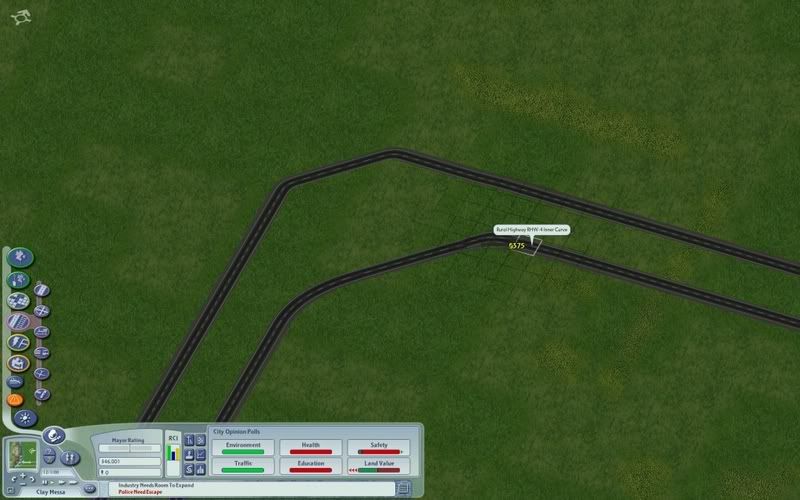 Pause. Voila! You have your first smooth 90 degree curve! Now its time to do the other side (the outer curve).
5. Again, demolish the existing turns.
6. Join the two segments and plop the "RHW-4 outer curve" puzzle piece on the two spots.
You're done! This is the finished product:
Example 2: Making a 90 degree curve from scratch.
For this example I will only show how to make a curve with just one direction of the RHW. Once you learn how to do it once, it can be easily repeated for the other side!
1. Place your curve.
2. Extend the RHW-2 network for a few tiles.
3. Make the RHW-2 turn out of its diagonal state.
4. Place a RHW-4 starter piece on this new orthogonal segment. It should override most of the RHW-2.
5. Override the remaining RHW-2 by re-dragging the network.
Pause. This is what the network should look like now. At this state, you can choose to curve your diagonal RHW 90 degrees or back to the direction it was before the curve. This can be applied for an inner or outer curve. Since this about 90 degree curves, I will continue to curve it 90 degrees.
6. Delete the starter piece segment. You should be left with this:
8. Make the RHW sharply curve the last 45 degrees of the turn.
9. Plop the "RHW-4 outer curve" puzzle piece on the sharp curve.
Your done! This is the finished product: a smooth 90 degree RHW curve!
Anyways, I hope you found these guides useful! Have fun making 90 degree curves!
Best,
-Haljackey