Please PM Sim1013 if you have any questions about this tutorial!
Hello everyone!
Welcome to my Level Hard City Tutorial. I'm going to teach you how to initiate a city at this level without using any cheats or unrealistic mods. When you're finished you will have a happy, healthy, and educated city with about 8,000 Sims and much room for growth. Keep in mind that city building at this level takes longer than on other levels, but it's very gratifying once you master it!
The way I play, I'm not satisfied until every house is covered with all services and the Sims' live are as happy as possible. Because of this I don't make as much money as I could. You will be able to make much more money however, if you choose to provide fewer services, parks, or perhaps a less expensive, more polluting power plant – Feel free to apply your own personal philosophy to the game once you complete this tutorial.
Here is a list of all the downloads I use for this tutorial:
-Rush Hour Expansion Pack
-Deadwood's Road Top Bus Stop Set:
http://www.simtropol...%20Set&type=all
-The NAM (Most recent version):
http://www.simtropol...page=1&view=all
-Teirusu's Beach Mod (I use the white sand version): http://www.simtropol...20Modd&type=all
-SimTropiaProductions Gray Marble Rock Mod:
http://www.simtropol...%20Mod&type=all
-Mikeseiths Hyundai Delarships and Automata (Not required but just in case you were noticing some different looking cars):
http://www.simtropol...tomata&type=all
-JbSimio's Schools(You'll need both packs):
http://www.simtropol...20Pack&type=all
Let's get started, shall we?
I'll be using this lovely piece of terrain right here:
Your map doesn't have to look like this at all, but I do recommend having a similar body of water so that some of the game factors match up better.
A trick I use to make plopping seaside lots easier is to take the "Quick Level Brush Tool" and quickly drag it from my shore to my mainland until part of the terrain on my mini map turns to a lighter green. I then use the tool to level all of my land to that height. Take a look below to get an idea of what I'm talking about:
For those of you who don't know, holding down shift makes the radius of any tool larger and more powerful while holding down control makes the radius smaller and weaker. You can also hold down shift then press a number from 1-9 on your keyboard to adjust the radius to a size relative to that number. This makes the whole business of terraforming much easier.
Once you've finished beautifying your landscape and are ready to begin building, plop
5-7 beaches along your shore and build a 32 x 30 road square directly above them. Then fill the square with light residential and medium commercial as seen below: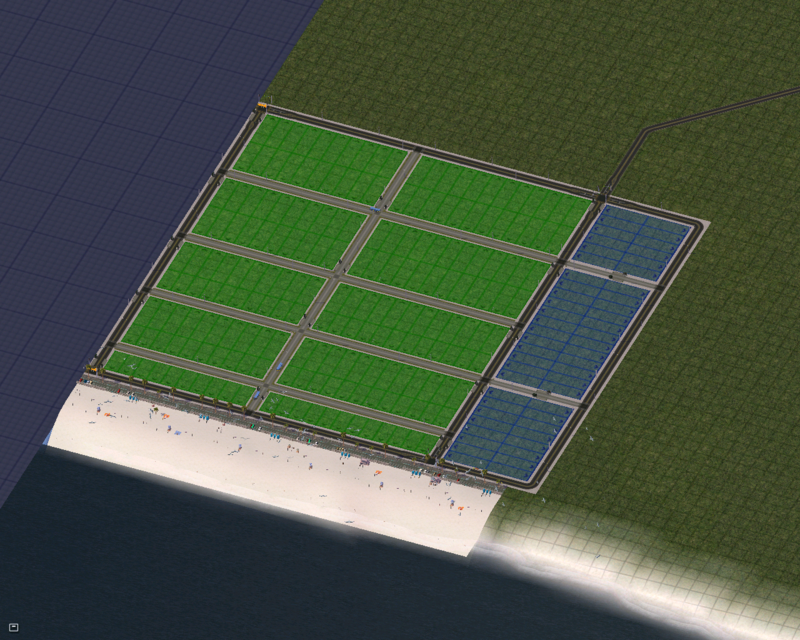 If you're having trouble measuring the roads, consider this: each road tile costs 10 simoleons to build, so a road 32 tiles long would therefore cost §320. This method makes it easier to measure the lengths of your roads.
You may also want to hold down shift or control while zoning to get the zones to face the right way. Don't forget the bus stops either!
See that road in the above picture? Now draw one just like it that leads to a 15x15 zone of medium industrial as pictured below: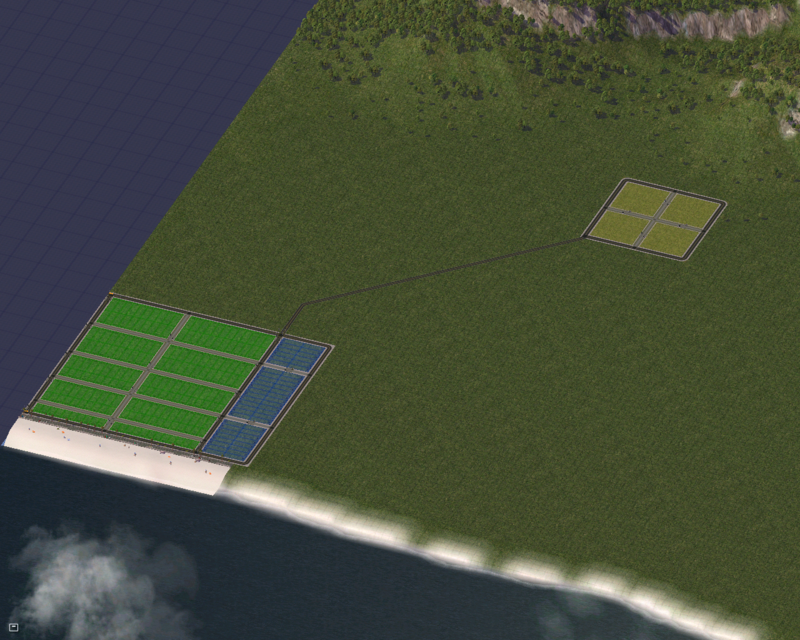 Again, don't forget to add some bus stops to your new zone.
The next step is to add some power and water. Place a water tower as shown below and establish a sufficient pipe network; then go ahead and plop two wind plants next to your commercial zone and two next to your industrial zone.
Because each city builds differently, I can't say exactly when to add more power plants or water towers to your zones. If your Utilities Adviser pops up or you see a warning message, just plop more power plants or towers next to the ones you already have.
Go ahead and let your zones fill up a bit. If you get the Mayor's House reward, plop it in or above your residential zone.
Now we're going to add some educational buildings! Start by plopping a "Handley Elementary School", a Medium Park, and a Library next to your residential zone and adjusting their funding levels to slightly above the usage amount.
Next we're going to add a College and a Museum. Plop them as I did below and adjust their funding levels. If you can't place the museum exactly, don't worry about it, just place it somewhere in the commercial zone.
Good work! Your Sims now have a mediocre education system, but before we can improve on that, we're going to have to add another residential zone. Draw a 25 x 33 tile road block as shown below, and fill it with light residential.
Add some bus stops and a pipeline to the zone and let it grow. At this point you should also raise the taxes on R§§§ to 9.4 and the taxes on dirty industrial to 9.5. I raise the taxes for the higher income Sims to keep their houses from abandoning because they can't find a job. Adjusting this rate is something you will have to do throughout the life of your city. When you start to notice the higher wealth houses abandoning, query them to make sure it's not from something else then go ahead and demolish their house. You should then raise taxes on them to keep the demand down until you get more businesses.
You may have gotten the House of Worship and Cemetery rewards at this point. You may plop them anywhere to the right of your new residential zone.
You will also have to adjust the funding levels to some of your educational buildings to accommodate the new Sims.
The last thing to do at this point is to enact the Nuclear Free Zone ordinance, the Smoke Alarm ordinance, and the Free Clinics ordinance.
I think your city could use some health care at this point, don't you?
Go ahead and plop a Large Medical Center along with a Large Flower Garden for the patients above your commercial zone. Don't forget to adjust both funding bars for the medical center to accommodate your city.
Now to expand your education system. Plop the "Washington High School" to the right of your elementary school and adjust its funding.
Well we just spent a whole bunch of money now didn't we? To balance out our checkbook it's time for another residential zone. Like before, build the zone above your previous residential zone. This one is 25 x 25 tiles large.
Don't forget the pipes or the bus stops!
Now we're going to draw a road from our new zone to our industrial zone to ease traffic. While we're at it why don't we expand our industrial zone as well.
Our new residential area needs some amenities. Place an Elementary School and a Library in that unfilled spot towards the top and adjust their funding levels.
You should have a somewhat high demand for commercial by now as well, so go ahead and expand your commercial zone with more medium density commercial like below:
Remember the water and bus stops!
How about a small medical clinic for your new residential zone. Plop it here…
…and adjust its funding.
Let's also add a Small Police Station and a Small Fire Station next to our first school.
Wow! We've expanded quite a bit, haven't we? The next step is to age your city for ten years. Go ahead and relax. Play some missions if you wish. If you get any messages about under funding, go ahead and give the buildings what they need.
Once your city has aged, it's time to expand yet again. This time we're going to build to the right of your commercial zone. Build a road square that is 30 x 24 tiles large and fill it with some light residential and bus stops as pictured below.
Now is a good time to expand your beach by the way.
Naturally this new zone is going to need some source of education. Add another "Handley Elementary School", a Library, and a park.
Don't forget the funding levels!
With these new Sims moving in it's about time we added a more advanced form of law enforcement. Let's replace our small police and fire stations with their larger counterparts.
All those new Sims are going to need places to work. Let's expand our commercial zone and get our first bit of high-tech industry. Set both dirty and manufacturing industrial's taxes to 13% and then zone as follows:
We're definitely going to need some garbage disposal at this point so go ahead and place SimGoober's Modern Waste to Energy Plant as seen below and set it's funding to zero.
As your Hi-Tech industrial zone grows, start to de-zone sections of your dirty industrial zone. That way your city can begin to modernize.
The last step is to add a Small Police Station and Fire Station next to your medical clinic.
Wow Mayor, give yourself a pat on the back! You made it through this tutorial alive and you have a great town to prove it. Now it's up to you to expand this town as you see fit. Enact more ordinances, continue to dispose of your dirty industrial sector, and zone more residential in areas where your radius can reach. Remeber, don't compare your income on this level to that on the other levels. If you're making §1,000 a month, then your doing great!
How this town expands is up to you!
I hope you enjoyed this tutorial and I was able to teach you something. I wish you the best of luck with your cities and may all your Sims be content!
-Sim1013
If you have any questions about this tutorial feel free to PM me!