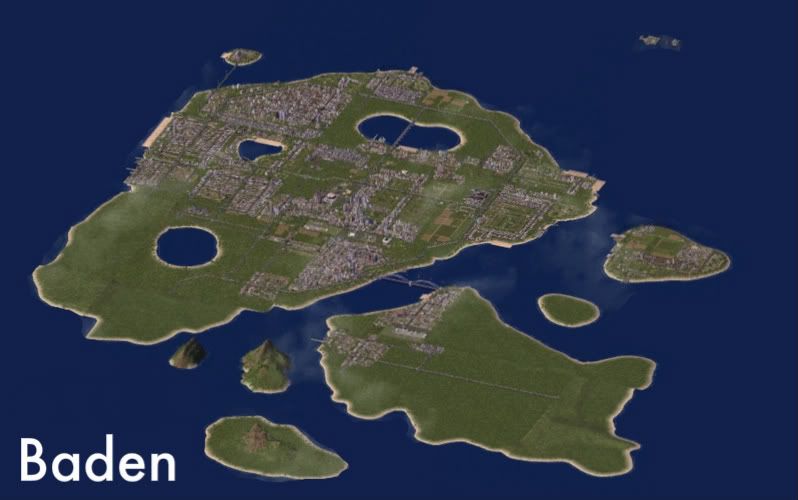 Welcome to Baden!
Baden, formerly known as West Baden, is a group of islands located in the Atlantic off of the Carribean coast. Founded in the Mid 1970s as West Baden, the island has prospured and became its own independent nation in 2009 with the joint of West and East Baden. Baden currently resides under a Democratic Monarchy system with Jake Starks as the elected president. Baden's population currently is around 310,000 and growing at an alarming rate.
Baden is also an observer of the AFDES, and has a functioning offshore drilling plant north of Jacksonville.
History
Pre-Colonization Era
The history of Baden Islands before they were settled is not well known. Historians have speculated that Baden Islands used to be one land mass before a series of volcanic eruptions and earthquakes broke the region into a series of islands. Three of the volcanos remnants still exist today, however their volcanic status is unsure at the time of posting.
First Settlements
Baden Islands was split in 1976 by a joint United Nations decision into two halves, West Baden and East Baden. West Baden's land was issued in the name of Kenneth Starks, West Baden's founder. In 1977, Starks would make his first settlement on West Baden Islands, on what is now known as Fairview, BD. After the discovery of offshore oil, Kenny would issue a business deal with Guanchez Santos of Puerto Rico to start a offshore oil drilling plant north of present day Jacksonville Parish.
Current (2009)
Currently, Baden Islands has been developed into the nation of  Baden (declared December 1979). Baden has grown into a dense urban region with nearly 12 cities and a regional population of 310,000 at the time of posting. Valdosta has been declared the capital of West Baden, and is the home to the nation's President and much of the nations legislative members. The largest parishes in Baden include Arlington, Jacksonville, Valdosta, and Jasper. West Baden has also entered a partnership with Molowaku Island.
Government and Politics
After settlement, Baden was officially declared a nation in December 1979 by the United Nations. Baden is ran under a democratic monarchy system, with the current President being Jake Starks (Successor of Kenneth Starks, who retired from his position in 2008. Under the President is the Chief Executive, with Prime Ministers following under the CE. Several cabinet branches are also utilized for items like National Security, Transportation, Health & Education, etc. A parliament has also been established that reviews and amends Baden's constitution.