Lancshire City, Lancshire:  A Hub for a New Beginning
Lancshire City, currently the state's largest city, holds over 350,000 residents and has about 190,000 businesses both independent and big-time ventures, which gives the city, county, and state a boat-load of money.  Anyways, before I get carried away, this is what will more than likely happen on your visit to our beautiful city.
===============================================================================================================
LANCSHIRE CITY INTERNATIONAL AIRPORT (LCIA)
If you are arriving to Lancshire City by air, you are more than likely to arrive at Lancshire City International Airport (or as known as LCIA).  Much of LCIA has been going under much renovation and repair.  Before Hurricane Marla, LCIA had two, narrow, and busy runaways.  Much of the hurricane devastated the airport, homes, roads,  trade routes, and industries around the airport.  Due to eminent domain and a need for more airport space, much of the industrial district is a part of the airport authority.
Here is what the airport looked like before Hurricane Marla: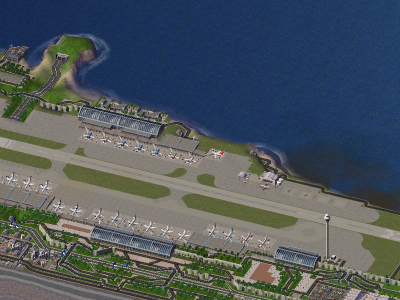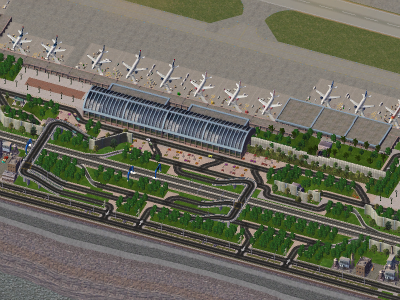 As you leave the airport, you can take a cab/van, bus, or the Lancshire City Area Regional Transportation Authority, or known as the LARTA.
The LARTA is easy to find, just look for this sign at bus stops, trolley, and subway stations.
After doing some extensive research, I have successfully found a LARTA Bus Map.  Check it out.
| | |
| --- | --- |
| Line | Services |
| Red Line | Valleydale, MeadowHeights, Industrial |
| Green Line | CenterCity, CapitolPlaza, Eastside |
| Yellow Line | Airport, CenterCity |
| Blue Line | Eastside, MeadowHeights, Eastside Industrial |
==============================================================================================================
 DOWNTOWN LANCSHIRE CITY/CENTER CITY
Leaving the airport, you will see Downtown Lancshire City, or as the locals call it, "Center City."  Center City is not only important for tax revenue, but Center City is a "hub" that serves the southeastern Atlantic Ocean and connects trade from South America, Europe, and several parts of Africa too.  Many people call it home, tourists call it clean and fun, and even CEOs call it their "safe haven of big bonuses."  
Once you pass the Daryl Folds Jr. Bridge, where the "Victory Bridge" once stood before Hurricane Marla, you will be treated with skyscrapers that scrape the sky.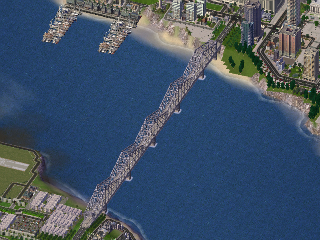 The Daryl Folds Jr. Bridge (2006-Present)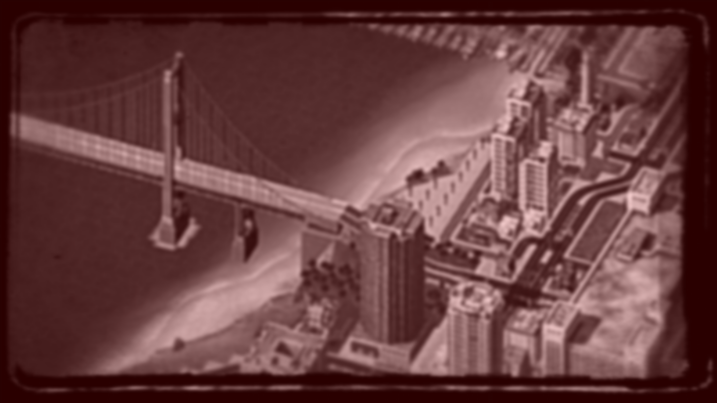 The Victory Bridge (1947-2005)
After going across the bridge, you will be in the heart of commerce, soda, food, entertainment, art, and history.  On your visit, you should visit the Lancshire City Art Museum.  While doing a rough draft of my brochure of Lancshire (which should be at every AAA by now), I got  a chance to interview the mayor of Lancshire City, Alice Maria Merrot.
Alice Merrot as U.S. Senator in 1982.
Anyways, I asked her what would be some places that she would suggest for travelers who are traveling to Lancshire City and got some great responses.
Me:
 So, Ms. Merrot, what places would you suggest for travelers that have small children?
Mayor Merrot: Well Oscar, some places I would suggest for families with small children are the Coca-Cola Building, the SimSonian Institute of U.S. History, the Art Museum of Lancshire City, Century Plaza Mall, and Marina 101.
Me:  Many of the young adults today are trying to find a way to have fun there has been an increase of young adults either traveling or settling into Lancshire City, what entertainment venues would you suggest for them?
Mayor Merrot:  Some places that I can think off of my head are the Century Plaza Mall, Club 810 in Eastside, the Alys Patterson Music Hall, The Shell Amphitheater, and many of the Starbucks that are located in Lancshire City.  I hope more businesses settle into Lancshire City that have a [plus] in entertainment value.
Me:  Although many older couples enjoy nature and natural history, Center City, Eastside, and other busy districts do not offer that kind of simplistic value, do you know some areas outside of the metro area that have "natural value?"
Mayor Merrot:  The way you worded your question humors me, but we plan to have a small hotel built in the vicinity of Red Mountain.  The contracting company, [name with-held], will not cooperate with the city and the county, so I am not sure if there will be anything in the time soon.  We do hope to have a nature trail on Red Mountain, both beautiful and educational, but we have to resolve some issues first.
Me:  Thank you for giving up your busy schedule and answering some of my questions, I hope to formulate some more soon, I will keep in contact!
Mayor Merrot:  Thank You Oscar for asking me these questions!  I hope my insight helps travelers and soon-to-be visitors to our wonderful, clean, and busy city!  God bless!
==============================================================================================================
At the moment, I have to gather more of my writings and take some more photos of Lancshire City, I hope to post some more insight on Lancshire City, Lancshire, tomorrow or sometime later this week.  Until then, have a nice day!