Welcome to the Village of Westoria!
Please enjoy your stay in our village.
Westoria is a small village in the great country of Erodia. It is only a 5 mile drive outside of Jessoria, which is perfect for people who wish to work in the city, but not live in it. The village has alot to offer. Friendly citizens, quaint shops, and a low crime rate! Next to Jessoria and Kaitoria, we have one of the highest valued education system around! Which is perfect if you have youngsters heading to school soon. So to start off our grand tour of the Village, we will give you a brief history of the Village of Westoria.
Brief History of Westoria
Westoria started out as a vision by the king of Erodia, Tylersaur E. Schumacher. He wanted to create a town for his favorite secretary who is known as Brianna West. Many delays arose, such as the planning of the Borough of Jessoria.
But nonetheless, he sat down and drew up some rough drafts of the village. He decided upon the name Westoria, which came from the secretary's last name, West. He drew out plans, which consisted of 2 main roads in the town. One being named Bri Street, and the other being named Anna Street. He was very creative in the name of the roads, because when one is addressing a certain building in the town, it may be on the corner of Bri and Anna streets. When you put Bri and Anna together, you get Brianna. Which is the first name of the Secretary!
After he drew the road map up, he decided upon Bri Street for the Shopping District. The shopping district isn't near as long as Jessoria's. Since Westoria's is only 1 and a Half blocks long. At the end of Bri Street was the Village Hall, which was a grand building constructed of masonry and brick. The fanciful interior of the structure was made with mahogany Victorian-style walls.
As for Anna Street, he designated that as the road for showcasing all of the beautiful Victorian mansions that he could build. That is why when you drive down Anna Street, the street is lined with amazing Victorian Homes. Many of them were named after certain people of importance in the King's life. We will outline the more important ones later in the journal. As for current day Westoria, its much like it was when it was chartered in 1952. So come, and live in our wonderful village! What do you have to loose?
Pictures of the Village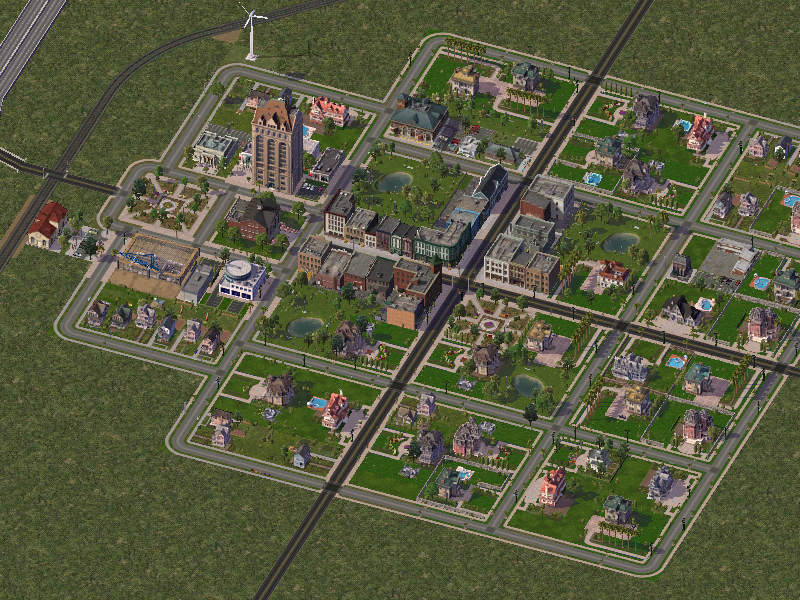 Above: Aerial view of the Village. More pictures to come soon!