@HighTower76: Thank you! Although admittedly, Phoenix's grid network mostly laid it out for me
@TekindusT: I've been following Tenements & Rust since before I left 2 years ago, and it was part of my inspiration to create my early attempts at CJ's, so that means a lot to me!
@Durfsurn: Absolutely. As Compdude suggested, I'll probably just rearrange some tiles wherever it is needed, since I'd rather not sacrifice too much accuracy. As for the lack of BATs, I'm planning on trying to BAT a few things myself (Hopefully some people can help me out there), but mostly I'll just substitute similar-looking buildings in their place.
@dlsni: Trying my best not to die, but it's quite difficult at times
This project may be crazy, but it's a good kind of crazy.
@elavery: Yes, I do plan to try BATing some of the more famous buildings (ie US Airways Center, Chase Field, Biltmore Hotel, etc), although I know a half-finished Cardinals Stadium is floating around sc4devotion...
@fan o SC4: Thanks, I'll need it.
@tonyr: I'm not sure where it will go myself. I'd expect it to span a couple years, if I don't lose inspiration...
@Tonraq: Thanks! Laying out roads is more difficult than you'd think...
@PhatHead: You just wait, there's much more to come
@Schriefer: As am I.
@jmsepe: Hopefully I can stay motivated / focused to see it to completion. What with school though, I'm not sure
@CompDude787: I didn't even take the population factor into consideration. It should be fun to see how over-the-top it turns out to be. And yes, I think I'll have rearrange the city tiles like you said. The main reason I was avoiding it was because it would make my region management job more difficult. And luckily I don't have to worry about your Seattle problem: 14-lane HOV highways with exits every mile running through downtown. And we don't have nearly the density that Seattle does, so that helps a lot.
@rewright: It is quite an undertaking. I guess I'll have to regulate my attention to detail, because otherwise I'll never get this project done.
~~~~~~~~~~~~~~~~~~~~~~~~~~~~~~~~~~~~~~~~
...
...
...aaaaaaand I've officially no longer a one-update wonder!
You heard me right. I managed to design the entire downtown road network without dying. Now, let's see what I've done to said road network: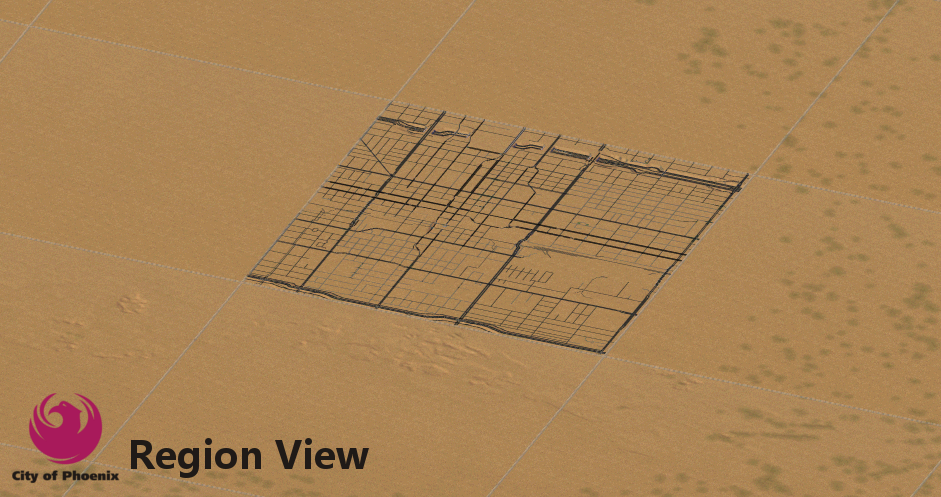 Here we have our region view. As you can see, downtown is still a bit of a loner, but we'll fix that soon. Let's get closer in:
We'll start off by exploring the outskirts of downtown before entering the heart of the storm. Here's the very industrial south side: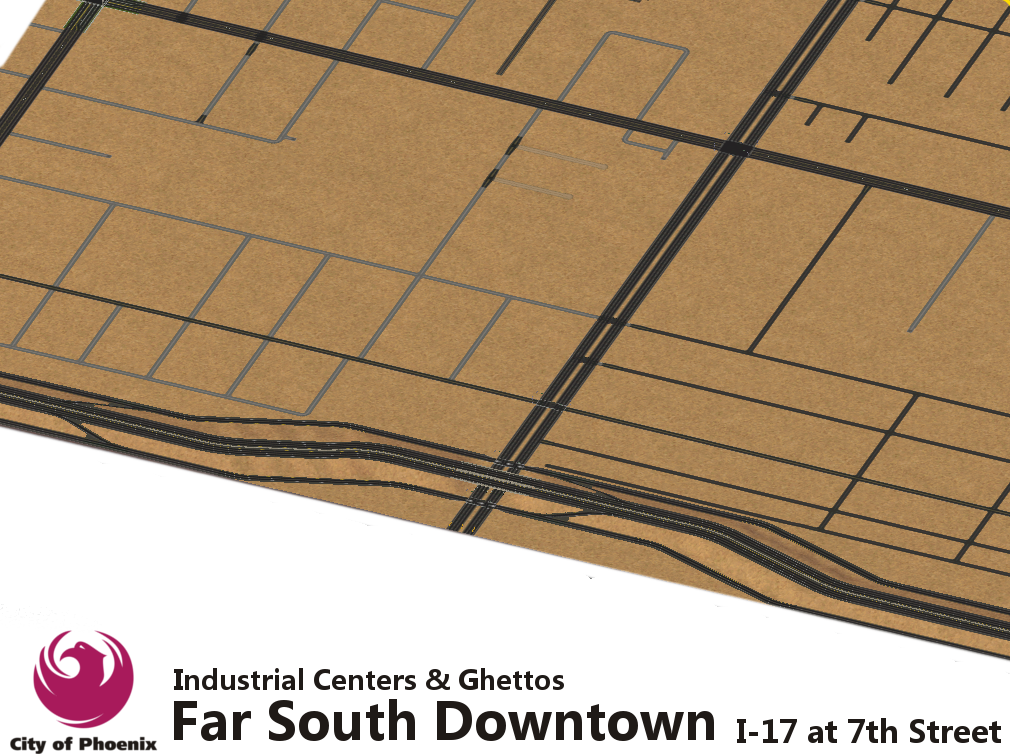 As indicated, this area is a mild ghetto. You'd probably be safe walking the streets, but it's still not a good place to be alone.
Enjoy that nice smooth highway for now, because I-10 is a whole different monster that I'll have to tackle in another update.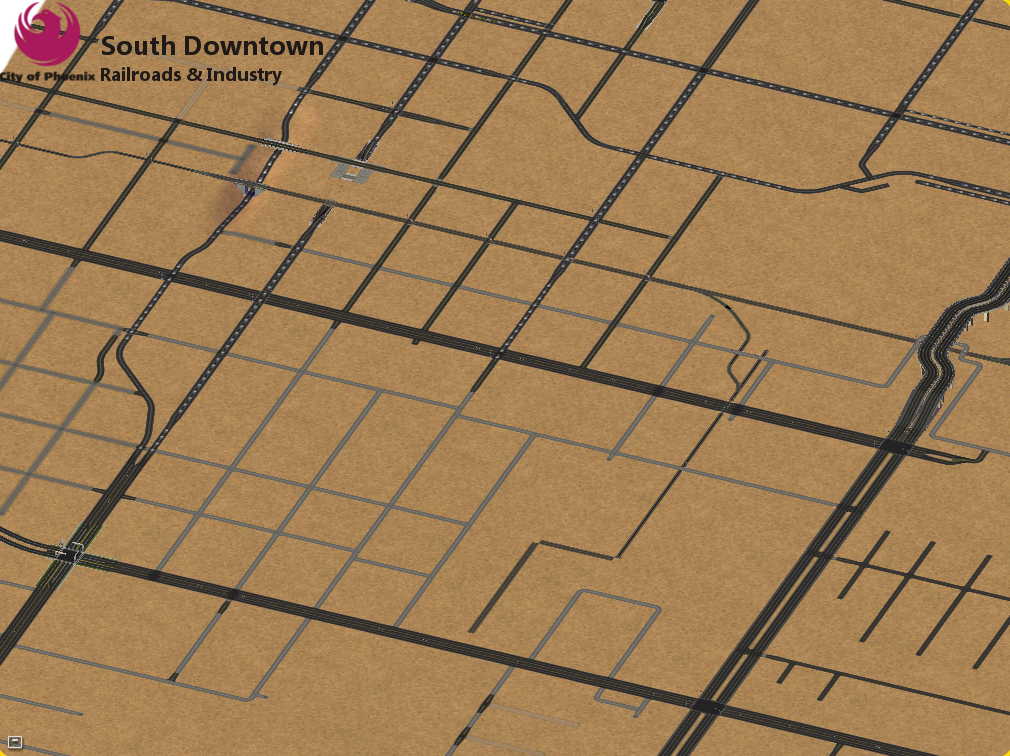 This area is more what I call a "historic ghetto," in that this area is home to the earliest industrial centers that drove Phoenix's growth. As you'd expect, a railroad track (the Union Pacific Railroad) runs conveniently through this area. At the top of the picture, you can see a pretty good sign of where industry turns to commercial as roads get nicer and curvier. Phoenix has a bit of a "other side of the tracks" situation going on.
For reference, the horizontally-running TLA-5 at the bottom of the picture is the same road as the one running along the top of the previous picture.
Now we enter the west side. West Phoenix has a bit of a strange identity crisis going on, as its north half becomes extremely residential while its bottom half remains heavily industrial. Also, living conditions are slightly better here than those shown in the previous two pictures.
As noted, you can see the terminus of Grand Avenue in the center of this picture. Grand Avenue will become an incredibly important road later on as it turns into US 60, which services much of The Valley.
For reference, the pair of horizontally-running one-way roads at the bottom of the picture are the same ones running through the top of the previous.
Now then, let's stop avoiding it and plunge straight in to the center, shall we? Here's downtown:
Yes, it's a downer of a city center in comparison to most US cities, but it's nice nonetheless (It will be much better with buildings). Also, it's a little lonely right now thanks to the lack of a light rail system. Unfortunately, I can't install a light rail system with the current NAM limitations (maybe if we get single-track light rails). I'll go a lot further in-depth on my temporary solutions to the lack of light rail pieces in the next update.
Also, just for fun, I decided to try putting labels onto each of the roads for reference sake. The results weren't half bad: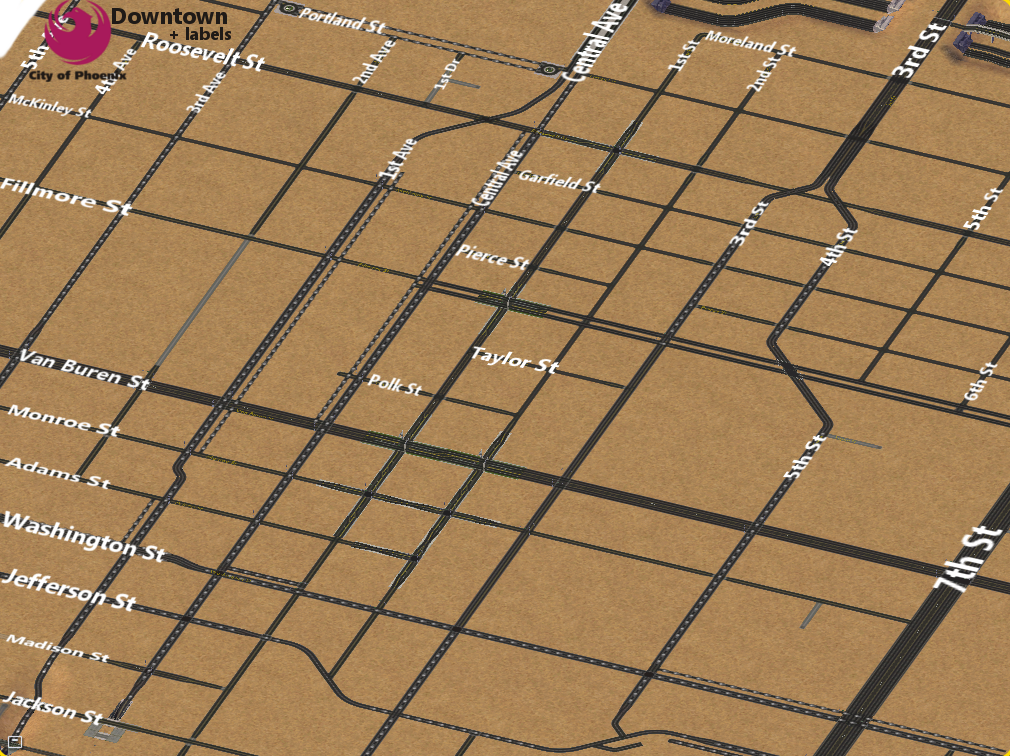 All right. If you're familiar with the Phoenix area, you probably know why I've been avoiding the north side of downtown. Here's a hint: A certain highway runs through there. Well, let's take a look:
Whew. You can't look at that without cringing. While I-17 is nice, flowing and easy to control (It also helps that it's a 6C highway most of the way), I-10 is... not. It is a 12-lane highway for the most part through downtown, though some stretches are 14-lane. The RHW in its current form, of course, cannot handle this, so I had to do a workaround. It doesn't help that the exit style used in Phoenix is slightly modified from a standard diamond, in that all 4 paths intersect in one spot in the middle. As you may imagine, SimCity cannot handle this in a pretty way. For now, the exits will be left as these kinds of ugly heaps until I can work out a better way to present them.
Also, see the section I circled? Yep, apparently 5S lane shift pieces don't exist. So that was my temporary solution to having to move the highway down one tile.
I'll go back in and redo several stretches of this highway when I muster the courage.
But wait, there's more. Come visit Northwest Downtown...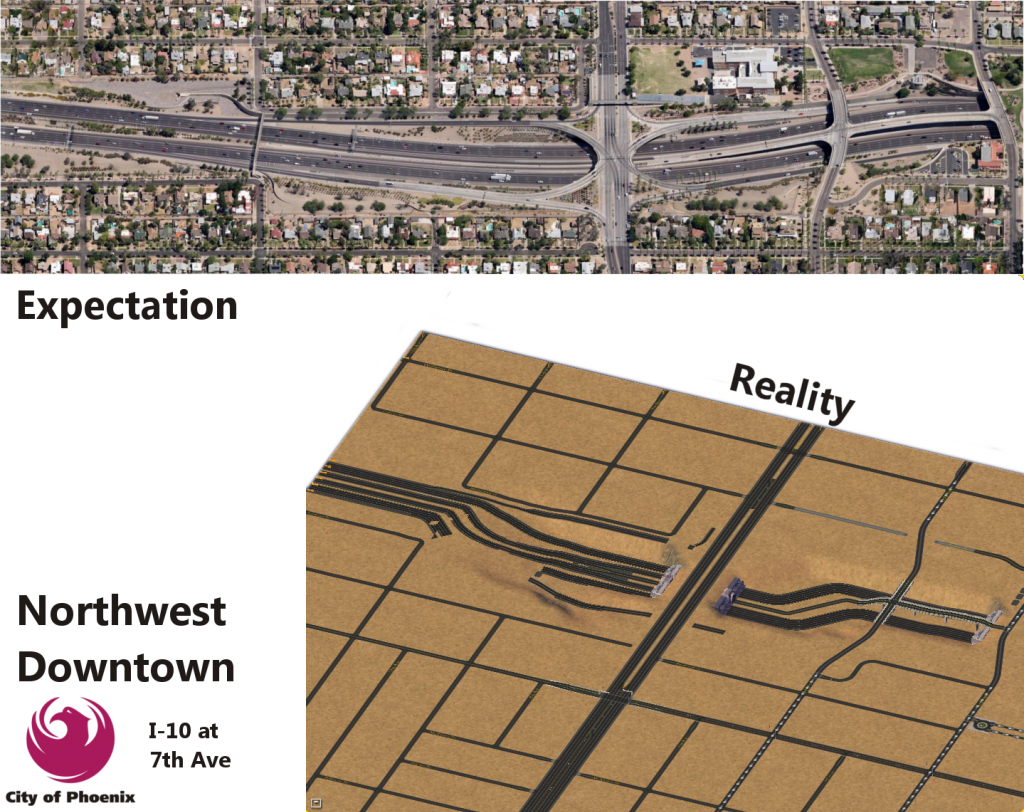 Yes, that picture at the top is the actual exit. If FARRHW pieces could work that smoothly in-game, I'd be set. Alas, they do not, and I'm stuck with this monstrosity. Oh well...
So what's next on my to-do list besides ripping my hair out over RHW? Well, let's visit Eastern Downtown...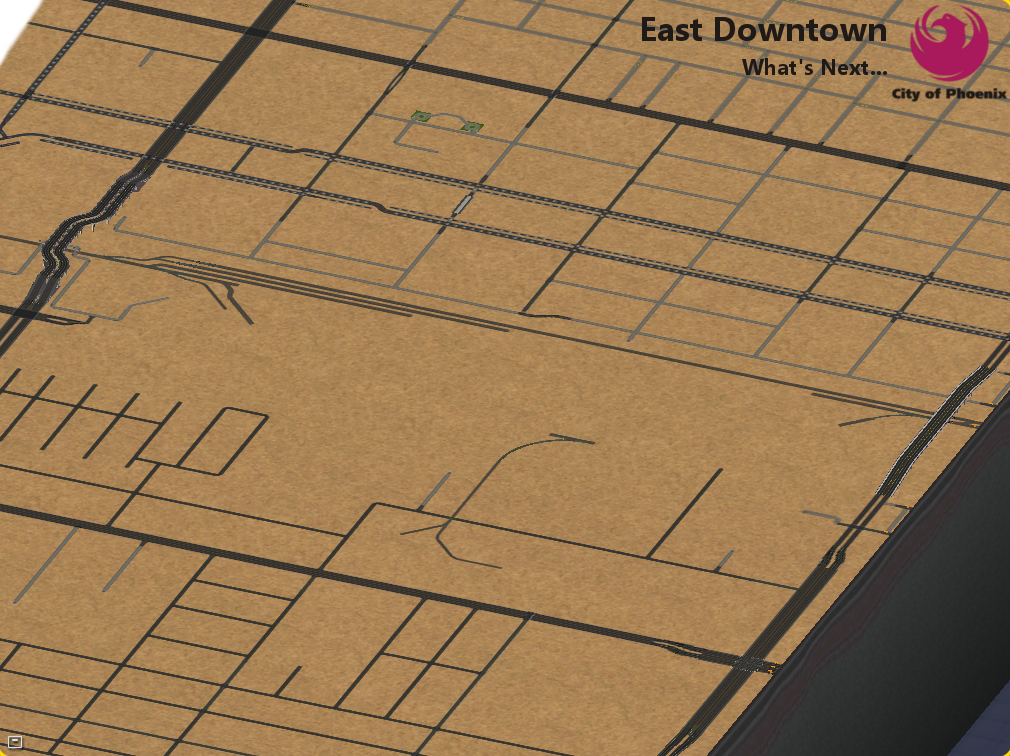 In the center of this picture you can see my early feeble attempts at designing the Phoenix Railyard. Just so you know, the yard takes up the entirety of that empty patch in the middle of the picture. Looks like I'll need to break out some plugins to make it look right.
Finally, the last thing I need to do is begin my hunt to find buildings that fit into the Phoenix style. Hopefully my search won't be in vain...
Before I end, I ask you all to respond to a little poll: How do you think I should post my future updates? My options are either to break updates into smaller chunks, and focus on one section of a city tile at a time, or I could continue doing these mass updates that show a ton of progress but are very slow to get out (and when school starts in 2 weeks, they will be much slower to get out). Let me know what you think. For now, I'll set my main focus on the railyard and fixing the highway system in North Downtown. See you soon!
-Samness