Thanks for reading, and welcome back!
A big thanks to the ONE person who actually voted,so just for you, we are going to Asiantown, but I guess thats democracy lol. And a message to would be voters, look for this updates poll!

This is a project I worked on a few months ago, Asiantown, located in the Bismarck Isles province,in the heart of Gunter Beach, it is also in the capital province. This update doesn't have a story element, but the full update could if people wanted it (VOTE BRUH!). Below is the flag of Gunter Beach.



Below is a chart that entails out nations racial demographics, taken by the State Polling and Census Department, as you can see we are very diverse.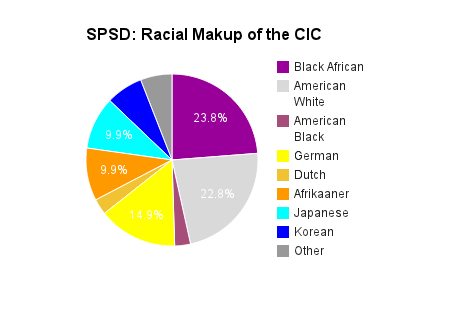 Anyway Asiantown is home to a thriving expat community, with most of the immigrants here from Japan and North Korea, they bring with them their arts and cuisine; Asiantown is home to both the most sushi restaurants and manga book stores in our country per square kilometer. All North Korean residents were brought in to fill the 'labor gap' during the Communist Period, which ended in 1983, and virtually all Japanese immigrants arrived after.
Despite the fact the communities have very different cultures and interests, they both have concentrated here in Asiantown.

Thanks for stopping by, and If you want to know where the beach is in Gunter Beach, stay tuned.

Hope you enjoyed my attempt at Asian

Look for my replies in the comments, please comment, the more comments the merrier!