I'm not one to spend my creative energy on triumphant city names or rich theoretical city stories.
The first word that crossed my mind when I handed my god mode powers over was the name I'd give.
This one got the name Crossing, not bad by my standards actually. I do however pour energy
(that I can spare that is, from a little thing called life that is) into city building and will let the pictures
do most of the talking...........
By no means the first city I put together but it does go back a ways.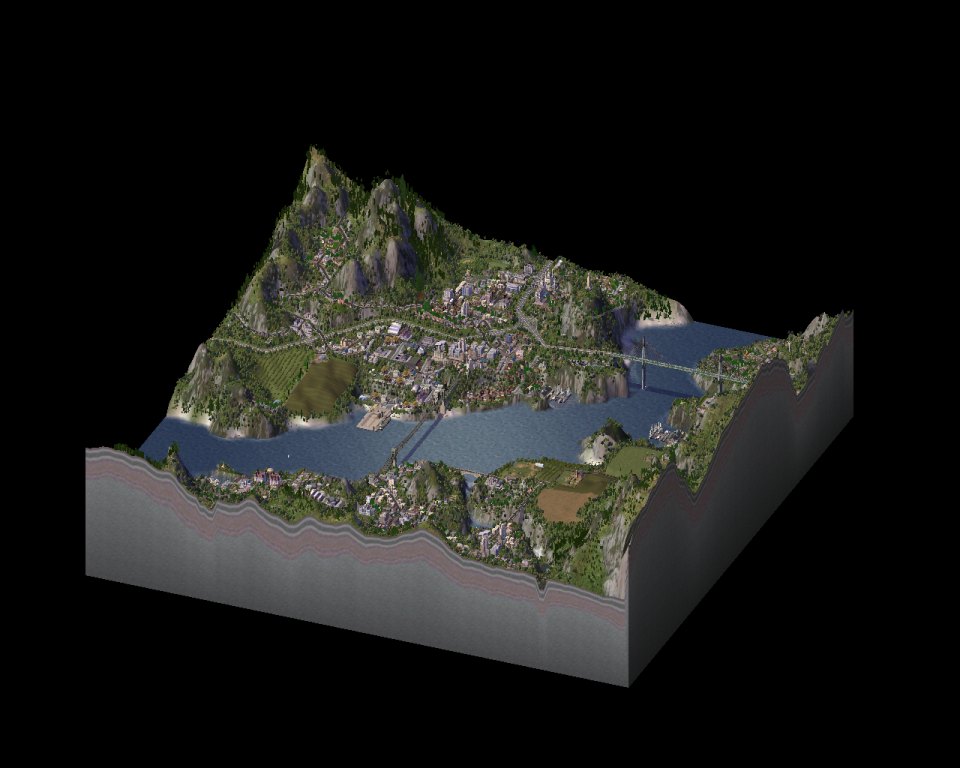 What better place for picturesque walking park than straddling either side of this graceful bridge launching from a proud granite outcropping.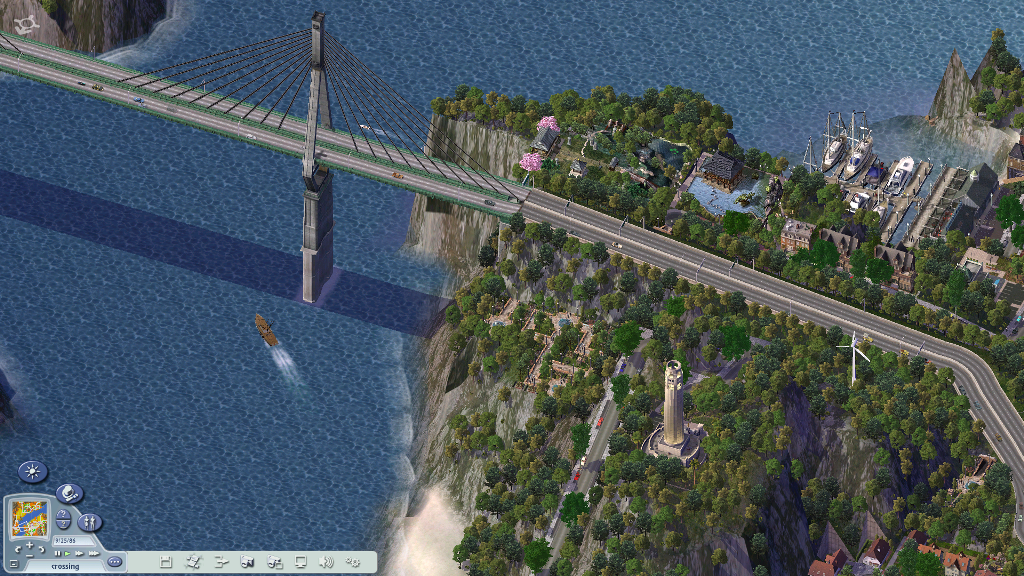 I enjoy putting together a nice school campus complete with athletic fields.. When the map gives me the room. I can't imagine working with the new game map size.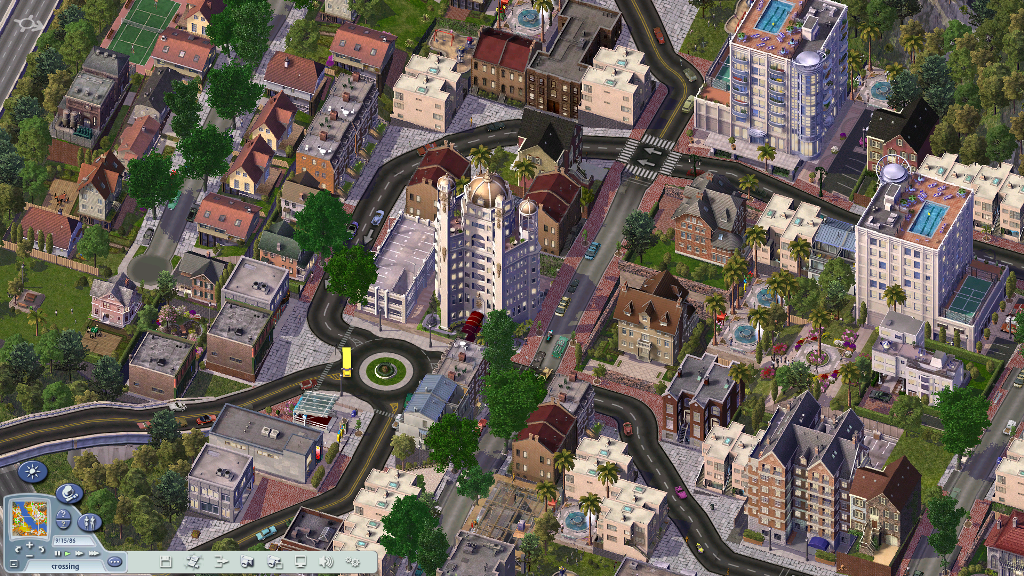 This port is running near capacity, I was surprised this small city produced so many goods.
The rich always seem to find the killer spot to put down roots. End of the road, water front or green belt, nice private beach just a few steps away, just can't lose.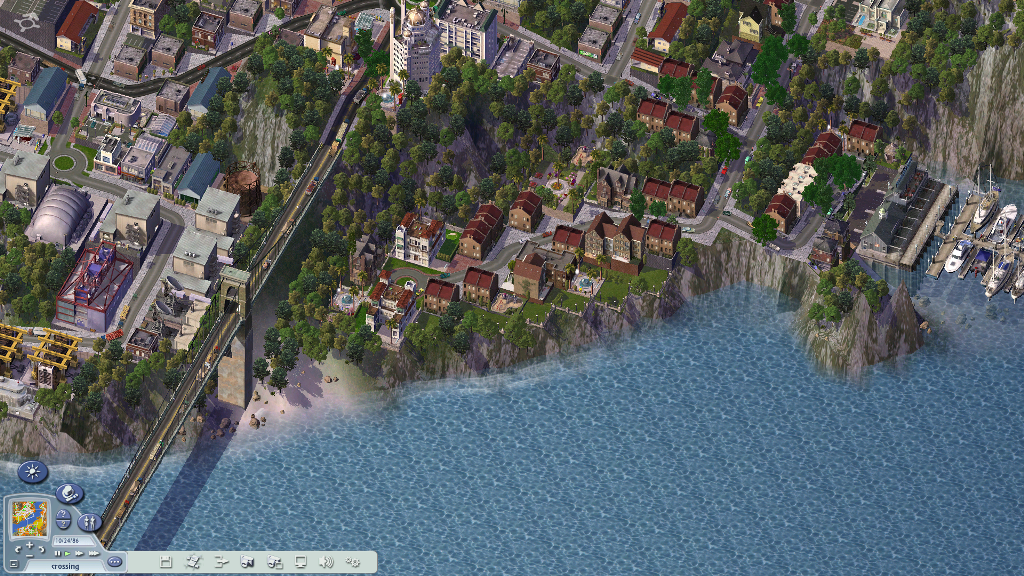 I know there is quite a bit oh hype around the RHW and a more realistic scale to highway interchanges, some of which I
think are brilliant, other still need quite a bit of work, the clover leaf it still HUGE and not anymore realistic than most of
these. Anyway, I enjoy working with the native highway system, especially when I'm working with only small and medium
sized tiles in this region. Commute time in the simulator can also cause issues if everything starts being 'real' scale.
But I digress....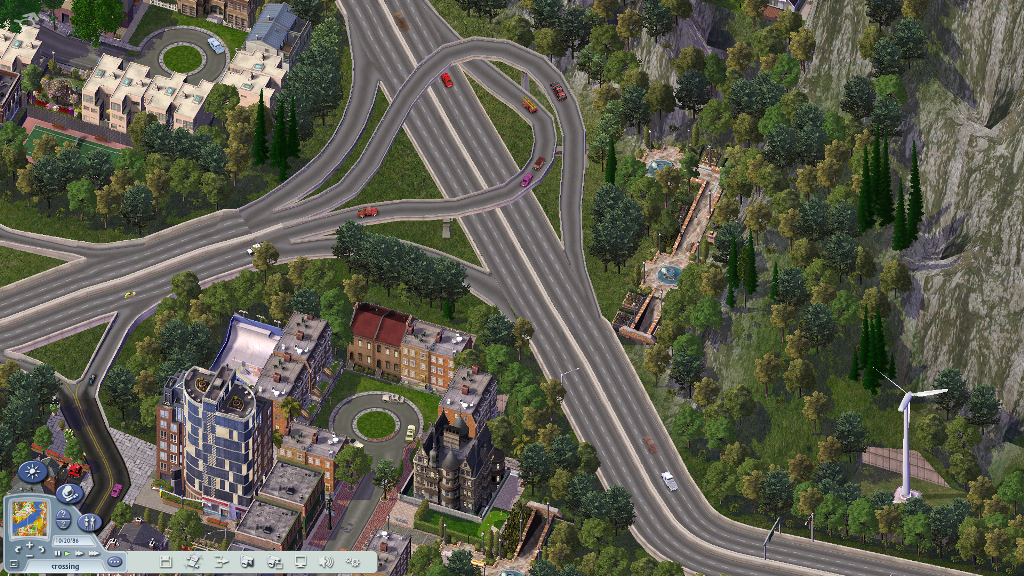 Oh look. The lights are on in the middle of the day, now that's not very green.
I love how graceful the Brooklyn bridge turned out here. A normally husky stone and over redundant suspension system
bridge really shines when stretched to such proportions.
Waterfront parks of this grandeur and a land mark library? There must be some well to do boosters in this town.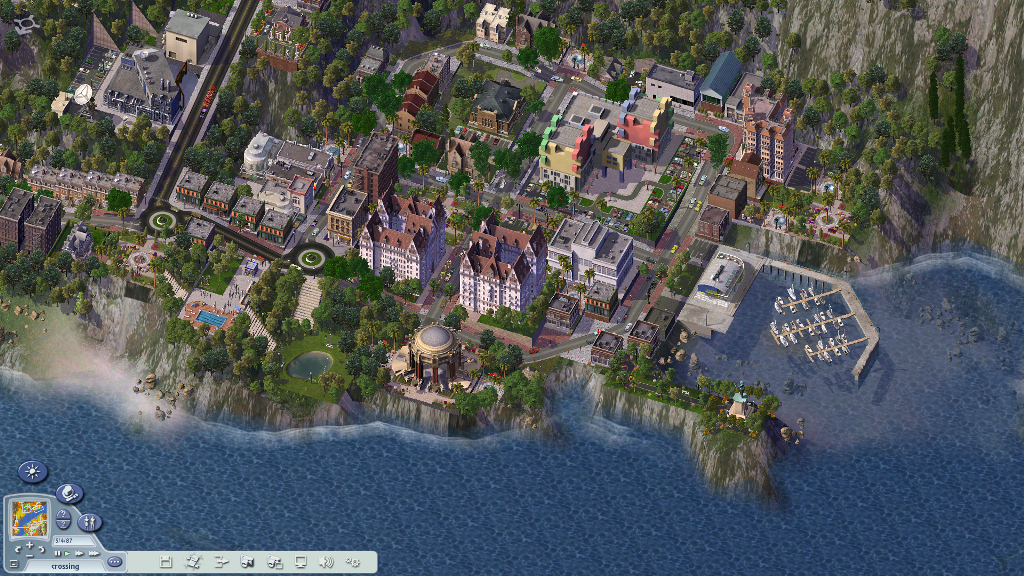 I do enjoy round abouts. Both in the game and reality. I am all too happy they are starting to catch on a bit here in the
US of A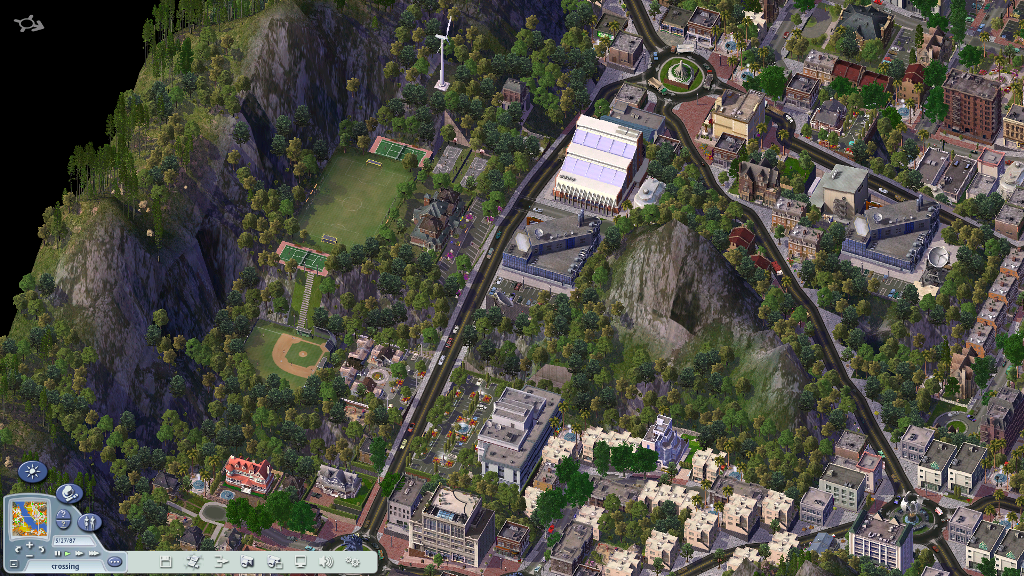 The NAM and the endless flexibility it has given the roadways in this game are simply priceless. LOVE LOVE LOVE it!!!
Ma n Pa shops and no doubt some corporate franchises huddled around an interchange? A travelers bliss. Now if only
this game accounted for travelers in the traffic simulator... Oh well at least I don't need to be plugged into a server to
watch my cars sim along their way.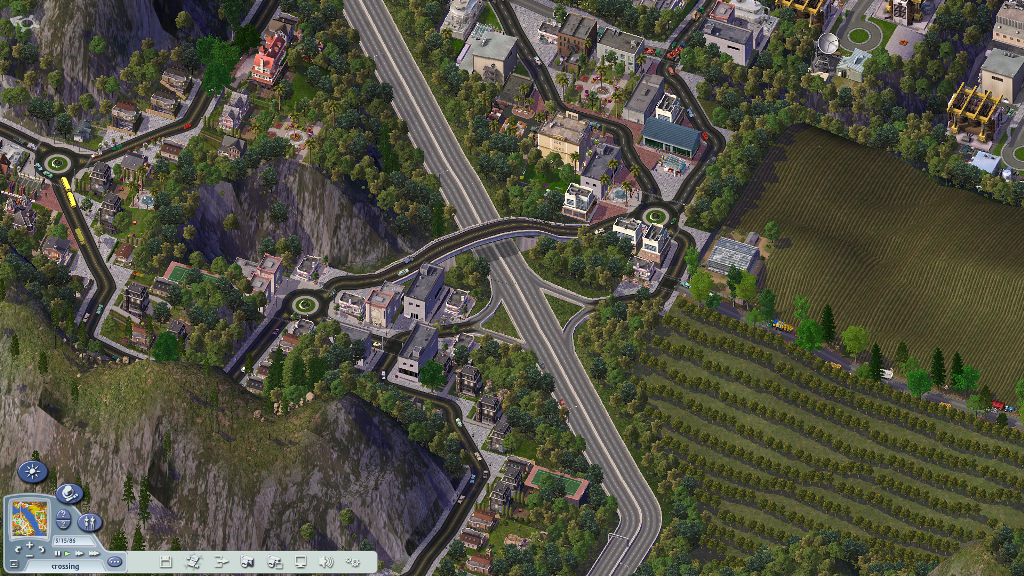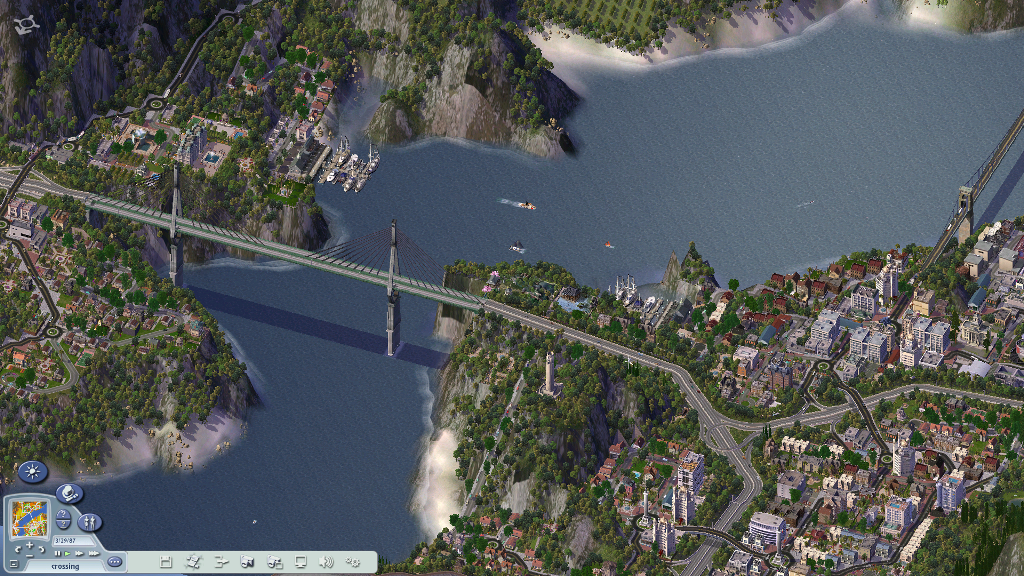 How could you not put a resort hotel in a spot like that?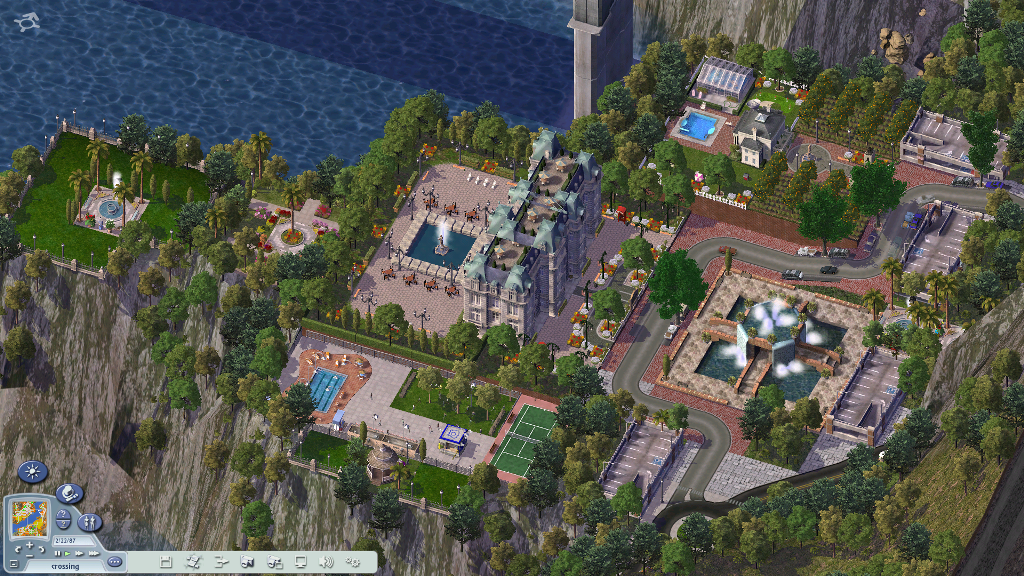 I've really enjoyed PEG's creations. The rivers and streams have been a great addition to the game!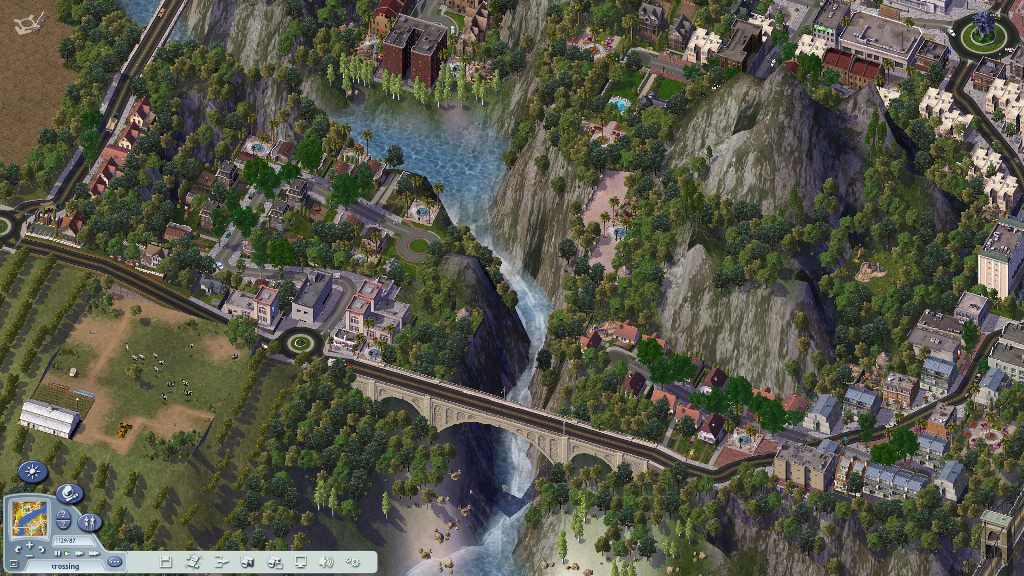 I do use a few 'cheats' I enjoy the economic aspects of the game but sometimes I just want to play in the sand and paint a
pretty picture ala simcity. The wind generator and water well seen here are 'cheat' versions that take care of an entire
city's needs. Heck they don't require you to build a sewer system for a city to function. I from time to time pushed that
stretch of reality to power and water too.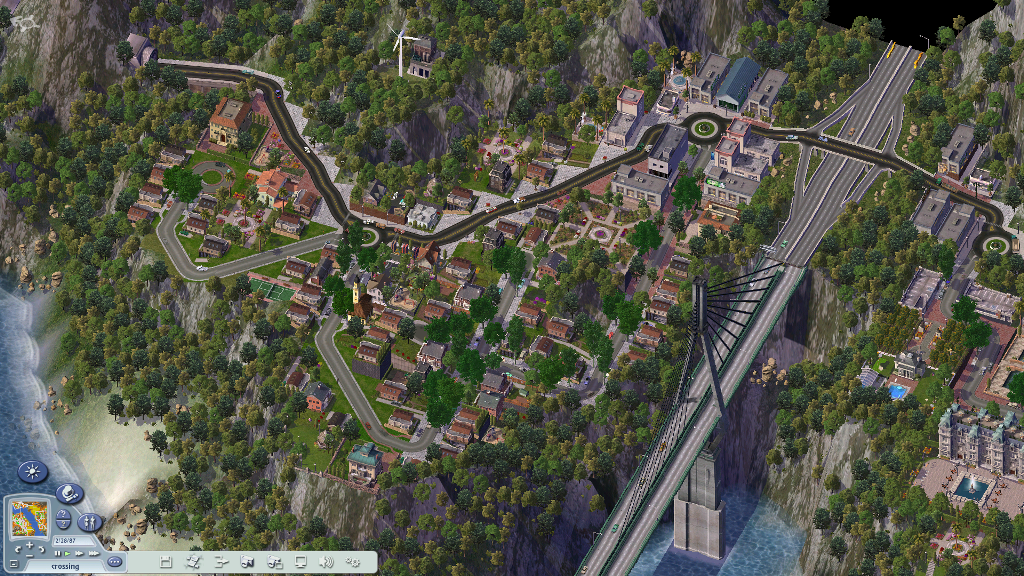 More PEG goodies. These boats are a tad large in scale if you ask me but then again this town does seem to have some
affluent residence.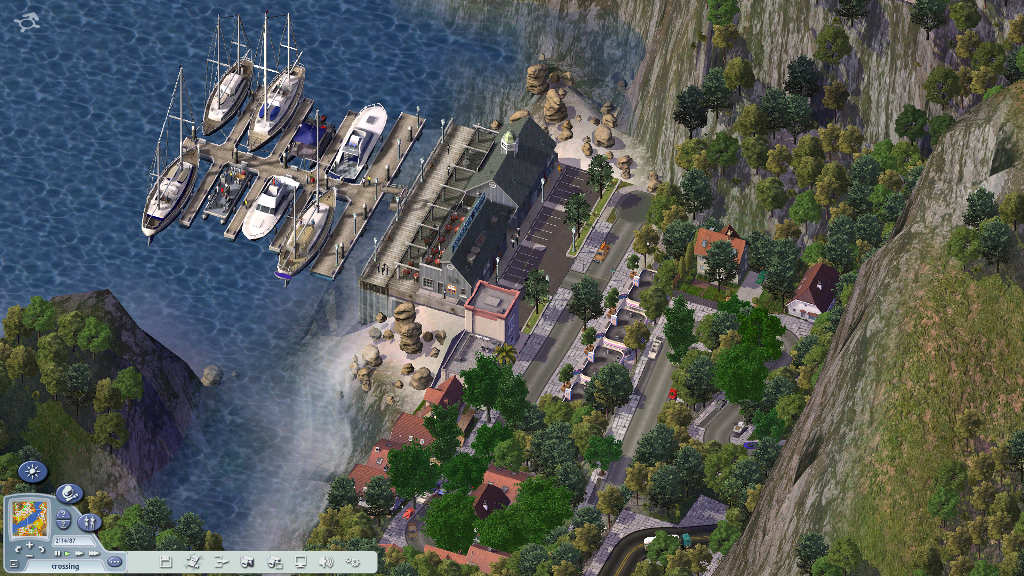 That's about it, here are some over views....
Before I leave I'd just like to say that I'm saddened by what has transpired this week with the new game release. The thing
is beyond a mess. Even simple towns like this one are far to complex to even remotely replicate with the new game. Not to
mention all of the shall we say CLOUD issues both practical and philisophical. A nice 3D engine and a good 10 year's
worth of upgrades and goodies built upon the top of this game would be amazing and I couldn't open my wallet fast
enough to buy. The new game.... well I don't want to be rude or crewel, so I will just say my wallet is staying shut. You
cannot meld a city into it's environment in the new game. I think these overview images here illustrate how much
importance I place on that aspect of siming a city. Awe well at least we still have SC4. But man would it be fun to 3d our
towns and heck even drive through them.. is it really so much to ask? OK off the soap box.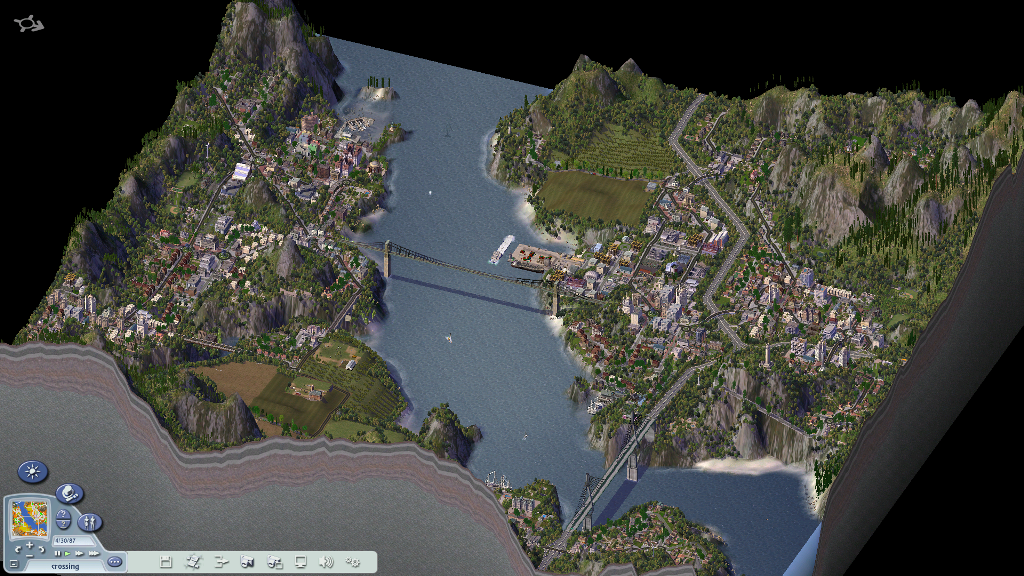 As is quite evident from this first tour I don't leave many tiles un-turned as they say. I can remember really enjoying putting
this map together. The terrain and location made for a slightly remote but bustelling port of entry to the metro area. I hope
all enjoy and I look forward to putting together the next tour.. We will likely follow the river for a time and let it lead us into
the heart of the region.