Thanks for coming, guys. Welcome to what no doubt will be the first of many Meetings Where We Discuss Things People Are Bitching About.

  Glad I could be here. I just want to thank my family for always believing in me, and... and...
  That's great, Mash. Have another donut. Null, I believe you have the first whiny item?

  That I do.

  I think you're all thinking what I'm thinking.
  Certainly. We must carefully regulate the nudity before I can approve it.

  Schools are expensive. We can add some later, but right now that's a tough sell.

  Come on, these people are cattle. They slave away in the metal plants all day and then moo their way home and go to bed. Metal plant, bed, metal plant, bed. Like they'd have time to go to school even if we built one.

  He's crass, but he has a point. One day we'll need educated masses, but today we just need slave labor.
  Then it's tabled. Moving right along to item number two.


  I'm almost positive this is even less important than the school thing.
  I haven't noticed that at all, actually. All of my staff is taller than I am.

  Not to be a broken record, but I don't see how the hell you can operate a clinic without running water.
  Oh, yes. That reminds me. About that water system, Null?

  You deaf? I already said it's coming. If you want to take over the project, be my guest.
  All I want is a when, man.

  When? I'd say hopefully before everyone currently in the city is dead. You know, what with the short lifespans and no hospitals and the everpresent threat of the Black Death killing us all.

  So, sometime in the next two or three years, then?

  Sure, why not?


  But we might not last that long before some schmuck drops a match on his living room floor and burns the whole city to the ground.

  Naw man, all we'd have to do is get some buckets and fill them up in the kitchen sink, then... oh... right. No water.
  I do feel like I have to raise the question of what the hell a fire station's supposed to do when there's no water.

  They can still get cats out of trees and the like.

  There aren't any trees here to block anyone's view of the black sludge the metal plants are spewing.
  This is the first time I've heard you complain about that. Or anything environmental.

  Yeah, well, I've been busy.
  Look Null, get that water hooked up and then I'll approve the fire station.

  Jesus Christ fine, I'll hook up your God-forsaken water. Babies.
It took another six months, but lo and behold, a miracle--Null's semi-competent engineering corps located some water! A water tower was placed at the site, at the northwestern corner of the residential part of town...
And water pipes were run to cover the entire town. Well, except for the coal plant. Nully said something about it would be better if we didn't pee black water, and I took his word for it.
It took about three hours to lay the water pipes under the whole town. I tried not to think about this too much. Those headaches can be monsters.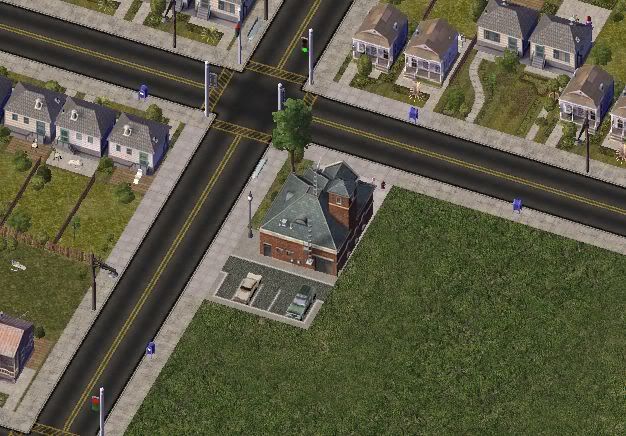 And then the First Pigiron Sludge Bay Fire Company's glistening new headquarters was built on the corner of Third Street and Whale Carcass Avenue. Now if only somebody would set something on fire, maybe my investment could be justified.
This done, we sat back and watched, and were pleased to see a wave of new development. Granting, it was new slums and new muck plants being built on the ruins of the old ones, but it was something. The people wanted more. And more we would give them.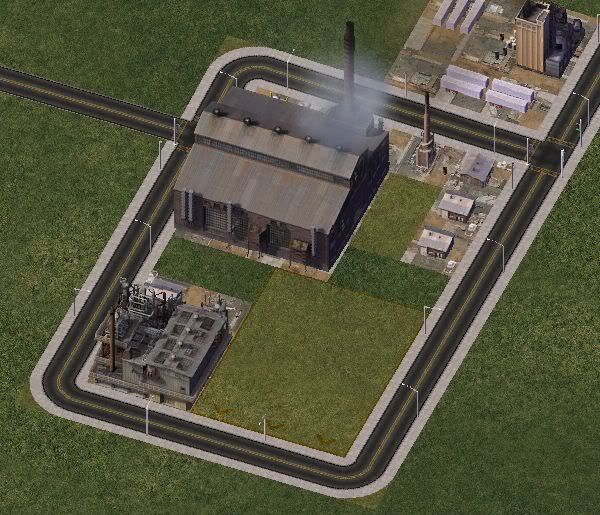 Willy and Null put together the Brown Dreams Industrial Park, which would be connected to the rest of town by Whale Carcass Avenue (which Mash named after one washed ashore on the Bay last year), which seemed destined to become a major artery in Pigiron Sludge Bay...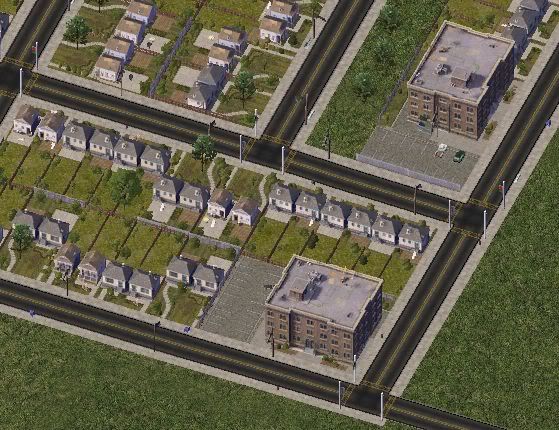 Some of the property nearest to the industrial muck pit was rezoned to allow the construction of apartment buildings, and two were built straight away...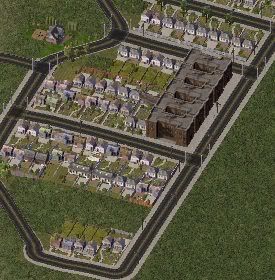 We expanded the residential area southeast of Awesome Estates, hoping it would draw some slightly classier residents. After all, someone had to be managing the factories, right? Well, it drew the same grimy kind of peasants that lived everywhere else in town. But perhaps that could be remedied later.
And then there was the big project...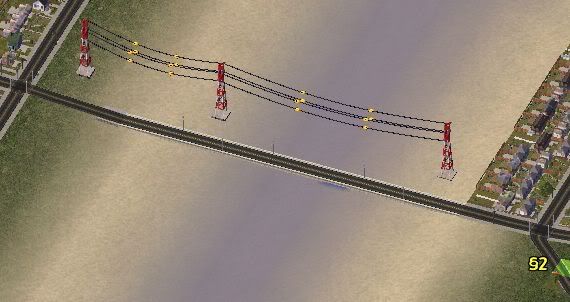 The Greg Norman Bridge, which of course Mash named and which would span the river. On the other side...
A new neighborhood was laid out, and the houses were built in about three weeks. Apparently things get done a lot faster when you use slave labor. There was still some space on the east side of the river, but we wanted to save that for further industrial development, and stretch things out toward the bay a little.
In late March I had just returned from surveying some land for a potential tennis court when I found a petition, signed by 500 of our 3,000 residents, waiting on my desk:

  You seen this?

  Yeah. So?
  Maybe we should plant some trees.

  Okay, I'll plant some damn trees. I have a good idea for that, actually. Check back tomorrow.
So I checked back the next day, and...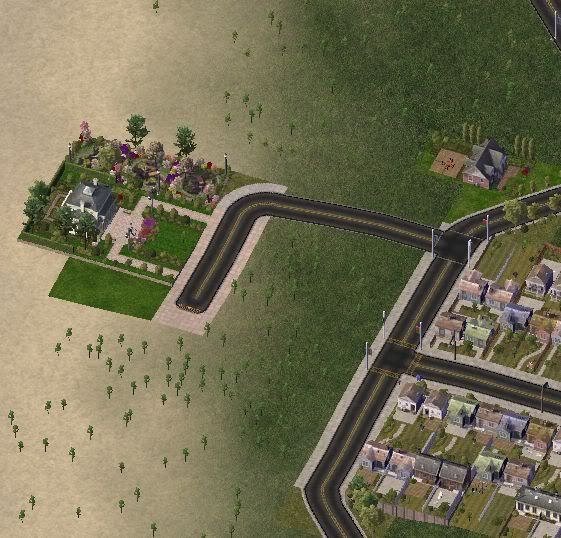 See? A couple years for those babies to grow, and we won't have to look at those slums anymore. It's win-win!
He might have had a point. I might be able to lay off a couple of my dozen machine gun-toting guards and make back the cost of the trees right there. Time would tell.