Augusta
Welcome to Augusta, Vän Vatten. Augusta, for the longest time, was the eastern most town sitting in the Vän Vatten region. Primarily because of the isolation from other municipal areas, people feared living in a region that lack population and threatened with trials and tribulations each day.
Augusta sits next to the largest lake in Vän Vatten, Lake Augusta. For years it was believed that Augusta would become a major industrial port for the eastern Vän Vatten region. However, that was before Holly Grove and Cresent City. Because of this, and the decision to bypass Augusta with the new VV1 running to the north, the city has stayed at a rather calm, steady line of existence. Because of the massive intersection just out of Holly Grove between it and Augusta traffic does have a steady flow into the city. The intersection though, VV100/VV10/U-1 has proved troublesome as many people have chosen to head north from the intersection into Preston, the small city north of Augusta that sits on VV1. Thus is the theme of Augusta, the crossroad of the northeast. Inside Augusta you will find an intersection with VV10 and U-1, then you will quickly find another one between VV10, VV100, and U-1 with U-1 ending inside the city. A business loop for VV10 goes through the heart of Augusta, with VV100 splitting north, intersection old VV1, before reaching Preston and VV1 (FRH). If that was enough to give any good driver a headache, the rails are just as busy. The North Central Line (NCL) runs north of Augusta with a depot in Preston. Through Augusta though, runs is the Strand Linje (Beach Line) North, a spur off of the main Strand Linje that runs through most of the mid section of Vän Vatten. Between Strand Linje North and the NCL is a small connecting line that runs out of Augusta known simply as the Augusta Connection, with a small depot on that line in northern Augusta.
Augusta does have a small shopping district in the eastern part of city limits. The common belief for years, prior to FRH being completed, that Augusta would soon have a major highway running through it. Because of this, businessmen all around invested heavily into building before the project's completion. Sadly, the road went north, and the development has nearly ceased to exist with yearly losses still very high.
Fear not though, optimism does run deep in the roots of Augusta. As of late, the Syv along with the Council of Transportation of Vän Vatten have been kicking around a new idea, a newer form of road transportation for the region: United Transport Network. This idea creates a strong, multilane highway, that'll connection cities to each other without stoplights or stop signs. All roads will use exit and entrance ramps for access, also known as 'controlled access', this is aimed to help with transportation time, more unity in Vän Vatten, and assist in freight transport. Only a few cities have the UTN's in them, perhaps out of sorrow and guilt, Augusta was one of the cities chosen to try out the UTN's. Between Holly Grove and Augusta is a short piece of road with controlled access numbered United Transportation Network 1, or simply known as U-1. The piece was completed in 2008, and research has been taken place on the road for 2 years now. More studies are currently being conducted in Deer Park, Cresent City, Blackwater, Oslo's Ending, Freemont, Ellisburg, and Fuego Port. Most initial reports have been encouraging, and the people of Augusta hold onto hope with this information as they continue to dream about the day where they're name is as a well known as the metroplex to the south.
Augusta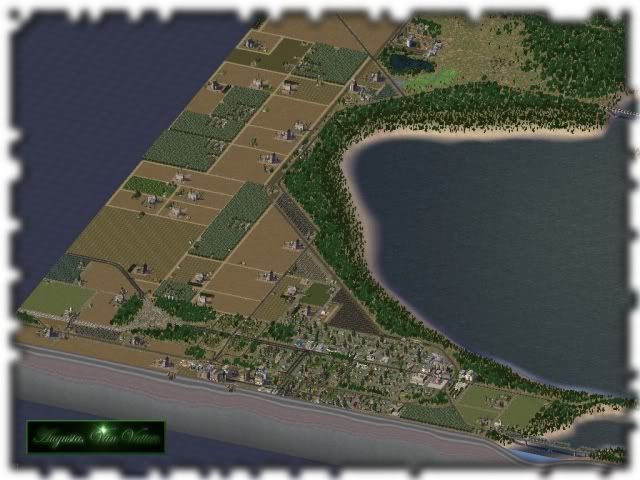 Preston, small development to the north of Augusta on VV100 and VV1
Intersection of Augusta Connection and North Central Line in Preston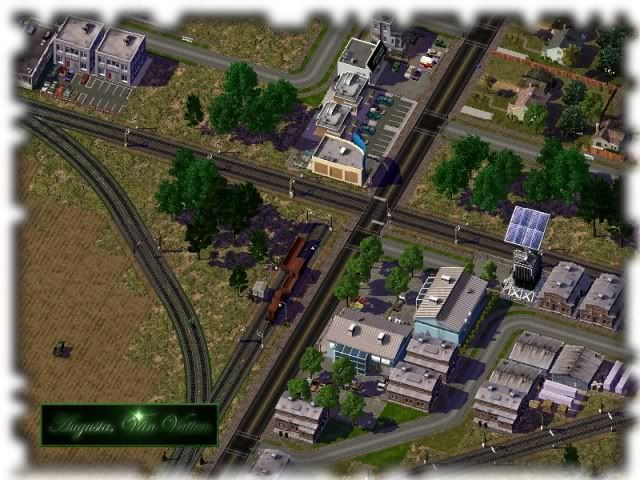 It isn't unheard of to find small pockets of oil around the land, hence this little industrial establishment between Preston and Augusta, Miller's Oil Field:
Agriculture is by far the leading industry of the Augusta region, and the northeast sector as a whole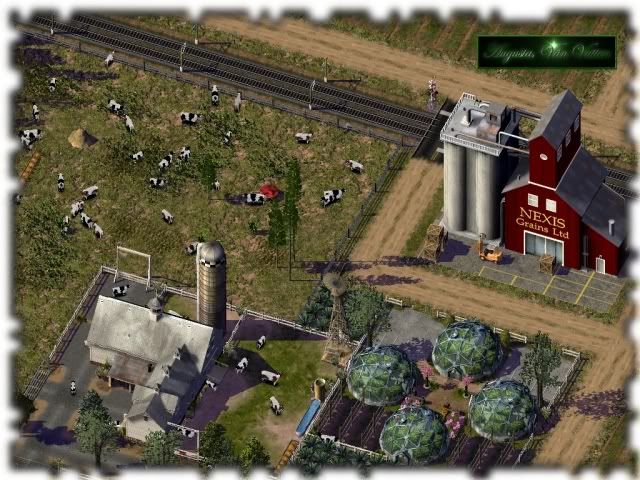 South on VV100 you will find two intersections. The one on the bottom is a crossing of VV10/VV100/U-1 the one at the top is the newer interchange of U-1 and VV10 out of Holly Grove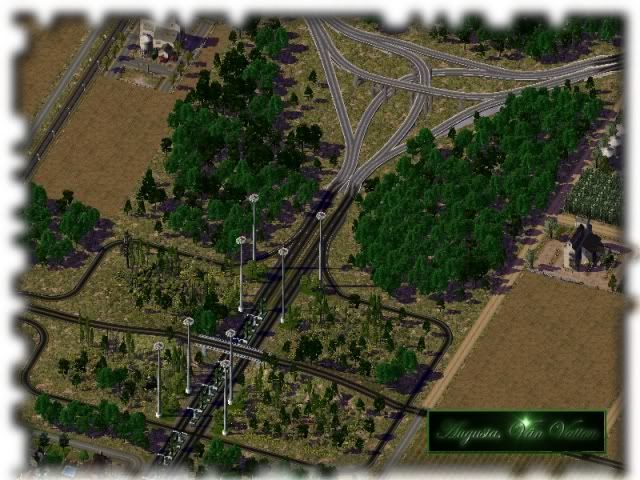 Augusta Plaza to the east, the shopping district that can make it, but only if newer road access is created
U-1 heading west into Holly Grove along with a rail split, top being Holly Grove Industrial Spur and the bottom being Strand Linje North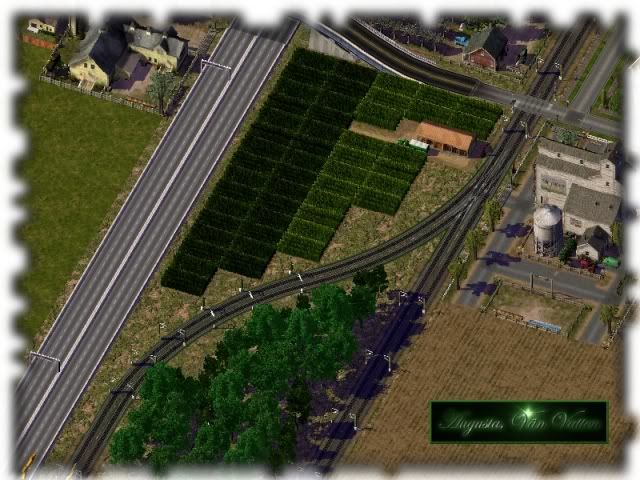 Historic district alongside VV100 before heading south into Eldon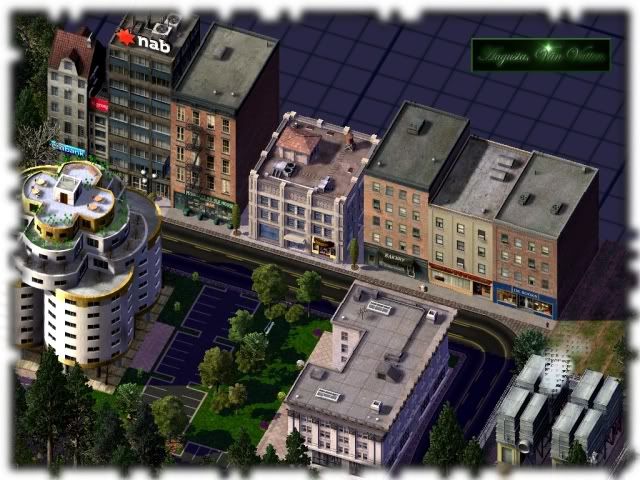 VV10 stretching across Lake Augusta just east of town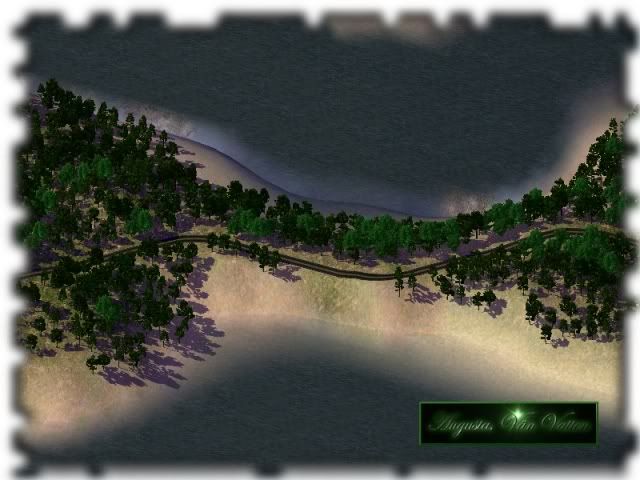 -Jet-
---
*For those of you keeping score at home, here is a sneak peak of a screen shot of the region. It was made from my own imagination with the aid of SC4 Terraformer: