Galesfe City 7: Faevza Interchange Region

Nick: And here's the interchange that Koða blew up...

Nikki: Huh? It's different than before.

Nick: More compact. Did Koða come back though?

Lyhoko: No, that's what happenes when new NAM updates come out right after reconstruction is done.

Nikki: NAM?

Lyhoko: Does she even know anything about SC4 addons?

Nikki: Hey! I heard that! ... what's SC4?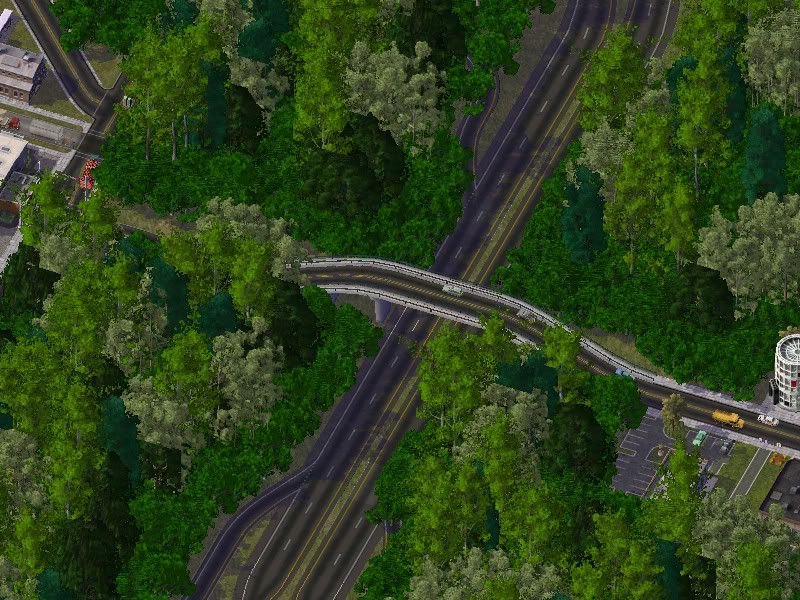 Nick: Anyway, here's an ordinary overpass over M-11 with no onramps that somehow ended up in the pictures.

Nikki: Where'd that blue haired girl come from, anyway?

Nick: Industry on the left, residential on the right.

Nikki: Stop ignoring me!

Nick: Stop asking questions I don't know the answer to!

Nick: Random residential area with a football field and a school.

Nikki: And shops!

Nick: And a high wealth residential area along one of the highways.

Lyhoko: Now, if only I could remember just where this came from.

Nikki: Who are you?

Lyhoko: Lyhoko.

Nikki: Anything else?

Lyhoko: That is on a need to know basis only, and you don't need to know.

Nikki: Hmph.

Nick: And here's part of the industrial area, with what seems like too many farm towers.

Nikki: And underground farms too.

Nick: In the mountains to the south, there's more of the forest cabins, as well.

Nikki: Can barely see them though the trees.

Nick: And a mini airport for those who have their own planes.

Nikki: And a dam in the mountains.

Lyhoko: The water next to the dam looks weird.

Nick: Weird.