Dierapyamuk Invasion 9: Piracy
Sat. June 10th, 0150AL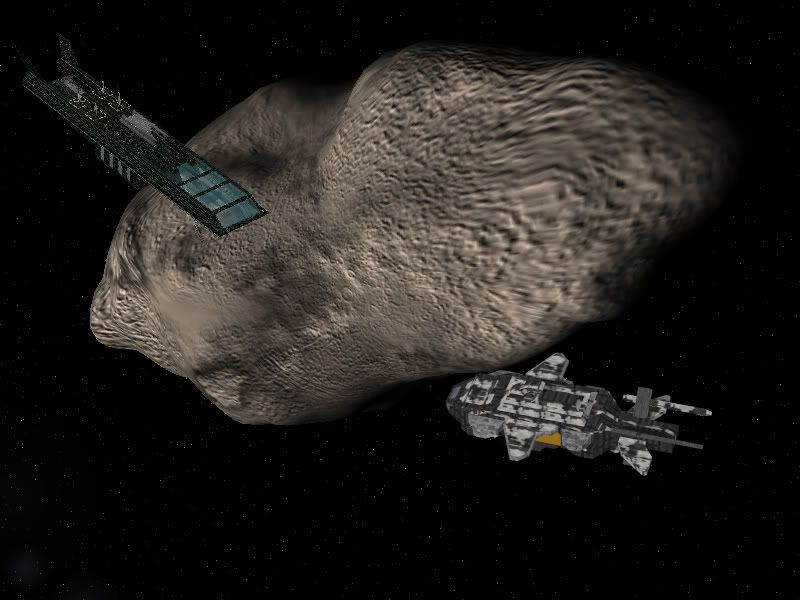 Meanwhile, several light years away
Tanka stared out into space, looking past the floating asteroids to the city of Central Hub and it's creeping sprawl. She wondered how the preparation for the trip to Carpathia was being handled. She knew Cross well enough to not worry, but she couldn't help it. They were now in uncharted waters, as it was. Declaring a formal name and seeking allies under the table instead of out in the open were big steps to undermine a corrupt government. Yet they didn't show themselves to be resistant to anyone. It was all getting muddled in her head.
She brought her mind to her current job when she heard the beep on her arm comp. She was still getting used to the new device that Cross had made for everyone. She pressed the answer button on the touchscreen and held her arm in from of her.
Tanka - Sitrep?
Pilot - Um, the captain of the ship we're meeting is wondering if it's ok to...uh..."beam" aboard.
Tanka - If that's their prefered method of transfer, then fine. Give them the location of the meeting room. I'll be there momentarily. Also, let them know that we have no artificial gravity and they should dress accordingly.
Pilot - Understood. Jenks out.
Tanka twirled and pushed off the airlock that she and her guards were waiting at and headed towards the meeting room, if it could be called that. It was nothing more than a two couches and an heavy weapons case bolted down to the floor. Once the captain was aboard, Tanka remembered that she would have to have the pilots rotate the gunship for some artificial gravity. She always enjoyed zero-g too much. She decided to float above one of the couches as she waited. One of the guards stood at, or rather, on the door.
Then there was a moment when Tanka blinked and Varlira was there with a couple of her guards, who were wearing some sort of armored suit. Tanka had to feign apathy to hide her surprise while the guard nearly shot them with his SMG. She raised her hand to stop them.
Tanka - Captain Varlira, I presume? Ishould have given you my arm comp code. Or at least a temporary one to warn me ahead of time so that my guards don't jump the shark.
Valira: Jump the shark? Never mind that, I am here.
Valira looked over at the guard with an odd look on her face for a second, then looked around the room, then back at Tanka.
Tanka - I see. Leave us. Don't even leave a guard at the door and return to your posts.
The guard looked puzzled at the order, but complied anyway. He was out the door without further question.
Tanka - Jenks, get us rotating for some gravity, please. I'm sure our guests would appreciate it.
Pilot Jenks - Affirmative. Give it a few minutes.
A little gravity returned as Tanka slowly lowered herself into the couch and pulled out a folder from her cloak. She let it slowly fall to the table, the string keeping it closed.
Tanka - I know it's archaic compared to what you're used to, but it's both easier and safer this way. Electronics are known to be fickle and trackable whereas paper and film are easier to hide than links through the net. I'm sure it's not the first time.
Valira: Yes, though most people I've come across usually still use electronics. Just who are you trying to hide this from?
Tanka - Yes, well, we are trying to hide from the Human Colonial Administration here. I don't know if you've run across them or not, but their intelligence department has pulled some crazy stuff out of their asses before. Idon't want to take the chance of using electronics, even if the transfer goes through a wire. We are paying good money here. You can deal with it.
Valira: Indeed. Now, just what is the plan here?
Tanka - Pretty simple, really. Take down food and mineral transports that leave Port Edge, harass the escorts, record footage so you can be paid or bring in the freighters themselves. Anything outside of that is up to you. Every freighter you take down from Port Edge, you'll get paid. For every Biohazard container you bring down, you'll get paid. For every HCA ship you take down, you'll get paid. Starting hire rate for you is 100,000 Universal Curreny. I could have it routed through customs somewhere to whatever currency you wish to recieve it in.
Valira: Okay, anything else?
Tanka - A free port will open up soon for people like you soon enough in the system. Within the next week, if it isn't up and running already. It will be run by a woman you will know as Councilor Yvette. Part of your payment is free docking and reduced repair from mission damage. Outside of that, you'll have to pay full price. The location will be given upon acceptance of the contract.
Valira: I'm assuming that the HCA isn't just going to let this happen.
Tanka - Of course not. But from what I've heard, you can handle your ship exceptionally well. Of course, you'll be up against their fighters, which are not much to speak of. Their firepower comes from their destroyers and cruisers. They're an overpowered "escort force". The destroyers are armed with 150mm autocannons and 200mm rail cannon with two point defense clusters on the top and bottom. The cruisers are more heavily armed with the same autocannons as before, but more of them. Also armed with twin 300mm rail cannons with smart shells. Also a missile bay with 50 missiles. Half and half of both split missiles for ships and cluster missiles for technicals such as fighters and space frames. The real worry is the battleships. Everything as before, but more missiles, autocannons, and up teh rail cannons to 500mm. There is also a single dreadnought among the fleet that belongs to Admiral Keesh. It's a special prototype that tries to utilize a large amount of combat grade laser weapons. A first for the HCA.
Valira: Is that all? How come you can't take care of them yourself?
Tanka - Heh, so you think we're weak to ask help from pirates such as yourselves? We're strong, but not situationally inept. We'd do it ourselves, but then there's the chance we'll be traced. With this, there's less risk of you getting captured because of your experience, less chance you'll let something slip unless they pay you more,and we don't have to waste nearly as many resources doing the same exact thing. You'll also attract other pirates who we won't pay. All that is asked is that you bring all cargo to the port to be "inspected", some will be skimmed off the top, but you'll get compensated. The others won't unless we hire them to do the same job you're getting. With this, the HCA will become distracted from what we're doing on the surface.
Valira: Okay, but why tell me that?
Tanka - [Grinning] Because it'll be obvious. The problem with paying attention to us, though, would mean to pull attention away from you pirates. And the more you know about your job, the better you can be at it. So here's the full offer. You now know that you are acting as a decoy, but also as a supply disruptor under the guise of a pirate and you're also going to attract vultures to provide even more of a distraction from the surface. This is the full upfront plan of our rebellion, with you being a privateer. Are you still interested in the contract?
Tanka leaned forward, placing her elbows on her knees and resting her head behind the peak of ther hands. Her eyes betrayed nothing, only showing the business face she practiced to hide the sadistic glee of setting plans in motion.
Tanka - Well?
Valira thought for a moment before responding.
'Shouldn't be a problem... Hmm, they believe Myon to be the more advanced of the races around here? Interesting'
Valira: I accept.
Tanka - Great. I'll be sure to inform Councilor Yvette and have her send the port location your way. Any other questions before you leave? Anything you'd like me to check within the system while you're here?
Valira: Just how many ships does the HCA have?
Tanka - Hmm. That fluctuates. However, at any given time, there is at least Sys Admiral Keeshs' Dreadnought, 3 other battleships, 15 cruisers, 30 assault destroyers, 45 destroyers, and numerous fighter craft stationed on the capital ships. Anything else?
Valira: Okay. I can't think of any other questions right now.
Tanka - That should be all then. If you ever have need to contact me or my boss directly, ask for me by the name of Aide Bakti. You'll get me shortly thereafter if not immediately. Oh, and welcome to the Helios System.
See Central for the backstory to this update.