The Making of Bayside
The Making of Bayside
This update is quite unusual for the Schulmanator Studios. Instead of carrying forward the storyline, I will show you a rural area as I develop it. A small section of the northwest corner of Tile B2 on the Harar peninsula map will be the focus of this update. The 30+ pictures will show you the original terraformed area before I start working and step by step the mayor mode trees, rocks, flora and other such stuff I add on. I won't show you the finished product in this update, since it already has too many pictures. It will be coming up next. So, when you see the finished area, please act surprised!
Here's where we are starting...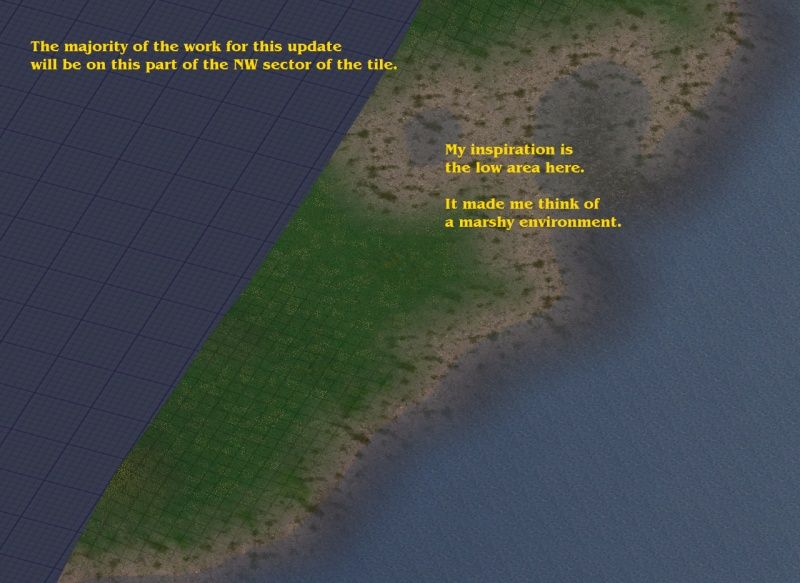 I approached this tile with no preconceptions. I decided to let the terrain dictate what I would do. The cove and pond with low borders gave me the idea to have a marshy environment.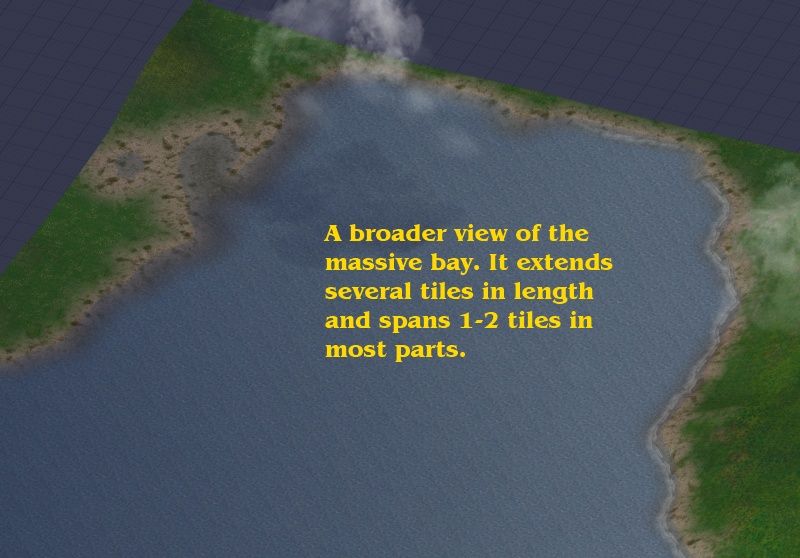 The massive bay is larger than any body of water in Schulmania. The western coast will be occupied by Schulmania and Harar will occupy the eastern shore. I have not settled on a name for it, but I have a few frontrunners.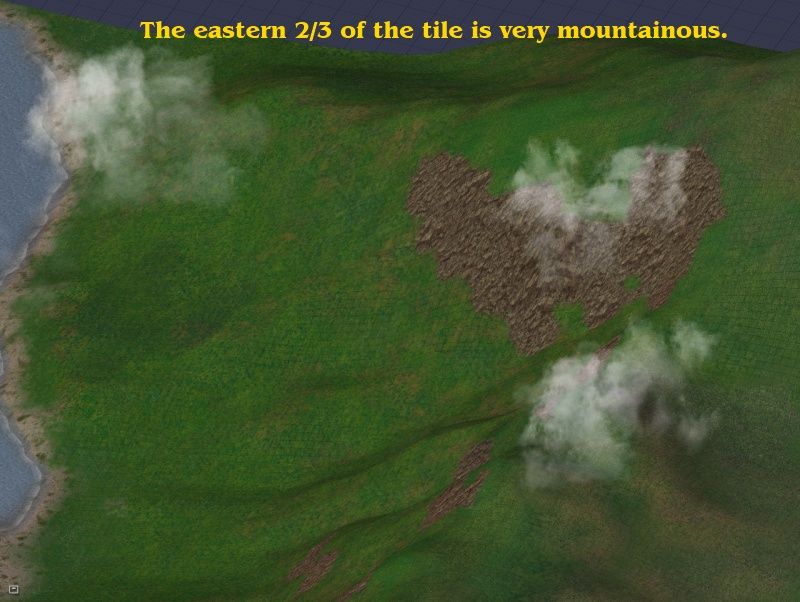 The eastern shore is very mountainous. We won't explore this section for a while yet. I have not even started to do anything with it.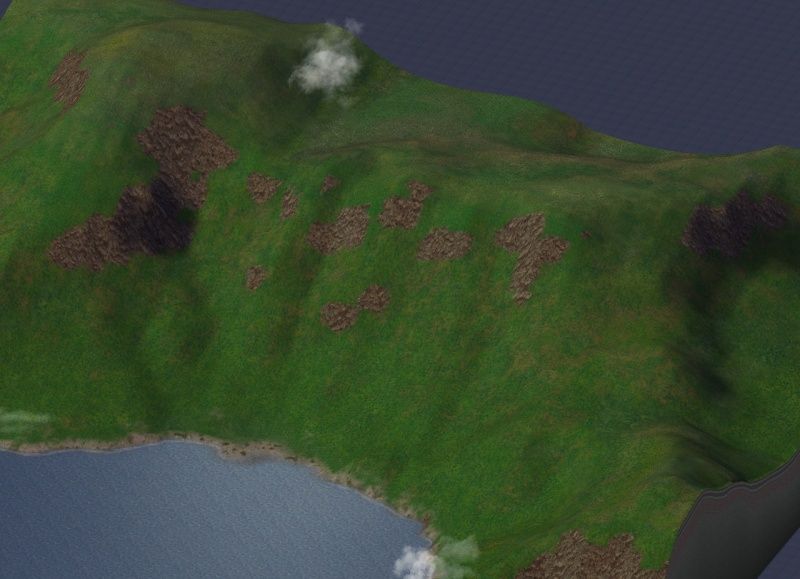 More of the eastern shore...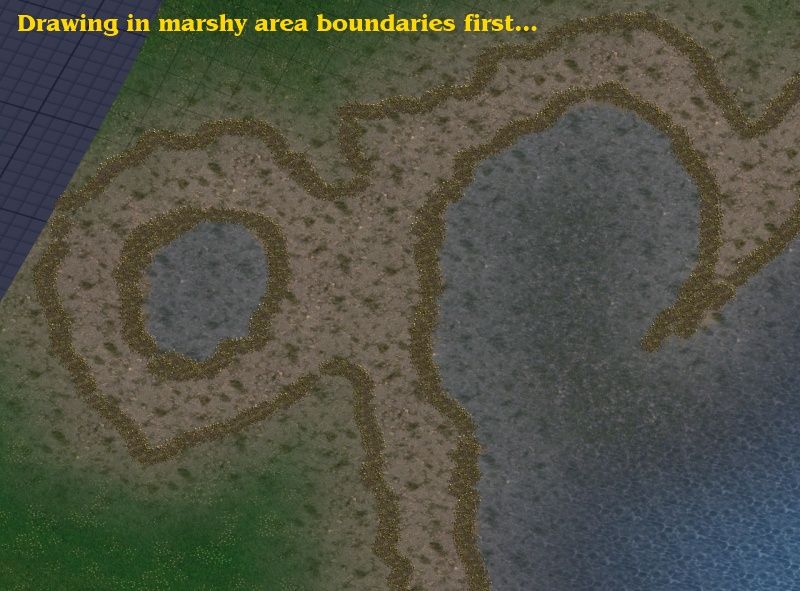 Now, back to business. The first step is to decide where the marshy areas will be. I outlined the boundaries with the RRP marsh brush. Following the land's contours where the brown low-lying areas are.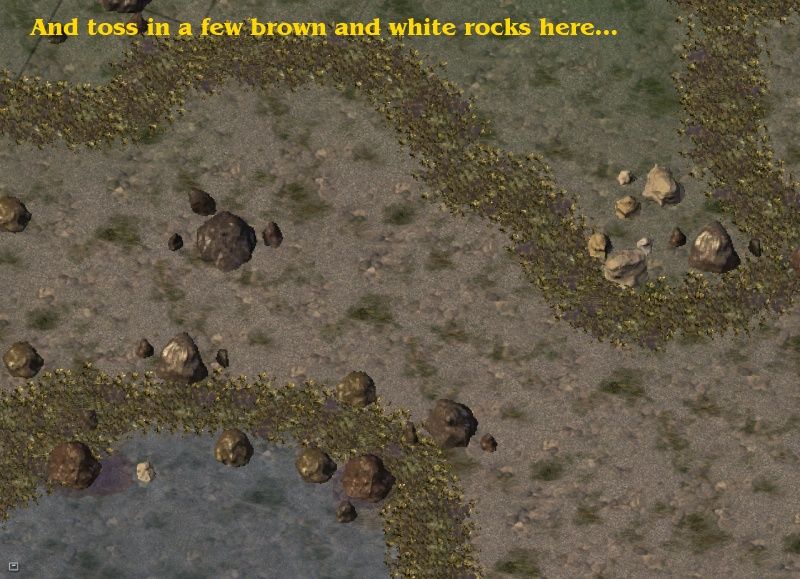 I added in some white and brown rocks. I have a greater variety of gray ones but that does not fit in well with the color palette, so they have been banished. Much to my dismay, I found later than several of these rocks have a no-plant halo around them. I should have saved these for last so that would not be a problem. Oh well, I suppose next time I will do that... if I remember.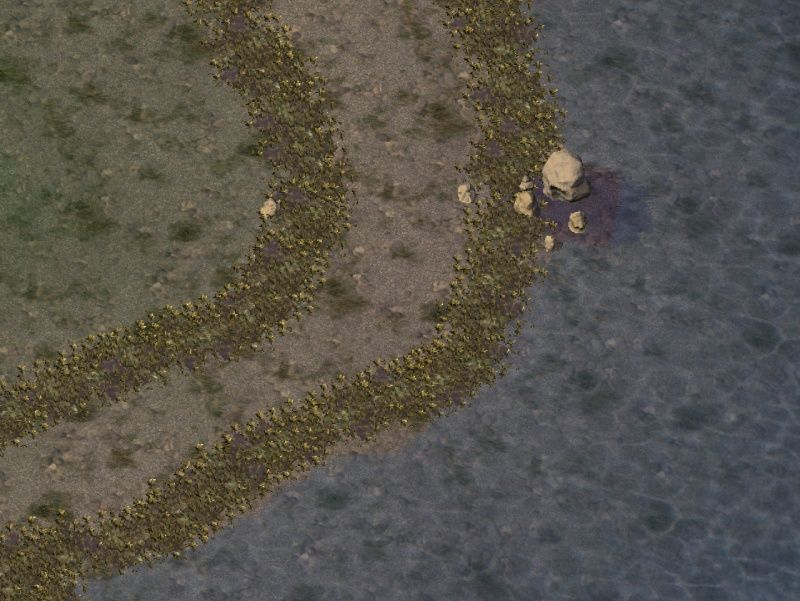 More outlines and rocks...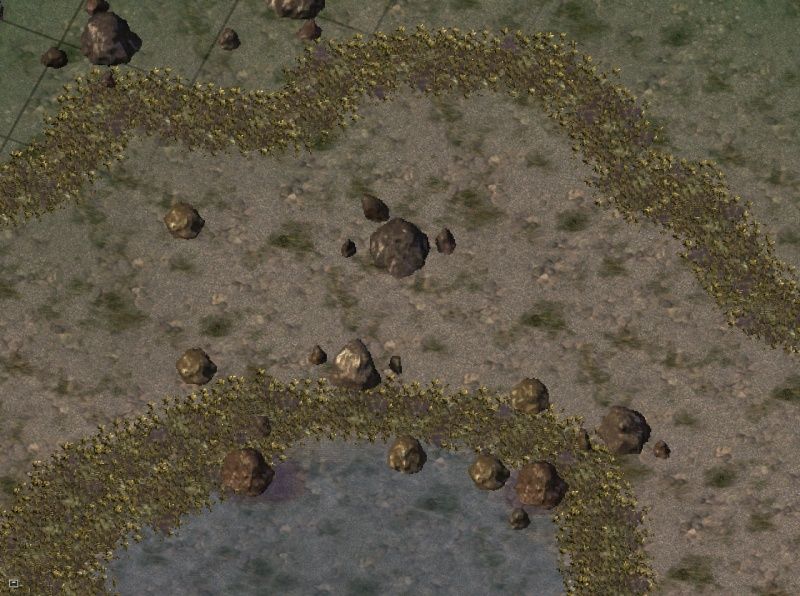 Oddly enough, more outlining and rocks... go figure!
A wider view once the first pass has been done. You can see now how much space I am working with and can judge the relative locations of the subsequent pictures.
I was not sure what I wanted to do with this very rocky bottom. I thought about a bunch of underwater rock things and decided instead that I will fill this cove with lots of plants, sort of a mangrove forest type of thing but not as dense. I am trying to resist the urge to overplant stuff.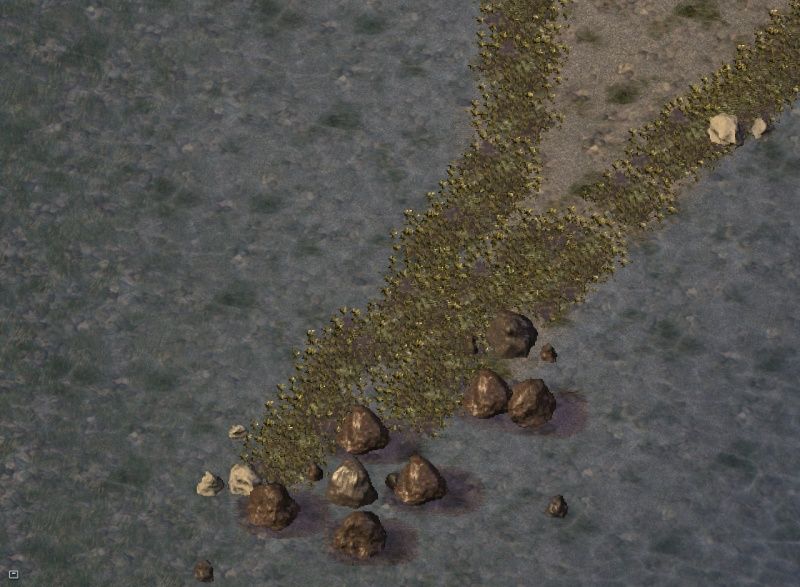 I rather like how this part is starting off. I'll need to make sure my plantings don't overrun its character...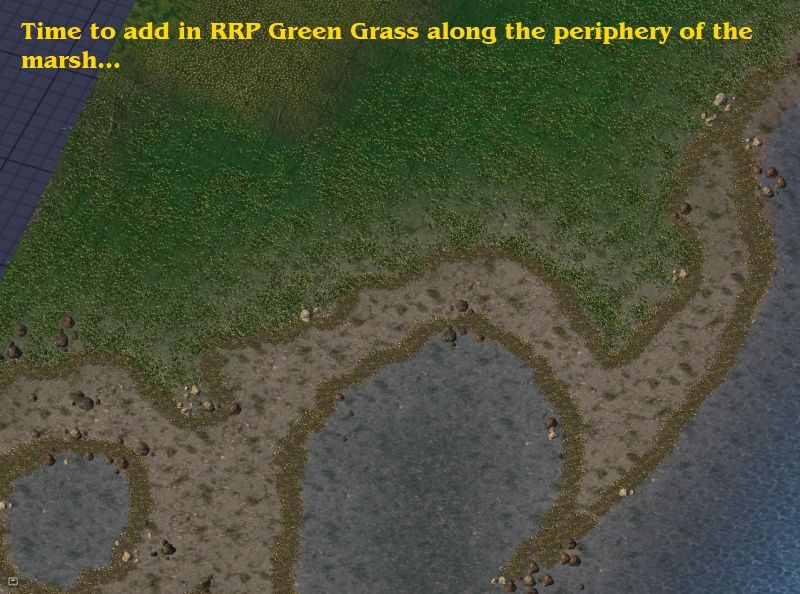 Here, I start to fill in the area around the marsh. Still trying to resist the urge to overplant and also the urge to plant over the brownish areas. They ought to be less vegetated.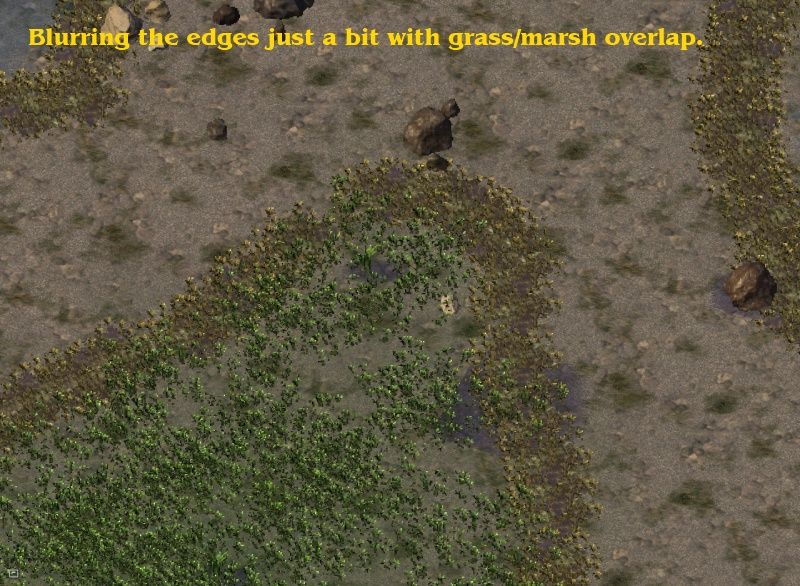 Trying to soften the boundary between the marsh and the grass with a little overlap. I will go back and dust it with the PEG mossy shoreline brush for good measure when I am done.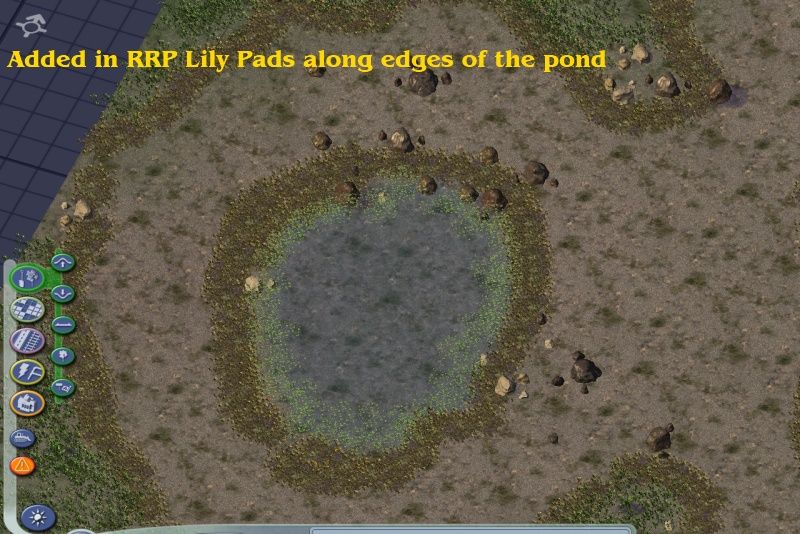 The ring of lily pads gives a bull's eye look to the pond. I will have to stick other stuff in there to avoid some sort of copyright infringement lawsuit from Target.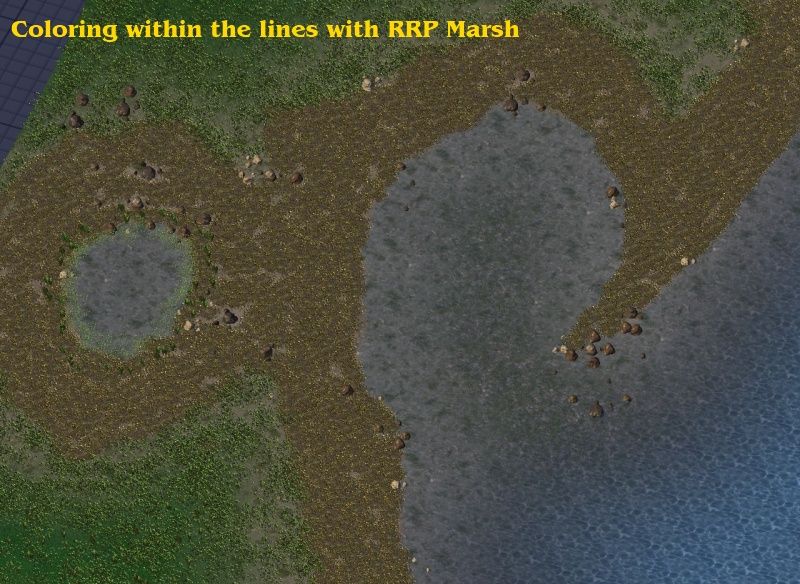 It's sorta like using a coloring book, isn't it? Perhaps a 21st century one, though.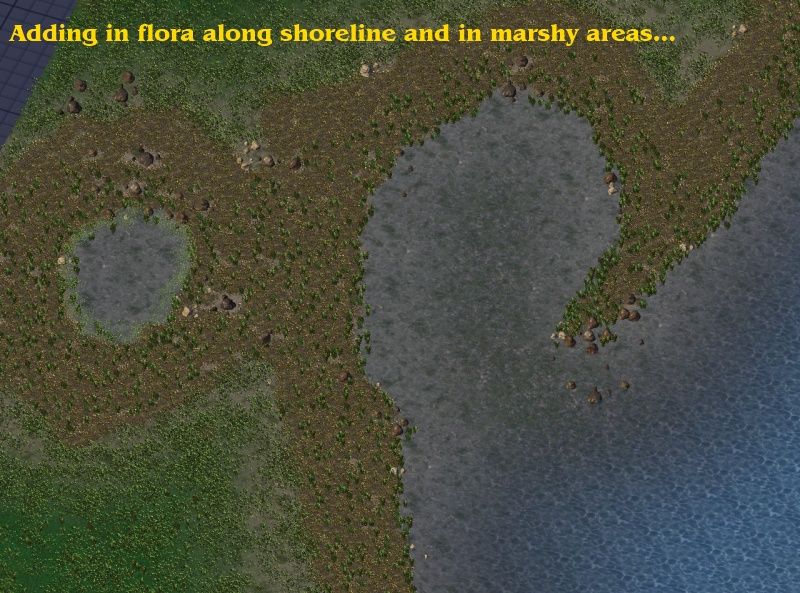 I added cat tails (of course) and Johnson Grass and a few assorted scrubby bushes and such.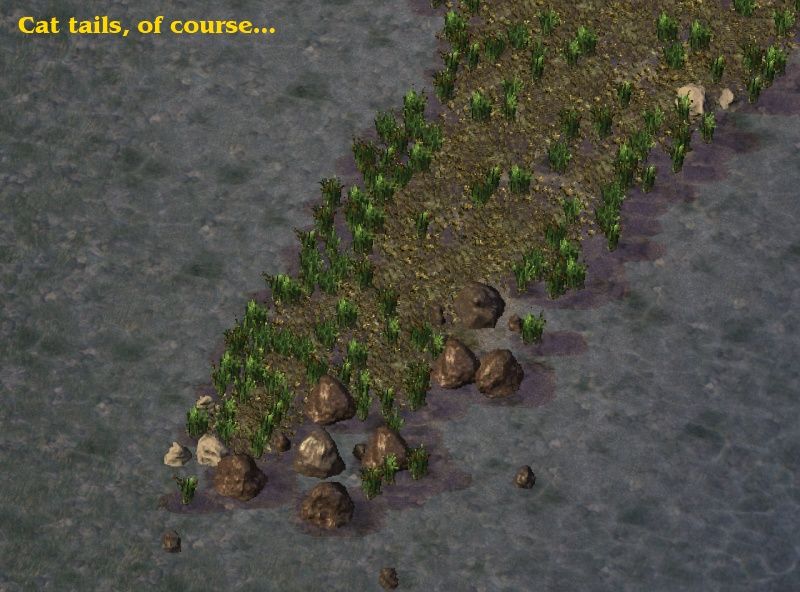 What marshy area ruled by kitties would be complete without cat tails?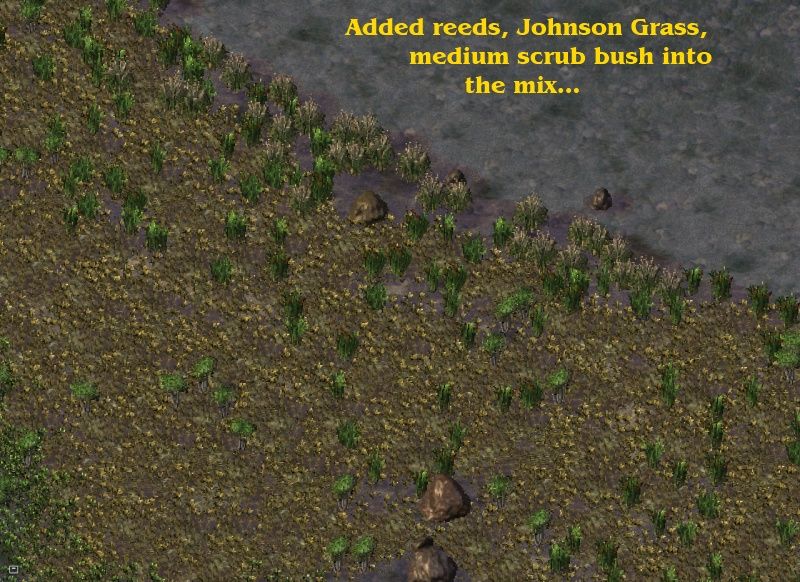 The effect is starting to show. The reeds are not as dense as I would like but they won't bunch up whithout me clicking myself half to death.... So, a fairly thin line of them at the shoreline.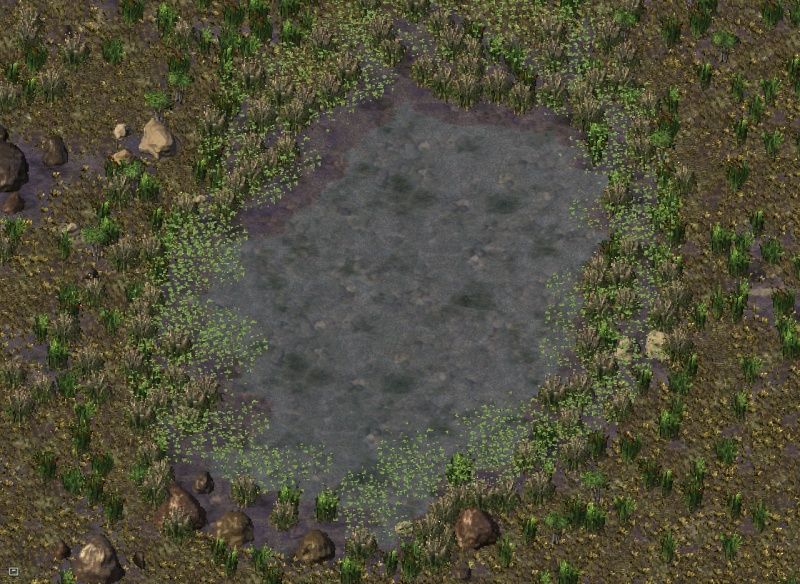 A little less infringing looking now with more flora...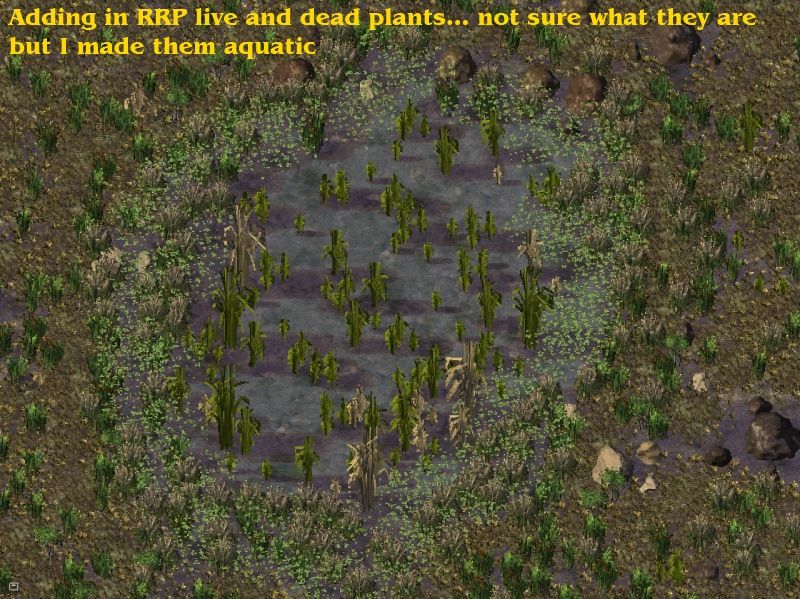 That should get me out of legal trouble! Added both the dead and live versions of some sort of tall long leafed plant. I am not sure what it is but it sorta reminds me of a cross between corn and canna lilies... Having a few dead ones will vary the color palette and hopefully add some realism.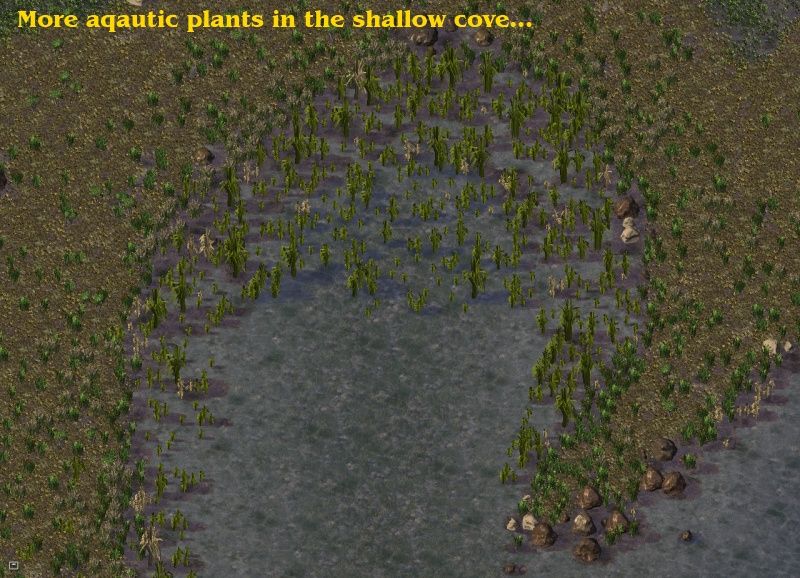 More of our leafy friend... I was thinking of filling the cove up with them but have held off for the time being... not sure it's really what I want to do... yet.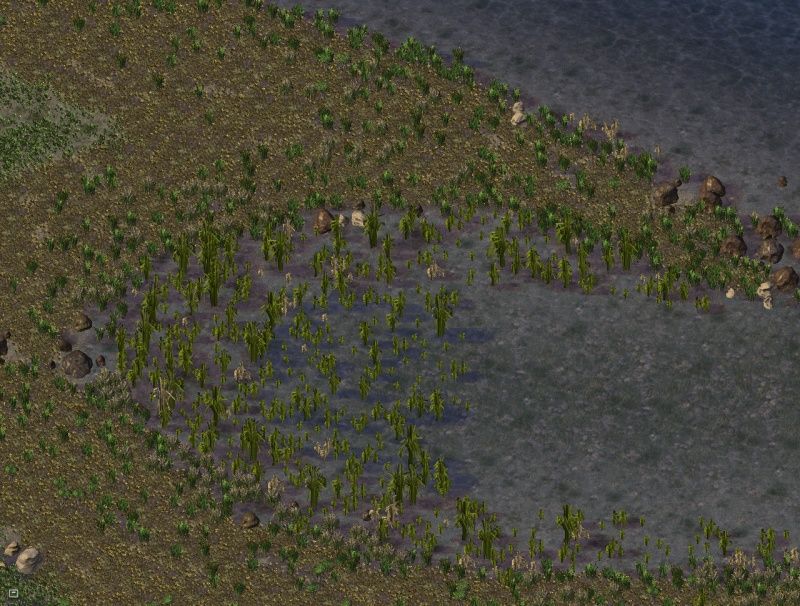 I am not sure how vegetated a marshy cove should be... but it seems about right.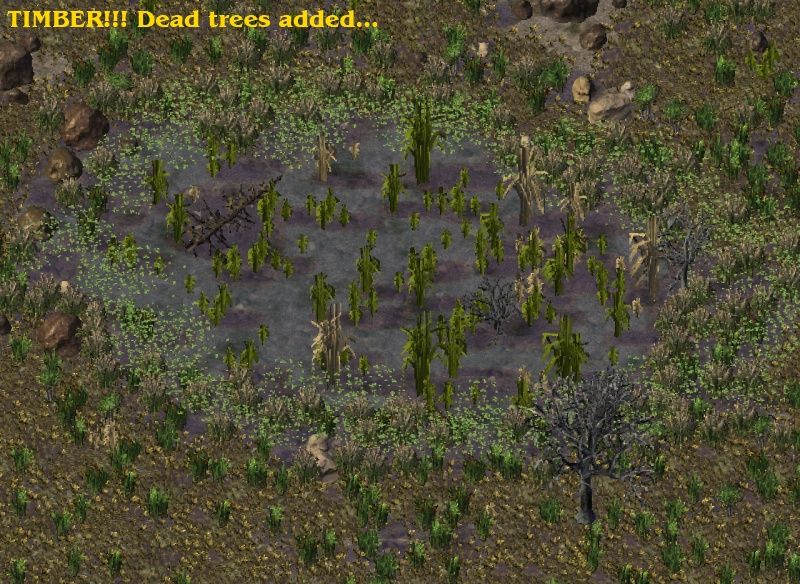 Dead trees add texture to the environment. My favorite of the PEG trees is the fallen one. See how many of them there are in my wooded areas...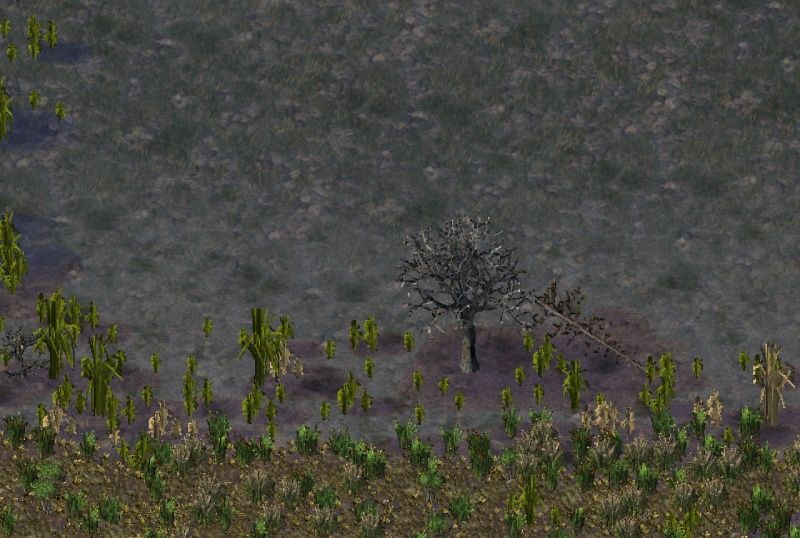 Here's one now!
Some stumps are sprinkled hither and yon for good measure...
It's getting more crowded in the cove. But I thought some biodiversity would be good.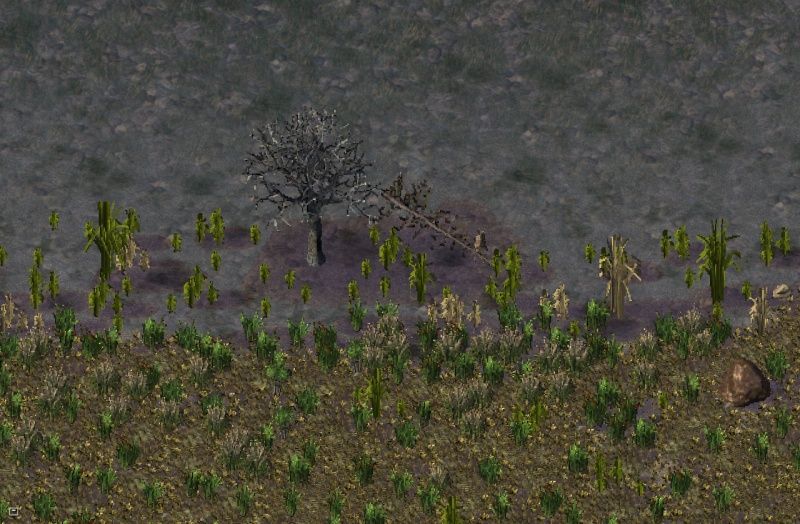 More of the little aquatic plants with... a fallen tree... quelle surprise!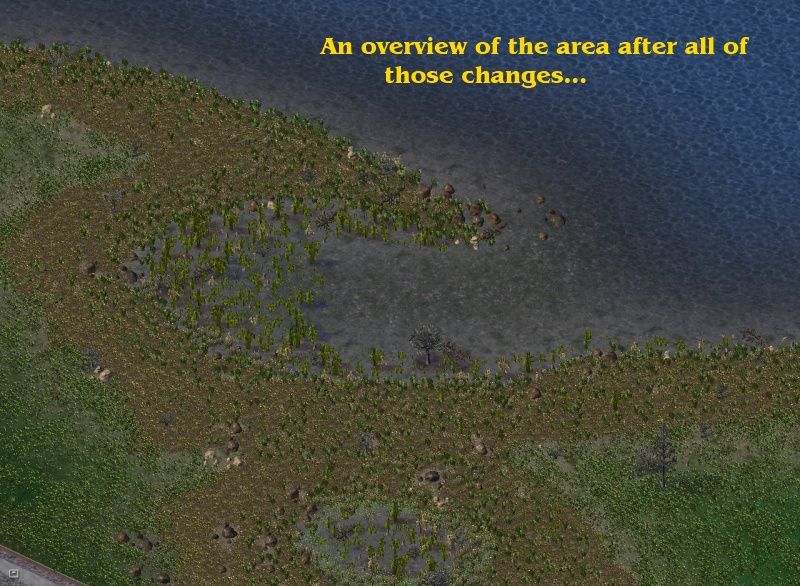 Here's how the area looks at this moment in time...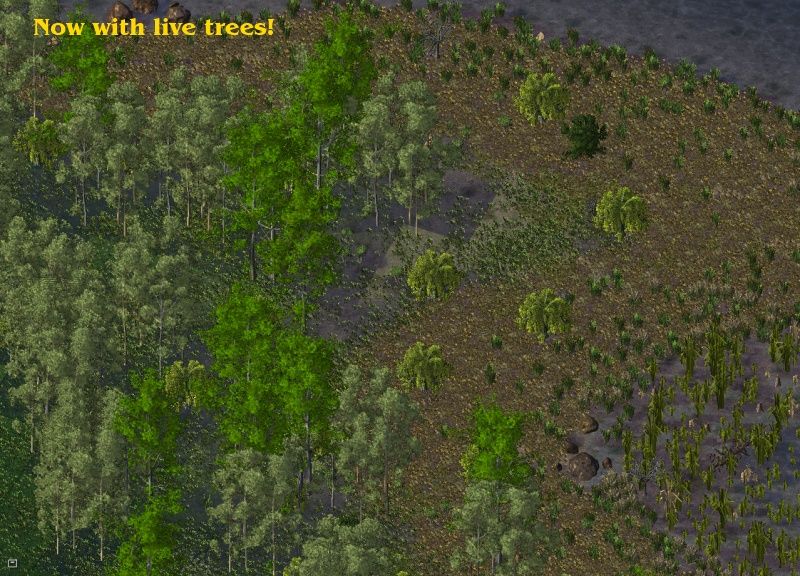 This addition is tree-riffic!
The final touch is some subtle flowers. The Cycledogg Olympic terrain mod I am using has the occasional flower cluster built in, so I am building off of it with the most subtle flowers I can find, the RRP yellow (non bright) and white.
I may do a bit more with this area to polish it for the next update. Since the area is not finalized, I am open to suggestions. I would like to diversify my flora and rocks. So, if you have some favorites, share and I may give them a try. The finished product will be revealed in the next chapter.
---