Hammering
Hammering
Currently in Queensferry...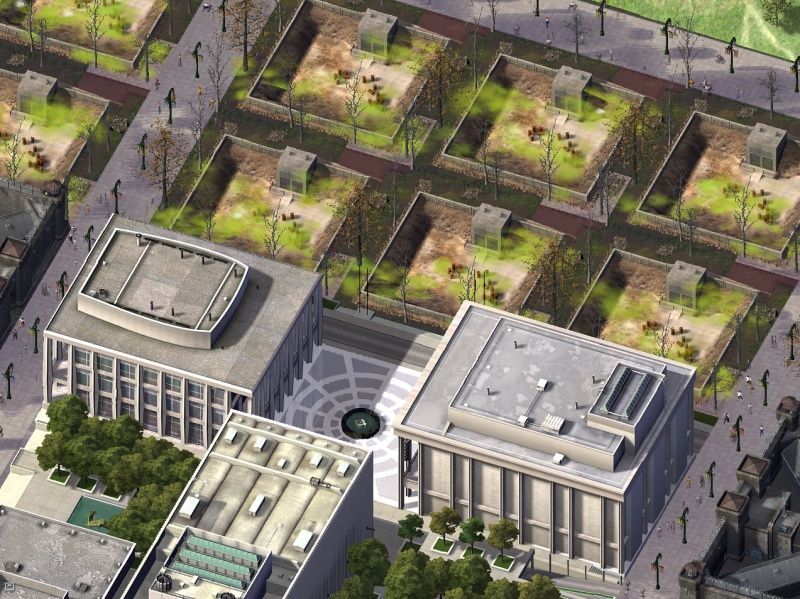 General Rancor, I have most excellent news about our campaign to crush the wicked and evil enemy.

What have you found out, Col. Nelson?
These captured documents indicate that the enemy is moving their capital city inland to avoid bomber strikes. It appears to be along the western shore of the inland sea.

THOSE FOOLS! Do they think they can escape us?
Apparently so, your royal bugginess. What do you plan on doing about it?

ATTACK! ATTACK!
Meanwhile, back in Schulmania...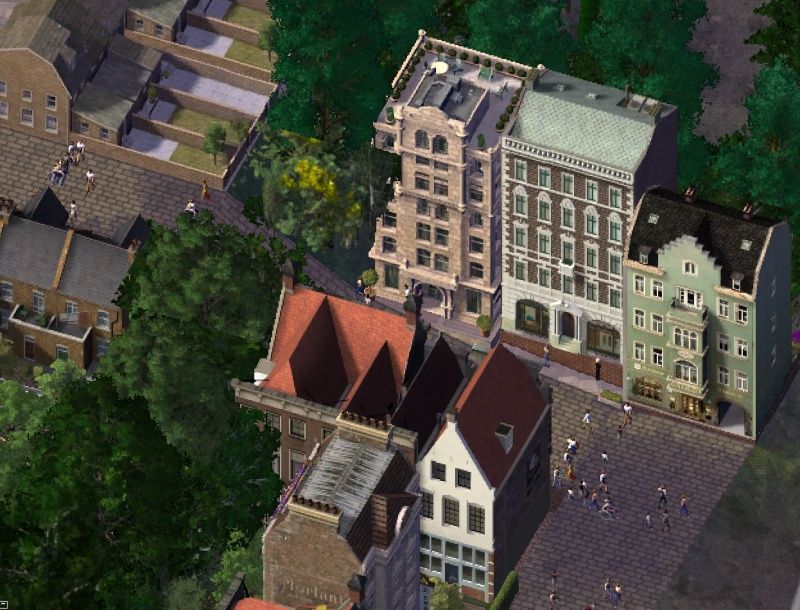 The town of Hammers sits on the northern tip of Pellissippi Island, just off the Tenne mainland.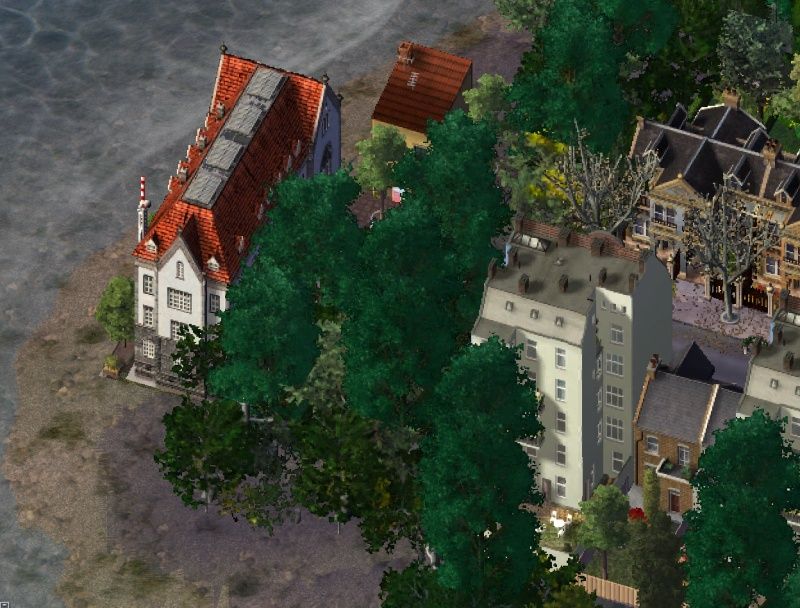 The town and the coast are protected by Fort Claw, on the southern end of the island.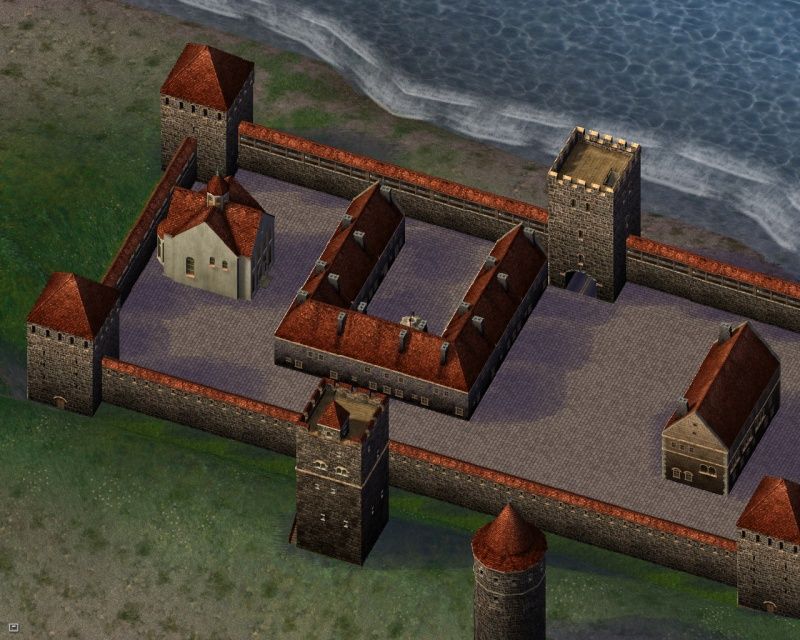 Fort Claw is the key to northwestern defenses.
Of course the town and the fort do not have any idea that they have just been targeted for attack. Nor should they suspect anything, being so far from the war zone. But, distance may not prove a suitable barrier to attack.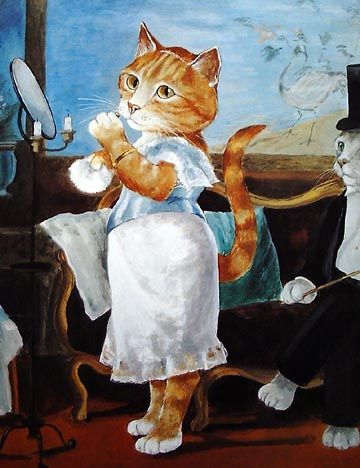 In her Hammers home, Mr. and Mrs. Clinton Hammers are preparing for high tea, when she hears a loud sound overhead.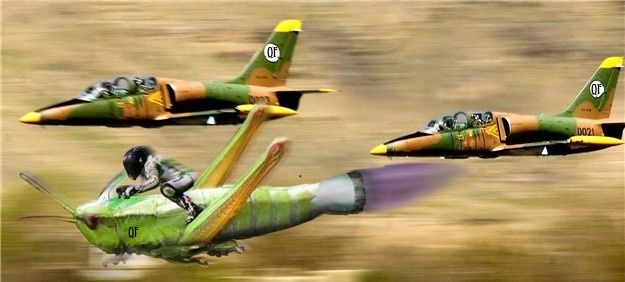 Here comes the bomber with 2 escort fighters...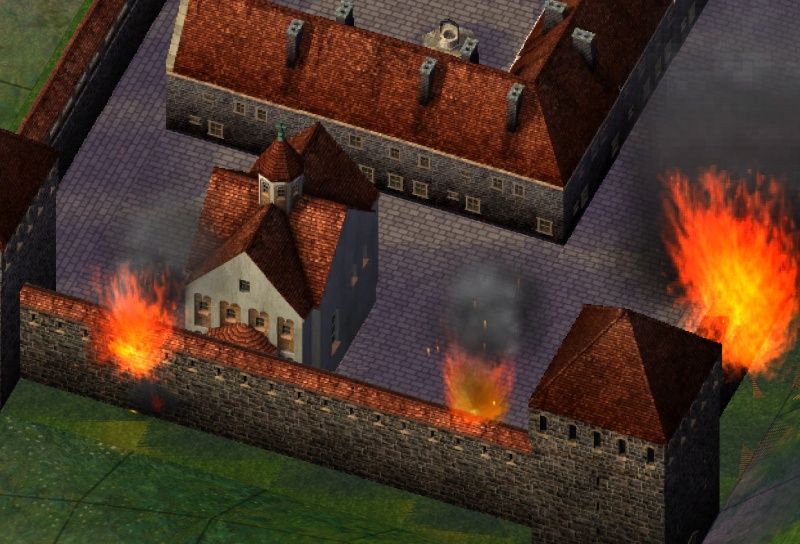 Incendiary bombs are being dropped indiscriminately along the length of the island. (I have to wonder why they painted lines on the ground outside the fort... was it for drill formations? Anywho, at least it's not a bulls eye.)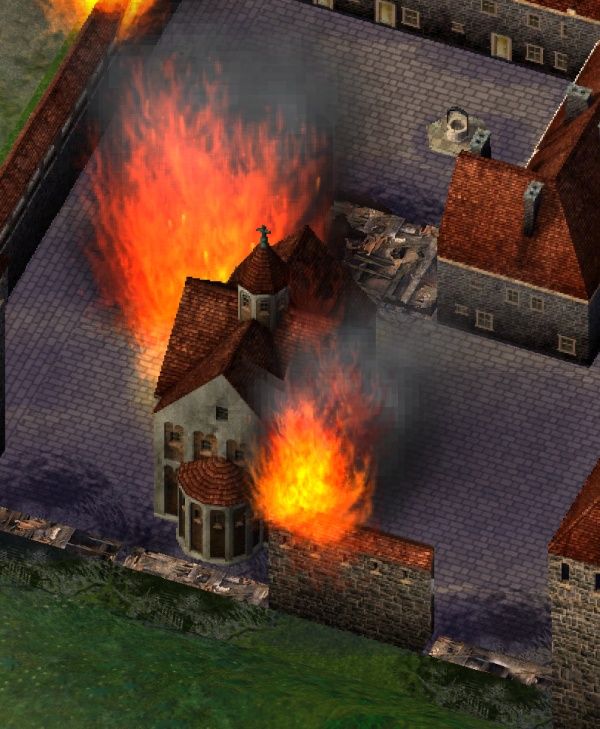 As the bombs start raining down, the venerable stone fort quickly goes up in flames.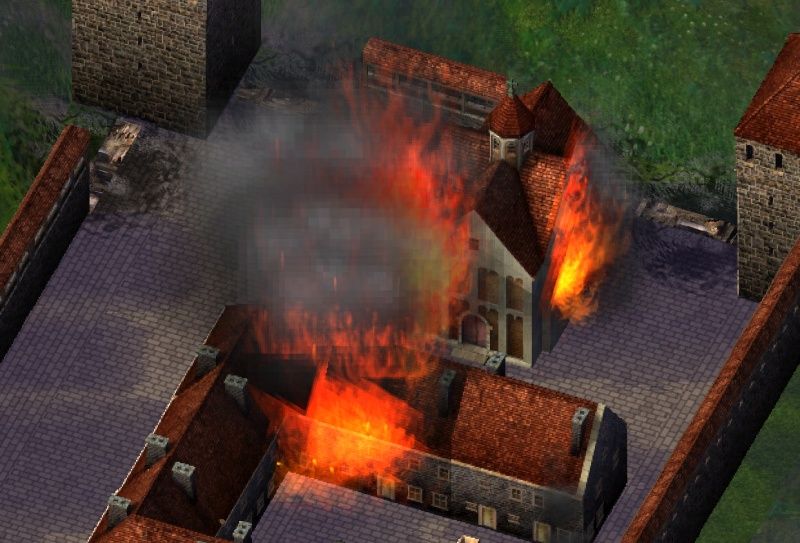 Our balloon squad did not get a chance to take flight, as the armory was one of the first buildings to go up in flames.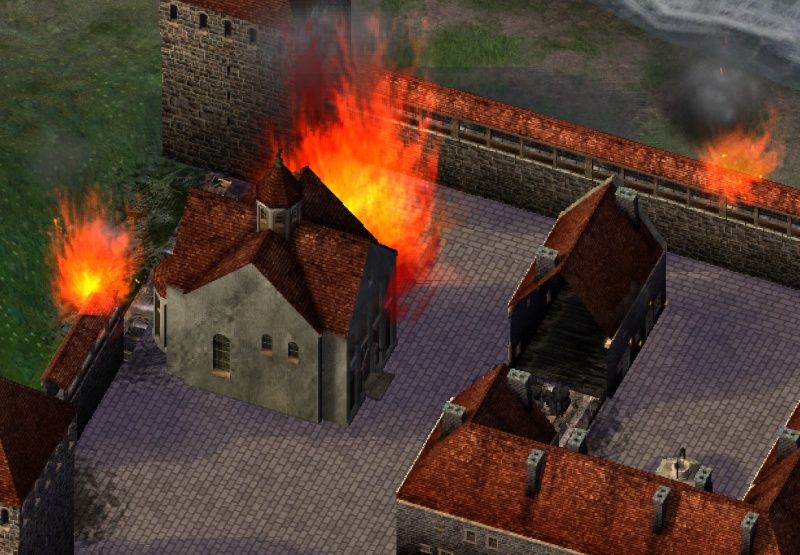 As soldiers raced for cover, some noticed that the adjoining dense woods also were burning. Unless someone put a stop to this, the whole island would be consumed.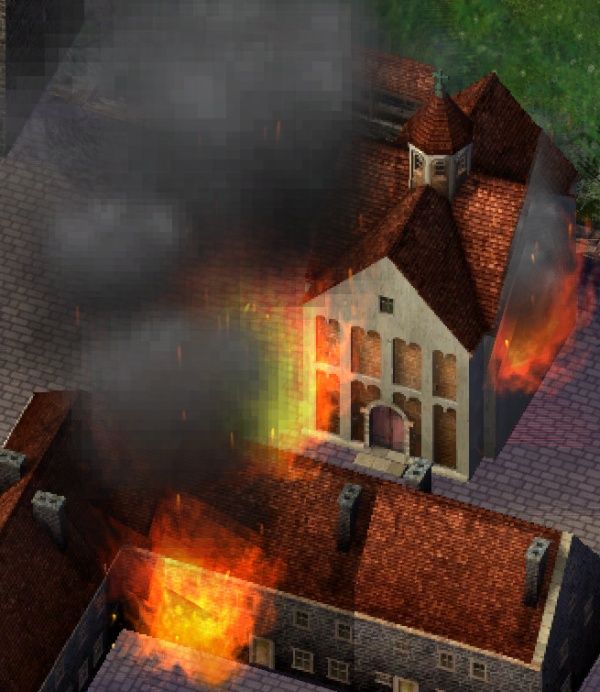 There would be no sanctuary from the repeated bombings and the strafing runs by the Bugg-13 escort planes.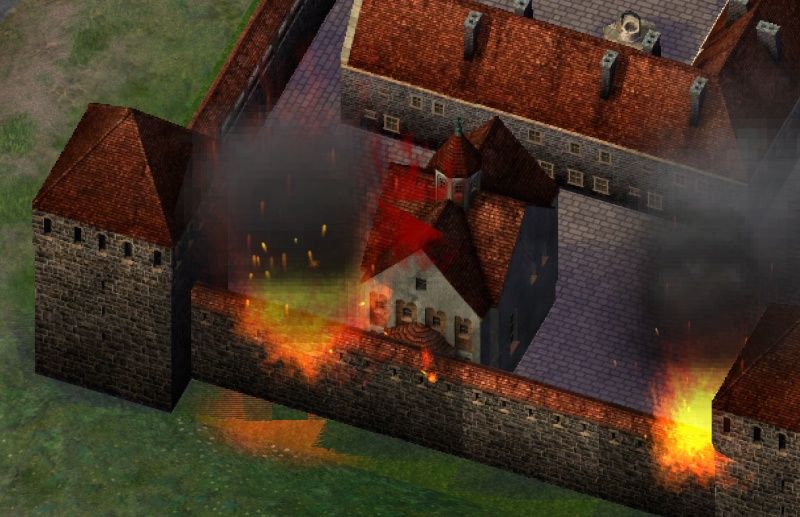 I just noticed that the drill formation lines have burned off the ground.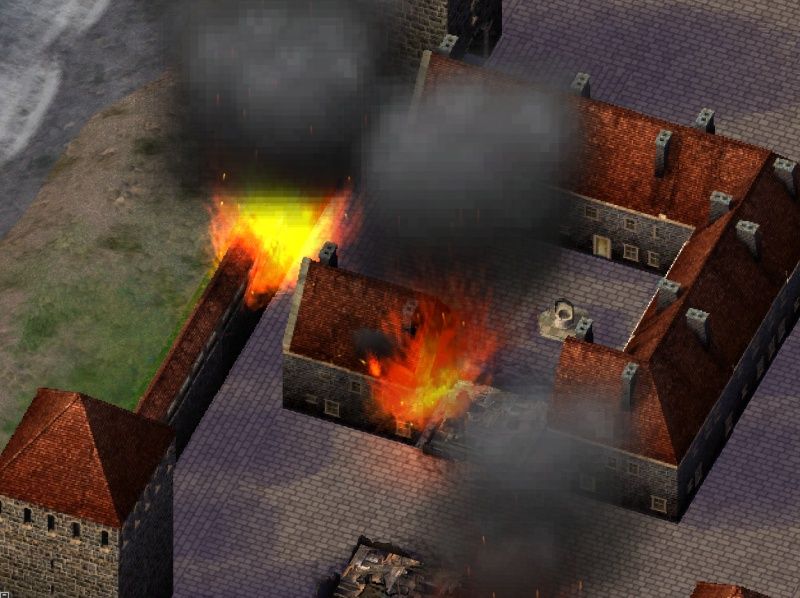 The complex is being evacuated before it's too late...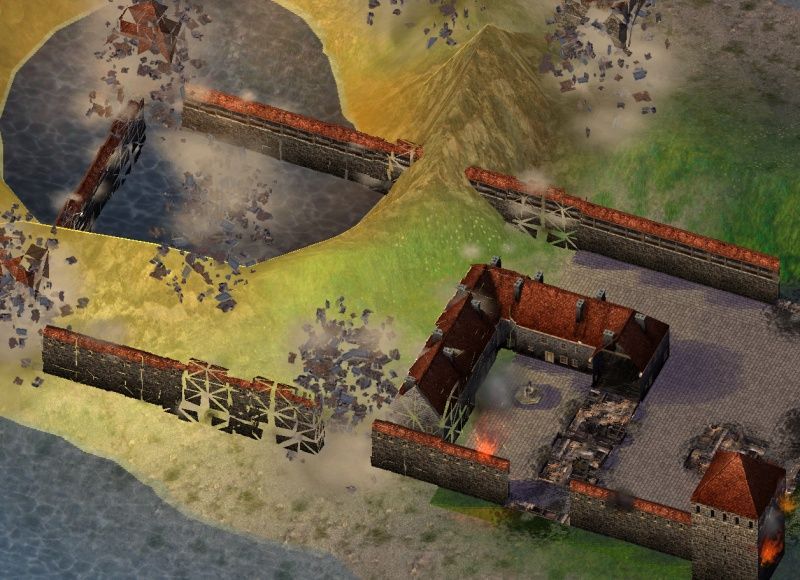 A final blast from a two ton Army Ant Bomb blasts the fort to bits and leaves a significant crater in its destructive wake.
Flaming debris fueled forest fires and soon the island was totally ablaze. Residents of Hammers fled to the shoreline, abandoning their doomed town and awaiting relief from naval vessels en route from Knoxvegas. The fire soon swept through the area and leveled the town.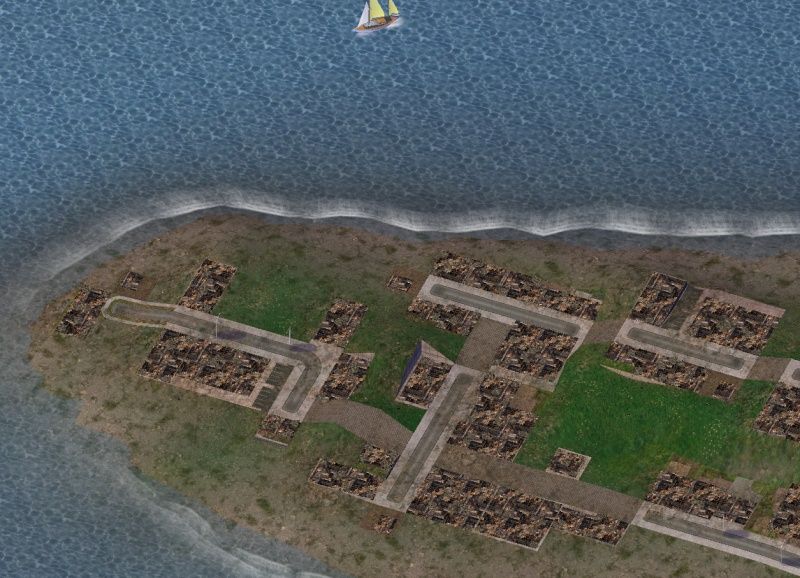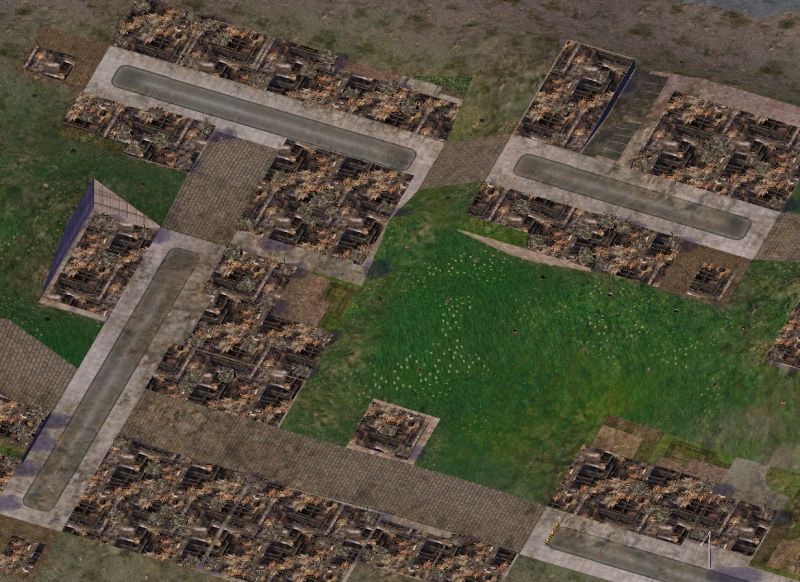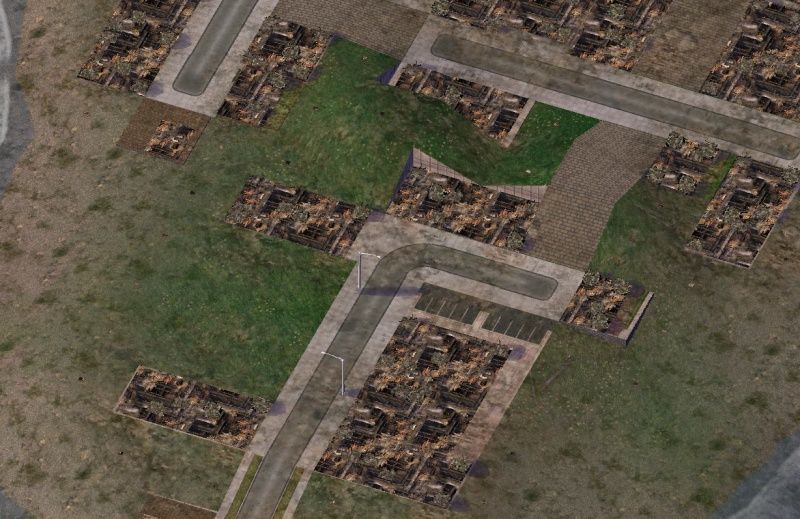 Luckily, casualties in Hammers were low, but the town and Fort Claw are total losses.