Myon Space 3: Lost
July 7th, 0150AL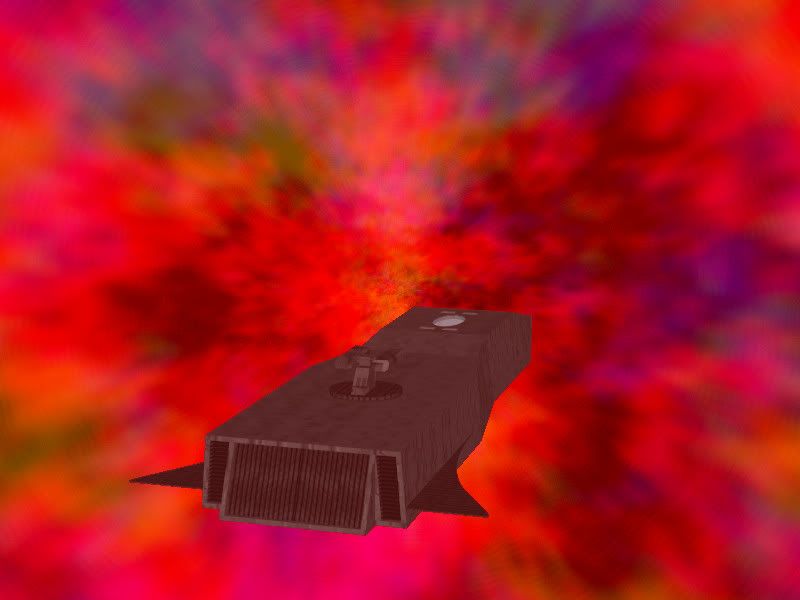 Alarm: *BLRRRRNT!*
Crew 1: Inertial dampers are offline!
Lana: What the-- what did we hit!?
Alarm: *BLRRRRNT!*
Leisan: What's that alarm?
The entire ship was rolling around as it traveled down the wormhole, barely managing to stay pointed forward. This, combined with the failure of the inertial dampers, made it seem as if they were aboard a sailboat in a hurricane.
Alarm: *BLRRRRNT!*
Lana: Turn off that alarm!
Suddenly, a large jolt knocked several people over, though the ride became noticeably smoother afterward.
Crew 2: Inertial dampers are back up, though they're only at 10% for now, something's wrong in the engine room!
Alarm: *BLRRRRNT!*
Lana: I said, turn off that alarm!
One of the crew members fiddled with the controls.
Leisan: What was that alarm, anyway?
Crew 3: Left neutrino drive is shot, right drive is currently at 50%. AGPUs seem to be intact.
Lana: What happened?
Crew 1: We're in a wormhole... somehow.
Crew 2: No clue where it goes, it's not on any of the charts. It's certainly not the one to Earth.
Lana: Great. We have a damaged ship and we have no idea of where we're going, either. Are the defensive systems operational?
Crew 3: Yes, the shield system is fully operational, as is the main guns. Left rear railgun is disabled, all other railguns are online.
Lana: At least something still works.
Leisan: Engineering, any chance of fixing the engines or the inertial dampers?
Crew 4: Left neutrino drive is hopeless, part of it's basically welded together. We might be able to salvage parts from it to fix the other, though.
Crew 5: Repairs are currently underway on the inertial dampers.
--1 hour later--
Crew 2: Approaching end of wormhole!
Lana: Go to red alert, we have no idea what's out there.
Crew 3: Acknowledged.
The lighting on the bridge shifted to red to match the wormhole outside, the shields activated, then the ship shot out of the wormhole at high speed, almost sideways.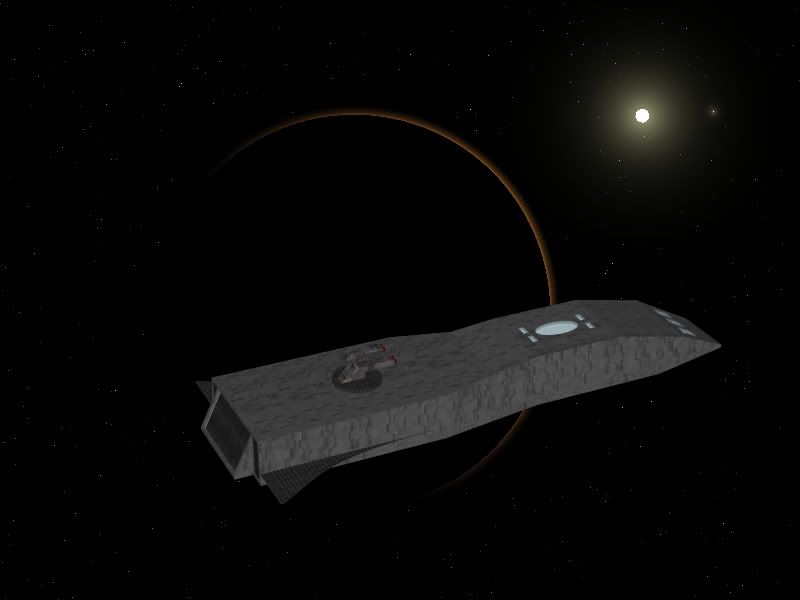 Crew 2: Nothing special's coming up on scans, no ships, no signs of inhabitation.
Leisan: Just where is here, anyway?
Crew 2: ... Destination is unknown. The computer does no recognize any of the star patterns here.
Lana: Anything dangerous?
Crew 2: No. There is a nearby planet though our current trajectory will take us past it without any problems.
Lana: Go to yellow alert for now, and try to contact Myon on subspace.
Crew 3: Acknowledged.
...
Crew 3: I can't detect any sort of signal from Myon on subspace... or anything recognizable, for that matter.
Lana: Just how far did we go?
Leisan: I'm detecting 9 plants, the 1st is a large rocky planet, the second and third both have water, but from the sensor readings, both are uninhabitable, the second has no oxygen and the third doesn't have enough, plus it has too much nitrogen. The 4th planet appears to be habitable, though slightly cold. The 5th planet is a baby gas planet, about the same mass as the habitable planet, the rest are all gas giants. The planet we're near is the 3rd.
Lana: Well, at least there's somewhere to go if we can't get home...