Downtown Introduction-Update #1-9/27/10
Once again thank you all for your kind words, i'll do personal replies tomorrow. Initially i was going to write a history but I didn't get to that so i'll just go forward with the update!
---
Downtown Introduction-Update #1-9/27/10
Onto todays update. A quick tour of downtown that will hit up a few hotspots but keep it sweet and short. I like to spend a little time fooling around in photoshop, you may notice some small details like photoshopped concrete under highways [in the teaser] or fake parking lot entrances [in this update]. Basically its borderline OCD but whatever I enjoy doing it haha. Anyways, that plus all the general effects and borders and text, despite using a template, still takes quite some time so the updates will generally be small. I try and keep a lot of unused pics though so i can frequently update. Anyways, enjoy!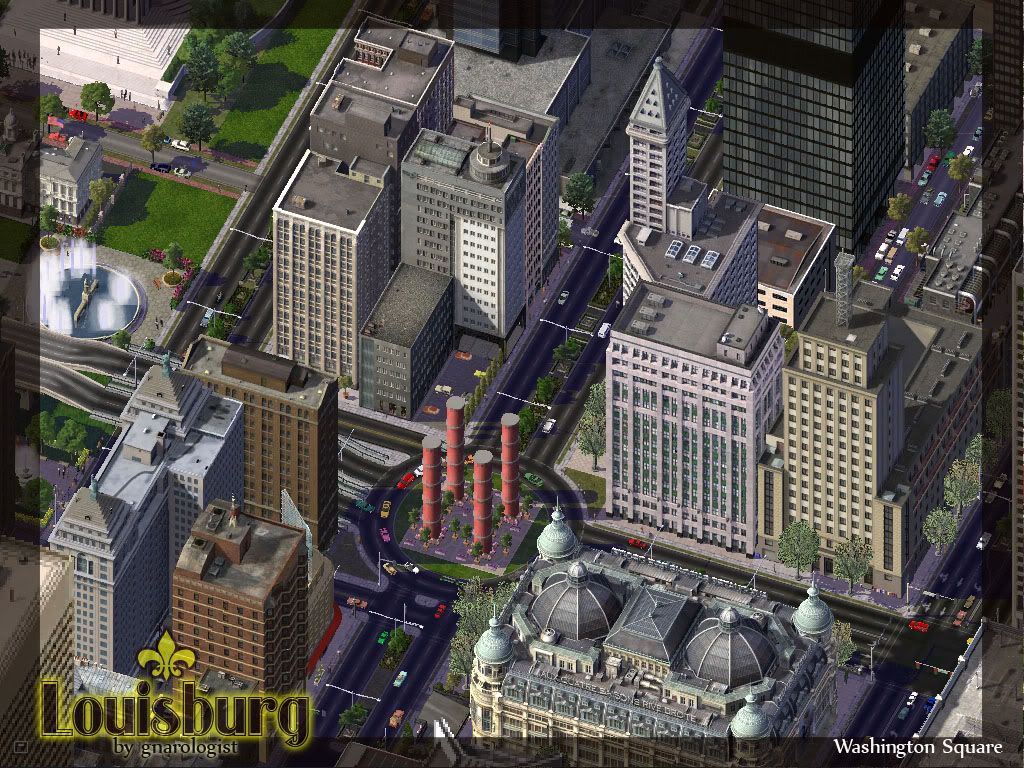 Washington Square. A good fallback plan when you lack a name is to name it after some founding father. People go crazy for that...I think? They must since we have like 16 Washington streets in every city. This particular square is located in the center of downtown and comes directly off the Pielle Bridge [crossing the Pielle River]. The bridge is an exit off of the Trans-Southern Highway, a stretch of highway that links the major cities of the South, such as Atlanta, Louisburg, Houston and Dallas together.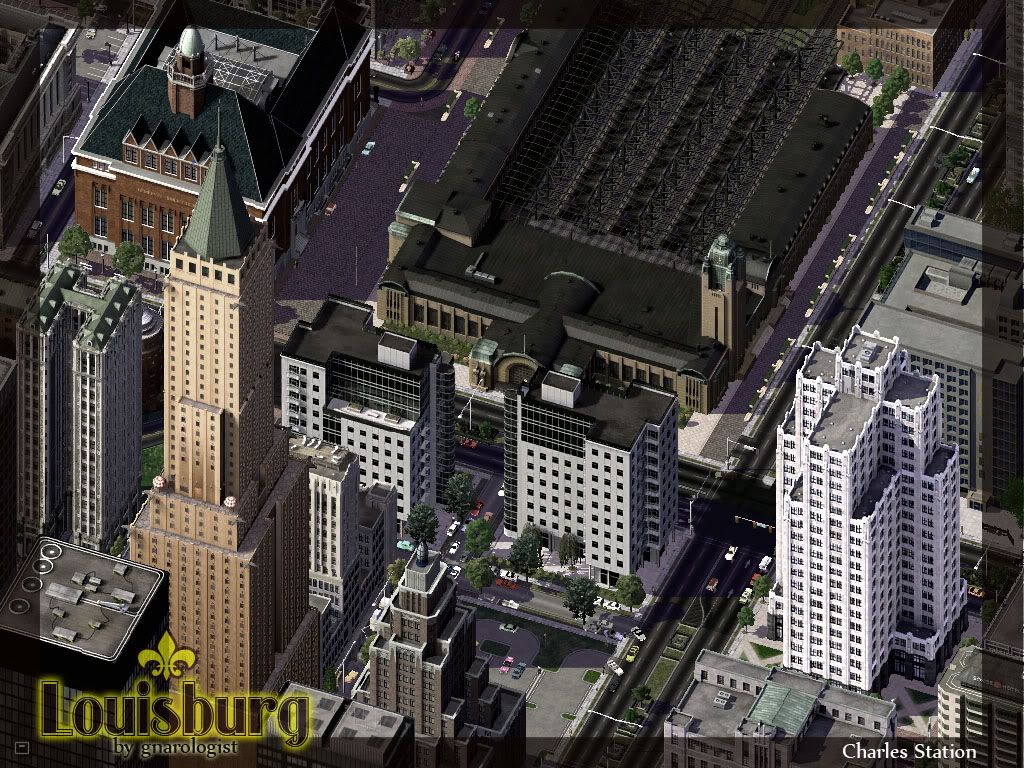 South downtown towards Charles Station is populated by mainly older buildings including the sizable Wattsworth Tower, which houses mostly financial businesses. Downtown is populated by financial and legal firms for the most part. Charles Station, at the top, is the major rail station in Louisburg and connects to all the major cities of the South. High speed rail would get constructed but the government here hasn't accomplished anything since the Civil Rights movement.
Waterfront Park is located on the riverbanks outside downtown. Pictured you can see the Hatch Shell, the Monroe Hotel, and the old Stock Exchange next to the highway. on the left of the bridge is Old City Hall, the French-American monument, honouring centuries of alliance (centuries meaning 240 or so years...haha) and several other unpictured buildings.
North Downtown, conviently named NorDo during the "copy New York" era, is full of boring corporate architecture that seemed like a much cooler building when it was built.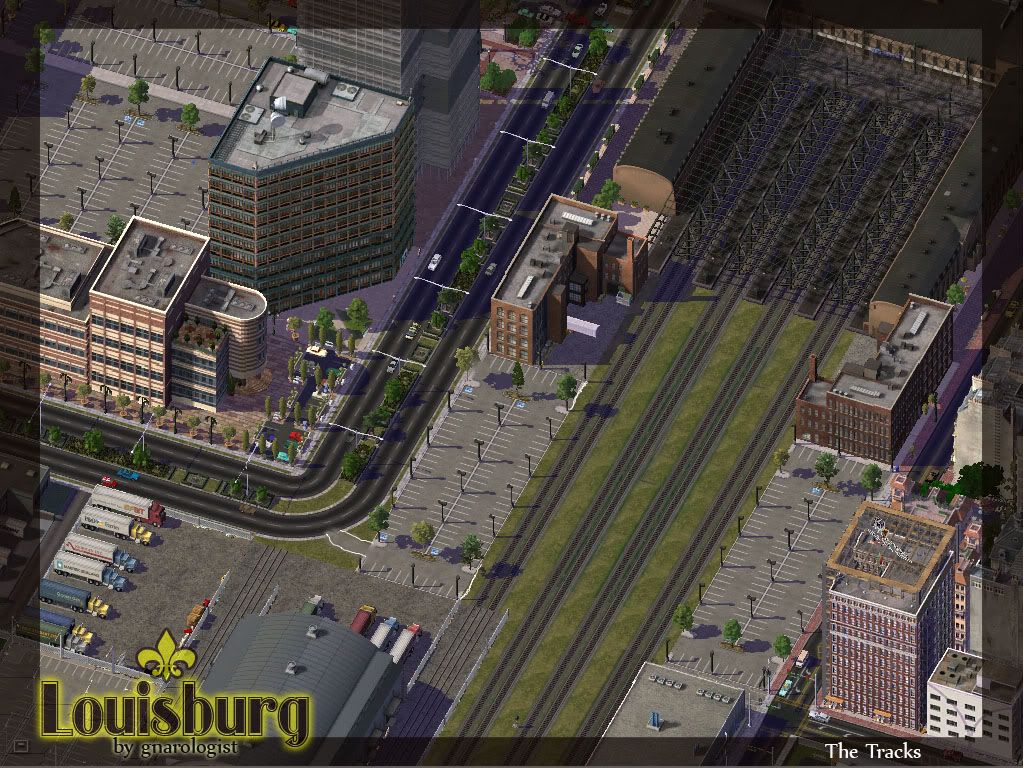 The tracks running out of Charles Station seperate this small neighborhood tucked between downtown and the hood from the industrial area. People have yet to come up with a ridiculously obnoxious acronym for this neighborhood but i'm sure SoLaFeDoNoCa or something will suffice.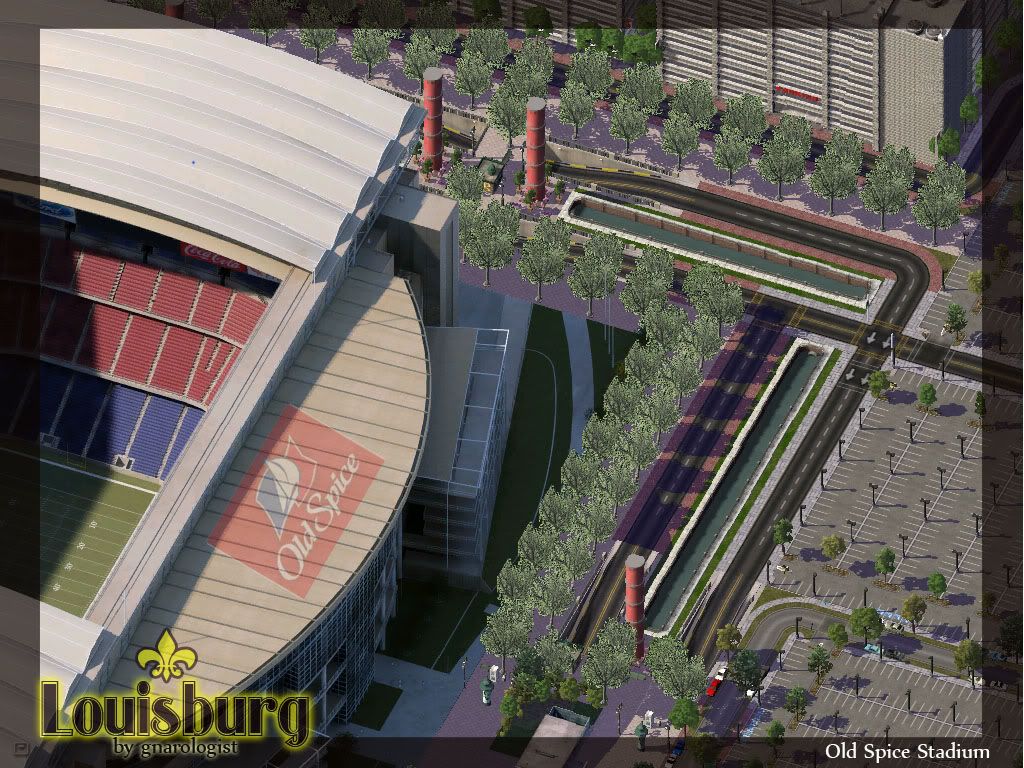 Old Spice Stadium, home of the NFL's Louisburg Admirals, named in honor of the...ya guessed it, French navy who helped America earn a victory in the revolution. People in Louisburg are very proud of their French heritage, which is weird because i'm not a big France guy, i'm more of a Russia/Ireland fan myself.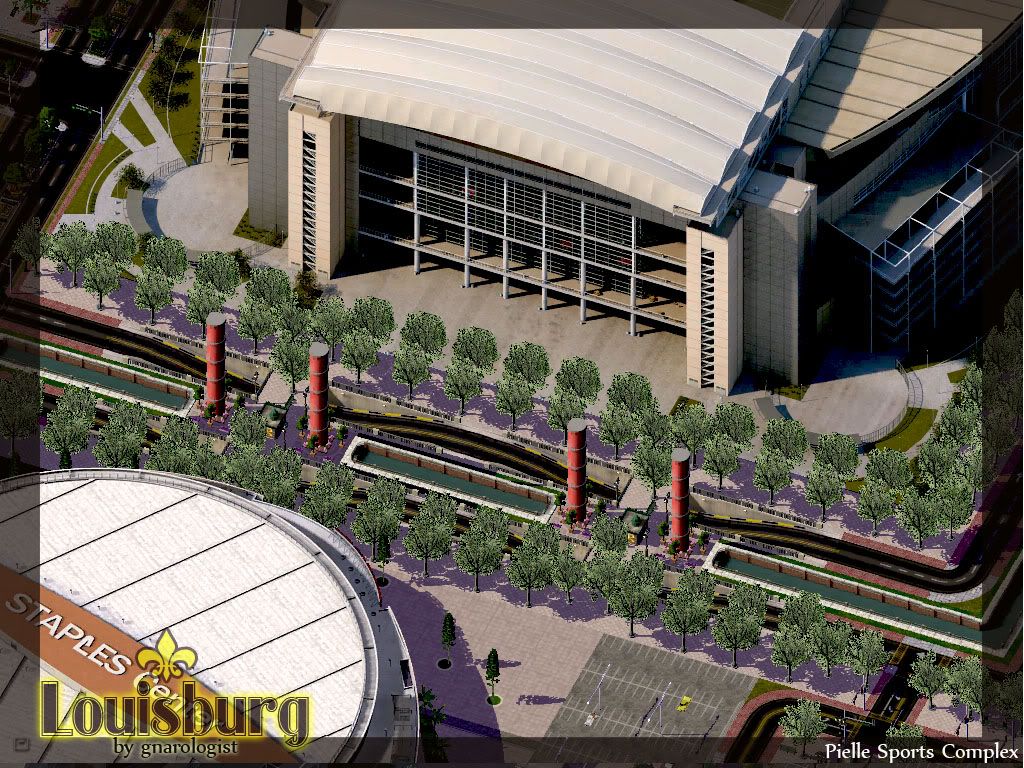 Old Spice Stadium and the Staples Center are built on the Pielle Sports and Entertainment Complex [P-SEC to locals]. This massive complex has several venues and attractions built around parks and parking. It is the result of a massive urban renewal project that demolished a dense historic neighborhood that was ridden with crime, poverty, and other undesirables. I say screw history, let's just watch the game!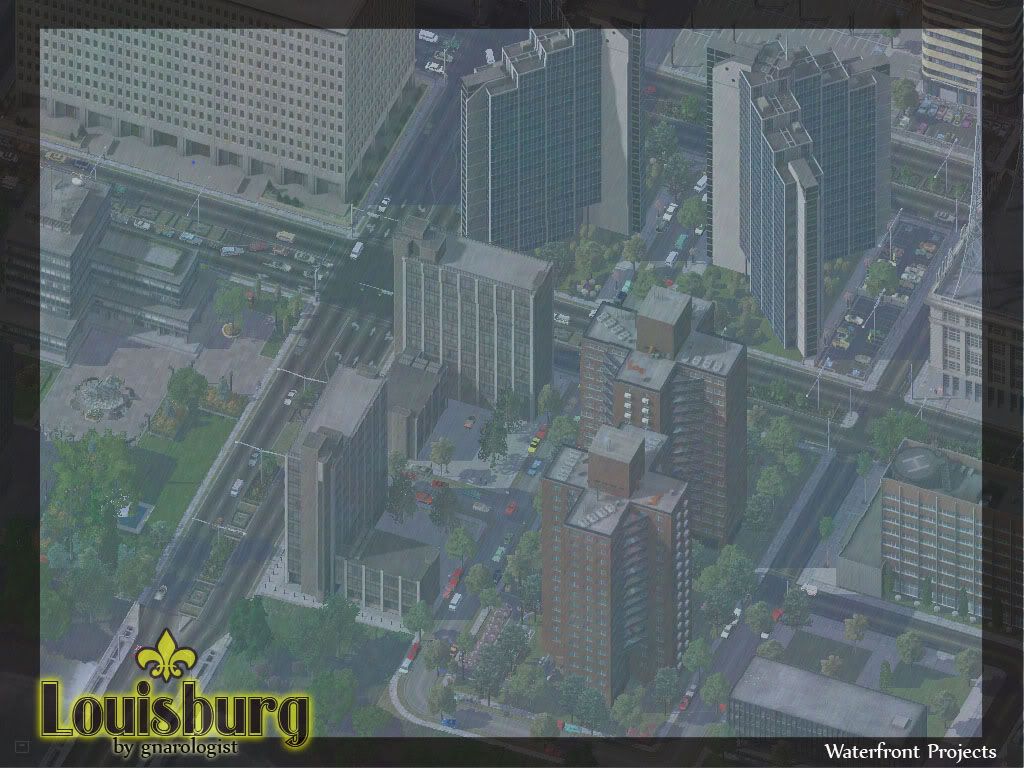 Heavy rain coming down on the Waterfront projects which are actually very nice apartments and in a pleasant desirable area. Acid rain used to be a major problem during Louisburgs industrial peak, which brought up the question, could one trip on acid rain? Seriously though, the city has a heavy history in industry that is unmatched in the rest of the South.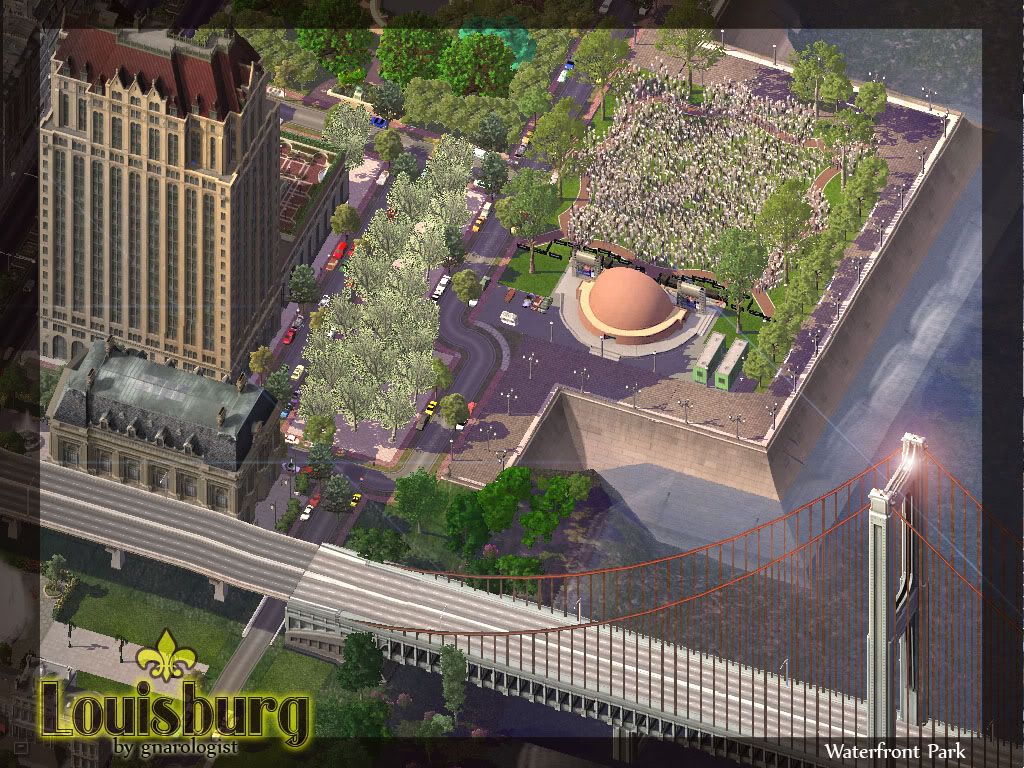 Go out with a bang I say. The photo flare. Timeless. Classly. Tasteful.
Compliments and Insults are welcome!