Dierapyamuk Invasion 2: Beginnings
Wed. May 24th, 0150AL (2006)
Brad suddenly sat up and looked around. No control consoles, no Muphridians, no green fireballs, just an ordinary room. One that was currently full of snoring.
Just a nightmare, Brad thought to himself, then laid back down to attempt to go back to sleep. However, the alarm clock on his bedside table had other ideas as it started to buzz.

Brian: Ugh…
Brian swatted at the alarm clock after a couple of seconds, missing it twice before finally making it turn off. The two of them then climbed out of their bed, and slowly made their way into the kitchen and sat down at the table, and began to eat their pancakes, which were already set out for them. Nick and Nikki were already eating theirs when Brad and Brian arrived, though Nikki seemed to be half asleep.
Brad: Weird dream last night.

Brian:  What was it?
Brad: Not entirely sure, I was on this Muphridish starship for some reason, then someone named Valira started arguing with you, then another copy of me showed up. For some reason, both of us were wearing some sort of dress, but it looked almost like a military uniform or something.

Brian:  Yes, that's definitely odd.
Brad: Then a green fireball appeared and I woke me up. I don't see how it could be important, though.

Brian:  True, it seems like just a random, though somewhat odd, dream. Anyway, last day of school!

Nikki: For you, I still have two more days after this!
Brad: High school is shorter. Besides, the seniors have been done since last Friday.

Nikki: Lukë kïnen.
Lucky them.

Brian:  Just two more years until you can get out two days earlier.
Before Nikki could respond, Michael walked in dressed like Harry Potter.

Nick: Aren't you going to get hot wearing that?
Michael: I can take the cloak off when I get to school.

Nikki: I thought the point of the dress up as whoever you want to or whatever the day is called was so that you didn't have to wear the school uniform, not so that you could wear the school uniform of a different school.

Brian:  So? Still counts.
Michael: Anyway, you should be able to shower now, though I don't know how long Tiffany and Larissa will be yet.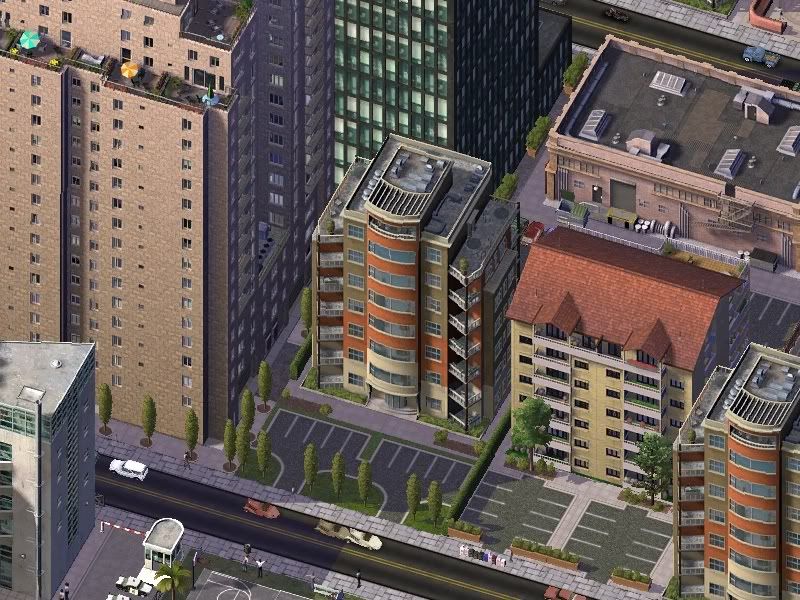 Later, before school, Brad, Brian, Michael and Tiffany get on the elevator. Michael looks the same as before, only now with a backpack. Brad is wearing a white dress shirt and red tie, along with a tan suit top and pants, brown dress shoes, and a brown haired wig. Brian is also wearing a brown wig, but his is much longer, long enough to reach halfway down his back. He is also wearing a white dress shirt with short sleeves, and a dark blue knee-length sleeveless dress with thick straps, crew socks, and black strapped shoes, and actually looked like a girl if you didn't look too closely. Tiffany meanwhile is dressed similarly to Michael, only as Hermione instead.
Once the reach the bottom, a couple of people on the ground floor look at them oddly.
Person 1: Hrme?
What?
Person 2: By vëxawni töð, ä ivernamn.
Look alike day, I think.
They left the building and crossed the street, after that it was a short walk past the police station to the school. Tiffany and Michael left to go to their own classes. Brad and Brian meanwhile began climbing the stairs up to the third floor.
Brad: Ux, gamäen uayayin zamio i eppa tum janja.
Ugh, we'll be going to the fourth floor next year.

Brian: Indeed...
Voice: Ama Tara!
Hello Tara!
Two girls approached them; one was wearing a short haired red wig along with another short sleeved white dress shirt and a pair of black shorts made in the same style as regular dress pants, ankle-length socks and black dress shoes. She looks mostly like a boy, but still has a bit of a bulge on her chest. The other girl is wearing a dressy dark red shirt, as well as a black skirt and black high heels.
The first girl, Tara, and Brian hugged each other for a second, while Brad and the second girl, Lil, did the same. They then walked down the hall to room 304, entered the room, and took their seats at the back of the class. Lil then opened Brad's backpack, looked around inside it, then pulled out a black notebook that had the words "Death Note" on it, and opened it.
Lil: Huh, kabbbasn kexytuxen ja Death Note? A uhexalwn cöþem kwada...
Huh, triangle (trig) notes in a Death Note? You don't normally see that...

Tara: E, hïn'amn jezü, ebba xuke'amn xyn uxnex.
Yes, it's a fake, the cover is black paper.
Brad: E, hïn'amn. Gamä uegu Death Note juk.
Yes, it is. I don't have a real Death Note
Brad then scratched his head.
Lil: Hïn hrme'amn?
What is it?
Brad: Januk, ä alakegusë ivankuthexalwni kopp.
Nothing, I just had an odd feeling of déjà vu.
As the rest of the students came in with varying outfits, the teacher showed up, wearing basically the same exact close that Lil was wearing.
Brad: Jamaen vëxawn töð!
You look alike!
Lil: Kwaja'amn eppa ivaxk.
That's the idea.
Speaker: Äen egu laxazwni: Jhenezgalesfe alak'amn jaka tekasnivïkuneba; Jhenezgalesfe alak'amn jaka tekasnivïkuneba. Kwaja'amn todo.
We have an announcement: Galesfe City is now under a tropical storm warning; Galesfe City is now under a tropical storm warning. That is all.

Brian: Tekasnivïkuneba?
A tropical storm warning?

Tara: Vïkunen ebpefer ukabbbasn.
There weren't any storms earlier.