Dierapyamuk Invasion 1:
Wed. May 24th, 0150AL (2006)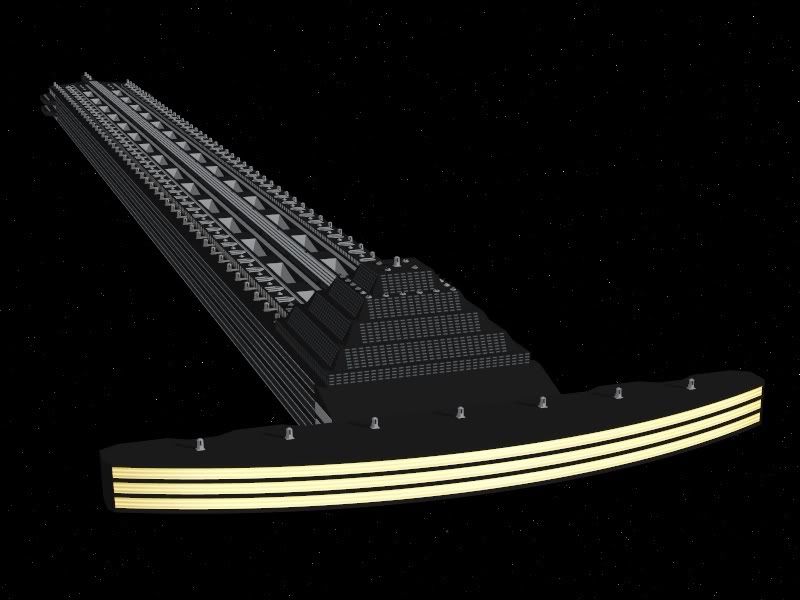 'Where am I?' Brad wondered for a second, before turning to look at his surroundings with more detail. The walls, floor, even the ceiling were all made of some sort of shiny metal, and the hallways were wide open. Judging by this, and the occasional computer terminals along the walls, he was on a starship of some sort, though what type he wasn't sure. It wasn't Myonian, as Myonian warships didn't have as wide open hallways, and the walls, while metal, weren't particularly shiny. While Myonian passenger ships did have the wide open hallways, they also had more of the appearance of a nice hotel, rather than anything really futuristic looking. So where was he?
He walked over to one of the computer terminals, which happened to already be activated and was displaying a hologram of…, something above its surface. Another look told him it was writing, though not a form of writing he understood. However, he did recognize it as Muphridish.
So this seems to be a Muphridish ship of some sort, he thought. But why am I here?
The writing in the hologram suddenly simmered, and then after a short pause, changed to Zukish. Before Brad could read it, however, it vanished, leaving an empty hologram rectangle floating in midair. However, it didn't remain that way for long, as a map of the ship soon appeared.
This ship sure is big, Brad thought looking over a basic far out view of the ship, along with a scale that indicated that it was about 5 and a half kilometers long. The map then zoomed in on a pyramid-shaped protrusion on the rear of the ship, and grew more detailed until it showed individual rooms, as well as a bunch of glowing blobs, which were wandering around the halls on the map.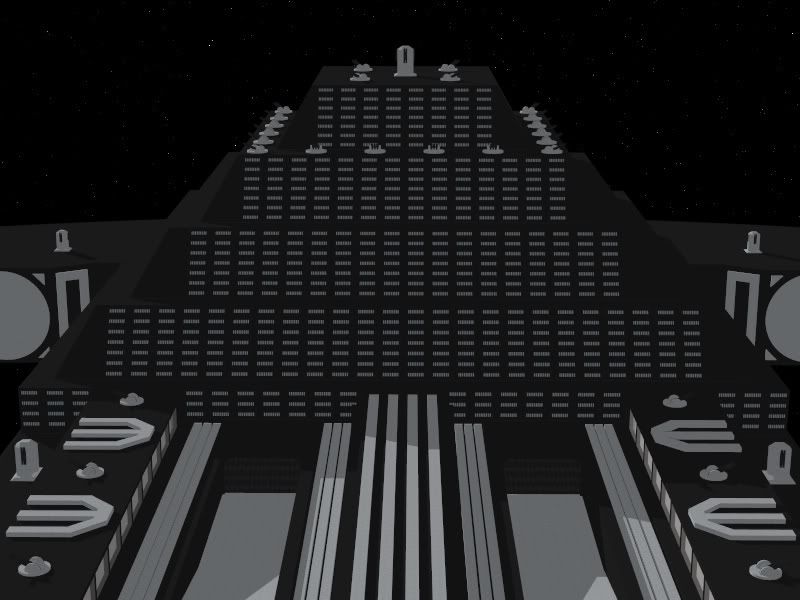 The view suddenly faded to black, though before Brad could think about it, it reformed to a view of a door in a hallway very similar to the one from before. Brad then moved forward, and seemed to float though the door like it wasn't even there. The room on the other side appeared to be a control room of some sort, with various consoles set up, most with one or more holograms displaying unknown stuff, presumably stuff dealing with the function of the ship.
Two people were also in the room. One of them was a Muphridian with short brown hair, and was wearing a relatively short dark blue dress, and was simply standing there like nothing was wrong. Brad then turned to look at the other person, and gasped.
Brad: Brian? A hrem kivmyi?
Brian? What are you wearing?
Neither Brian nor the unknown Muphridian made any sign that they had heard him. Then again, neither seemed to notice when he had floated though the door, either. Regardless of if they heard it or not, the question was a valid one. Brian was wearing a long-sleeved tannish shirt with green markings on the sholders and also 2 green stripes around the end of the sleeves, and over that, a tannish plaid dress that reached down to his knees. Brian was also wearing long pants under the dress of the same color as the shirt, and with the same green stripes around the bottom of the legs.
The environment on the other side of the door was nothing like the rest of the ship that he had seen. Instead of being empty and quiet, it was quite cluttered, with various pieces of equipment filling most of the available space. In addition to this, there was a Muphridian with short brown hair, and wearing a short dark blue dress, standing among the equipment, simply standing there like nothing was wrong. She was looking at the other side of the room, where Brian was just visible behind one of the other devices. Brian appeared to be wearing some sort of light tannish shirt with green markings on the shoulders, and some sort of plaid tank top over the shirt, but due to the equipment, anything lower than his chest wasn't visible. Finally, he was wearing some form of matching shoes that were open around the heel.
A couple of seconds passed in silence, and then the Muphridian spoke.
???: So, it seems you managed to find me. No matter… and who are you, anyway? And what are you wearing?

Brian: Do you really need to know, Valira?
Valira: Can't you just calm down? I'm only trying to help you, you know.

Brian: Help!? How is what you are doing going to help?
The door that Brad had floated though earlier suddenly opened with a whoosh, revealing… himself?
This is really weird, Brad thought as he stared at himself, and noticed that he was wearing the same odd combination of clothes that Brian was wearing. Brad floated over to himself and tried to poke him, but his figure only passed right though the other Brad just like he had passed through the door.
Valira: So you brought your twin with you. I wish I could do the same, but for some reason she doesn't like me.
Brad: Wouldn't you know?
Valira: Listen; whoever it is you are, like I told your twin before you came in, I'm only trying to help. It is very wild out in space, and there is no way you would be able to defend yourself if someone more threatening than the Dlorwani attacked.

Brian: You mean like yourself?
Valira: Hey!
A sudden thump sounded from an empty corner of the room, and everyone turned to stare at it, before looking back at each other after seeing that it was indeed empty. Valira raised an arm up in the air, and opened her mouth to speak.
Suddenly, a large green fireball erupted in the middle of the room.
Both Brian and Valira raised their arms up in front of themselves, as if they expected this to protect themselves, and the oddly dressed Brad dropped to the ground. The other Brad shot back over to the door, and then everything went black.