On the Move, part 2
On the Move, part 2
October 2nd, 0165AL (2021)
Island Fortress near the East Granur Peninsula
Ayura Mar shook her head and looked around the dark room, and when she couldn't see anything, she generated a small green fireball in front of her, and looked around again.
Ayura: I don't think this is where we were supposed to end up.
Brad: Yes, an empty stone room with no windows is definitely not what the hotel looked like on the computer.
Ayura: Where are we, anyway?
Brad seemed to relax and remained motionless for a couple of seconds.
Brad: Its some sort of castle out in the middle of what appears to have been a big volcano, but it blew up at some point in the past, leaving a big crater. However, a new, smaller volcano has formed in the middle of said crater. Also, the castle is covered in dirty looking snow.
Ayura: I don't think I needed quite that much information. Can you tell if anyone else is here?
Brad: Several areas are shielded and I can't tell what are inside them. There doesn't seem to be anything in the unshielded areas, though. Hold on, someone just came out of one of the shielded areas, and is coming this way. Looks like a blitkar...
Ayura: Didn't you make yourself look like Jadzia last time this happened?
Brad: Like this?
She watched as Brad's face and hair gradually shifted into a new appearance, barely visible in the dim green glow of the fire.
Ayura: Yes.
Brad: Yes, I did. Confused the crap out of them, too. I don't want to do it this time, though, as there actually is a Jadzia now... Would making myself look like you work?
Ayura: That could confuse them.
Brad: He's almost here.
As Brad's appearance shifted again, Ayura put the fire out, and the room was plunged into darkness, and a couple of seconds later, the door creaked open, flooding the room with light. The guard looked around the room at the two apparently identical looking people.
Guard: So, it looks like we found twins...
The guard left as soon as he had came, and the room became dark once more, before the green fireball was back.
Brad: Interesting... there's a Dlarya parked underwater...
Ayura: Can we use it to escape?
Brad: Possibly, I'll have to figure out a path to get to it first, though.
Ayura walked away from the floating fire and over to the door.
Ayura: If all the doors are like this one, I think I'll be able to make it though them.
Brad: Let me see.
Brad walked over to the door as well, and poked at the crack with his finger. Then, he shoved his left index finger into the crack. On the other side of the door, a small nanite blob oozed out and formed into a beetle-like bug, which took off down the hall. Back in the room, he removed his finger from the crack, with it looking the same as it did before.
Brad: Now I should be able to tell what exactly is on the way to the Dlarya, and if we can actually reach it.
Ayura: What did you do?
Brad: Separated a part of my nanites, and sent it to explore the area more throughly.
Ayura: Oh.
Brad: Someone else is coming. This time it's one of the muphridian guards..
The fire went out again just before the new arrival opened the door. He stared at the two for several second, then stared more intently at Ayura. He apparently didn't succeed in doing anything, as he shook his head and stared at Brad instead.
The view of the room dissolved, and the muphridian found himself apparently floating in space. Before he could do anything, a Masura decloaked in front of him, and fired. Back in the real world, the Muphridian fell onto his rear, then quickly got up and left the room.
Ayura: What did you do?
Brad: I let him somewhat into my mind, a totally empty part. Then I attacked.
Ayura: Interesting.
Brad: I could probably teach you once we're out of here. Also, I think I've found a route to the Dlarya.
Ayura: Is it clear?
Brad: it is now, but I don't know how long it will stay that way. However, the building doesn't have many defenses, so the only thing they can really do to stop us is send out a bunch of guards.
Ayura: That I should be able to deal with.
To be continued...
Yintar-Yanar

Nick: We're currently south of Lamranu, near the Yanar River.
Nikki: This is the West Karnar Crater, one of two large craters in the Yintar-Yanar area.

Nick: This one is the smaller of the two.
Nikki: The other is just to the east on the other side of the M-3 loop.

Nick: Simple commercial area.
Nikki: With a farming tower.

Nick: If you follow the road to the north, you'll eventually end up in the Lamranu industrial area..

Nick: Hillside houses.
Nikki: Much of this area of the waterfront is like this, due to the steep hill.

Nick: Each road going down the hill ends in a ferry terminal.
Nikki: Speaking of ferries, it looks like that one is about to run into a pier.

Nick: Same area, just at night.
Nikki: The waterfront, with a carousel.

Nick: And a sailing ship.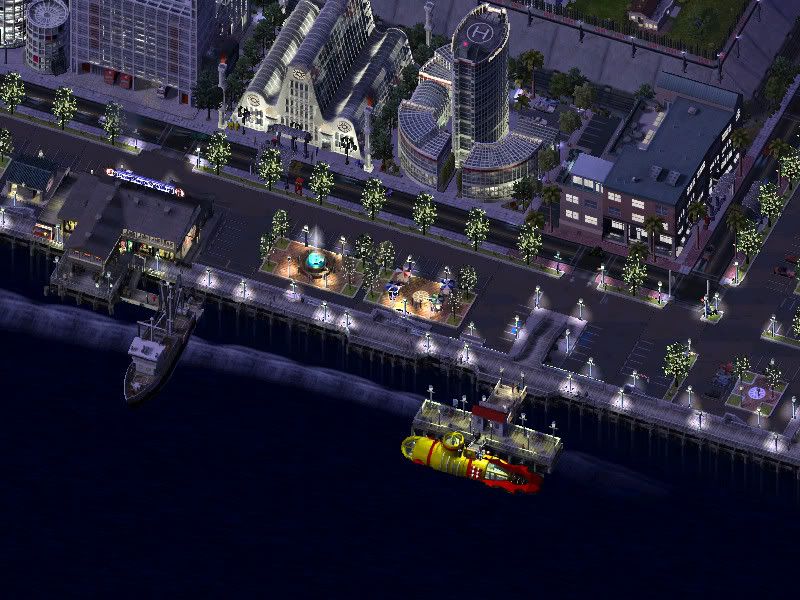 Nikki: We all live in a yellow submarine, a yellow submarine, a yellow submarine...

Nick: Anyway, this is a more open area of the waterfront, with submarine rides.
Nikki: Shops!

Nick: Yes, there's shops there... And a ferry terminal.
Comments:
Schulmanator: Somehow, I don't think it's a pizza delivery.
abcvs: Careful, don't actually break the news.
dfnva: Reading the back-story definitely can help...
Zelgadis: Probably not much of a guarentee...
abcvs2: They'll shut up if you feed them... sort of.
Archean: Oh... She might come there, or she might not.
Leech10: Beware of terror twins...
abcvse: Siagra! (Thank you!)
jacqulina: I'm glad you like it!
abcvs3: Indeed.
patfirefghtr: Indeed indeed.
Hester: You'll have to find Brad to ask him.. he seems to have disappeared again.
buildsolid: They're okay... for now.
abcvs4: I almost translated "The Wheels on the Bus" into Zukish...
NMUSpidey: It went quick...
Leech102: Äen'amn hyip? Make it stop!
Archean2: Where are these anime girls?
fabsies55: Thanks for the comment!
pipishere: A lot of twists and turns...
Hester2: I'm glad you like it!
Leech103: Looks hilly.
Twenty20: Thank you for the comment!
abcvs5: Looks more like Brian is speaking first...
Schulmanator2: It's the gold SUV in the left lane in the second picture of episode 1.
Hester3: *De-striping agent is beamed over*
Zelgadis2: Do you have a flying car license?
Archean3: Not all license plates look like the ones in the US...
That was a lot of comments...